Dubai Duty Free Shergar Cup

Saturday 12th August 2017

Fran Berry and Golden Apollo win the finale at Ascot, bagging the Silver Saddle for Berry and the team prize for GB & Ireland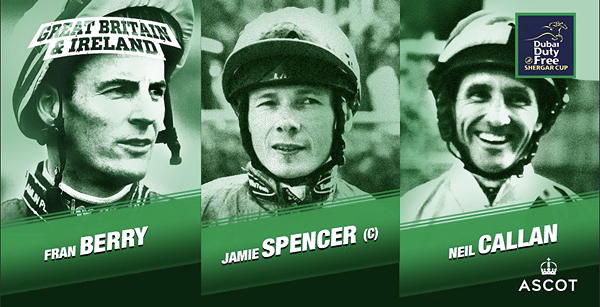 Great Britain and Ireland were crowned the 2017 winning team of the Dubai Duty Free Shergar Cup, Fran Berry's winning ride in the last race, the six-furlong Dubai Duty Free Shergar Cup Sprint, aboard Golden Apollo, clinching the award for the home team.  GBI won with 86 points ahead of Rest of the World on 67.
Jamie Spencer also gained some valuable points with a third placing on Megan Lily, and was a delighted team captain.
"Winning team, it's great," smiled Spencer. "It's all gone right, the team's done great. The last race went well and that got us over the line."
It was a 64/1 double on the card for Berry, after his victory in the Challenge on Great Hall, and the two wins secured him the Alistair Haggis Silver Saddle honours with 37 points ahead of Spencer on 32 points. Berry had previously won the award in 2010 and he has now won four Shergar Cup races in total. 
"I didn't realise that we'd won the competition until after I'd crossed the line," said Berry. "It's great to get the call up, and to ride a couple of winners, I am very thankful for that. It's been a lucky competition for me, I've been here three times and it has always gone well for me. It's a big day, you get a kick out of it. You work hard through the week, but it's all about getting Saturday winners."
Of the race, Berry said: "It's great to get a winner on an unexposed horse for Tim Easterby - he was probably the most unexposed horse in the race. He was a little bit messy in the gate and I was a place further back than I wanted to be. The horse has done well as he had to come through a few tight gaps. He loved the ground.
"We didn't go quick, but we got racing early, and the ground is quite tiring - and once I got through the gap, he really responded. There is a lot more to come from him.
"It is a fantastic win and I think it has been a great competition. It was very tight going into the last race and any one of three teams could have won it. It is a great buzz to cross that line in front, I wasn't sure that we'd won.
"You have got to keep putting yourself in the shop window. It is all about Saturday winners over here. I have had a very good week and this tops it all.
 "Winning the Silver Saddle is a great thing to put on the CV, they might ask me back again now!" said Berry regarding winning the jockeys' award for the second time, before adding: "This day is important, you get a big family crowd here, racegoers of the future, and if you can get the youngsters interested at a young age, it is only going to have a knock-on effect for racing in the future. 
"I am a big believer in getting people through the door, no matter how - at least you then have a chance of getting them coming back or a proportion of them. There is a great atmosphere today, it's a full house, it's great to be involved and a great buzz."
ASCOT PROVES A GOLDEN PLACE FOR EASTERBY
Golden Apollo won the concluding race of the 2017 Dubai Duty Free Shergar Cup, the Sprint, by a length from Lualiwa. The Pivotal three-year-old was sent off at odds of 4/1.
It was second success of the day for jockey Fran Berry, giving him a 64/1 double, and a first Shergar Cup triumph for trainer Tim Easterby.
Asked whether this race had been the horse's target, Easterby replied: "The race we had in mind for him was the York race that he won [a valuable handicap on June 17]. After that, we were just taking it as it came. 
"One day he will be an Ayr Gold Cup horse. Whether it is this year or not, we'll see. He'll be entered in it, but he's a baby at the moment.
"It was beautiful ground out there - just a bit on the slow side." 
He continued: "This is a nice race to win. I wasn't here at Royal Ascot when we had a winner [Snoano in the Wolferton Handicap] and I got a bit of stick about that from other trainers who had been whacking away here all week without a winner. 
"This is our first Shergar Cup winner - Flying Pursuit was second in this race last year. They are good races for your good handicappers, because a lot of them struggle to win their handicaps, but with 10 runners here they have a good chance. And they are all good jockeys here."
REST OF THE WORLD FINISH WITH A FLURRY
Following the one-two glory of race five it wasn't quite to be for 9/2 shot Lualiwa and Anthony Delpech in the final race on Dubai Duty Free Shergar Cup day 2017, as they finished second.
Delpech, who came fourth in the individual standings for the Alistair Haggis Silver Saddle (30 points), said: "It was a good finish from Lualiwa, it was a great ride, and everything went my way. 
"I might have moved up just a little soon but I didn't want to get squeezed out." 
Summing up the day Kerrin McEvoy, the Rest of the World team captain, who took an overall fifth place in the individual standings with 27 points, the Rest of the World team came second (67 points) behind Great Britiain and Ireland (86 points), said: "I didn't personally get a winner but I was up amongst the placings and I'm happy for our team coming second, we finished with a real flurry. 
"It's been a great day, with a tight contest, unfortunately the Irish Boys beat us."  
EUROPE FINISH THIRD IN DUBAI DUTY FREE SHERGAR CUP
Team Europe, represented by Dutch jockey Adrie De Vries, Italy's Umberto Rispoli and German rider Alexander Pietsch, finished third behind GBI (86 points) and The Rest of the World (67) in the Dubai Duty Free Shergar Cup at Ascot.
The trio from Europe amassed a total of 64 points across the six-race card, losing their early lead in the team standings to take third ahead of the Girls.
Team captain De Vries, who also rode in the Shergar Cup in 2014 and 2015, says he hopes to make amends next year.
"I'm pleased with my team, but the favourites just didn't really perform to their expectations today," said De Vries. 
"I thought I had a really good chance with my last ride. He didn't jump away from the stalls too well and maybe he didn't really handle the ground either. I never felt like he was going to win. 
"But anyway, we had a great day and it was a good result with Alex and me having a winner, so we enjoyed it. Hopefully I'll be back for next year."
Pietsch, who was making his Shergar Cup debut, added: "It was perfect really, we didn't win but to have the winner of a race made it a good day for me and compliments to Ascot. I'd like to be back next year."
A FANTASTIC PLACE AND A FANTASTIC COMPETITION SAYS WILSON
After The Girls failed to land a blow in the final race and were left trailing in last on 23 points team captain Emma-Jayne Wilson was sanguine "That is horse racing."
Wilson went on: "Disappointing. That last one didn't go any way like the way I thought it would. Last time out he blew the break, was a hundred lengths behind them and made up ground with a steady run. I think the team overcorrected, he was so perfect out of the stalls, we were a length clear when we jumped, - that was not the expectation. 
"But that is the way it goes with horse racing. Plan A can quickly turn into Plan B or C or D.
"I have really enjoyed my trip.  This place is fantastic, the competition is fantastic, it would be boring if the same team always won.
"It would be boring if it wasn't a difficult competition.
"I hope to come back - I would love to come back!"
The Canadian flies back home this evening and is due to partner 10 horses at Woodbine tomorrow,
The final standings saw Great Britain and Ireland take the spoils with 86 points, second were the Rest Of The World on 67 points, in third place were Europe, 64 points and last were The Girls with 23 points.
The Leading rider also went to Great Britain and Ireland with Fran Berry taking the Alistair Haggis Silver Saddle with 37 points.
FINAL TEAM POINTS AFTER RACE 6
GREAT BRITAIN & IRELAND 86
REST OF THE WORLD 67
EUROPE 64
THE GIRLS 23
FINAL STANDINGS FOR THE ALISTAIR HAGGIS SILVER SADDLE AFTER RACE 5
FRAN BERRY GBI 37
Jamie Spencer GBI 32
Alexander Pietsch EUR 31
Anthony Delpech ROW 30
Kerrin McEvoy ROW 27
Adrie De Vries EUR 27
Neil Callan GBI 17
Hollie Doyle GIRLS 10
Keita Tosaki ROW 10
Emma-Jayne Wilson GIRLS 10
Umberto Rispoli EUR 6
Hayley Turner GIRLS 3