Betbright Trial Cotswold Chase

Grade 2, Cheltenham 14:25
£100,000 added,
5yo plus,
3m 1f 56y, Class 1
Saturday 26th January 2019
1 Frodon 9/4
2 Elegant Escape 2/1F
3 Terrefort 4/1
6 ran Distances: ¾l, 2¼l, 15l
Time: 6m 35.60s (slow by 20.60s)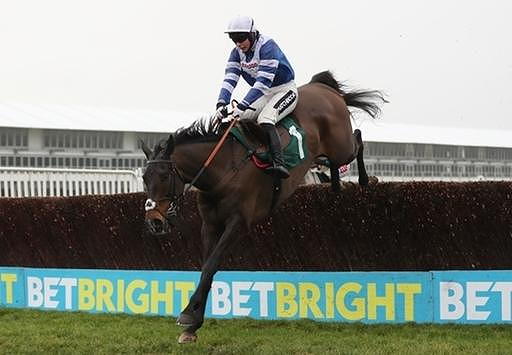 Frodon 
recorded a fourth victory at Cheltenham with another tremendous front-running performance to set up a tilt at the G1
Magners Cheltenham Gold Cup
. 
The Paul Nicholls-trained seven-year-old, stepping up in distance after taking the G3
Caspian Caviar Gold Cup Handicap Chase
over an extended two and a half miles for the second time at The International in December, was sent to the front of the six runners by regular jockey Bryony Frost and the duo kicked on approaching the penultimate fence. 
Terrefort (Nicky Henderson/Daryl Jacob) briefly looked set to challenge nearing the las, but Frodon found more in front to win gamely by three quarters of a length from 2/1 favourite
Elegant Escape
(
Colin Tizzard
/Tom O'Brien), who stayed on well after looking outpaced at the top of the hill. 
It was a fifth victory for Nicholls in the BetBright Trial Cotswold Chase, with the 10-time champion Jump trainer having also sent out See More Business (1998 & 2001), Taranis (2010) and
Neptune Collonges
(2011) to victory.

Somerset-based Nicholls said: "Frodon is such a genuine horse. 
"He just got a little tired from the back of the last today and it was a bit of a combination of idling and tiredness. Bryony felt that he might have blown up a little bit and idled up the hill, but it was a brilliant performance. 

"I was slightly nervous. It is so hard training them when they have had a tough time to give them a break and try to get them back fit enough to win like today. 

"Whatever he has done today, he is going to improve for the run just because he has had a break. This has proved to us that he stays and I would say that we have to go for the Gold Cup with him. 
"He is rated 169 now and that would have been good enough to finish second in the Gold Cup last year. It suits him going a bit slower because he can jump as well and, if I can get a bit more improvement out of him, he could well run into the frame.
"I always thought that he probably would stay. In a lot of his races, he is always flat out and I felt that he might get the chance to use his jumping over further and be able to dominate from the front. 
"We have never really worked him with
Clan Des Obeaux
and they are just two really good horses. Clan Des Obeaux is obviously improving rapidly in everything he has done - he was very good at Kempton - and Frodon loves Cheltenham, which is a massive plus. I don't think there is too much between them, to be honest."
Bryony Frost commented: "Frodon is so brave, the whole heart is in there for you. He is braver than me. We needed the last two jumps - we were getting tired, the spitting rain was getting into the ground and he was giving weight to all of them. 
"We all knew that the trip could be in his reach. But then there is always that little bit of 'OK, you're a year older but can you do it?' - me and him out there is the best buzz you could ever live for. 

"I am the mad woman - he knows what he is doing and I just sit there and steer. Mr and Mrs Vogt (owners) - the day that they kept me on Frodon after I lost my claim, that's just loyalty beyond words. Being in Paul's yard and all the team, look how much it means to us all.
"This is what I strive for - what I live for - to have him during my career, I cannot say.
"You cannot go out there and think your horse is not going to stay. Today is Trials Day and so we had to come here today to see if he stayed.
"We wanted to ride him exactly the same because we don't want to be holding him up. He has answered every question.
"If anything, he pricked his ears coming up the home straight. The crowd started roaring and I knew something I knew someone was chasing me down and my voice got very load on Frodon and I started telling him to come on and get a wiggle on. Luckily, he did.
"It is mad - I have got a ride in the Gold Cup maybe. That would be a dream and who dares to dream - sometimes fortune favours he brave. But I have got to get there first and he has to get there in March. 
"But I have got the team behind me, I have the most loyal owners going, I have the bravest horse and one of the most clever trainers in England and Ireland. So I am doing all right.
"Everyone here is unbelievable I cannot thank them enough for their support down the shute. I told him, this is all for you mate."
Elegant Escape's trainer Colin Tizzard remarked: "It was a very competitive race and, if we are nit-picking, Elegant Escape was slightly lost for pace a little bit out in the country. 

"Frodon is a lovely horse but Elegant Escape has stayed on and he will go for the Gold Cup, which is quite often a race for sloggers. It was only 30 days since he ran in the Welsh National - I am not using that as an excuse at all - but he has six weeks now until the Gold Cup. 

"He made up four lengths after the last and there is still everything to play for. It was competitive today and a good trial for the Gold Cup. It tested every horse and we have come out of it staying on. 
"There is not much between any of the Gold Cup horses, to be fair - Thistlecrack, Native River and this horse - but there are about 10 others ones as well. 
"There is no outstanding one at the moment and they could all win on a given day. We just want to get there in one piece and try to enjoy it."
Betbright Trial Cotswold Chase
£100,000 added, 5yo plus, 3m 1f 56y, Class 1
6 ran
Going: Good to Soft, Good in places
Pos
D
Horse SP
Jockey Weight
Trainer
Age
1st
Frodon (FR) 9/4
Bryony Frost
11-6
P F Nicholls
7
2nd
&frac34
Elegant Escape (IRE) 2/1f
T J O'Brien
11-4
C L Tizzard
7
3rd
2&frac14
Terrefort (FR) 4/1
D A Jacob
11-3
N J Henderson
6
4th
15
Allysson Monterg (FR) 40/1
J J Burke
11-0
Richard Hobson
9
5th
26
Minella Rocco (IRE) 11/1
R P McLernon
11-0
Jonjo O'Neill
9
PU
Valtor (FR) 6/1
James Bowen
11-4
N J Henderson
10
BETBRIGHT CUP CHASE - Past Results
Year Horse Owner Trainer Weight Jockey SP
1980 Raffi Nelson Mrs P Fry Nicky Henderson 7-11-06 Steve Smith Eccles 5/2
1981 Little Owl R Wilson Peter Easterby 7-11-12 Mr Jim Wilson 8/11f
1982 Lesley Ann B Gaule David Elsworth 8-11-12 Colin Brown 5/2
1983 Combs Ditch Jim Tory David Elsworth 7-11-08 Colin Brown 6/1
1984 Everett Kilian Hennessy Fulke Walwyn 9-11-08 Stuart Shilston 15/8f
1985 West Tip Peter Luff Michael Oliver 8-11-06 Richard Dunwoody 5/2
1986 Misty Spirit Mrs E Dixon Donald Lee 7-11-06 Steve Smith Eccles 9/1
1987 Abandoned
1988* Twin Oaks John Moreton David Murray-Smith 8-11-06 Paul Croucher 6/1
1989 Deep Moment Mrs M Curtis Mercy Rimell 7-11-03 Dermot Browne 12/1
1990 Toby Tobias Elizabeth Hitchins Jenny Pitman 8-11-06 Mark Pitman 5/4
1991 Celtic Shot D E H Horton Charlie Brooks 9-11-12 Peter Scudamore 8/11f
1992 Abandoned
1993 Sibton Abbey Geoff Hubbard Ferdy Murphy 8-11-12 Steve Smith Eccles 16/1
1994 Dubacilla Veronica Cole Henry Cole 8-10-12 Dean Gallagher 8/1
1995 Master Oats Paul Matthews Kim Bailey 9-11-06 Norman Williamson 6/4f
1996 Abandoned
1997 One Man John Hales Gordon Richards 9-11-12 Richard Dunwoody 2/5f
1998 See More Business John Keighley/Paul Barber Paul Nicholls 8-11-06 Timmy Murphy 9/4f
1999 Cyfor Malta David Johnson Martin Pipe 6-11-06 A P McCoy 10/11f
2000 Looks Like Trouble Tim Collins Noel Chance 8-11-06 Norman Williamson 100/30
2001 See More Business Paul Barber/Robert Ogden Paul Nicholls 11-11-10 Mick Fitzgerald 9/4
2002 Rince Ri Frank Moriarty Ted Walsh IRE 9-11-10 Ruby Walsh 9/2
2003 Behrajan The Behrajan Partnership Henry Daly 8-11-06 Richard Johnson 9/2
2004 Jair Du Cochet Miriam Montauban Guillaume Macaire FR 7-11-10 Jacques Ricou 11/4
2005 Grey Abbey The Roper Family/Norman Furness Howard Johnson 11-11-10 Graham Lee 100/30
2006** See You Sometime J Meaden Seamus Mullins 11-11-05 Andrew Thornton 18/1
2007 Exotic Dancer Sir Robert Ogden Jonjo O'Neill 7-11-06 A P McCoy 6/1
2008 Knowhere Raymond Mould Nigel Twiston-Davies 10-11-04 Paddy Brennan 16/1
2009 Joe Lively Richard Dimond Colin Tizzard 10-11-06 Joe Tizzard 11/1
2010 Taranis Angela Yeoman Paul Nicholls 9-11-00 Nick Scholfield 16/1
2011 Neptune Collonges John Hales Paul Nicholls 10-11-00 A P McCoy 11/2
2012 Midnight Chase Lady Clarke Neil Mulholland 10-11-06 Dougie Costello 11/2
2013 Cape Tribulation David Abell Malcolm Jefferson 9-11-06 Denis O'Regan 7/1
2014 The Giant Bolster Simon Hunt & Gary Lambton David Bridgwater 9-11-00 Tom Scudamore 6/1
2015 Many Clouds Trevor Hemmings Oliver Sherwood 8-11-10 Leighton Aspell 4/1
2016 Smad Place Trish Andrews Alan King 9-11-06 Richard Johnson 9/2
2017 Many Clouds Trevor Hemmings Oliver Sherwood 10-11-10 Leighton Aspell 8/1
2018 Definitly Red Phil & Julie Martin Brian Ellison 9-11-06 Danny Cook 7/1
* Cavvies Clown was first past the post in 1988, but subsequently failed a dope test ** Staged at Wincanton