| | |
| --- | --- |
| Crystal Cup European Cross Country Challenge 2016 | |
Cantlow Comes Good at Cheltenham
Cantlow put his previous lacklustre Cheltenham visit well behind him with an authoritative success in the Glenfarclas Cross Country Chase on 9th December.
Charme Look wins Grand Pardubice steeplechase
1 Charme Look 3/1F
2 Ange Guardian 9/1
3 Zarif 4/1
15 ran Distances: 10l, 6l, 2½l
TIME 9m 42.86s
Charme Look, the favoured nine-year-old chestnut gelding, with jockey Jan Faltejsek won the 126th Grand Pardubice steeplechase. Faltejsek scored his fourth victory in the prestigious 6900-metre horse racing.
Charme Look was leading the race from the beginning. Newcomer Ange Guarduan with jockey Jan Kratochvil finished second, followed by Zarif with Josef Bartos.
Legendary Czech jockey Josef Vana Senior, 63, eight-time winner of the famous steeplechase, did not participate in the race this year, for the second time in a row. However, he says he would like to start next year.
Vinga wins again at Craon
After winning in fantastic style at Hippodrome du Lion, Vinga wins another race in the series under Jockey Felix Giles.

| | |
| --- | --- |
| 1st | VINGA F.AQ. 7 A. 08 Par: VOIX DU NORD et LA MENARDIERE (TRUE BRAVE) MME JACQUES CYPRES E. CLAYEUX (S) FELIX DE GILES 66 kg J. CYPRES, L. COUETIL |
| 2nd | DIVA DE TEILLE F.PS. 7 a. 07 Par: GREAT JOURNEY et PRINCESSE D'ORTON (SAINT CYRIEN) CTT BROSSEAU ET FILS E. LERAY (S) MARCANTOINE DRAGON 66 kg BROSSEAU ET FILS,SUC. C. BROSSEAU |
| 3rd | JAKHERPHI D'ART H.Ps. 8 A. 05 Par: KHALKEVI et FAENA D'ARTAGNAN (MARIGNAN) 8.L PATRICE JAMAIN E. LECOIFFIER STEPHANE PAILLARD 68 kg MME V. BRU |
| 4th | SERGENT COLLINS H.AQ.10 a. 01 Par: COLONEL COLLINS et MYLAINE (LEGEND OF FRANCE) 4.L GILLES CHAIGNON GIL. CHAIGNON THOMAS BEAURAIN 68 kg GIL. CHAIGNON |
| 5th | VERTIGE FATAL H.AQ. 7 a. 02 Par: ASSESSOR et LUZARCHES (SLEEPING CAR) 15L ECURIE BRILLANTISSIME GAB. LEENDERS CLEMENT LEFEBVRE 68 kg MME F. HERISSAY DE LAITRE |
| 6th | MAGNUM DU LAC H.PS. 9 a. 04 Par: SOLIDO et LUCIREAL (PAVO REAL) LON GILLES HOUILLON G. HOUILLON FREDERIC DAVIAULT 68 kg A G. HOUILLON |
| 7th | STAR D'ESTRUVAL H.PS.10 a. 06 Par: MARTALINE et GROTTE D'ESTRUVAL (ZAYYANI) LON MLLE AMANDA ZETTERHOLM P. COTTIN ALAIN DE CHITRAY 68 kg MME B. LE GENTIL |
| TB | KISS DELACOUR H.PS. 8 A. 03 Par: LE BALAFRE et KIVA DE LA VALLEE (DRESS PARADE) JEROME FOLLAIN J. FOLLAIN ALBAN DESVAUX 68 kg Y. TH |
---
The Grand Steeplechase des Flandres, Waregem
An entirely French-trained field of 8 lined up to tackle the Waregem leg of The Crystal Cup on the 30th of August, with trainer P.Quinton responsible for half of the runners. He did not go home empty handed as his grey 9 year old Taupin Rochelais came home 20 lengths ahead of stablemate Varabad Du Buisson. In 3rd was This Is It, trained by P.H Peltier, with two more Quinton trained horses, Martalin and Aladin Du Chenet, 4th and 5th respectively. The 6th and final finisher was Tout Est La, who is both trained and owned by Jean-Louis Bertin.
1st Taupin Rochelais & Thomas Beaurain
2nd Varabad Du Buisson & Jordan Duchene
3rd This Is It & Stephane Paillard
4th - Martalin & Arnold Cisel
5th - Aladin Du Chenet & Olivier Jouin
6th - Tout Est La - Davy Delalande
---
Hippodrome du Lion on May 5th 2016
Congratulations to the winning connections of Vinga. Trained by Emmanual Clayeux, owned by Mme Jacques Cypres and ridden to victory by British jockey Felix Giles who will receive double points for the win in France.

| 1st | 15 | Vinga | | F Giles / E Clayeux |
| --- | --- | --- | --- | --- |
| 2nd | 7 | Yoneti | 5 L | W Denuault / Gab Leenders |
| 3rd | 9 | Toutancarmont | 30 L | J Reveley / Mme I Pacault |
| 4th | 5 | Tapioca | 14 L | S Paillard / J Follain |
| 5th | 12 | Amazing Comedy | 1 L | D Cottin / P Cottin |
| 6th | 1 | Roi Garry | 12 L | J Duchene / P Quinton |
| 7th | 2 | Garry Man | 19 L | C Herpin / P Chemin |

La Touche Cross Country at Punchestown on April 28th 2016
Quantitativeeasing won in impressive style under jockey MP Walsh at Pucnhestown for Enda Bolger and JP McManus.
Edna Bolger also trained second place Cantlow.
1st Quantitativeeasing (IRE) E Bolger 11 11-12 p M P Walsh 9/4j
2nd Cantlow (IRE) E Bolger 11 11-7 Ms N Carberry 9/2
3rd Ballyboker Bridge (IRE) Peter Maher 9 12-3 p A E Lynch 5/1
4th Uncle Junior (IRE) W P Mullins 15 11-12 p Mr P W Mullins 12/1
NR Josies Orders (IRE) E Bolger 8 12-7 Ms N Carberry 8/11
---
Results from Fontainbleau on April 6th 2016
1st 7 VAZABELLE DU LION A. de CHITRAY
2nd 2 VOTRE PLAISIR G. OLIVIER
3rd 4 VINGA F. de GILES
4th 3 AFRICANERS J. REY
5th 1 TOUTANCARMONT S. PAILLARD
6th 6 TETETCORDE HUGAUX CE. CAYEUX
7th 5 VIDOCQ DU RIVAGE W. DENAULT
---
Feb 07 Saltburn jockey James Reveley won Pau's big cross country race of the year in France on Saying Again. The Yorkshire jockey gave up his Christmas so he could ride the horse at the French track in a prep race on December 25.
Prix Gaston de Bataille Listed Cross Country Chase
€70,001 added 6yo, 3m 6f 180y
8 ran
Pos
D
Horse SP
Jockey Weight
Trainer
Age
1st
Saying Again (FR) 11/4
J Reveley
10-10
G Cherel
10
2nd
7
Votre Plaisir (FR) 20/1
G Olivier
10-10
S Foucher
7
3rd
6
Toutancarmont (FR) 2/1f
S Paillard
10-10
Mme I Pacault
9
4th
Reste Demohaison (FR) 10/3
D Cottin
10-10
F Cottin
11
Also Ran: Feu Croise (FR) , Sir Rowan (FR) , Unbrin De L'isle (FR) , Torpille D'ainay (FR)
---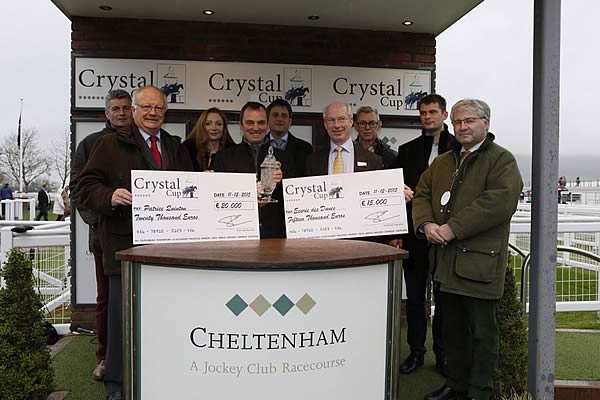 Patrice Quinton wins the 2015 Crystal Cup Challenge
---
Dec 11 Nina Carberry steered Josies Orders to his second Cheltenham victory in the space of a month in the Glenfarclas Cross Country Chase on December 11.
1 Josies Orders 11/4
2 Sire Collonges 7/1
3 Ballyboker Bridge 28/1
14 ran Distances: 2l, 12l, 12l
TIME 8m 14.00s (slow by 10.00s)
Having won on his debut at Prestbury Park at the Open meeting in November, Enda Bolger's seven-year-old was once again prominent in the market at 11-4 and was always travelling strongly under a typically confident Carberry ride.
---
Nov 14 Olcani, trained by Isabelle Pacault and ridden by Stephane Paillard, win the Grand Steeple Chase Cross Country de Compiegne on Saturday, 14 November 2015.
The first six placed horses with Owner, Trainer and Jockey:
1st - Olcani - Isabelle Pacault, Isabelle Pacault, Stephane Paillard
2nd - Ulla Banba - P Joubert/Ecurie Couderc, E Clayeux, Felix de Giles
3rd - Voilabel - Mme Guy Denuault, Guy Denuault, Wilfrid Denuault
4th - Votre Plaisir - Jean-Pierre Vandenn Heede, S Foucher, Angelo Gasnier
5th - Ugo Clementais - Alain Guerin, S Foucher, Romain Julliot
6th - Unbrin de L'Isle - P Joubert/P.B Bloodstock, E Clayeux, Paul Lucas
---
Oct 11 Nikas, trained by Stanislav Popelka Jnr and ridden by Marek Stromsky, won the 2015 Velka Pardubicka two years after finishing runner-up in the Czech Republic's world-renowned cross country race. Favourite Rabbit Well finished 5th.
1st – Nikas – Stanislav Popelka Jnr, Marek Stromsky,
2nd – Ribelino - Stanislav Kovar, Pavel Kasny
3rd – Zarif - Josef Vana Jr, Josef Bartos
4th – Universe Of Gracie - Jiri Kousek, Jan Faltejsek
5th – Rabbit Well - Josef Vana, Josef Vana
6th – Kasim - Premek Kejzlar, Marcel Novak
---
Sep 26 Martalin, trained by Patrice Quinton and ridden by Arnaud Cisel, wins the Premio Delle Nazioni in Merano.
1st - Martalin - Patrice Quinton, A Cisel, Ecurie Des Dunes
2nd - Ara Gold - P Favero, J Bartos, Favero Paolo
3rd - Arman - J Vana Sr, J Vana Jr, Stall Grimmnger
4th - Billy Silver - J Vana Sr, J Faltejsek, SC Giacobbe-Vana
5th - Monte Pelmo - P Favero, Romano Raf, Favero Paolo
6th - Monjoliano - P Favero, D Pastuszka, Favero Paolo
---
Sep 06 Jerome Follain trains the first two home in the Grand Cross de Craon Steeple Chase.
1st - Kiss Delacour - Jerome Follain, Jerome Follain, Anthony Thierry
2nd - Quick Baby - Jerome Follain, Jerome Follain, Arnold Cisel
3rd - Adelaide Square - Jean-Ynes Touzaint, G Macaire, David Cottin
4th - Tetetcorde Hugaux - Gerard Doyen, Christophe Provot, Stephane Paillard
5th - Kapville - Comte Antoine-Audoin Maggiar, Ettienne Leenders, Thomas Beaurain
---
Sep 01 Taupin Rochelais, trained by Patrice Quinton, wins the Grand Steeple Chase des Flanders.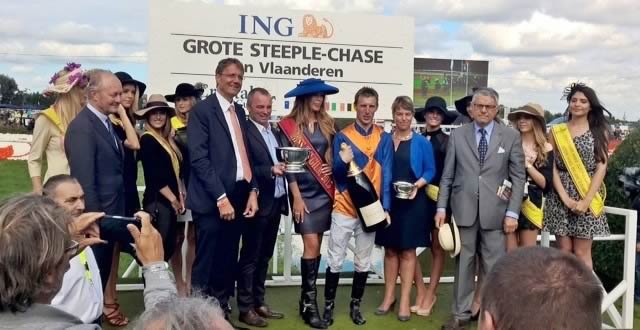 1st - Taupin Rochelais - Th Beaurain, Patrice Quinton, Ecurie Des Dune
2nd - Kazzio - Cevin Chan, Pave Vovcenko, Huckschlag B U
3rd - TomCat de Kerser - Arnold Cisel, Patrice Quinton, Ecurie Des Dune
4th - Splendide Bontee - Regis Bertin, G Denuault, Mme G Denuault
5th - Paris Toujours - Olivier Jouin, David Berra, David Berra
6th - Martalin - St Paillard, P Quinton, Ecurie des Dune
---
May 25 Horses trained by French trainer Patrice Quinton finish 1st and 2nd at Frauenfeld Racecourse, the 5th stage of the Crystal Cup series .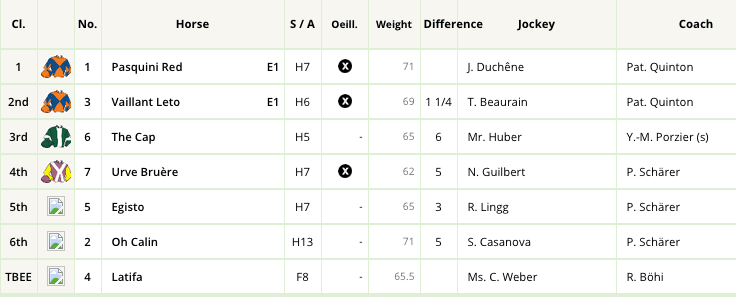 ---
1 Kick On 47/10
2 Kapville 13/2
3 Any Currency 11/2
10 ran Distances: 8l, shd, 8l
TIME 9m 15.10s
Kick On, trained by Philippe Cottin & ridden by David Cottin, wins the Prix Anjou-Loire Challenge at Lion d'Angers
---
1 Uncle Junior 6/1
2 Quantitativeeasing 13/8F
3 Keep On Track 7/1
14 ran Distances: nk, 16l, 3l
TIME 9m 12.80s (slow by 37.80s)
Uncle Junior wins the FBD Cross Country Chase for the La Touche Cup at Punchestown
Toutancarmont won the Grand Steeple-Chase Cross Country de Fontainebleau, on April 2, for third time in succession
Feu Croise, trained by Herve Audoy & ridden by Fabrice Barrao, wins the Grand Cross De Pau Reverdy on February 1
Any Currency brought up a fantastic Martin Keighley double with Aidan Coleman riding the winner of the Glenfarclas Cross-Country Handicap on day one of The International meeting at Cheltenham on Friday, December 12.
Patrice Quinton and Ecurie Des Dunes win the 2014 Crystal Cup series.
Star D'Estruval, trained by Christo Aubert and ridden by Ludovic Philipperon, won the Grand Steeple Chase Cross Country De Compiegne on November 15.
1 Star D'Estruval 157/10
2 Quick Baby 32/1
3 Saying Again 29/1
14 ran Distances: 6l, 4l, 3l
TIME 7m 46.42s
Orphee Des Blins, trained by Greg Wroblewski and ridden by Jan Faltejsek, won the Velka Pardubicka for the third year in succession.
Click here to see the full result.
Ara Gold, trained by Paolo Favero and ridden by Josef Bartos, won the Premio Delle Nazioni - Memorial Marco Rocca on September 27.
Results with Owner, Trainer and Jockey
1st - Ara Gold - P Favero, P Favero, J Bartos
2nd - Arman - Stall Grimminger, J Vana Sr, J Vana Jnr
3rd - Valsugana - SC. Ostanel SRL, E Ostanel, C Chan
4th - Lost Steps - Ecurie Des Dunes, P Quinton, H Terrien
5th - Monjoliano - P Favero, P Favero, D Pastuszka
Grand Cross Country De Craon

Balthazar King and Richard Johnson successfully defended their title in the Grand Cross-Country de Craon on September 7.
Philip Hobbs' versatile 10-year-old fell on his most recent visit to France in a big event at Le Lion d'Angers in late May, having earlier chased home
Pineau De Re
in the
Grand National
.
The dual winner of the Cheltenham Festival cross-country race was paraded in front of the stands at the north-western French course after his three-length defeat of Kapville.
Results with jockey, trainer and owners
1st - Balthazar King - Richard Johnson, Philip Hobbs, The Brushmakers
2nd - Kapville - Wilfrid Denuault, E Leenders, Comte AA. Maggiar
3rd - Posilox - Olivier Jouin, W Menuet, M Darchy
4th - Sergent Collins - Alban Desvaux, Gil Chaignon, Gil Chaignon
5th - Tornado De Kerser - Thomas Beaurain, P Quinton, Ecurie Des Dunes
6th - Pasquini Rouge - Jordan Duchene, P Quinton, Ecurie Des Dunes