Weatherbys Hamilton 300,000 2-Y-O Stakes

Doncaster 15:40
£300,000 added,
2yo only,
6f 110y, Class 2  
Thursday 10th September 2015
1 Mr Lupton 10/1
2 Humphrey Bogart 7/2F
3 Twin Sails 6/1
4 Projection 16/1
22 ran Distances: hd, 2¼l, 1¼l
TIME 1m 17.19s (slow by 0.19s)
Mr Lupton keeps the race after a Stewards' Enquiry
A perfectly timed ride from Jamie Spencer takes Mr Lupton to victory
Mr Lupton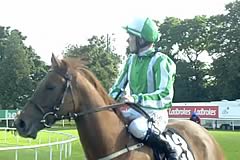 The Richard Fahey-trained Mr Lupton survived a lengthy stewards' enquiry to win under Jamie Spencer. The son of Elnadim moved into the lead inside the final furlong but was challenged by Humphrey Bogart whilst drifting to the left, carrying the Richard Hannon-trained colt with him.

Fahey said: "The best horse won. Mr Lupton pricked his ears and was having a good look around in front.

"The horse was part of a charity auction prize at Graham Wylie's and Noel (Kershaw, owner) put his hand up. He has been a wonderful horse for Noel and even better for me because I retained a half share."

Kershaw remarked: "He ran a great race at Newbury and for her to come here and win today, I am delighted.

"Mr Lupton has been remarkable and we believed he could do that today. He got a good run and Jamie produced him fantastically."

Jamie Spencer commented: "Mr Lupton travelled nicely throughout and showed a smart turn of foot to get there at the end. Richard said he had a good chance and was worth doing the weight on. He is a smart horse and I never had to get stuck into him. I didn't hit him and he had plenty left."

Spencer added: "I watched the head on after I pulled up and you could see the runner-up ran away to his left anyway. My lad just followed him."
Trainer Richard Hannon was delighted with the run of Humphrey Bogart, who finished a head behind winner Mr Lupton this afternoon.
The 7/2 favourite was given a nudge by the winner as the pair battled to the line which resulted in a lengthy stewards' enquiry but the places remained unaltered and Hannon was in a reflective mood following the race.
"He ran a super race - we're delighted," said Hannon.
"We got a nudge in the last half a furlong but that's racing. We've got a nice horse on our hands - we thought that and he's proved that. There are no immediate plans but we'll sit down and have a think after the weekend.
"This horse could easily turn into a nice Guineas horse or something like that next year."
Dean Ivory, trainer of Twin Sails who finished a further two and a quarter lengths back in third, revealed that the colt is not quite over a virus that he contracted several weeks ago.
"I don't think he's run to his best," said Ivory.
"He's not quite right as he made a terrible noise when Robert (Winston - jockey) pulled him up. He's had a bit of a virus and has been on a course of antibiotics but I'd have liked another 10 or so days with him and another couple of gallops to really open those lungs up.
"We'll give him a chance to get over this now but we had to go for this type of race as there's so much money on offer. I still think he's smart and think he would have won by five or so lengths had he been right."
Weatherbys Hamilton Insurance 300,000 2-Y-O Stakes
£300,000 added, 2yo only, 6f 110y, Class 2
22 ran
Going: Good
Pos
Dr
D
Horse SP
Jockey Weight
Trainer
Age
1st
(20)
Mr Lupton (IRE) 10/1
J P Spencer
8-9
R A Fahey
2
2nd
(21)
hd
Humphrey Bogart (IRE) 7/2f
S M Levey
8-6
R Hannon
2
3rd
(8)
2&frac14
Twin Sails 6/1
R Winston
8-9
D K Ivory
2
4th
(16)
1&frac14
Projection 16/1
G Baker
9-2
R Charlton
2
5th
(9)
&frac12
Candelisa (IRE) 100/1
Barry McHugh
9-2
Jedd O'Keeffe
2
6th
(19)
nk
Gerrard's Quest 12/1
L Morris
8-6

M Botti
2
7th
(12)
&frac34
Ground Control (IRE) 50/1
K T O'Neill
8-6
R Hannon
2
8th
(1)
nk
Scarlet Dragon 25/1
J Fanning
8-9
Eve Johnson Houghton
2
9th
(5)
hd
Appleton 20/1
D Nolan
9-0
R A Fahey
2
10th
(22)
hd
Farkle Minkus 9/1
P Makin
8-6
K Dalgleish
2
11th
(2)
nse
Imperious One (IRE) 25/1
Jim Crowley
8-9
C Hills
2
12th
(10)
nk
Lagenda 33/1
G Lee
8-9
K A Ryan
2
13th
(3)
1&frac34
Holy Grail (IRE) 12/1
P J Smullen
8-9
R A Fahey
2
14th
(6)
&frac34
Firedanser 33/1
P Mathers
8-6
R A Fahey
2
15th
(4)
&frac12
Another Touch 33/1
T Hamilton
8-12
R A Fahey
2
16th
(14)
1
Justice Lass (IRE) 20/1
S De Sousa
8-9
D R C Elsworth
2
17th
(7)
1
Majdool (IRE) 20/1
P Hanagan
9-2
R Varian
2
18th
(13)
&frac12
Furiant 33/1
James Doyle
9-2
M Johnston
2
19th
(17)
1&frac12
Gin In The Inn (IRE) 14/1
George Chaloner
8-6
R A Fahey
2
20th
(18)
1
Qeyaadah (IRE) 20/1
Dane O'Neill
9-2
E A L Dunlop
2
21st
(11)
&frac34
Rosy Morning (IRE) 20/1
W Buick
8-11
M Johnston
2
22nd
(15)
5
Bint Aldar 33/1
T Eaves
8-7
K A Ryan
2