Weatherbys Hamilton 300,000 2-Y-O Stakes

Doncaster 15:40
£300,000 added,
2yo only,
6f 110y, Class 2  
Thursday 8th September 2016
1 Mubtasim 4/1F
2 Mazyoun 12/1
3 Firefright 16/1
NR: Geneva Convention (IRE), Perfect Madge (IRE), Spiritual Lady
19 ran Distances: 1¾l, ¾l
TIME 1m 19.58s (slow by 3.08s)
It's another for the red-hot William Haggas as Mubtasim wins
Mubtasim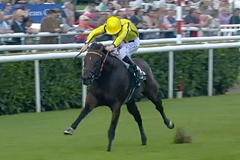 William Haggas registered a 26.5/1 double after Mubtasim quickened up well to win the Weatherbys Hamilton £300,000 2-Y-O Stakes, the fourth race on day two of the Ladbrokes St Leger Festival.

Having settled in mid-division during the early stages of the extended six-furlong contest, the two-year-old son of Arcano made stealthy progress under Pat Cosgrave inside the final furlong and showed a potent turn of foot to go clear from the rest of the field and register a one and three-quarter length success.

This was a return to form by the 4/1 market leader who, after winning his first two starts at Yarmouth and Haydock, was a well-beaten eighth in the Group Two Gimcrack Stakes at York last month and this performance suggested a return to Group company is imminent.

Haggas, who earlier tasted success with Glitter Girl (9/2 favourite) in the British Stallion Studs' Carrie Red' EBF Fillies Nursery, said: "I'm delighted. He was a little bit sore after the Gimcrack but he is a lot better now. He did a lovely piece of work on Sunday and had a good blow.

"I was a little bit nervous but the ground helped him a lot. I hope we can return to Group company but we will wait and see with him.

"Mubtasim travelled well today and was always going smoothly. Pat said he felt different today. I don't know what happened at York.

"He is by Arcano, who is not very fashionable, but he has always looked a nice horse from the start.

"We like to have a go at Gimcrack and thought he was the one. I don't why he misfired but he has made up for it today."

The Newmarket handler earmarked the Group One Middle Park Stakes at Newmarket on September 24 as the colt's next port of call. Haggas remarked: "I suspect we will have a go at the Middle Park. He won't go for the Mill Reef as it is too close. He is in the Redcar race but I don't see much point going for that."
Weatherbys Hamilton Insurance 300,000 2-Y-O Stakes
£300,000 added, 2yo only, 6f 110y, Class 2
19 ran
Going: Good
Pos
Dr
D
Horse
Jockey Weight
Trainer
Age
1st
(16)
Mubtasim (IRE) 4/1f
P Cosgrave
8-9
W J Haggas
2
2nd
(3)
1&frac34
Mazyoun 12/1
W Buick
8-9
H Palmer
2
3rd
(22)
&frac34
Firefright (IRE) 16/1
J P Spencer
8-12
J Noseda
2
4th
(8)
&frac34
Bamber Bridge (IRE) 25/1
P Mulrennan
8-12
M Dods
2
5th
(14)
&frac34
Keyser Soze (IRE) 66/1
Harry Bentley
8-9
Richard Spencer
2
6th
(20)
1
Jumira Bridge 16/1
Andrea Atzeni
9-2
R Varian
2
7th
(21)
nk
Stormy Clouds (IRE) 8/1
K T O'Neill
8-4
R Hannon
2
8th
(7)
&frac34
Global Applause 11/2
R L Moore
8-12
E A L Dunlop
2
9th
(5)
1&frac34
Leontes 16/1
Oisin Murphy
8-9
A M Balding
2
10th
(12)
s.h
Scofflaw 66/1
T Hamilton
8-12
R A Fahey
2
11th
(9)
&frac34
Bohemian Flame (IRE) 50/1
P Makin
9-2
A M Balding
2
12th
(13)
2
Marie Of Lyon 16/1
P Mathers
8-4
R A Fahey
2
13th
(18)
1
Rusumaat (IRE) 14/1
P Hanagan
8-9
M Johnston
2
14th
(17)
1&frac12
Balgair 50/1
F M Berry
8-12
J G Portman
2
15th
(15)
nse
Admiralty Arch 66/1
Tom Marquand
8-9
R Hannon
2
16th
(10)
1
Mutawakked (IRE) 40/1
Dane O'Neill
9-2
B J Meehan
2
17th
(11)
1&frac14
Farleigh Mac 66/1
F Norton
8-9
A M Balding
2
18th
(4)
hd
Dourado (IRE) 100/1
S M Levey
9-2
R Hannon
2
19th
(6)
26
Berkshire Boy (IRE) 80/1
P McDonald
8-9
A M Balding
2
WN
(1)
Spiritual Lady 14/1
S De Sousa
8-1
P J McBride
2
NR
(2)
Perfect Madge (IRE) 33/1
Kevin Stott
8-11
K A Ryan
2
NR
(19)
Geneva Convention (IRE) 25/1
Non Runner
8-9
R Hannon
2
50,000 REASONS TO BE PLEASED

Hugo Palmer, trainer of the second home, was very pleased indeed with his charge's performance.

Mazyoun, an 115,000 guineas purchase from Tattersalls October Sales, has gone some way to recouping his purchase price when finishing one-and-three-quarter lengths behind the winner, Mubtasim.

Palmer commented on the Mayson colt: "I am absolutely delighted. If we had won at Newmarket (second in a maiden last time out) we were certainly going to come here, it is frustrating still being a maiden but we have just won fifty thousand reasons to keep going. He has run a great race

"I was interested this morning that the Racing Post had put an X by his draw - I don't know if he was well drawn or not, but he was drawn completely the other side of the track to the winner.

"He had every chance to pick the winner up if he could.

"He was the biggest horse in the field by some distance, amazingly because he is a three-parts brother to Hooray, who is very small. Six or seven furlongs I think will be his trip, I can't imagine he will get any further.

"I think he will probably get faster as he gets older I hope he will turn into a talented sprinter for next season, but we have got to get a one by his name!"

Jockey William Buick added: "He ran very well. The winner won well but I was drawn away from him. Mazyoun is a nice horse."