Coolmore Fastnet Rock Matron Stakes

Group 1, Leopardstown 17:35
€350,000 added,
3yo plus, fillies,
1m, Class 1  
Saturday 9th September 2017

1 Hydrangea 20/1
2 Winter EvsF
3 Persuasive 6/1
10 ran NR: Laganore, Unforgetable Filly
Distances: hd, ¾l, ¾l Time: 1m 41.89s (slow by 4.39s)
Hydrangea wins - a 1-2 for Ballydoyle with favorite Winter beaten on the line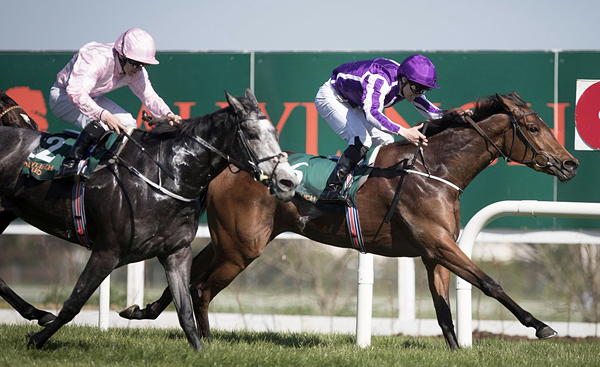 Photo Credit RaceBets via Twitter
Winter was denied a fifth successive Group One triumph by Hydrangea, who had finished behind her in the Nassau Stakes at Goodwood.
However, trainer Aidan O'Brien had said Winter had an interrupted preparation and that might have made the difference in a tight finish.
Another O'Brien filly, Roly Poly, made the running, with the two stable companions not far behind.
It looked as though Winter's class might prevail, but Hydrangea (20-1) just would not give in for Wayne Lordan and got the verdict over the even-money favourite.
The John Gosden-trained Persuasive was third, with Godolphin's Wuheida fourth for Charlie Appleby.
O'Brien said: "I'm delighted for the filly and I'm delighted for Wayne. She is Winter's work partner all year, and maybe she turned around and said 'Hydrangea, you can have this one today!'.
"They ran together in the trial before going to Newmarket and Hydrangea pipped Winter, so it was great really.
"She was the only one of the four fillies that had not won a Group One. We felt that Winter was going to improve a bit from the run. She was carrying a little bit of a tummy, but needed to run.
"The winner will stay further. She could go for the Prix de l'Opera.
"Winter is in the Arc, and the Opera is another option."
Coolmore Fastnet Rock Matron Stakes
Group 1, 1m , Race Value: €350,000
10 ran
Going: Good to Yielding
Pos
Dr
D
Horse SP
Jockey Weight
Trainer
Age
1st
(9)
Hydrangea (IRE) 20/1
W M Lordan
9-0
A P O'Brien
3
2nd
(3)
hd
Winter (IRE) Evsf
R L Moore
9-0
A P O'Brien
3
3rd
(11)
&frac34
Persuasive (IRE) 6/1
L Dettori
9-5
J H M Gosden
4
4th
(6)
&frac34
Wuheida 12/1
James Doyle
9-0
C Appleby
3
5th
(12)
2&frac12
Qemah (IRE) 5/1
Gregory Benoist
9-5
J C Rouget
4
6th
(8)
nk
Roly Poly (USA) 13/2
J A Heffernan
9-0
A P O'Brien
3
7th
(10)
hd
Rhododendron (IRE) 12/1
P B Beggy
9-0
A P O'Brien
3
8th
(2)
&frac12
Intricately (IRE) 50/1
D O'Brien
9-0
Joseph P O'Brien
3
9th
(4)
4&frac14
Diamond Fields (IRE) 100/1
C D Hayes
9-5
J A Stack
4
10th
(1)
2&frac14
Bean Feasa 100/1
K J Manning
9-0
J S Bolger
3
NR
(5)
Laganore (IRE)
C T Keane
9-5
A J Martin
5
NR
(7)
Unforgetable Filly
P J Smullen
9-0
H Palmer
3