---
Fulke Walwyn Kim Muir Challenge Cup

Handicap, Cheltenham 17:30
£65,000 added, 5yo plus,
3m 2f, Class 2  
Thursday 16th March 2017
1 Domesday Book 40/1
2 Pendra 16/1
3 Premier Bond 9/1
4. Potters Legend 10/1
24 ran Distances: ¾l, ¾l, 1l
Time: 6m 48.90s (slow by 22.90s)
Domesday Book gets up late to defeat Pendra in the Kim Muir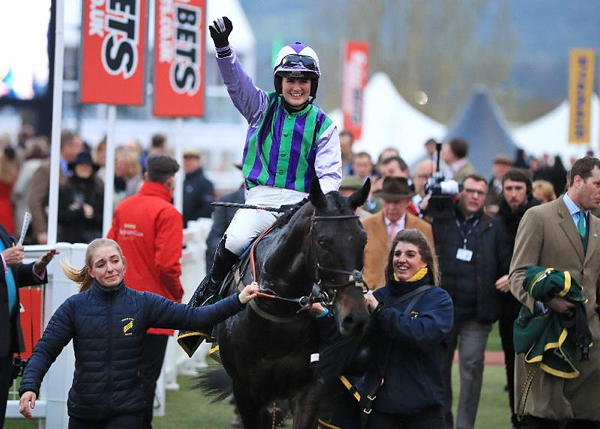 40/1 shot Domesday Book provided trainer Stuart Edmunds with his first Cheltenham Festival winner after staying on strongly under jockey Gina Andrews to claim the concluding race on day three.

In a thrilling finish, the seven-year-old son of Street Cry got up in the closing stages to claim victory by three-quarters of a length from Pendra (16/1).

Nicky Henderson's Premier Bond was a further three-quarters of a length back in third, with another length to Potters Legend, trained by Lucy Wadham, in fourth.

Newport Pagnell handler Edmunds said: "Watching his other races, he has always been a horse that's travelled a bit behind the bridle if he hasn't got his own way but he battled today.

"Gina particularly suited him as she can be forceful. She made her mind up for him at his fences.

"It's amazing to have my first Cheltenham Festival winner. It's in a different league. I had a winner at the track with Wolf Of Windlesham but this is completely different. It's great."
Fulke Walwyn Kim Muir Challenge Cup Handicap Chase
(Amateur Riders)
£70,000 added, 5yo plus, 3m 1f 110y, Class 2
24 ran
Going: Good, Good to Soft in places
Pos
D
Horse SP
Jockey Weight
Trainer
Age
1st
Domesday Book (USA) 40/1
Miss G Andrews
11-4
Stuart Edmunds
7
2nd
&frac34
Pendra (IRE) 16/1
Mr Derek O'Connor
11-12
C E Longsdon
9
3rd
&frac34
Premier Bond 9/1
Mr S Waley-Cohen
11-4
N J Henderson
7
4th
1
Potters Legend 10/1
Mr M Legg
11-6
Mrs L Wadham
7
5th
&frac12
Mall Dini (IRE) 11/2
Ms K Walsh
11-10
P G Kelly
7
6th
4
Sugar Baron (IRE) 25/1
Mr Joshua Newman (3)
11-2
N J Henderson
7
7th
6
Doctor Harper (IRE) 14/1
Ms Lisa O'Neill
11-8
D Pipe
9
8th
&frac12
Lessons In Milan (IRE) 33/1
Mr H Hunt (5)
11-2
N J Henderson
9
9th
3&frac34
Unioniste (FR) 33/1
Mr D Maxwell (3)
11-8
P F Nicholls
9
10th
&frac12
Forgotten Gold (IRE) 50/1
Mr N George (7)
11-10
T R George
11
11th
1&frac14
Whats Happening (IRE) 12/1
Mr R O Harding
11-4
T R George
10
12th
nk
Lamb Or Cod (IRE) 28/1
Mr Sean Houlihan (7)
11-5
P J Hobbs
10
13th
&frac12
Another Hero (IRE) 9/1
Mr J J O'Neill (5)
11-3
Jonjo O'Neill
8
14th
9
Father Edward (IRE) 66/1
Mr Rex Dingle (7)
11-1
D Pipe
8
15th
6
Kilfinichen Bay (IRE) 66/1
Mr J Nailor (7)
11-2
C E Longsdon
9
Also Ran: La Vaticane (FR) , Local Show (IRE) , Southfield Royale , Hadrian's Approach (IRE) , Potters Cross , Venitien De Mai (FR) , Squouateur (FR) , Balbir Du Mathan (FR) , Alvarado (IRE)
ANDREWS LANDS ANOTHER BLOW FOR FEMALE JOCKEYS

Domesday Book gave jockey Gina Andrews a first Festival victory, overpowering top-weight Pendra by three-quarters of a length on the run-in.

The 40/1 chance is trained by Stuart Edmunds and was bred by The Queen.

Andrews, 25, who has ridden around 200 winners under Rules and in point-to-points and who runs a yard with her husband Tom Ellis in Warwickshire, said: "It has been my lifetime ambition just to ride at The Festival, let alone ride a winner here.

"The first thing Stuart said to me was the horse would never be on the bridle, but to be honest he was never off it until I turned in, so it was a pleasant surprise. He gave me a great ride and travelled well. He rallied well on the run-in as well.

"Jumping the last I didn't think I'd win, although I had thought I might jumping two out, but he rallied again, and he had the loose horse to help him. Normally you are willing the line to come to you, but I was willing it away so I could get to it. I'm delighted.

"The girls said to me when I left home this morning that if I won, they'd have a party organised for when I got back, so I'm coming!"

Andrews' victory means that female jockeys have won both of the races for amateur riders run so far at The Festival 2017 - Lisa O'Neill took the J T McNamara National Hunt Chase on Tiger Roll for Gordon Elliott on Tuesday.
Fulke Walwyn Kim Muir Challenge Cup Handicap Chase Previous Results
2016-WINNER-CAUSE OF CAUSES 8-11-09 Owner-J P McManus; Trainer-Gordon Elliott IRE; Jockey-Mr Jamie Codd; SP-9/2
2ND-A Good Skin 7-11-02 Owner-Power Panels Electrical Systems Ltd; Trainer-Tom George; Jockey-Mr Michael Legg; SP-14/1
3RD-Silvergrove 8-11-05 Owner-Nicholas & Claire Piper; Trainer-Ben Pauling; Jockey-Mr Tom David; SP-16/1
4TH-Knock House 7-11-11 Owner-Tim Radford; Trainer-Mick Channon; Jockey-Ms Nina Carberry; SP-16/1
22 ran, Time-6m 43.80s, Dist-12, ½, 5 4/1 Fav Doctor Harper (UR)
2015-WINNER-THE PACKAGE 12-11-04 Owner-The Johnson Family; Trainer-David Pipe; Jockey-Mr Jamie Codd; SP-9/1
2ND-Bless The Wings 10-11-01 Owner-Richard Gilbert; Trainer-Gordon Elliott IRE; Jockey-Ms Nina Carberry; SP-28/1
3RD-Buddy Bolero 9-11-07 Owner-Malcolm Denmark; Trainer-Tony Martin IRE; Jockey-Mr Kevin Power; SP-20/1
4TH-Grand Vision 9-11-01 Owner-Terry Warner; Trainer-Colin Tizzard; Jockey-Mr Michael Legg; SP-11/1
24 ran, Time-6m 33.60s, Dist-12, 1¼, 6 4/1 Fav Champagne James (7th)
2014-SPRING HEELED 7-11-08 Owner-Dr Ronan Lambe; Trainer-Jim Culloty IRE; Jockey-Mr Robbie McNamara; SP-12/1
2ND-Cause Of Causes 6-11-08 Owner- J P McManus; Trainer-Gordon Elliott Jockey-Ms Nina Carberry; SP-13/2
3RD-Roberto Goldback 12-11-12 Owner-Simon Munir; Trainer-Nicky Henderson; Jockey-Mr Sam Waley-Cohen; SP-16/1
4TH-Balnashow 7-11-04 Owner-Gigginstown House Stud; Trainer-Willie Mullins IRE; Jockey-Mr Patrick Mullins; SP-9/1
23 ran, Time-6m 35.10s, Dist-1¾, 17, 2¾
2013-WINNER-SAME DIFFERENCE 7-11-00 Owner-Mrs R Vaughan; Trainer-Nigel Twiston-Davies; Jockey-Mr Ryan Hatch; SP-16/1
2ND-Super Duty 7-11-12 Owner- Brannon, Dick, Hernon & Holden; Trainer-Donald McCain; Jockey-Mr Derek O'Connor; SP-11/2 Fav
3RD-Romanesco 8-11-01 Owner- Gigginstown House Stud; Trainer-Gordon Elliott IRE; Jockey-Ms Nina Carberry; SP-8/1
4TH-Alfie Sherrin 10-11-06 Owner-J P McManus; Trainer-Jonjo O'Neill; Jockey-Mr Alan Berry; SP-9/1
24 ran, Time-6m 39.74s, Dist-hd, 3¼, 10
2012-WINNER-SUNNYHILLBOY 9-11-11 Owner-J P McManus; Trainer-Jonjo O'Neill; Jockey-Mr Alan Berry; SP-13/2 Fav
2ND-Becauseicouldntsee 9-11-09 Owner-Noel Glynn; Trainer-Noel Glynn IRE; Jockey-Mr Robbie McNamara; SP-9/1
3RD-Exmoor Ranger 10-11-12 Owner-The Rangers Partnsership; Trainer-Victor Dartnall; Jockey-Mr Josh Guerriero; SP-33/1
4TH-Up The Beat 7-11-12 Owner-Mrs A M Varmen/R J D Varmen; Trainer-Willie Mullins IRE; Jockey-Mr Patrick Mullins; SP-8/1
23 ran, Time-6m 35.40s, Dist-4½, 3½, 1½
2011-WINNER-JUNIOR 8-11-06 Owner-Middleham Park Racing; Trainer-David Pipe; Jockey-Mr Jamie Codd; SP-100/30 Fav
2ND-Faasel 10-11-09 Owner-Jim Ennis; Trainer-David Pipe; Jockey-Ryan Mahon; SP-20/1
3RD-Deal Done 7-11-08 Owner-Mrs A N Durkan; Trainer-Dessie Hughes IRE; Jockey-Mr Robbie McNamara; SP-20/1
4TH-Galaxy Rock 7-11-03 Owner-Michael & John O'Flynn; Trainer-Jonjo O'Neill; Jockey-Mr J T McNamara; SP-18/1
24 ran, Time 6m 20.50s; Dist 24, 3¼, ½
2010-WINNER-BALLABRIGGS 9-11-12 Owner-Trevor Hemmings; Trainer-Donald McCain; Jockey-Mr Richard Harding; SP-9/1 2ND-Faasel 9-11-07 Owner-Hush Hush Partnership; Trainer-David Pipe; Jockey-Mr Josh Guerriero; SP-20/1 3RD-Galant Nuit 6-11-05 Owner-David Parry; Trainer-Ferdy Murphy; Jockey-Miss Nina Carberry; SP-11/2 Fav 4TH-Ma Yahab 9-10-12 Owner-M Pilkington; Trainer-Venetia Williams; Jockey-Mr Harry Challoner 14/1 24 ran, Time-6m 36.70s; Dist: ½, ¾, 3
2009-WINNER-CHARACTER BUILDING 9-11-12 Owner-Mrs E Wright; Trainer-John Quinn; Jockey-Mr Jamie Codd; SP-16/1
2ND-Pretty Star 9-10-13 Owner-Lottie Hayman-Joyce and H J Racing; Trainer-Venetia Williams; Jockey-Mr Danny Cook; SP-16/1
3RD-Newbay Prop 10-11-01 Owner-Billy Moffett; Trainer-Tony Martin IRE; Jockey-Mr Kevin Power; SP-20/1
4TH-Bowleaze 10-10-10 Owner-Martin Short; Trainer-Robert & Sally Alner; Jockey-Mr Sam Allwood 24 ran, Time-6m 42.90s; Dist 1, 2¾, sh 7/2 Fav Poker De Sivola (7th)
2008-WINNER-HIGH CHIMES 9-10-10 Owner-William & Angela Rucker; Trainer-Evan Williams; Jockey-Mr James Tudor; SP-14/1
2ND-Openide 7-11-01 Owner-Brendan Duke Racing; Trainer-Brendan Duke; Jockey-Mr Ross O'Sullivan; 18/1
3RD-Burntoakboy 10-10-09 Owner-Dr Richard and Laura Newland; Trainer-Dr Richard Newland; Jockey-Mr T Weston; SP-12/1
4TH-Noir Et Vert 7-11-03 Owner-Plantation Stud; Trainer-Ferdy Murphy; Jockey-Mr Richard Harding; SP-11/1 24 ran, Time-6m 49.4s; Dist-4, 7, 10 7/1 Fav My Immortal (UR)
2007-WINNER-CLOUDY LANE 7-10-11 Owner-Trevor Hemmings; Trainer-Donald McCain Jnr; Jockey-Mr Richard Burton; SP 15/2F
2ND-Parsons Legacy 9-11-03 Owner-R A S Offer; Trainer-Philip Hobbs; Jockey-Mr Derek O'Connor; SP-12/1
3RD-Cheeky Lady 10-10-07 Owner-B D B C Ltd; Trainer-Colm Murphy IRE; Jockey-Mr Ross O'Sullivan; SP-20/1
4TH-Ponmeoth 7-11-01 Owner-Jolly Up Syndicate; Trainer-Eric McNamara IRE; Jockey-Mr Jack Doyle; SP-16/1
24 ran, Time-6m 16.51s; Dist-¾, 2, ½
2006-WINNER-YOU'RE SPECIAL 9-10-12 Owner-Diane O'Rourke; Trainer-Ferdy Murphy; Jockey-Mr Richard Harding; SP-33/1
2ND-Mon Mome 6-10-05 Owner-Vida Bingham; Trainer-Venetia Williams; Jockey-Mr William Biddick; SP-11/1
3RD-Undeniable 8-10-09 Owner-Keith Nicholson; Trainer-Sue Smith; Jockey-Miss Nina Carberry; SP-16/1
4TH-Bee An Bee 9-10-03 Owner-Carol Jobburns; Trainer-Tom George; Jockey-Mr Robert McCarthy; SP-25/1
21 ran, Time-6m 09.80s; Dist-3.5 , 8, 1.5 7/1 Jt Favs Liberthine (8th), Parsons Legacy (9th)
2005-WINNER-JUVEIGNEUR 8-11-07 Owner-Trevor Hemmings; Trainer-Nicky Henderson; Jockey-Mr Richard Burton; SP-12/1
2ND-Lord Of The River 13-11-05 Owner-Brian Stewart-Brown; Trainer-Nicky Henderson; Jockey-Mr Aidan Fitzgerald; SP-50/1
3RD-Parsons Legacy 7-11-06 Owner-R A S Offer; Trainer-Philip Hobbs; Jockey-Mr Derek O'Connor; SP-16/1
4TH-Persian Waters 9-11-12 Owner-Paul Green; Trainer-James Fanshawe; Jockey-Mr Tom Greenall; SP-11/1
24 ran, Time-6m 16.70s; Dist-1.25, 1, 6 9/2 Fav Oh Be The Hokey (8th)
2004-WINNER-MAXIMIZE 10-10-06 Owner-David Johnson; Trainer-Martin Pipe; Jockey-Mr Darren Edwards; SP-40/1
2ND-Merchants Friend 9-10-11 Owner-Magic Moments; Trainer-Charlie Mann; Jockey-Mr Paul Cashman; SP-20/1
3RD-Ibis Rochelais 8-10-04 Owner-Andrew Wates; Trainer-Albert Ennis; Jockey-Mr Tom Greenall; SP-7/1 Fav
4TH-Dominikus 7-10-01 Owner-The Aarons Archer Partnership ; Trainer-Ferdy Murphy; Jockey-Mr Keith Mercer; SP-20/1
22 ran, Time-6m 17.60s; Dist-1, 9, 10
2003-WINNER-ROYAL PREDICA 9-10-13 Owner-Peter Deal, J Dale & Allan Stennett; Trainer-Martin Pipe; Jockey-Mr Saul McHugh; SP-33/1
2ND-Ibis Rochelais 7-10-05 Owner-Andrew Wates; Trainer-Albert Ennis; Jockey-Mr Larry McGrath; SP-4/1 Fav
3RD-Rathbawn Prince 11-11-08 Owner-Tom Culhane; Trainer-Dessie Hughes IRE; Jockey-Mr Roger Loughran; SP-40/1
4TH-Montreal 6-10-12 Owner-David Johnson; Trainer-Martin Pipe; Jockey-Mr Jamie Moore; SP-12/1
23 ran, Time-6m 23.00s; Dist-10, .75, .5
2002-WINNER-THE BUSHKEEPER 8-11-02 Owner-Brian Stewart-Brown; Trainer-Nicky Henderson; Jockey-Mr David Crosse; SP-9/2 Fav
2ND-Ceanannas Mor 8-10-07 Owner-Major Christopher Hanbury; Trainer-Nicky Henderson; Jockey-Mr Harry Fowler; SP-20/1
3RD-Cadougold 11-11-03 Owner-David Johnson; Trainer-Martin Pipe; Jockey-Mr Gordon Elliott; SP-25/1
4TH-Phar From A Fiddle 6-10-11 Owner-Judy Stewart; Trainer-Paul Nicholls; Jockey-Miss Polly Gundry; SP16/1
23 ran, Time-6m 18.60s; Dist-7, 3.5, 1
2001- No Race (Foot and Mouth Disease)
2000-WINNER-HONEY MOUNT 9-09-12 Owner-Paul Green; Trainer-Robert Alner; Jockey; Mr Robert Walford; SP-8/1
2ND-Marching Marquis 9-10-00 Owner-Ramsay Donald Brown; Trainer-Gary Brown; Jockey-Mr Tom Gibney; SP-33/1
3RD-Supreme Charm 8-10-09 Owner-P J Vogt; Trainer-Kim Bailey; Jockey-Mr Des Flavin; SP-16/1
4TH-Clifton Set 9-9-11 Owner-Christine Fennell; Trainer-Charlie Mann; Jockey-Mr Ben Hitchcott; SP-20/1
23 ran, Time-6m 5.40s; Dist-8, hd, hd 9/2 Fav Shannon Gale (Fell)
1999-WINNER-CELTIC GIANT 9-10-00 Owner-Richard Gilbert; Trainer-Len Lungo; Jockey-Mr Bruce Gibson; SP-20/1
2ND-Tell The Nipper 8-10-03 Owner-Joe Craig; Trainer-Martin Pipe; Jockey-Mr Kevin O'Sullivan; SP-16/1
3RD-Orswell Lad 10-10-06 Owner-R M E Wright; Trainer-Philip Hobbs; Jockey-Mr Paul Flynn; SP-25/1
4TH-Strong Tel 9-10-10 Owner-Terry Neill; Trainer-Martin Pipe; Jockey-Mr Les Jefford; SP-33/1
22 Ran, Time-6m 28.0s, Dist-14, 1.75, Nk 6/1 Fav Linden's Lotto (7th)
1998-WINNER-IN TRUTH 10-09-09 Owner-Mrs E Houlton; Trainer-Steve Gollings; Jockey-Mr Seamus Durack; SP-20/1
2ND-Cariboo Gold 9-10-04 Owner-Sharon Nelson; Trainer-Kim Bailey; Jockey-Mr Rupert Wakley;SP-11/1
3RD-Time for a Run 11-11-01 Owner-J P McManus; Trainer-Edward O'Grady IRE; Jockey-Mr Philip Fenton; SP-11/4 Fav 14 Ran, Time-6m 15s, Dist-3.5,1.25
1997-WINNER-KING LUCIFER 8-11-05 Owner-A J Davies; Trainer-David Nicholson; Jockey-Mr Robert Thornton; SP-7/2
2ND-Time For A Run 10-11-08 Owner-J P McManus; Trainer-Edward O'Grady IRE; Jockey-Mr Philip Fenton; SP-15/8 Fav
3RD-Lucky Dollar 9-09-07 Owner-G P D Milne; Trainer-Kim Bailey; Jockey-Mr Oliver McPhail; SP-16/1
11 ran, Time-6m 9.6s, Dist-nk, 15
1996-WINNER-STOP THE WALLER 7-09-11 Owner-Ray Burgan and Nicky Tanner; Trainer-Ferdy Murphy; Jockey-Mr Ken Whelan; SP-16/1
2ND-Encore Un Peu 9-11-10 Owner-Vincent Nally; Trainer-Martin Pipe; Jockey-Mr J Dempsey; SP-14/1
3RD-Run Up The Flag 9-11-00 Owner-Pell-Mell Partners; Trainer-Josh Gifford; Jockey-Mr Chris Bonner; SP-14/1
4TH-Ciel de Brion 6-10-13 Owner-Henri de Pracomtal; Trainer-Francois Doumen FR; Jockey-Mr Thierry Doumen; SP-16/1 22 ran, Time-6m 36.3s, Dist-.5, 17, 3 7/2 Fav General Wolfe (fell)

Fulke Walwyn Kim Muir Handicap Chase Roll Of Honour (Kim Muir Handicap Chase prior to 1991)
Year Winner Age/Wt Jockey Trainer Owner SP Ran
1995 Flyers Nap 9-9-10 Mr Peter Henley Robert Alner Jim Tory 11/1 16
1994 Fighting Words 8-10-00 Mr Tim McCarthy Josh Gifford Pell-Mell Partners 9/2F 15
1993 Strong Beau 8-9-08 Mr Tom Jenks David Nicholson Jenny Mould 6/1 12
1992 Tug Of Gold 7-10-02 Mr Marcus Armytage David Nicholson Jenny Mould 11/1 19
1991 Omerta 11-9-13 Mr Adrian Maguire Martin Pipe Jim & Dermot McMorrow 11/1 19
1990 Master Bob 10-10-01 Mr John Berry Nicky Henderson Ian Wills 20/1 17
1989 Cool Ground 7-10-00 Mr Anthony Tory Richard Mitchell Whitcombe Manor Racing Stables 7/2F 26
1988 Golden Minstrel 9-11-01 Mr Tom Grantham Josh Gifford Edward Gale 7/1 13
1987 The Ellier 11-10-05 Miss Gee Armytage Nigel Tinkler Full Circle Thoroughbreds Plc 16/1 16
1986 Glyde Court 9-11-00 Mr John Queally Fred Winter Chris Cronin 13/2 20
1985 Glyde Court 8-10-05 Mr Simon Sherwood Fred Winter Chris Cronin 11/1 18
1984 Broomy Bank 9-11-04 Mr Jim Wilson John Edwards Capt. J M G Lumsden 16/1 18
1983 Greasepaint 8-11-05 Mr Colin Magnier Michael Cunningham IRE Mrs N Todd 8/1 16
1982 Political Pop 8-12-00 Mr Dermot Browne Michael Dickinson Mrs A Starkle 15/2 18
1981 Waggoners Walk 12-10-03 Mr C Cundall Caroline Mason George Mason 7/1 20
1980 Good Prospect 11-10-12 Mr Jim Wilson John Edwards Mrs John Edwards 9/2 12
1979 Redundant Punter 9-9-12 Mr D Jackson Tim Forster Lady Dalverton 14/1 20
1977 Double Negative7-10-09 Mr P Brookshaw Fred Rimell Mrs M Power 11/2 16
1976 Prolan 7-11-07 Mr Ted Walsh Edward O'Grady IRE Michael Cuddy 3/1 14
1975 Quick Reply 10-11-01 Mr Ridley Lamb Harry Bell W Thyne 15/2 17
1974 Castleruddery 8-10-05 Mr Ted Walsh Peter McCreery IRE Mrs K Harper 14/1 19
1973 Hinterland 7-10-07 Mr Bill Foulkes Tim Forster Mrs Robert Henriques 5/2F 22
1972 The Ghost 7-11-11 Mr John Mead Vernon Cross Lt. Col. V Le Marchant 5/2F 15
1971 Black Baize 6-10-06 Mr John Lawrence Bill Shand Kydd Bill Shand Kydd 13/8F 9
1970 Rainbow Valley 7-10-12 Mr Michael Dickinson Tony Dickinson Tony Dickinson 10/1 20
1969 Pride Of Kentucky 7-10-04 Mr Roger Charlton Edward Courage Edward Courage 100/8 13
1968 Chu-The 9-10-06 Mr David Crossley-Cooke Ken Cundell Mrs M McMeekin 3/1F 8
1967 Chu-The 8-10-08 Mr Nick Gaselee Ken Cundell Mrs M McMeekin 9/2 11
1966 Jimmy Scot 10-10-09 Mr John Lawrence Fulke Walwyn Mrs Dermot Daly 6/1 14
1965 Burton Tan 10-11-03 Mr Robin Collie Robin Collie Robin Collie 10/1 15
1964 Jim's Tavern 7-10-04 Mr Giles Pitman John Hicks Mrs Pat Colvin 10/1 11
1963 Centre Circle 8-10-12 Mr Basil Ancil Derek Ancil W L Pilkington 6/1 18
1962 Carrickbeg 6-9-12 Mr Giles Pitman Don Butchers Gay Kindersley 7/1 10
1961 Nicolaus Silver 9-10-05 Mr Bill Tellwright Fred Rimell C Vaughan 10/1 11
1960 Solray 6-11-03 Mr Nick Upton F Cliffe F Cliffe 7/1 9
1959 Irish Coffee 9-10-13 Mr Gay Kindersley Charlie McCartan IRE J A Hale 100/30 12
1958 Lochroe 10-12-02 Mr Edward Cazalet Peter Cazalet Mrs John White 10/11F 11
1957 Mighty Apollo 8-10-13 Mr Bobby Brewis David Machin Mrs A Holmes 25/1 16
1956 Filon D'Or 9-10-10 Mr Danny Moralee Horace Cousins Major T E Jesson 20/1 11
1955 Gay Monarch II 9-11-03 Mr R Watson Fred Rimell J R Roberts 100/8 15
1954 Arctic Gold 9-12-03 Mr Ted Greenway Gerald Balding John Hay Whitney 6/1 11
1953 Crudwell 7-11-11 Mr Atty Corbett Frank Cundell Mrs D M Cooper 5/4F 10
1952 Menzies 10-10-11Mr Peter Chisman Syd Mercer J R Gilman 4/1F 9
1951 Mighty Fine 9-11-11 Mr Peter Chisman Fred Rimell Len Chugg 2/1F 9
1950 Morning Cover 9-10-10 Mr A Parker Gerry Wilson Mrs E G Williams 6/1 6
1949 Jack Tatters 11-12-02 Lord Mildmay Fulke Walwyn Dorothy Paget 4/1F 11
1948 Double Bridge 7-10-10 Mr J Gale Bay Powell M L Dalton 20/1 16
1947 No race (Abandoned because of snow and frost)
1946 Astrometer 8-10-13 Captain Denis Baggallay Charlie Rogers IRE Dorothy Paget 5/4F 14