---
J T McNamara National Hunt Chase

(Amateur Riders' Novices' Chase)
Cheltenham 16:50
£120,000 added, 5yo plus,
3m 7f 170y, Class 2  
Tuesday 14th March 2017
1 Tiger Roll 16/1
2 Missed Approach 50/1
3 Haymount 33/1
4 Arpege D'Alene 12/1
18 ran Distances: 3l, ¾l, 2½l
Time: 8m 22.50s (slow by 23.50s)
Tiger Roll wins under Lisa O'Neill to give Gordon Elliott a treble on the day
A remarkable day for trainer Gordon Elliott was embellished when Tiger Roll brought up a 1,988/1 treble for his yard by landing the J T McNamara National Hunt Chase.


Tiger Roll & Lisa O'Neill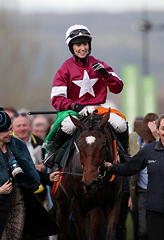 The victory - which completed a double for owner Michael O'Leary of Gigginstown House Stud - underlined the versatility of the seven-year-old winner, who three years ago won the
JCB Triumph Hurdle
over two miles. Today he ran out a ready winner over a trip almost twice as far, pulling hard for much of the trip under rider Lisa O'Neill, who works in Elliott's office and rides out each day.
Tiger Roll
(16/1) scored by three lengths and three-quarters of a length respectively from Missed Approach (50/1) and Haymount (33/1).
McNamara, who rode more than 700 winners, including 16 at Cheltenham and four at The Festival, was seriously injured in a fall at the meeting four years ago - he passed away at the age of 41 in July last year, but his wife, Caroline, and their three children, Dylan, Harry and Olivia, were at Cheltenham today to present the trophies.
Elliott said: "It's unbelievable, particularly having Lisa ride the horse and in John Thomas's race. The John Thomas Munster National was won by Tiger Roll, too - it's hard to believe. If you watch the rerun of the race, Lisa has given him some ride because he head-butts fences. Fair play to her, she is a big part of our team. She is a star, who pre-trains horses, rides out each day, does everything - Jamie [Codd] could have ridden him [but partnered A Genie In A Bottle], but I said to her, if you work hard you can ride him if Jamie doesn't, and she did a great job.
"The horse loved it, and I guess the Irish National has to be next. To have three winners in a day is unbelievable. I trained three winners here last year and said if I had one this year I would be delighted!"
O'Leary said: "Lisa has been very lucky for us - she won the Kerry National for us on Wrath Of Titans and is a superb pilot. She's a lovely girl and tiny, but you could see Tiger Roll loved it, rolling along with her and having his own way of doing things. He has his own ideas about the game, but has won a couple of decent races.
"I'm delighted for Lisa and Gordon. He's an optimist and I'm a pessimist. He gives positive vibes about everything he runs, and that's been vindicated today. What a day for Gordon to win two Grade Ones and now this. Everybody misses J T and it's an honour to win his race.
"I don't know what to do for the rest of the week now, because normally I get to Thursday evening and start getting nervous because we can't find a winner. I think I had better fly home because it can't get any better than this."
J T McNamara National Hunt Chase
(Listed Amateur Riders' Novices' Chase)
£120,000 added, 5yo plus, 3m 7f 170y, Class 1
18 ran
Going: Good to Soft
Pos
D
Horse SP
Jockey Weight
Trainer
Age
1st
Tiger Roll (IRE) 16/1
Ms Lisa O'Neill
11-6
G Elliott
7
2nd
3
Missed Approach (IRE) 50/1
Mr N McParlan
11-6
W Greatrex
7
3rd
&frac34
Haymount (IRE) 33/1
Mr P W Mullins
11-6
W P Mullins
8
4th
2&frac12
Arpege D'Alene (FR) 12/1
Mr W Biddick
11-6
P F Nicholls
7
5th
17
A Genie In Abottle (IRE) 4/1f
Mr J J Codd
11-6
N Meade
6
6th
1&frac12
Kerrow (IRE) 33/1
Mr Joshua Newman
11-6
A King
7
7th
2
Beware The Bear (IRE) 9/2
Mr S Waley-Cohen
11-6
N J Henderson
7
8th
4
Bells 'n' Banjos (IRE) 80/1
Miss A Stirling
11-6
F O'Brien
7
9th
2&frac34
Calett Mad (FR) 33/1
Mr Z Baker
11-6
N A Twiston-Davies
5
10th
19
Ballycross 100/1
Mr H F Nugent
11-6
N A Twiston-Davies
6
Also Ran: Arbre De Vie (FR) , Bigbadjohn (IRE) , Champers On Ice (IRE) , Dancing Shadow (IRE) , Edwulf , Flintham , Martello Tower (IRE) , What A Moment (IRE)
FIRST FESTIVAL WINNER FOR O'NEILL

Lisa O'Neill scored a first Festival victory on her first ride at the meeting, partnering the Gordon Elliott-trained Tiger Roll, a 16/1 shot, to win by three lengths over Missed Approach.

She is just the second woman to win the race after Katie Walsh took it on Poker De Sivola in 2010.

Lisa, 30, works in the office for Gordon Elliot as well as riding. Her mother Margaret is the bloodstock manager for Tattersalls Ireland, and Lisa works during there during sales also.

She said: "He's been a brilliant horse to have at home. He won the Triumph Hurdle three years ago, and he loved it today; he was a bit free with me early on and I was wondering whether he would finish it out, but he did. I think he was taking the mickey out of me because he was loving it too much!

"He's Flat-bred [by Authorized] but he's economical and measures his fences to a T. I think everyone in the yard knows he's got ability, but it's a question of when he's on song, and he was today.

"I was bred into racing - my Dad [Tommy] trains at home [in Co Meath], and unfortunately I was never able to ride a winner for him, but he'll be proud of me today."

Asked whether she had dared to dream that she could win today, she replied: "No, I suppose I'm a bit of a pessimist, so I never count my eggs until they are hatched. Today is a great day and I'll really enjoy it. J T McNamara was an icon to all of us in the point-to-point world at home in Ireland and it is a privilege to win this race."
CHANCE NOT MISSED AS APPROACH FINISHES SECOND

Warren Greatrex was delighted with the run of 50/1 shot Missed Approach who finished an excellent three length second to Gordon Elliott's 16/1 winner Tiger Roll.

The seven-year-old gelding led under Noel McParlan and after being headed by the winner in the home straight, responded willingly to McParlan's urgings to fill the runner-up position, ahead of the fast-finishing 33/1 chance Haymount under Patrick Mullins.

Lambourn handler Greatrex said: "He is a 145 rated horse and you know early doors with this horse if he is jumping and travelling then yeah he is a good horse. He stays and jumps and has a really bright future as he is a very talented horse.

"To be fair, the cheekpieces arguably lit him up slightly today as he was keen early but I couldn't be more happy. Noel gave him a great ride and I am just chuffed to bits."

Greatrex also outlined future plans for the son of Golan, remarking: "We could look at the Scottish Grand National with him as he stays every yard.

"The owners [Alan & Andrew Turner] are great. They are in it for the fun and they said to me are we reaching for the stars today and I sort of backed myself and said this horse would have a huge chance and he showed that he did."

McParlan, having his first ride in the race, commented: "He gave me a great spin and he was super ride.

"We have no excuses and we were just beaten by the better horse on the day.

"Warren told me he would stay all day and to ride him with loads of confident. I got him into a rhythm and he's run really well.

"It was great to ride in the race and you just need a horse that stays very well! He gave me a great spin."
HAYMOUNT FOR FAIRYHOUSE?

Willie Mullins and son Patrick combined to bring the Irish National-entered Haymount into third place.

Willie Mullins, who trains the eight year old, a 33/1 chance, said: "He ran a bit keen in the race but ran well. We're very happy with him. The Irish Grand National would look an option for him but we will see how he comes out of this first."

Patrick Mullins, who rode the Presenting gelding for his father, added: "He just ran too keen but will be a great ride in the Irish National."
NATIONAL HUNT CHASE CHALLENGE CUP PAST RESULTS
2016-WINNER-MINELLA ROCCO 6-11-06 Owner-J P McManus; Trainer-Jonjo O'Neill; Jockey-Mr Derek O'Connor; SP-8/1 2ND-Native River 6-11-06 Owner-Brocade Racing; Trainer-Colin Tizzard; Jockey-Mr Michael Legg; SP-7/1 3RD-Measureofmydreams 8-11-06 Owner-Gigginstown House Stud; Jockey-Ms Katie Walsh; SP-9/1 20 ran, Time-8m 14.00s Dist-11⁄4, 6 5/1 Fav Southfield Royale (4th)
2015-WINNER-CAUSE OF CAUSES 7-11-06 Owner-J P McManus; Trainer-Gordon Elliott IRE; Jockey-Mr Jamie Codd; SP-8/1
2ND-Broadway Buffalo 7-11-06 Owner-Jo Tracey; Trainer-David Pipe; Jockey-Ms Katie Walsh; SP-12/1
3RD-The Job Is Right 7-11-06 Owner-Mrs M Devine; Trainer-Michael Hourigan IRE; SP-Mr Derek O'Connor; SP-10/1
17 ran, Time-8m 18.60s Dist-1½, 5 7/2 Fav Very Wood (10th)
2014-WINNER-MIDNIGHT PRAYER 9-11-06 Owner-The Legends Partnership; Trainer-Alan King- Jockey-Mr Joshua Newman; SP-8/1
2ND-Shotgun Paddy 7-11-06 Owner-Axom (XXXVI); Trainer-Emma Lavelle; Jockey-Mr Derek O'Connor; SP-7/2
3RD-Suntiep 8-11-06 Owner-Jim Ennis; Trainer-Willie Mullins IRE; Jockey-Mr Patrick Mullins; SP-9/1
15 ran, Time-8m 7.62s Dist-nk, 1¼ 3/1 Fav Foxrock (9th)
2013-WINNER-BACK IN FOCUS 8-11-06 Owner-Andrea & Graham Wylie; Trainer-Willie Mullins IRE; Jockey-Mr Patrick Mullins; SP-
9/4F
2ND-Tofino Bay 10-11-06 Owner-Gigginstown House Stud; Trainer-Dessie Hughes IRE; Jockey-Ms Nina Carberry; SP-8/1
3RD-Godsmejudge 7-11-06 Owner-Favourites Racing; Trainer-Alan King; Jockey-Mr Nico De Boinville; SP-7/1
16 ran, Time 8m 1.00s; Dist-½, 19
2012-WINNER-TEAFORTHREE 8-11-06 Owner-T437; Trainer-Rebecca Curtis; Jockey-Mr J T McNamara; SP-5/1F
2ND-Harry The Viking 7-11-06 Owner- Sir A Ferguson, G Mason, R Wood & P Done; Trainer-Paul Nicholls; Jockey-Mr Will Biddick; SP-7/1
3RD-Four Commanders 6-11-06 Owner- Gigginstown House Stud; Trainer-Mouse Morris IRE; Jockey-Miss Nina Carberry; SP-10/1
19 ran, Time 8m 13.80s; Dist-2, nk
2011-WINNER-CHICAGO GREY 8-11-06 Owner-John Earls; Trainer-Gordon Elliott IRE; Jockey-Mr Derek O'Connor; SP-5/1F
2ND-Beshabar 9-11-06 Owner-Maggie Findlay; Trainer-Tim Vaughan; Jockey-Mr Tom David; SP-9/1
3RD-Be There In Five 7-11-06 Owner-Simon Munir; Trainer-Nicky Henderson; Jockey-Mr Sam Waley-Cohen; SP-20/1
16 ran, Time 8m 20.70s; Dist-4 1⁄2, 8
2010-WINNER-POKER DE SIVOLA 7-11-06 Owner-David Johnson; Trainer-Ferdy Murphy; Jockey-Ms Katie Walsh; SP-14/1
2ND-Becauseicouldntsee 7-11-06 Owner-Noel Glynn; Trainer-Noel Glynn IRE; Jockey-Miss Nina Carberry; SP-13/2
3RD-Prudent Honour 8-11-06 Owner-Humble Syndicate; Trainer-Tom Cooper IRE; Jockey-Mr Michael O'Connor; SP-40//1
18 ran, Time-8m 11.20s; Dist-2 •, 2 • 6/1 Fav Mobaasher (5th)
2009-WINNER-TRICKY TRICKSTER 6-11-11 Owner-Million In Mind Partnership; Trainer-Nigel Twiston-Davies; Jockey-Mr Sam
Waley-Cohen; SP-11/1
2ND-Drumconvis 8-11-11 Owner-Billy Moffett; Trainer-Tony Martin IRE; Jockey-Mr Derek O'Connor; SP-22/1
3RD-Nine De Sivola 8-11-07 Owner-The DPRP Sivola Partnership; Trainer-Ferdy Murphy; Jockey-Mrs Rose Dobbin
19 ran, Time-8m 25.80s; Dist-10, nk 4/1 Fav Can't Buy Time (4th)
2008-WINNER-OLD BENNY 7-11-07 Owner-Trevor Hemmings; Trainer-Alan King; Jockey-Charlie Huxley; SP-9/1
2ND-Over The Creek 9-12-00 Owner-David Johnson; Trainer-David Pipe; Jockey-Mr Josh Guerriero; SP-7/1
3RD-Back On Line 8-11-07 Owner-ROA Arkle Partnership; Trainer-Venetia Williams; Jockey-Mr William Biddick
20 ran, Time-8m 26.6s; Dist-7, 4½ 9/2 Fav Ornais (5th)
2007-WINNER-BUTLER'S CABIN 7-12-00 Owner-J P McManus; Trainer-Jonjo O'Neill; Jockey-Mr Alan Berry; SP-33/1
2ND Character Building 7-12-00 Owner-Mrs E Wright; Trainer-John Quinn; Jockey-Mr Derek O'Connor; SP-7/1
3RD Countess Trifaldi 7-11-00 Owner-C Wilkinson; Trainer-Michael Phillips IRE; Jockey-Mr Colman Sweeney; SP-100/1
19 ran, Time-8m 38.70s; Dist-¾, 10 2/1 Fav Gungadu (Fell)
2006-WINNER-HOT WELD 7-11-11 Owner-S Hubbard Rodwell; Trainer-Ferdy Murphy; Jockey-Mr Richard Harding; SP-33/1
2 Beantown 8-11-07 Owner-Eoin Barry; Trainer-Sean Aherne IR; Jockey-Mr Paul Tobin; SP-40/1
3 Far From Trouble 7-11-11 Owner-J P McManus; Trainer-Christy Roche IRE; Jockey-Mr J T McNamara; SP-7/2 Fav
22 ran, Time-8m 33.20s; Dist-nk, 1
2005-WINNER-ANOTHER RUM 7-11-07 Owner-Ronald Lilley; Trainer-Ian Duncan IRE; Jockey-Mr Mark O'Hare; SP-40/1
2ND Caislean Ui Cuain 9-11-11 Owner-Seamus O'Farrell; Trainer-Jim Lambe IRE; Jockey-Mr J P O'Farrell; SP-150/1
3RD Control Man 7-12-00 Owner-David Johnson; Trainer-Martin Pipe; Jockey-Mr Gordon Elliott; SP-11/1
20 ran, Time-8m 49.90s; Dist-7, .5 100/30 Fav Point Barrow (5th)
2004-WINNER-NATIVE EMPEROR 8-11-11 Owner-J C, J R & S R Hitchins; Trainer-Jonjo O'Neill; Jockey-Mr Robert Widger; SP-5/1 Jt Fav
2ND Celestial Gold 6-11-11 Owner-David Johnson; Trainer-Martin Pipe; Jockey-Mr Ashley Farrant; SP-33/1
3RD Drombeag 6-11-07 Owner-J P McManus; Trainer-Jonjo O'Neill; Jockey-Mr J T McNamara; SP-8/1
22 ran, Time-8m 12.10s; Dist-1.75, 6 5/1 Jt Fav Silver Birch (5th)
2003-WINNER-SUDDEN SHOCK 8-11-07 Owner-Darren Mercer; Trainer-Jonjo O'Neill; Jockey-Mr Denis Cullen; SP-25/1
2ND Stormez 6-12-00 Owner-David Johnson; Trainer-Martin Pipe; Jockey-Mr Jamie Moore; SP-7/4 Fav
3RD Young Ottoman 7-11-11 Owner-D G Staddon; Trainer-Victor DartnAll; Jockey-Mr Julian Pritchard; SP-10/1
24 ran, Time-8m 21.80s; Dist-1, 13
2002-WINNER-RITH DUBH 10-11-11 Owner-J P McManus; Trainer-Jonjo O'Neill; Jockey-Mr J T McNamara; SP-10/1
2ND-Timbera 8-12-00 Owner-Josephine Breen; Trainer-Dessie Hughes IRE; Jockey-Mr Davy Russell; SP-8/1
3RD-Silver Steel 7-12-00 Owner-Thomas Harty; Trainer-Christy Roche IRE; Jockey-Mr Alan Crowe; SP-12/1
26 ran, Time 8m 46.40s; Dist-hd, 13 6/1 Fav Mister Bigtime (8th)
2001-Race Cancelled
2000-WINNER-RELAXATION 8-12-00 Owner-Sir Philip Payne-Gallwey and Mrs Vicky Wiggin; Trainer-Henry Daly; Jockey-Mr Mark Bradburne; SP-8/1
2ND-Inch Rose 6-11-13 Owner-E Hunston, P White and Mrs V Griffiths; Trainer-Noel Chance; Jockey-Mr Tom Doyle; SP-9/1
3RD-Mister One 9-12-07 Owner-Colin Tizzard; Trainer-Colin Tizzard; Jockey-Mr J D Moore; SP-11/2
21 ran, Time-8m 0.60s, Dist-6, 5 4/1 Fav Fandango De Chassy (PU)
1999-WINNER-DEEJAYDEE 7-12-00 Owner- Mrs M Devine; Trainer-Michael Hourigan IRE; Jockey-Mr Tony Martin; SP-13/2
2ND-Riot Leader 9-12-07 Owner-Mrs & Mrs D A Gamble; Trainer-Tom George; Jockey-Mr Alan Dempsey; SP-10/1
3RD-Spot Thedifference 6-12-04 Owner-Mrs S Bolger; Trainer-Enda Bolger IRE; Jockey-Mr Paul Moloney; SP-13/2
21 ran, Time-8m 33.7s, Dist-nk, 6 6/1 Fav Derrymore Mist (4th)
1998-WINNER-WANDERING LIGHT 9-12-7 Owner- Anne Duchess of Westminster; Trainer-Tim Forster; Jockey-Mr Rupert Wakley; SP-10/1
2ND-Thatswhatithought 6-12-0 Owner-Joy Valentine; Trainer-Mouse Morris IRE; Jockey-Mr Ruby Walsh; SP-20/1
3RD-Torduff Express 7-12-7 Owner-Two Plus Two; Trainer-Paul Nicholls; Jockey-Mr Joe Tizzard; SP-7/1
24 ran, Time-8m 21.1s, Dist-16, 7 100/30 Fav Farfadet V (BD)
1997-WINNER-FLIMSY TRUTH 11-12-07 Owner-Martin Weston; Trainer-Martin Weston; Jockey-Mr Mike Harris; SP-33/1
2ND-Vol Par Nuit 6-12-04 Owner-D O McIntyre; Trainer-Francois Doumen FR; Jockey-Mr Thierry Doumen;SP-13/2
3RD-Robsand 8-12-00 Owner-Sir Brian McGrath; Trainer-Toby Balding; Jockey-Mr Andrew Balding; SP-9/1
23 ran, Time-8m 11.09s, Dist-1.25, 27 6/1 Fav Random Harvest (PU)
1996-WINNER-LOVING AROUND 8-11-13 Owner-Lord Tavistock; Trainer-Edward O'Grady IRE; Jockey-Mr Philip Fenton; SP-10/1
2ND-Fellow Countryman 9-12-07 Owner-A D Wardall; Trainer-Kim Bailey; Jockey-Mr Marcus Armytage; SP-10/1
3RD-Class of Ninetytwo 7-12-07 Owner-Lord Cadogan; Trainer-Tim Forster; Jockey-Mr Jim Culloty; SP-3/1 Fav
22 ran, Time-8m 34.7s, Dist-13, 6
1995-WINNER-FRONT LINE 8-12-07 Owner-J P McManus; Trainer-Jonjo O'Neill; Jockey-Mr John Berry; SP-7/1
2ND-Keano 6-12-00 Owner-Midavon Partnership; Trainer-Philip Hobbs; Jockey-Mr Sean Mulcaire; SP-8/1
3RD-Lacken Cross 7-12-04 Owner-John J Howlett; Trainer-Aidan O'Brien IRE; Jockey-Mr Henry Cleary; SP-7/1
25 ran, Time-8m 55.5s, Dist-dist, 7 13/2 Fav Extra Special (PU)
1994-WINNER-CHRISTMAS GORSE 8-12-04 Owner-David Stoddart; Trainer-Nick Gaselee; Jockey-Mr Marcus Armytage; SP-14/1
2ND-Extra Special 9-12-00 Owner-Robert Ogden; Trainer-Gordon Richards; Jockey-Capt Adam Ogden; SP-25/1
3RD-Nearly Splendid 9-12-04 Owner & Trainer-Roy Stevens; Jockey-Mr Tom Greed; SP-14/1
19 ran Time-8m 36.8s, Dist-3.5, 4 11/4 Fav Front Line (PU)
NATIONAL HUNT CHASE CHALLENGE CUP (AMATEUR RIDERS)
ROLL OF HONOUR
Year Winner Age/Wt Jockey Trainer Owner SP Ran
1993 Ushers Island 7-12-04 Mr Noel Wilson Howard Johnson Bob Bowden 15/2 13
1992 Keep Talking 7-12-07 Mr Marcus Armytage Tim Thomson Jones Jim Joel 5/2F 24
1991 Smooth Escort 7-12-00 Mr Tony Martin Di Haine A F Budge (Equine) Ltd 7/1 18
1990 Topsham Bay 7-12-00 Mr Paul Hacking David Barons Michael Marsh 40/1 25
1989 Boraceva 6-12-07 Mr Seamus Mullins Toby Balding Duke of Atholl 4/1F 21
1988 Over The Road 7-12-04 Mr Tom Costello Terry Casey John Upson 10/1 28
1987 Mighty Mark 8-12-07 Mr Jimmy Walton Frank Walton Frank Walton 8/1 30
1986 Omerta 6-12-07 Mr Lorcan Wyer Homer Scott IRE Mrs J McMorrow 9/4F 22
1985 Northern Bay 9-12-04 Mr Tony Fowler Tom Bill Twycross Frozen Food Centre Ltd 12/1 20
1984 Macks Friendly 7-12-07 Mr Willie Mullins Paddy Mullins IRE John Mulhern 11/4 18
1983 Bit Of A Skite 7-12-00 Mr Frank Codd Edward O'Grady IRE J P McManus 5/1F 29
1982 Hazy Dawn 7-12-07 Mr Willie Mullins Paddy Mullins IRE R Daniels 8/1 26
1981 Lucky Vane 6-12-07 Mr Stephen Bush Toby Balding Bridget Swire 13/1 21
1980 Waggoners Walk 11-12-04 Mr Tony Fowler Caroline Mason George Mason 10/1 23
1979 Artic Ale 8-12-00 Mr John Fowler Dan Moore IRE Anthony Robinson 20/1 25
1978 Gay Tie 5-11-09 Mr John Fowler Mick O'Toole IRE Dr P Morrissey 10/1 17
1977 Alpenstock 10-12-04 Mr Dick Saunders Stan Mellor Harron Thompson 14/1 21
1976 Sage Merlin 8-12-07 Mr Peter Greenall Jack Hardy John Bingham 5/2F 22
1975 Abandoned (course waterlogged)
1974 Mr Midland 7-12-04 Mr Mouse Morris Edward O'Grady IRE B Naughton 7/2 17
1973 Foreman 7-12-01 Mr Bill Shand Kydd Tom Jones R Dean 11/2F 25
1972 Charley Winking 7-12-00 Mr Derrick Scott Leslie Scott Leslie Scott 20/1 23
1971 Deblin's Green 8-11-07 Mr Derek Edmunds George Yardley George Yardley 9/2F 20
1970 Domason 7-12-01 Mr Robert Alner Harry Dufosee Harry Dufosee 10/1 18
1969 Lizzy The Lizard 10-12-00 Mr Grant Cann Tony Hartnoll Tony Hartnoll 10/1 35
1968 Fascinating Forties 9-11-07 Mr Michael Dickinson George Owen Lord Leverhulme 9/1 22
1967 Master Tammy 9-11-07 Mr Brian Fanshawe George Guilding George Guilding 100/7 24
1966 Polaris Missile 7-11-09 Mr John Thorne John Thorne John Thorne 100/6 29
1965 Red Vale 11-12-00 Mr George Small Albert Piper Mrs C Smith 100/8 26
1964 Dorimont 10-12-01 Mr Charles Vaughan Tom Taaffe IRE M A Walshe 4/1 30
1963 Time 8-12-00 Mr Ian Balding Willie Stephenson John Cheatle 8/1 35
1962 Go Slow 7-12-07 Mr George Small Albert Piper Mrs I R Millar 10/1 26
1961 Superfine 8-12-04 Sir William Pigott-Brown Frank Cundell I Kerwood 10/1 33
1960 Proud Socks 8-12-00 Mr H Thompson Vivian Bishop Vivian Bishop 100/6 22
1959 Sabaria 8-12-00 Mr John Lawrence Bob Turnell Bob Turnell 5/2F 17
1958 Spud Tamson 7-12-04 Mr Geordie Dun Tommy Dun Mrs T D C Dun 13/2 28
1957 Kari Sou 8-12-00 Mr Alan Lillingston Archie Thomlinson Archie Thomlinson 100/6 24
1956 Rosana III 7-12-00 Mr G Everitt G Everitt G Everitt 9/1 22
1955 Reverend Prince 9-12-00 Mr C Pocock P Dufosee P Dufosee 33/1 26
1954 Quare Times 8-12-04 Mr Bunny Cox Vincent O'Brien IRE Mrs R Smyth 5/2F 26
1953 Pontage 7-12-04 Mr Bunny Cox Dan Moore IRE Lady Honor Svejdar 9/4F 22
1952 Frosty Knight 6-12-00 Mr Charles Straker Ian Straker Ian Straker 15/2 19
1951 Cushendun 6-12-04 Mr Peter Chisman Bobby Renton Lurline Brotherton 10/1 18
1950 Ellesmere 7-12-07 Mr Atty Corbett Ken Cundell Lord Bicester 100/30F 26
1949 Castledermot 7-12-07 Lord Mildmay Vincent O'Brien IRE Mrs Harry Keogh 6/4F 17
1948 Bruno II 8-12-03 Major Guy Cunard William Anstruther-Gray William Anstruther-Gray 20/1 37
1947 Maltese Wanderer 8-12-03 Major Dermot Daly Tom Yates G J Wells 6/1 20
1946 Prattler 11-12-03 Major Dermot Daly Tom Yates E Manner 33/1 20