---
Grand Annual Handicap Chase

Grade 3 Handicap
Cheltenham 17:30
£110,000 added, 5yo plus,
2m 110y, Class 1  
Friday 16th March 2018
Le Prezien wins the final race of the 2018 Festival
1 Le Prezien 15/2
2 Gino Trail 25/1
3 Top Gamble 8/1
4 Theinval 16/1
22 ran NR: Forest Bihan, The Game Changer
Distances: 4½l, nk, ½l Time: 4m 21.80s (slow by 25.80s)
Paul Nicholls registered a 220/1 double on day four of The Festival with Le Prezien's success in the final race of the meeting.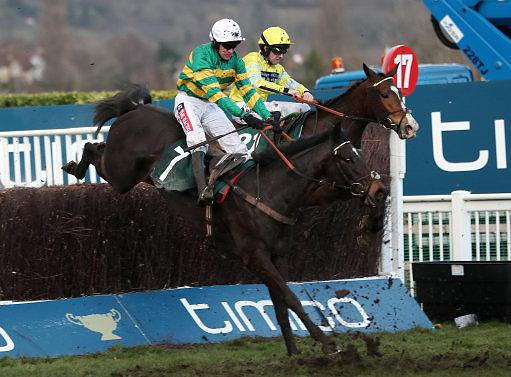 Ridden by Barry Geraghty, for his retained owner J P McManus, the 15/2 shot stayed on well after the final fence in the two-mile handicap chase to master Kerry Lee's front-runner Gino Trail (25/1), who finished four and a half lengths behind in second, with his stable companion
Top Gamble
(8/1) a neck behind in third.
He said: "
Le Prezien
did well. We took our time deciding what race to run him in at The Festival but on this ground, we thought running him over two miles despite him wanting further would work out well.
"Barry didn't get there too soon and this horse is learning all the time. He's been unlucky this season and was placed in some good handicaps.
"He had a long time off after his last run and we were always aiming him for today - it was brilliant.
"The ground was a bit soft for most of ours but we've had some horses run well and we've had two winners, so we're delighted.
"We haven't got that strong a team at the moment compared to some others, so to have two winners is brilliant and it's onwards and upwards for us."
Barry Geraghty, rider of the winner, commented: "It was a good performance. Paul said he had him in good shape. His jumping was a little bit hit and miss before, but it seemed to be good today.
"It was testing conditions, but he ran a good race."
Grand Annual Chase Challenge Cup
(Grade 3 Handicap)
£110,000 added, 5yo plus, 2m 110y, Class 1
22 ran
Going: Soft, Heavy in places
Pos
D
Horse SP
Jockey Weight
Trainer
Age
1st
Le Prezien (FR) 15/2
B J Geraghty
11-8
P F Nicholls
7
2nd
4&frac12
Gino Trail (IRE) (ex9) 25/1
J E Moore
11-10
Kerry Lee
11
3rd
nk
Top Gamble (IRE) 8/1
D N Russell
11-7
Kerry Lee
10
4th
frac12
Theinval (FR) 16/1
J McGrath
10-13
N J Henderson
8
5th
6
Three Stars (IRE) 12/1
J J Slevin (3)
11-2
H de Bromhead
8
6th
4frac12
Doitforthevillage (IRE) 20/1
P J Brennan
10-11
P Henderson
9
7th
3frac34
Dolos (FR) 16/1
Harry Cobden
11-5
P F Nicholls
5
8th
1
Born Survivor (IRE) 25/1
Bridget Andrews (3)
10-13
D Skelton
7
9th
frac12
Rock The World (IRE) 20/1
R M Power
11-11
Mrs J Harrington
10
10th
7
Bright New Dawn (IRE) 66/1
A P Cawley
10-11
Miss V Williams
11
11th
3frac12
Foxtail Hill (IRE) 20/1
Jamie Bargary (3)
11-1
N A Twiston-Davies
9
12th
3
Sizing Platinum (IRE) 50/1
T J O'Brien
11-5
C L Tizzard
10
13th
14
Garde La Victoire (FR) 25/1
R Johnson
11-12
P J Hobbs
9
14th
23
Vaniteux (FR) 16/1
T Scudamore
11-9
D Pipe
9
15th
16
Eastlake (IRE) 33/1
Jonjo O'Neill (7)
11-5
Jonjo O'Neill
12
PU
Don't Touch It (IRE) 11/1
M P Walsh
11-7
Mrs J Harrington
8
PU
Townshend (GER) 16/1
P Townend
11-2
W P Mullins
7
F
North Hill Harvey 7/1f
Harry Skelton
11-8
D Skelton
7
F
Some Plan (IRE) 20/1
N D Fehily
11-2
H de Bromhead
10
F
Dresden (IRE) 16/1
J M Davies
11-2
Henry Oliver
10
UR
Valdez 25/1
Wayne Hutchinson
11-7
A King
11
BD
Bouvreuil (FR) 10/1
Sam Twiston-Davies
11-0
P F Nicholls
7
NR
Forest Bihan (FR)
Danny Cook
11-12
B Ellison
7
NR
The Game Changer (IRE)
J W Kennedy
11-0
G Elliott
9
Johnny Henderson Grand Annual Chase Previous Results
2017-WINNER-ROCK THE WORLD 9-11-05 Owner-Michael Buckley; Trainer-Jessica Harrington IRE; Jockey-Robbie Power; SP-10/1
2ND-Gardefort 8-11-00 Owner-Andrew Brooks; Trainer-Venetia Williams; Jockey-Daryl Jacob; SP-20/1
3RD-Theinval 7-10-13 Owner-Mr & Mrs Sandy Orr; Trainer-Nicky Henderson; Jockey-Jeremiah McGrath; SP-9/1
4TH-Dandridge 8-11-01 Owner-Ronnie Bartlett; Trainer-Arthur Moore IRE; Jockey-Davy Russell; SP-13/2
24 ran, Time-4m 1.40s; Dist-1¾, nk, 2½ 7/2 Fav Le Prezien (8th)
2016-WINNER-SOLAR IMPULSE 6-11-00 Owner-Andrea & Graham Wylie; Trainer-Paul Nicholls; Jockey-Sam Twiston-Davies; SP-28/1
2ND-Dandridge 7-10-011 Owner-Ronnie Bartlett; Trainer-Arthur Moore IRE; Jockey-Davy Russell; SP-8/1
3RD-Rock The World 8-11-06 Owner-Michael Buckley; Trainer-Jessica Harrington IRE; Jockey-Robbie Power; SP-9/2 Fav
4TH-Savello 10-11-05 Owner-S Smith & S Campion; Trainer-Dan Skelton; Jockey-Bridget Andrews; SP-25/1
24 ran, Time-3m 59.20s; Dist-3¾, ½, 1¾
2015-WINNER-NEXT SENSATION 8-11-02 Owner-Mark Blandford; Trainer-Michael Scudamore; Jockey-Tom Scudamore; SP-16/1
2ND-Eastlake 9-11-04 Owner-J P McManus; Trainer-Jonjo O'Neill; Jockey-Paul Carberry; SP-12/1
3RD-Croco Bay 8-11-08 Owner-Lady Jane Grosvenor; Trainer-Ben Case; Jockey-Kielan Woods; SP-14/1
4TH-Ned Buntline 7-11-01 Owner-J P McManus; Trainer-Noel Meade IRE; Jockey-A P McCoy; SP-4/1 Joint-Fav
20 ran, Time-4m 9.50s; Dist-4, 1, 1½ 4/1 Joint-Fav Blood Cotil (PU)
2014-WINNER-SAVELLO 8-11-05 Owner-Gigginstown House Stud; Trainer-Tony Martin IRE; Jockey-Davy Russell; SP-16/1
2ND-Ned Buntline 6-10-10 Owner-J P McManus; Trainer-Noel Meade IRE; Jockey-Paul Carberry; SP-6/1 Jt Fav
3RD-Claret Cloak 7-11-00 Owner-Hawksmoor Partnership; Trainer-Emma Lavelle; Jockey-Noel Fehily; SP-6/1 Jt Fav
4TH-Next Sensation 7-11-00 Owner-Mark Blandford; Trainer-Michael Scudamore; Jockey-Richard Johnson; SP-7/1
23 ran, Time-4m 1.30s; Dist-1¼, nk, nk
2013-WINNER-ALDERWOOD 9-10-11 Owner-J P McManus; Trainer-Tom Mullins IRE; Jockey-Tony McCoy; SP-3/1 Fav
2ND-Kid Cassidy 7-10-11 Owner-J P McManus; Trainer-Nicky Henderson; Jockey-Jeremiah McGrath; SP-12/1
3RD-Oiseau De Nuit 11-11-03 Owner-Terry Warner; Trainer-Colin Tizzard; Jockey-Brendan Powell; SP-33/1
4TH-Drumshambo 7-10-13 Owner-The Grouse Partnership; Trainer-Venetia Williams; Jockey-Aidan Coleman; SP-20/1
23 ran, Time-4m 17.60s; Dist-3¼, 10, 5
2012-WINNER-BELLVANO 8-10-02 Owner-J P McManus; Trainer-Nicky Henderson; Jockey-Paul Carberry; SP-20/1
2ND-Tanks For That 9-10-13 Owner-Bridget Hanbury; Trainer-Nicky Henderson; Jockey-Barry Geraghty; SP-9/1
3RD-Kumbeshwar 5-10-08 Owner-McNiell Family & Nigel Bunter; Trainer-Alan King; Jockey-Robert Thornton; SP-16/1
4TH-Anquetta 8-10-02 Owner-The Ten From Seven; Trainer-Nicky Henderson; Jockey-Andrew Tinkler; SP-33/1
21 ran, Time-3m 58.00s; Dist-2¼, 7, 3¼ 4/1 Fav Kid Cassidy (12th)
2011-WINNER-OISEAU DE NUIT 9-10-13 Owner-Terry Warner; Trainer-Colin Tizzard; Jockey-Steven Clements; SP-40/1
2ND-Askthemaster 11-10-08 Owner-Miss C Wall; Trainer-Robert Tyner IRE; Jockey-Philip Enright; SP-50/1
3RD-Leo's Lucky Star 9-10-11 Owner-Sheila Brookhouse; Trainer-David Pipe; Jockey-Danny Cook; SP-20/1
4TH-De Boitron 7-11-12 Owner-Mrs J Morgan & Mrs Lindsey J Shaw; Trainer-Ferdy Murphy; Jockey-Graham Lee; SP-8/1
23 ran, Time-3m 52.80s; Dist-3¼, 2¼ , 6 4/1 Fav I'msingingtheblues (7th)
2010-WINNER-PIGEON ISLAND 7-10-01 Owner-Raymond Mould; Trainer-Nigel Twiston-Davies; Jockey-Paddy Brennan; SP-16/1 2ND-French Opera 7-11-05 Owner-Judy Wilson & Martin Landau; Trainer-Nicky Henderson; Jockey-David Bass; SP-10/1 3RD-Consigliere 7-11-03 Owner-E Scouller; Trainer-David Pipe; Jockey-Tom Scudamore; SP-16/1 4TH-Cornas 8-11-08 Owner-The Gascoigne Brooks Partnership III; Trainer-Nick Williams; Jockey-Daryl Jacob; SP-16/1 19 ran, Time-4m 7.60s; Dist-1¼ , ¾, 3½ 13/2 Fav You're The Top (PU)
2009-WINNER-OH CRICK 6-10-00 Owner-David Sewell; Trainer-Alan King; Jockey-Wayne Hutchinson; SP-7/1
2ND-Moon Over Miami 8-10-09 Owner-Anne Fulton & Michael Lynch; Trainer-Charlie Mann; Jockey-Noel Fehily; SP-20/1
3RD-French Opera 6-10-08 Owner-Judy Wilson & Martin Landau; Trainer-Nicky Henderson; Jockey-Marcus Foley; SP-10/1
4TH-Tramantano10-10-03 Owner-Raymond Mould; Trainer-Nigel Twiston-Davies; Jockey-Marcus Foley; SP-33/1 18 ran, Time-4m 7.50s; Dist-¾, 7, 4½ 3/1 Fav Poquelin (8th)
2008-WINNER-TIGER CRY 10-10-06 Owner-Chris Jones; Trainer-Arthur Moore IRE; Jockey-Davy Russell; SP-15/2
2ND-My Petra 5-10-04 Owner-Richard and Lizzie Kelvin Hughes; Trainer-Nicky Henderson; Jockey-Mick FitzGerald; SP-3/1 Fav
3RD-Calatagan 9-11-02 Owner-Mr & Mrs J M Davenport; Trainer-Malcolm Jefferson; Jockey-Tom Dreaper; SP-50/1
4TH-Andreas 8-11-12 Owner-Trevor Hemmings; Traienr-Paul Nicholls; Jockey-Ruby Walsh; SP-10/1 17 ran, Time-4m 10.65s; Dist-3, hd, 2
2007-WINNER-ANDREAS 7-10-11 Owner-Trevor Hemmings; Trainer-Paul Nicholls; Jockey-Robert Thornton; SP-12/1
2ND-Hasty Prince 9-10-05 Owner-J P McManus; Trainer-Jonjo O'Neill; Jockey-Tony McCoy; SP-8/1
3RD-Ground Ball 10-10-05 Owner-J P McManus; Trainer-Charlie Swan IRE; Jockey-David Casey; SP-33/1
4TH-Ursis 6-10-08 Owner-P Martin; Trainer-Steve Gollings; Jockey-Barry Geraghty; SP-14/1
23 ran, Time-3m57.30s; Dist: 3, 4, 2½ 5/2 Fav Saintsaire (6th)
2006-WINNER-GREENHOPE 8-10-11 Owner-Lynn & Giles Wilson, Martin Landau; Trainer-Nicky Henderson; Jockey-Andrew Tinkler; SP-20/1
2ND-Tiger Cry 8-10-13 Owner-Chris Jones; Trainer-Arthur Moore IRE; Jockey-David Casey; SP-6/1
3RD-Madison Du Berlais 5-10-04 Owner-Roger Stanley & Yvonne Reynolds; Trainer-Martin Pipe; Jockey-Tom Scudamore; SP-11/1
4TH-Nyrche 6-11-02 Owner-Tony & Jeni Fisher; Trainer-Alan King; Jockey-Robert Thornton; SP-20/1
23 ran, Time-3m 55.90s; Dist: 2, 1, 1.25 4/1 Fav Andreas (Fell)
2005-WINNER-FOTA ISLAND 9-10-00 Owner-J P McManus; Trainer-Mouse Morris IRE; Jockey-Paul Carberry; SP-7/1
2ND-Bambi De L'Orme 6-10-00 Owner-Mr & Mrs John Poynton; Trainer-Ian Williams; Jockey-Graham Lee; SP-16/1
3RD-Caracciola 8-10-12 Owner-Piers Pottinger; Trainer-Nicky Henderson; Jockey-Marcus Foley; SP-16/1
4TH-Tysou 8-10-06 Owner-Bill Brown; Trainer-Nicky Henderson; Jockey-Mick Fitzgerald; SP-10/1
24 ran, Time-4m 03.40s; Dist: 5, 1, 1 9/2 Fav L'Ange Au Ciel (14th)
2004-WINNER-ST PIRRAN 9-10-01 Owner-Graham Roach; Trainer-Paul Nicholls; Jockey-Ruby Walsh; SP-4/1 Fav
2ND-Ground Ball 7-10-05 Owner-J P McManus; Trainer-Charlie Swan IRE; Jockey-David Casey; SP-10/1
3RD-Reiziger 8-9-11 Owner-D Jones & B Thomas; Trainer-Venetia Williams; Jockey-Paddy Brennan; SP-33/1
4TH-No Visibility 9-10-00 Owner-David Moon; Trainer-Robert Alner; Jockey-Timmy Murphy; SP-14/1
21 ran, Time-4m 5.90s; Dist- 2.5, 7, 9
2003-WINNER-PALARSHAN 5-10-00 Owner-Mrs A L Wood; Trainer-Henry Daly; Jockey-Mark Bradburne; SP-8/1
2ND-Risk Accessor 8-10-01 Owner-J P McManus; Trainer-Christy Roche IRE; Jockey-Seamus Durack; SP-20/1
3RD-Dark'n Sharp 8-11-02 Owner-Ascot Five Plus One; Trainer-Richard Phillips; Jockey-Richard Johnson; SP-13/2
4TH-Vol Solitaire 5-10-08 Owner-Barry Marshall; Trainer-Paul Nicholls; Jockey-Ruby Walsh; SP-13/2
21 ran, Time-3m 58.60s; Dist-3, .75, .75 6/1 Fav Ross Moff (5th)
2002-WINNER-FADOUDAL DU COCHET 9-10-00 Owner-Sir Anthony O'Reilly; Trainer-Arthur Moore IRE; Jockey-David Casey; SP-6/1
2ND-Exit Swinger 7-11-00 Owner-Sandicroft Stud Syndicate; Trainer-Martin Pipe; Jockey-Tony McCoy; SP-4/1 Fav
3RD-Dark 'n Sharp 7-10-00 Owner-Ascot Five Plus One; Trainer-Richard Phillips; Jockey-Richard Johnson; SP-13/2
4TH-Logician 11-10-01 Owner-Robert Roulston; Trainer-Ian Balding; Jockey-Barry Keniry; SP-20/1
18 ran, Time-4m 5.20s; Dist-.75, 3, 5
2001- No Race (Foot and Mouth Disease)
2000-WINNER-SAMAKAAN 7-10-11 Owner-Lady Harris; Trainer-Venetia Williams; Jockey-Norman Williamson; SP-9/2 Fav
2ND-Green Green Desert 9-10-13 Owner-Angela Tincknell; Trainer-Paul Nicholls; Jockey-Joe Tizzard; SP-12/1
3RD-Aghawadda Gold 8-11-10 Owner-The Ivy Syndicate; Trainer-Tom Tate; Jockey-Russ Garrity; SP-10/1
4TH Clifton Beat 9-10-09 Owner-Martin St Quinton; Trainer-Philip Hobbs; Jockey-Richard Johnson; SP-14/1
16 ran, Time-3m 52.40s, Dist-4, hd, 9
1999-WINNER-SPACE TRUCKER 8-10-01 Owner Mrs Eileen Queally; Trainer-Jessica Harrington IRE; Jockey-Shay Barry; SP-7/2 Fav
2ND-Dines 7-10-08 Owner-T Chappell, Terry Curry, D Nichols & John Blackwell;Trainer-Paul Nicholls; Jockey-Tony McCoy; SP-6/1
3RD-Hurricane Lamp 8-10-07 Owner-Fred & Sue Welch; Trainer-David Nicholson; Jockey-Richard Johnson; SP-16/1
15 ran Time-4m 4.1s, Dist-1.5, 1
1998-WINNER-EDREDON BLEU 6-11-06 Owner-Jim Lewis; Trainer-Henrietta Knight; Jockey-Tony McCoy; SP-7/2 Fav
2ND-Tidebrook 8-10-03 Owner-Richard Williams; Trainer-Kim Bailey; Jockey-Norman Williamson;SP-9/2
3RD-Cumbrian Challenge 9-11-10 Owner-Cumbrian Industrials Ltd; Trainer-Tim Easterby; Jockey-Lorcan Wyer; SP-16/1
4TH-Morstock 8-10-00 Owner-Mrs M Fairbairn; Trainer-Ron Hodges; Jockey-Tom Dascombe; SP-33/1
17 ran Time-3m 58.6s, Dist-3.5, 2.5, 4
1997-WINNER-UNCLE ERNIE 12-11-04 Owner-Lady Lloyd-Webber; Trainer-Jimmy FitzGerald; Jockey-Graham Bradley; SP-20/1
2ND-Elzoba 5-10-08 Owner-David Johnson; Trainer-Martin Pipe; Jockey-Tony McCoy; SP-13/2
3RD-Perknapp 10-10-00 Owner-Mrs Seamus Purcell; Trainer-Tony Martin IRE; Jockey-Charlie Swan; SP-25/1
16 ran, Time-4m 00.4s, Dist-2, 1 7/2 Fav Certainly Strong (8th)
1996-KIBREET 9-10-12 Owner-Terry Warner and Jill Emery; Trainer-Philip Hobbs; Jockey-Tony McCoy;SP-7/1
2ND-Easthorpe 8-10-12 Owner-Martin Broughton; Trainer-Henrietta Knight; Jockey-Jason Titley; SP-6/1
3RD-Uncle Ernie 11-11-03 Owner-Lady Lloyd Webber; Trainer-Jimmy FitzGerald; Jockey-Mark Dwyer; SP-12/1
13 ran, Time-4m 4.1s, Dist-4, 1.5 5/1 Fav Front Street (7th)
1995-WINNER-SOUND REVEILLE 7-10-10 Owner-Angela Abecassis; Trainer-Charlie Brooks; Jockey-Graham Bradley; SP-7/1
2ND-Auburn Castle 6-10-00 Owner-Rashleigh Arms Charlestown St Austell; Trainer-Oliver Sherwood; Jockey-Jamie Osborne; SP-7/2
3RD-Around The Horn 8-10-06 Owner-Pell-Mell Partners; Trainer-Josh Gifford; Jockey-Simon McNeill; SP-7/2
8 ran, Time-4m 17.1s, Dist-1.75, .25 3/1 Fav Thumbs Up (4th)
Johnny Henderson Grand Annual Challenge Cup Handicap Chase Roll Of Honour
Year Winner Age/Wt Jockey Trainer Owner SP Ra
1994 Snitton Lane 8-10-00 David Bridgwater Bill Clay H D White 33/1 17
1993 Space Fair 10-11-01 Adrian Maguire Richard Lee Osborne House Ltd 5/1 12
1992 My Young Man 7-11-10 Graham Bradley Charlie Brooks Georgina Tulloch 7/1 17
1991 Aldino 8-10-00 Jamie Osborne Oliver Sherwood Arthur Boyd-Rochfort 15/2 12
1990 Katabatic 7-10-08 Hywel Davies Andy Turnell Pell-Mell Partners 11/4F 13
1989 Pukka Major 8-10-02 Peter Scudamore Tim Thomson Jones Mrs Solna Jones 4/1JF 17
1988 Vodkatini 9-10-13 Richard Rowe Josh Gifford Dick Richardson Horse Racing Ltd 4/1F 14
1987 French Union 9-11-03 Richard Dunwoody David Nicholson Claire Smith 13/2 16
1986 Pearlyman 7-11-05 Graham Bradley John Edwards Valerie Shaw 14/1 19
1985 Kathies Lad 8-11-10 Steve Smith Eccles Alan Jarvis J E Clayton 7/1 19
1984 Mossy Moore 8-10-00 Jonjo O'Neill Brian Chinn Brian Chinn 11/2 13
1983 Churchfield Boy 7-10-00 Joe Byrne Michael Cunningham IRE J Quinn 8/1 18
1982 Reldis 8-10-00 Paul Barton David Gandolfo Haunch Lane Stores Ltd 9/1 16
1981 Friendly Alliance 8-10-07 John Francome Fred Winter John Mulhern 11/2 11
1980 Stopped 8-11-12 Ben De Haan Fred Winter T Ludlow 7/2 13
1979 Casbah 12-11-13 Graham Thorner Tim Forster Lord Leverhulme 5/1 10
1978 Young Arthur 9-11-04 Allen Webb Derek Kent Mrs Derek Kent 3/1JF 8
1977 Tom Morgan 8-11-06 Tommy Stack Ken Oliver Wing Commander P Stead 9/4F 9
1976 Dulwich 9-11-07 Bob Davies Colin Davies T Elley 9/4F 10
1975 No race (course waterlogged)
1974 Dulwich 7-10-01 Taffy Salaman Colin Davies T Elley 100/30F 9
1973 Coolera Prince 8-10-10 Nigel Wakley Tim Handel Mrs C Handel 8/1 15
1972 Tudor Dance 6-10-02 Jeff King Bob Turnell Jim Joel 4/1 15
1971 Khan 7-10-08 Frankie Carroll Mick Burke IRE Lord Petersham 2/1F 8
1970 Fortina's Palace 7-11-11 Peter Jones Michael Scudamore J Nesbitt Davis 10/1 18
1969 All Glory 8-10-00 Mr Anthony Robinson John Edwards A Morley 10/1 10
1968 Hal's Farewell 7-10-10 Jeff King Peter Bailey George Jeffreys 5/1 10
1967 San Angelo 7-11-01 John Buckingham Edward Courage Edward Courage 10/1 13
1966 Well Packed 8-10-11 Tommy Stack Bobby Renton Mrs Anne Myddleton 100/7 12
1965 Fort Rouge 7-11-00 George Milburn Ken Oliver Lady Edmondstone 13/2 10
1964 Richard Of Bordeaux 9-11-03 Willie Robinson Fulke Walwyn John Schillizzi 9/1 14
1963 Anner Loch 8-10-06 David Nicholson John Hicks Pat Colvin 7/1 13
1962 Moretons 9-10-12 Bill Rees Peter Cazalet Mrs A T Hodgson 100/8 14
1961 Barberyn 6-11-00 Michael Scudamore Willie Stephenson John Bigg 3/1 10
1960 Monsieur Trois Etoiles 8-11-06 Frankie Carroll Jimmy Brogan IRE Mrs W L Pilkington 3/1F 9
1959 Top Twenty 10-12-06 Fred Winter Clem Magnier IRE Mrs Thomas O'Brien 9/2JF 12
1958 Top Twenty 9-10-07 Francis Shortt Clem Magnier IRE Mrs M O'Brien 10/1 18
1957 Sir Edmund 7-10-12 Bert Morrow Alec Kilpatrick F H Curnick 6/1 11
1956 Rosenkavalier 7-10-06 Harry Sprague Bob Turnell George Strakosch 8/1 11
1955 No race (Abandoned because of snow)
1954 Hipparchus 5-10-01 Jack Dowdeswell Peter Rice-Stringer Mrs H J Rice-Stringer 100/8 11
1953 Rose & Crown 6-10-00 Johnny Bullock Fulke Walwyn Dorothy Paget 33/1 13
1952 Marcianus 6-11-02 Tim Molony George Beeby Lord Bicester 7/1 12
1951 Merry Court 6-1-011 Tim Molony Tom Yates Edward Bee 10/1 11
1950 Norborne 6-11-04 Eddie Reavey Geoffrey Champneys N Clark 8/1 11
1948 Clare Man 7-10-03 Charlie Hook Walter Nightingall Mrs Geoffrey Kohn 20/1 20
1947 Rope Trick 6-10-08 Tony Doyle Verly Bewicke Capt A M Keith 100/7 12
1946 Loyal King 6-11-12 Dan Moore Fulke Walwyn Dorothy Paget 7/2 1