---
OLBG Mares' Hurdle

Grade 1, Cheltenham 16:10
£120,000 added,
4yo plus,
2m 3f 200y, Class 1
Tuesday 13th March 2018
Benie Des Dieux wins the Mares' Hurdle!
1 Benie Des Dieux 9/2
2 Midnight Tour 33/1
3 Apple's Jade 1/2F
9 ran Distances: ½l, 1l, 7l
Time: 5m 10.10s (slow by 33.10s)
Benie Des Dieux provided Willie Mullins with his ninth victory in 11 years in the OLBG Mares' Hurdle.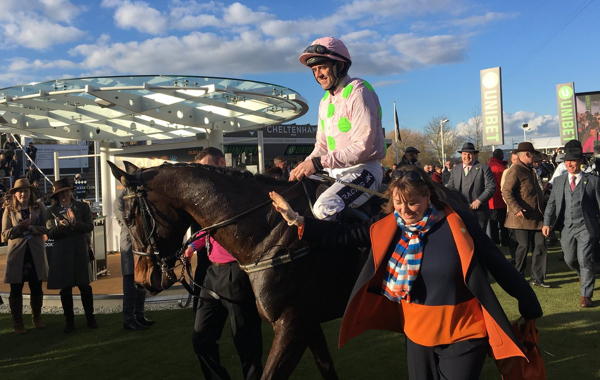 Ruby Walsh sealed a 9.08/1 double on the first day after Benie Des Dieux's gutsy success.
The Willie Mullins-trained seven-year-old was unbeaten in three starts over fences for her Closutton handler and extended her unbeaten record to 4-4 for Mullins following this win over timber.
The daughter of Great Pretender, a 9/2 chance, stayed on powerfully after the final flight to reel in Alan King's Midnight Tour (33/1) to score by half-a-length.
The well-backed 1/2 favourite
Apple's Jade
, trained by Gordon Elliott, was a length back in third.
"Benie Des Dieux won a schooling hurdle at Thurles when Katie rode her - this black mare came out in the distance that we didn't even know we had. Then we went chasing with her but she has had a few issues training.
"With
Vroum Vroum Mag
up in the air, Willie said that we needed something else and he has been targeting her at this for a while. David Casey schooled her a couple of times over hurdles but I had never sat on her until today. She is laden with stamina - I thought that she had a bit more gears but she really ground it out.
"She's had a few issues training her but Willie had been targeting her at this race for a while.
"The one to beat was Apple's Jade so we were all following her and seeing if we could beat her.
"I thought off the bend, I was well and truly stuffed, but it's a long way from the bend to the final hurdle and they were stopping in front.
"She wandered around in front, but once she straightened up, she kept on nicely and the ground helped her today, as she went through it really well.
"She's tough and she stayed really well. Apple's Jade has run to a higher level of form, but horses aren't machines and you can't switch them on. Sometimes you get lucky, sometimes you don't."
The OLBG Mares' Hurdle
(For The David Nicholson Mares' Trophy)
£120,000 added, 4yo plus, 2m 3f 200y, Class 1
9 ran
Going: Heavy, Soft in places
Pos
D
Horse SP
Jockey Weight
Trainer
Age
1st
Benie Des Dieux (FR) 9/2
R Walsh
11-5
W P Mullins
7
2nd
&frac12
Midnight Tour 33/1
D N Russell
11-5
A King
8
3rd
1
Apple's Jade (FR) 1/2f
J W Kennedy
11-5
G Elliott
6
4th
7
Indian Stream 66/1
T Scudamore
11-5
N P Mulholland
9
5th
2&frac12
Jer's Girl (IRE) 10/1
B J Geraghty
11-5
G P Cromwell
6
6th
&frac34
Midnight Jazz 66/1
D A Jacob
11-5
B I Case
8
7th
&frac34
La Bague Au Roi (FR) 5/1
R Johnson
11-5
W Greatrex
7
Also Ran: Kayf Grace (Fell), Pravalaguna (Pulled Up)
OLBG MARES' HURDLE PAST RESULTS
2017-WINNER-APPLE'S JADE 5-11-05 Owner-Gigginstown House Stud; Trainer-Gordon Elliott IRE; Jockey-Bryan Cooper; SP-7/2
2ND-Vroum Vroum Mag 8-11-05 Owner-Susannah Ricci; Trainer-Willie Mullins IRE; Jockey-Paul Townend; SP-11/4
3RD-Limini 6-11-05 Owner-Susannah Ricci; Trainer-Willie Mullins IRE; Jockey-Ruby Walsh; SP-6/4 Fav 17 ran, Time-4m 50.20s; Dist-11⁄2, ns
2016-WINNER-VROUM VROUM MAG 7-11-05 Owner-Susannah Ricci; Trainer-Willie Mullins IRE; Jockey-Ruby Walsh; SP-4/6 Fav
2ND-Rock On The Moor 8-11-05 Owner-R Irwin; Trainer-Jessica Harrington IRE; Jockey-Robbie Power; SP-66/1
3RD-Legacy Gold 8-11-05 Owner-Roger Brookhouse; Trainer-Stuart Crawford IRE; Jockey-Andrew Lynch; SP-40/1
19 ran, Time-4m 45.00s; Dist-23⁄4, 1⁄2
2015-WINNER-GLENS MELODY 7-11-05 Owner-Fiona McStay; Trainer-Willie Mullins IRE; Jockey-Paul Townend; SP-6/1
2ND-Polly Peachum 7-11-05 Owner-Lady Tennant; Trainer-Nicky Henderson; Jockey-Barry Geraghty; SP-9/1
3RD-Bitofapuzzle 7-11-05 Owner-Chris Giles & Potensis Bloodstock Ltd; Trainer-Harry Fry; Jockey-Noel Fehily; SP-16/1
15 ran, Time-4m 51.10s; Dist-hd, nk 1/2 Fav Annie Power (Fell)
2014-WINNER-QUEVEGA 10-11-05 Owner-Hammer & Trowel Syndicate; Trainer-Willie Mullins IRE; Jockey-Ruby Walsh; SP- 8/11 Fav
2ND-Glens Melody 6-11-05 Owner-Fiona McStay; Trainer-Willie Mullins IRE; Jockey-Paul Townend; SP-14/1
3RD-L'Unique 5-11-05 Owner-Denis Barry; Trainer-Alan King; Jockey-Robert Thornton; SP-25/1
16 ran, Time-4m 44.60s; Dist-¾, ¾
2013-WINNER-QUEVEGA 9-11-05 Owner-Hammer & Trowel Syndicate; Trainer-Willie Mullins IRE; Jockey-Ruby Walsh; SP- 8/11 Fav
2ND-Sirene D'Ainay 7-11-05 Owner-Stephane Milaveau; Trainer-Emmanuel Clayeux FR; Jockey-Jonathan Plouganou; SP-33/1
3RD-Swincombe Flame 7-11-00 Owner-Yeo Racing Partnership; Trainer-Nick Williams; Jockey-Daryl Jacob; SP-40/1
19 ran, Time-4m 55.46s Dist-1½, 2
2012-WINNER-QUEVEGA 8-11-05 Owner-Hammer & Trowel Syndicate; Trainer-Willie Mullins IRE; Jockey-Ruby Walsh; SP- 4/7 Fav
2ND Kentford Grey Lady 6-11-00 Owner-Ian Bare; Trainer-Emma Lavelle; Jockey-Noel Fehily; SP-14/1
3RD Golden Sunbird 8-11-03 Owner-Jim Mernagh; Trainer-Paul Nolan IRE; Jockey-Robbie Power; SP-66/1
19 ran, Time-4m 51.30s Dist-4, nk
2011-WINNER-QUEVEGA 7-11-05 Owner-Hammer & Trowel Syndicate; Trainer-Willie Mullins IRE; Jockey-Ruby Walsh; SP-5/6 Fav
2ND Sparky May 6-11-05 Owner-Bill Muddyman; Trainer-Pat Rodford; Jockey-Keiran Burke; SP-4/1
3RD Ocean Transit 6-11-00 Owner-Ocean's Five; Trainer-Richard Price; Jockey-David Bass; SP-50/1
14 ran, Time-4m 48.08s Dist-10, 1
2010-WINNER-QUEVEGA 6-11-05 Owner-Hammer & Trowel Syndicate; Trainer-Willie Mullins IRE; Jockey-Ruby Walsh; SP-6/4 Fav
2ND Carole's Legacy 6-11-00 Owner-Paul Murphy; Trainer-Nicky Henderson; Jockey-Andrew Tinkler; SP-20/1
3RD Voler La Vedette 6-11-05 Owner-Mrs M Brophy; Trainer-Colm Murphy IRE; Jockey-Barry Geraghty; SP-9/4
17 ran, Time-4m 45.40s Dist-4½, 1¼
2009-WINNER-QUEVEGA 5-11-03 Owner-Hammer & Trowel Syndicate; Trainer-Willie Mullins IRE; Jockey-Ruby Walsh; SP-2/1 Fav
2ND United 8-11-05 Owner-R B Holt; Trainer-Lucy Wadham; Jockey-Dominic Elsworth; SP-100/30
3RD Aura About You 6-11-00 Owner-Jim Mernagh; Trainer-Paul Nolan IRE; Jockey-Alain Cawley; SP-28/1 21 ran, Time-4m 55.20s Dist-14, sh
2008-WINNER-WHITEOAK 5-11-00 Owner-Brendan Richardson; Trainer-Donald McCain Jnr; Jockey-Jason Maguire; SP-20/1
2ND Refinement 9-11-05 Owner-Michael Tabor; Trainer-Jonjo O'Neill; Jockey-Tony McCoy; 10/1
3RD Chomba Womba 7-11-05 Owner-Richard & Lizzie Kelvin Hughes; Trainer-Nicky Henderson; Jockey-Mick Fitzgerald; SP-100/30 Fav
13 ran, Time-5m 1.40s Dist-sh, 2½