---
OLBG Mares' Hurdle

Grade 1, Cheltenham 16:00
£100,000 added,
4yo plus,
2m 4f, Class 1
Tuesday 10th March 2015
1 Glens Melody 6/1
2 Polly Peachum 9/1
3 Bitofapuzzle 16/1
NR: The Govaness
15 ran Distances: hd, nk, 3½l
TIME 4m 51.10s (slow by 12.60s)
Annie Power falls at the last when well clear. It's a photo finish in the OLBG Mares' Hurdle!
There is no stopping trainer Willie Mullins, who pulled off a 62/1 four-timer on day one of The Festival when taking the OLBG Mares' Hurdle with Glens Melody.
In doing so he equalled Nicky Henderson's record of four winners in one afternoon at the meeting, set on day two in 2012.
Taking some of the shine off the moment for Mullins was that
Annie Power
, who he also trains, and who was sent off the 1/2 favourite, crumpled when landing over the last hurdle, when apparently in full control. Jockey Ruby Walsh was quickly on his feet, but the race-changing exit left 6/1 chance Glens Melody in front and she duly held on to beat Polly Peachum and Bitofapuzzle by a head and a neck.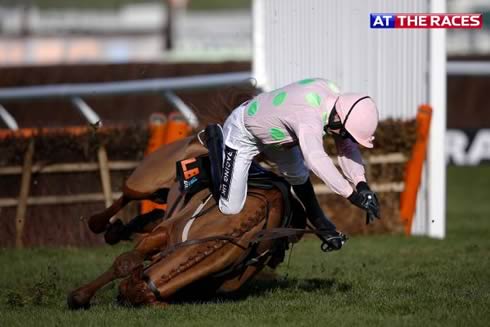 Annie Power crumpled when landing over the last hurdle
Mullins said: "It's rare to have four runners on a day like this, let alone four winners - I keep saying to myself, 'enjoy it while it lasts'. You couldn't write a script like that, but I just knew that all the horses were doing everything right. We had no sickness, no virus, no bad weather - it was going scarily well, and I thought coming here it was either going to be a great success or a blow-out."
Of Glens Melody he said: "I thought she was going to get caught up the hill, but she held on, and Annie is up and Ruby is up so it all looks okay. I just felt Ruby stood off at the hurdle, probably through going too well, and clipped the top.
"Ruby set her alight and she took off, but I was shaking so much I couldn't really see."
Glens Melody was second to another Mullins' supermare,
Quevega
, in last year's race, and he added: "I'm delighted for [owner/breeder] Fiona McStay, who decided to keep her mare in training to come back for this race, and it's worked out fantastically well.
"I'm also pleased for Paul [Townend, who rode the winner]. He is second jockey, but has gained his reward today and ridden a winner at The Festival."
The OLBG Mares' Hurdle
(For The David Nicholson Mares' Trophy)
£100,000 added, 4yo plus, 2m 4f, Class 1
15 ran
Going: Good to Soft, Good in places
Pos
Dist
Horse SP
Jockey /Weight
Trainer
Age
1st
Glens Melody (IRE) 6/1
P Townend
11-5
W P Mullins
7
2nd
hd
Polly Peachum (IRE) 9/1
B J Geraghty
11-5
N J Henderson
7
3rd
nk
Bitofapuzzle 16/1
N D Fehily
11-5
H Fry
7
4th
3&frac12
The Pirate's Queen (IRE) 25/1
D F O'Regan
11-5
A King
6
5th
9
Carole's Spirit 14/1
D A Jacob
11-5
R Walford
7
6th
&frac34
Pass The Time 100/1
M J Quinlan
11-5
N P Mulholland
6
7th
1&frac34
Dark Spirit (IRE) 100/1
Adam Wedge
11-5
Evan Williams
7
8th
1&frac14
Hidden Identity (IRE) 100/1
R Johnson
11-5
Tim Vaughan
9
9th
2&frac12
Emily Gray (IRE) 50/1
Aidan Coleman
11-5
K C Bailey
7
10th
14
Mischievous Milly (IRE) 66/1
L P Aspell
11-5
O Sherwood
7
11th
1&frac14
Centasia 100/1
D C Costello
11-5
W Greatrex
8
12th
8
Swing Bowler 66/1
T Scudamore
11-5
D Pipe
8
PU
Sureness (IRE) 100/1
G Sheehan
11-5
C J Mann
5
F
Annie Power (IRE) 1/2f
R Walsh
11-5
W P Mullins
7
F
L'unique (FR) 16/1
W Hutchinson
11-5
A King
6
NR
The Govaness
Non Runner
11-5
F M O'Brien
6
Glens Melody to retire at end of season after Cheltenham victory

Fiona McStay, who owns OLBG Mares' Hurdle winner Glens Melody, is also the seven-year-old daughter of King's Theatre's breeder.

She said: "She was second here behind Quevega last year, and she was to be retired after such a good run, but we decided to give this race one more go this year. We didn't think we'd be taking Annie Power on!"

Glens Melody will retire to the paddocks at the end of this season. Fiona McStay has four of Glens Melody's siblings, but their dam Glens Music died this year.

"To retire now on the back of a Cheltenham win is what you dream of; it doesn't get any better than that," said McStay. "She'll finish the season out but then that's it. I have a few of the family coming behind her - I have a full-sister now with Willie, so we'll see if she has any of her sister's ability. When you are breeding them, it's very special to see them do so well - I bucket-fed her as a foal because she was very timid in the field with the others.

"But as a racehorse she's gutsy, genuine and honest and has never ran a race where she hasn't put 100% into it. She's a really tough mare. I've been there for every race she has run - I've never missed one. She's never disappointed.

"This is a dream of a lifetime - everybody wants to win at Cheltenham and I can't believe we are standing here in the winner's enclosure."

Peachum squeezed out

The Nicky Henderson-trained Polly Peachum was just denied a famous victory in a dramatic finish.

The race looked at the mercy of the 1/2 favourite Annie Power as she headed to the final flight several lengths clear of her rivals. However, she misjudged the hurdle and took a crashing fall, leaving stablemate Glens Melody to fight out the finish with Polly Peachum and Bitofapuzzle.

Henderson's mare tried to resist the challenge of eventual winner Glens Melody as the line approached but couldn't quite hold on, going down by a head with Bitofapuzzle a neck back in third.

"We're very pleased with her," said Henderson.

"It looked like we were all playing for second place but, even with that window open after what happened at the last, we still couldn't quite get there!"

Trainer Harry Fry was also happy with the performance of third-placed Bitofapuzzle.

"She's run well," said Fry.

"It's a shame what happened to Annie Power. We're very pleased with our filly though."

Fry also had news of his other runners this afternoon.

"We were very disappointed with Jollyalan (who finished eighth in the Sky Bet Supreme Novices' Hurdle) so we'll have a look at him when we get home. Mendip Express (who finished 17th in the Ultima Business Solutions Handicap Chase) finished distressed."
OLBG MARES' HURDLE PAST RESULTS
2014-WINNER-QUEVEGA 10-11-05 Owner-Hammer & Trowel Syndicate; Trainer-Willie Mullins IRE; Jockey-Ruby Walsh; SP- 8/11 Fav
2ND-Glens Melody 6-11-05 Owner-Fiona McStay; Trainer-Willie Mullins IRE; Jockey-Paul Townend; SP-14/1
3RD-L'Unique 5-11-05 Owner-Denis Barry; Trainer-Alan King; Jockey-Robert Thornton; SP-25/1
16 ran, Time-4m 44.60s; Dist-¾, ¾
2013-WINNER-QUEVEGA 9-11-05 Owner-Hammer & Trowel Syndicate; Trainer-Willie Mullins IRE; Jockey-Ruby Walsh; SP- 8/11 Fav
2ND-Sirene D'Ainay 7-11-05 Owner-Stephane Milaveau; Trainer-Emmanuel Clayeux FR; Jockey-Jonathan Plouganou; SP-33/1
3RD-Swincombe Flame 7-11-00 Owner-Yeo Racing Partnership; Trainer-Nick Williams; Jockey-Daryl Jacob; SP-40/1
19 ran, Time-4m 55.46s Dist-1½, 2
2012-WINNER-QUEVEGA 8-11-05 Owner-Hammer & Trowel Syndicate; Trainer-Willie Mullins IRE; Jockey-Ruby Walsh; SP- 4/7 Fav
2ND Kentford Grey Lady 6-11-00 Owner-Ian Bare; Trainer-Emma Lavelle; Jockey-Noel Fehily; SP-14/1
3RD Golden Sunbird 8-11-03 Owner-Jim Mernagh; Trainer-Paul Nolan IRE; Jockey-Robbie Power; SP-66/1
19 ran, Time-4m 51.30s Dist-4, nk
2011-WINNER-QUEVEGA 7-11-05 Owner-Hammer & Trowel Syndicate; Trainer-Willie Mullins IRE; Jockey-Ruby Walsh; SP-5/6 Fav
2ND Sparky May 6-11-05 Owner-Bill Muddyman; Trainer-Pat Rodford; Jockey-Keiran Burke; SP-4/1
3RD Ocean Transit 6-11-00 Owner-Ocean's Five; Trainer-Richard Price; Jockey-David Bass; SP-50/1
14 ran, Time-4m 48.08s Dist-10, 1
2010-WINNER-QUEVEGA 6-11-05 Owner-Hammer & Trowel Syndicate; Trainer-Willie Mullins IRE; Jockey-Ruby Walsh; SP-6/4 Fav
2ND Carole's Legacy 6-11-00 Owner-Paul Murphy; Trainer-Nicky Henderson; Jockey-Andrew Tinkler; SP-20/1
3RD Voler La Vedette 6-11-05 Owner-Mrs M Brophy; Trainer-Colm Murphy IRE; Jockey-Barry Geraghty; SP-9/4
17 ran, Time-4m 45.40s Dist-4½, 1¼
2009-WINNER-QUEVEGA 5-11-03 Owner-Hammer & Trowel Syndicate; Trainer-Willie Mullins IRE; Jockey-Ruby Walsh; SP-2/1 Fav
2ND United 8-11-05 Owner-R B Holt; Trainer-Lucy Wadham; Jockey-Dominic Elsworth; SP-100/30
3RD Aura About You 6-11-00 Owner-Jim Mernagh; Trainer-Paul Nolan IRE; Jockey-Alain Cawley; SP-28/1 21 ran, Time-4m 55.20s Dist-14, sh
2008-WINNER-WHITEOAK 5-11-00 Owner-Brendan Richardson; Trainer-Donald McCain Jnr; Jockey-Jason Maguire; SP-20/1
2ND Refinement 9-11-05 Owner-Michael Tabor; Trainer-Jonjo O'Neill; Jockey-Tony McCoy; 10/1
3RD Chomba Womba 7-11-05 Owner-Richard & Lizzie Kelvin Hughes; Trainer-Nicky Henderson; Jockey-Mick Fitzgerald; SP-100/30 Fav
13 ran, Time-5m 1.40s Dist-sh, 2½