---
Weatherbys Champion Bumper

Grade 1, Standard Open NH Flat Race
Cheltenham 17:30
£75,000 added, 4-6yo,
2m 87y, Class 1  
Wednesday 14th March 2018
Relegate wins the Champion Bumper ahead of Carefully Selected under Katie Walsh!
1 Relegate 25/1
2 Carefully Selected 6/1
3 Tornado Flyer 14/1
23 ran NR: Herecomestheboom Distances: nk, 3¼l, 1¾l
Time: 4m 4.30s (slow by 23.30s)
Willie Mullins registered his fifth victory of the 2018 Cheltenham Festival and his second success on day two of The Festival with 25/1 shot Relegate's victory in the G1 Weatherbys Champion Bumper.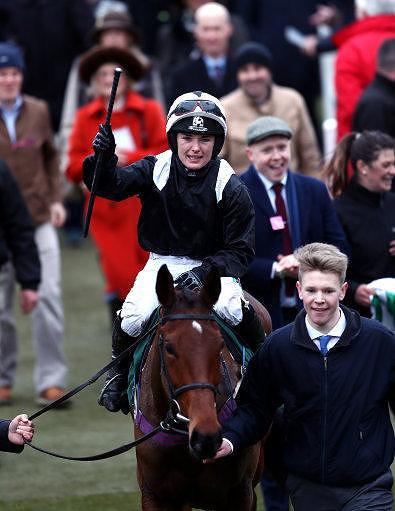 Ridden by experienced amateur Katie Walsh, the five-year-old daughter of Flemensfirth kept on powerfully up the Cheltenham hill to defeat stable companion Carefully Selected by a neck.
14/1 chance Tornado Flyer, also trained by Mullins, was three and a quarter lengths behind in third, providing Mullins with a 1-2-3 in the two-mile contest.
This is not the first time Mullins has saddled a 1-2-3 in a race at The Festival. Faugheen led home stable companions, Arctic Fire and Hurricane Fly in the
2015 Champion Hurdle
.
Ireland's champion Jump trainer Mullins, landing his 59th winner at The Festival commented: "We had planned to bring Relegate to Sandown but the owners wanted to give her a run in this race so we came here.
"I thought she was going to be an also ran but Katie Walsh just steered her and she thought the further she went, the better she went as her stamina kicked on.
"It's great for Katie to have her third winner at The Festival. Relegate has a lovely pedigree and we've hit the jackpot with this one. It is my owner Paul McKeon's first Festival runner and winner.
"The placed horses all ran crackers, not in the order I thought they would, but you come here and you find out. It depends on the run of the race, but I'm delighted with how they have run.
Danny Mullins, jockey of Carefully Selected, said: "It was a great run. he is a lovely horse."
Paul Townend, rider of the third home, Tornado Flyer, said: "He ran a cracker. he is a bit inexperienced but he is a smashing horse."
The Weatherbys Champion Bumper
(Standard Open National Hunt Flat Race)
£75,000 added, 4-6yo, 2m 87y, Class 1
23 ran
Going: Soft, Heavy in places
Pos
D
Horse SP
Jockey Weight
Trainer
Age
1st
Relegate (IRE) 25/1
Ms K Walsh
10-12
W P Mullins
5
2nd
nk
Carefully Selected (IRE) 6/1
D E Mullins
11-5
W P Mullins
6
3rd
3&frac14
Tornado Flyer (IRE) 14/1
P Townend
11-5
W P Mullins
5
4th
1&frac34
Acey Milan (IRE) 9/2f
Aidan Coleman
10-11
A J Honeyball
4
5th
&frac12
Blackbow (IRE) 5/1
Mr P W Mullins
11-5
W P Mullins
5
6th
1&frac34
Felix Desjy (FR) 8/1
K M Donoghue
11-5
G Elliott
5
7th
&frac12
Colreevy (IRE) 50/1
D J Mullins
10-12
W P Mullins
5
8th
1&frac12
Mercy Mercy Me 25/1
P J Brennan
11-5
F O'Brien
6
9th
1&frac14
Rhinestone (IRE) 5/1
B J Geraghty
11-5
Joseph P O'Brien
5
10th
3&frac14
Didtheyleaveuoutto (IRE) 12/1
M P Walsh
11-5
N J Gifford
5
11th
hd
The Big Bite (IRE) 20/1
N D Fehily
11-5
T R George
5
12th
1&frac14
Seddon (IRE) 33/1
A P Heskin
11-5
T R George
5
13th
3&frac34
Dashel Drasher 100/1
Matt Griffiths
11-5
J Scott
5
14th
9
Know The Score (IRE) 20/1
T Scudamore
11-5
D Pipe
5
15th
nk
Arch My Boy 100/1
L P Aspell
10-11
Martin Smith
4
16th
1&frac12
Stoney Mountain (IRE) 100/1
A Tinkler
11-5
H D Daly
5
17th
1
Jaytrack Parkhomes 80/1
Harry Cobden
10-11
C L Tizzard
4
18th
3&frac34
Volcano (FR) 50/1
Sam Twiston-Davies
10-11
N A Twiston-Davies
4
19th
3
Nestor Park (FR) 100/1
D A Jacob
11-5
B Pauling
5
20th
1&frac12
The Flying Sofa (FR) 66/1
J E Moore
11-5
G L Moore
5
21st
9
Doc Penfro 200/1
B Hughes
11-5
Kevin Frost
6
22nd
48
Crooks Peak 25/1
R Johnson
11-5
P J Hobbs
5
PU
Thebannerkingrebel (IRE)
G Sheehan
11-5
Jamie Snowden
5
NR
Herecomestheboom (IRE)
A P Cawley
11-5
F O'Brien
6
WEATHERBYS CHAMPION BUMPER PAST RESULTS
2017-WINNER-FAYONAGH 6-10-12 Owner-Mrs M Gittins; Trainer-Gordon Elliott IRE; Jockey-Mr Jamie Codd; SP-7/1
2ND-Debuchet 4-10-11 Owner-Force Eight Syndicate; Trainer-Mags Mullins IRE; Jockey-Danny Mullins; SP-10/1
3RD-Claimantakinforgan 5-11-05 Owner-Grech & Parkin; Trainer-Nicky Henderson; Jockey-Nico de Boinville; SP-22/1
22 ran, Time-3m 51.10s Dist-1¼, 1½ 9/2 Fav Cause Toujours (9th)
2016-WINNER-BALLYANDY 5-11-05 Owner-Options O Syndicate; Trainer-Nigel Twiston-Davies; Jockey-Sam Twiston-Davies; SP-5/1
2ND-Battleford 5-11-05 Owner-Andrea & Graham Wylie; Trainer-Willie Mullins IRE; Jockey-Mikey Fogarty; SP-25/1
3RD-Bacardys 5-11-05 Owner-Shanakiel Racing Syndicate; Trainer-Willie Mullins IRE; Jockey-Ruby Walsh; SP-16/1
23 ran, Time-3m 47.70s Dist-ns, 2 7/2 Fav Augusta Kate (7th)
2015-WINNER-MOON RACER 6-11-05 Owner-Professor Caroline Tisdall & Bryan Drew; Trainer-David Pipe; Jockey-Tom Scudamore; SP-9/2 Fav
2ND-Modus 5-11-05 Owner-John Deer; Trainer-Robert Stephens; Jockey-Tom O'Brien; SP-33/1
3RD-Wait For Me 5-11-05 Owner-Andrew Cohen; Trainer-Philip Hobbs; Jockey-Richard Johnson; SP-9/1
23 ran, Time-3m 50.40s Dist-1½, 1½
2014-SILVER CONCORD 6-11-05 Owner-Dr Ronan Lambe; Trainer-Dermot Weld IRE; Jockey-Mr Robbie McNamara; SP-16/1
2ND-Shaneshill 5-11-05 Owner-Andrea & Graham Wylie; Trainer-Willie Mullins IRE; Jockey-Ruby Walsh; SP-7/2 Fav
3RD-Joshua Lane 5-11-01 Owner-Stanley Watson; Trainer-Eddie Harty IRE; Jockey-Barry Geraghty; SP-33/1
22 ran, Time-3m 43.40s Dist-1½, 1¾
2013-WINNER-BRIAR HILL 5-11-05 Owner-Andrea & Graham Wylie; Trainer-Willie Mullins IRE; Jockey-Ruby Walsh; SP-25/1
2ND-Regal Encore 5-11-05 Owner-J P McManus; Trainer-Anthony Honeyball; Jockey-A P McCoy; SP-7/1 Jt Fav
3RD-Golantilla 5-11-01 Owner-Barry Connell; Trainer-Tony Martin IRE; Jockey-Danny Mullins; SP-9/1
23 ran, Time-3m 54.7s Dist-7, 2¼ 7/1 Jt Fav Le Vent D'Antan (7th)
2012-WINNER-CHAMPAGNE FEVER 5-11-05 Owner-Susannah Ricci; Trainer-Willie Mullins IRE; Jockey-Mr Patrick Mullins; SP-16/1
2ND-New Year's Eve 4-10-11 Owner-Bloomfields; Trainer-John Ferguson; Jockey-Barry Geraghty; SP-9/2 Fav
3RD-Pique Sous 5-11-05 Owner-Supreme Horse Racing Club; Trainer-Willie Mullins IRE; Jockey-Ruby Walsh; SP-12/1
20 ran, Time-3m 47.50s Dist-1¼, hd
2011-WINNER-CHELTENIAN 5-11-05 Owner-Roger Brookhouse; Trainer-Philip Hobbs; Jockey-Richard Johnson; SP-14/1
2ND Destroyer Deployed 5-11-05 Owner-The Craftsmen; Trainer-Tim Vaughan; Jockey-Aidan Coleman; SP-66/1
3RD Aupcharlie 5-11-05 Owner-Gerard Boyle; Trainer-Pat Collins IRE; Jockey- Mr Jason McKeown; SP-33/1
24 ran, Time-3m 51.85s Dist-5, 4½ 5/1 Fav Ericht (6th)
2010-WINNER-CUE CARD 4-10-12 Owner-Jean Bishop; Trainer-Colin Tizzard; Jockey-Joe Tizzard; SP-40/1
2ND Al Ferof 5-11-05 Owner-John Hales; Trainer-Paul Nicholls; Jockey-Ruby Walsh; SP-8/1
3RD Frawley 5-11-05 Owner-Dr K A Roche-Nagle; Trainer-John Kiely IRE; Jockey-Barry Geraghty; SP-14/1 24 ran, Time-3m 48.70s Dist-8, 8 3/1 Fav Shot From The Hip (20th)
2009-WINNER-DUNGUIB 6-11-05 Owner-Daniel Harnett; Trainer-Philip Fenton IRE; Jockey-Mr Brian O'Connell; SP-9/2
2ND Some Present 6-11-05 Owner-Frances Duffin; Trainer-Tom Mullins IRE; Jockey-Davy Russell; SP-25/1
3RD Rite Of Passage 5-11-05 Owner-Dr Ronan Lambe; Trainer-Dermot Weld IRE; Jockey-Pat Smullen; SP-5/2 Fav 24 ran, Time-3m 56.90s Dist-10, ¾
2008-WINNER-COUSIN VINNY 5-11-05 Owner-Festival Syndicate; Trainer-Willie Mullins IRE; Jockey-Mr Patrick Mullins; SP-12/1
2ND Corskeagh Royale 5-11-05 Owner-Queen Maeve Racing Club; Trainer-Noel Meade IRE; Jockey-Miss Nina Carberry; SP-7/1
3RD Zaarito 6-11-05 Owner-Victoria Syndicate; Trainer-Colm Murphy IRE; Jockey-Davy Russell; SP-3/1 Fav
23 ran, Time-4m 1.30s Dist-3¼, ¾
2007-WINNER-CORK ALL STAR 5-11-05 Owner-Cathal Ryan; Trainer-Jessica Harrington IRE; Jockey-Barry Geraghty; SP-11/2
2ND Sophocles 4-10-11 Owner-Mrs A Donnelly; Trainer-James Leavy IRE; Jockey-Miss Pauline Ryan; SP-40/1
3RD Aranleigh 5-11-05 Owner-J P McManus; Trainer-Tony Mullins IRE; Jockey-Tony McCoy; SP-8/1
24 ran, Time-3m 47.90s Dist-1¼, 1½ 4/1 Fav Mad Fish (8th)
2006-WINNER-HAIRY MOLLY 6-11-05 Owner-F T B Syndicate; Trainer-Joe Crowley IRE; Jockey-Paul Carberry; SP-33/1
2ND Pressgang 4-10-11 Owner-Mrs Anthony West; Trainer-Paul Webber; Jockey-Tom Doyle; 20/1
3RD Kicks For Free 5-11-05 Owner-Mark Tincknell; Trainer-Paul Nicholls; Jockey-Mick Fitzgerald; SP-5/1
23 ran, Time-3m 46.70s Dist-hd, 1.75 5/2 Fav Equus Maximus (12th)
2005-WINNER-MISSED THAT 6-11-05 Owner-Violet O'Leary; Trainer-Willie Mullins IRE; Jockey-Ruby Walsh; SP-7/2 Fav
2ND De Soto 4-10-12 Owner-Peter Deal; Trainer-Paul Webber; Jockey-Tom Doyle; SP-20/1
3RD Rasharrow 6-11-05 Owner-Ashleybank Investments Limited; Trainer-Len Lungo; Jockey-Tony Dobbin; SP-9/1
24 ran, Time-3m 52.70s Dist-nk, .5
2004-WINNER-TOTAL ENJOYMENT 5-10-12 Owner-It Will Never Last Syndicate; Trainer-Tommy Cooper IRE; Jockey-Jim Culloty; SP-7/1
2ND Refinement 5-10-12 Owner-Michael Tabor; Trainer-Jonjo O'Neill; Jockey-Barry Geraghty; SP-7/1
3RD Master Albert 6-10-12 Owner-Sue Magnier; Trainer-David Wachman IRE; Jockey-Mr J P Magnier; SP-50/1
24 ran, Time-3m 48.30s Dist-2.5, 5 7/2 Fav Martinstown (14th)
2003-WINNER-LIBERMAN 5-11-06 Owner-David Johnson; Trainer-Martin Pipe; Jockey-Tony McCoy; SP-2/1 Fav
2ND Trabolgan 5-11-06 Owner-Trevor Hemmings; Trainer-Nicky Henderson; Jockey-Seamus Durack; SP-50/1
3RD Widemouth Bay 5-11-06 Owner-Jackie Deithrick; Trainer-Philip Hobbs; Jockey-Richard Johnson; SP-33/1
25 ran, Time-3m 52.30s Dist-.5, 1
2002-WINNER-PIZARRO 5-11-06 Owner-Edward Wallace; Trainer-Edward O'Grady IRE; Jockey-Jamie Spencer; SP-14/1
2ND-Rhinestone Cowboy 6-11-06 Owner-Sue Magnier; Trainer-Jonjo O'Neill; Jockey-Norman Williamson; SP-5/2 Fav
3RD-Back In Front 5-11-06 Owner-Nelius Hayes; Trainer-Edward O'Grady IRE; Jockey-Charlie Swan; SP-12/1
23 ran, Time-4m 0.70s; Dist-nk, 3.5
2001-Race Cancelled
2000-WINNER-JOE CULLEN 5-11-06 Owner-Jackie Mullins; Trainer-Willie Mullins IRE; Jockey-Charlie Swan; SP-14/1
2ND-Inca 5-11-06 Owner-Trevor Hemmings; Trainer-Nicky Henderson; Jockey-Mick Fitzgerald; SP-2/1 Fav
3RD-Be My Royal 5-11-06 Owner-Mrs Violet O'Leary; Trainer-Willie Mullins IRE; Jockey-Mr James Nash; SP-16/1
17 ran, Time-3m 41.20s, Dist-3.5, 2
1999-MONSIGNOR 5-11-06 Owner-Malcolm Denmark; Trainer-Mark Pitman; Jockey-Brendan Powell; SP-50/1
2ND-Golden Alpha 5-11-06 Owner-David Johnson; Trainer-Martin Pipe; Jockey-Tony McCoy; SP-7/2
3RD-Canasta 5-10-13 Owner-Southern Brick & Tile Co./D S Arnold; Trainer-Mark Pitman; Jockey-Liam Corcoran; SP-25/1
25 ran, Time-3m 54.8s, Dist-1.5, .75 11/4 Fav Biliverdin (15th)
1998-WINNER-ALEXANDER BANQUET 5-11-06 Owner-M Swarbrick; Trainer-Willie Mullins IRE; Jockey-Mr Ruby Walsh; SP-9/1
2ND-Joe Mac 4-10-12; Owner-J P McManus; Trainer-Christy Roche IRE; Jockey-Conor O'Dwyer; SP-6/4 Fav
3RD-Frantic Tan 6-11-06; Owner-The Bunkers Hill Mob; Trainer-Nigel Twiston-Davies; Jockey-Carl Llewellyn; SP-8/1
25 ran, Time-3m 45.7s, Dist-2.5, 7
1997-WINNER-FLORIDA PEARL 5-11-06 Owner-Violet O'Leary; Trainer-Willie Mullins IRE; Jockey-Richard Dunwoody; SP-6/1
2ND-Arctic Camper 5-11-06 Owner-Lady Harris; Trainer-David Nicholson; Jockey-Richard Johnson; SP-16/1
3RD-All The Colours 4-10-12 Owner-Pat Byrnes; Trainer-John Mulhern IRE; Jockey-Jamie Osborne; SP-8/1
25 ran, Time-3m 45.1s, Dist-5, 2 4/1 Fav Dawn Leader (13th)
1996-WINNER-WITHER OR WHICH 5-11-06 Owner-Robert Sinclair; Trainer-Willie Mullins IRE; Jockey-Mr Willie Mullins; SP-11/4
2ND-Alzulu 5-11-06 Owner-D Buckle; Trainer-Jimmy FitzGerald; Jockey-Peter Niven; SP-25/1
3RD-Mighty Moss 5-10-13 Owner-Ken Hutsby; Trainer-David Nicholson; Jockey-Mr Fred Hutsby; SP-33/1
24 ran, Time-3m 53.7s, Dist-2, 3 9/4 Fav Andanito (4th)
1995-WINNER-DATO STAR 4-10-12 Owner-Kath Riley & Joe Donald; Trainer-Malcolm Jefferson; Jockey-Mark Dwyer; SP-7/2
2ND-Red Blazer 4-10-12 Owner-Tom Shrimpton; Trainer-Henrietta Knight; Jockey-Jamie Osborne SP-2/1 Fav
3RD-Skehanagh Bridge 6-11-06 Owner-David Pim; Trainer-Willie Mullins IRE; Jockey-Mr Willie Mullins; SP-12/1
21 Ran, Time-4m 02.2s. Dist-1.25, 3.5
1994-WINNER-MUCKLEMEG 6-11-05 Owner-J P McManus; Trainer-Edward O'Grady IRE; Jockey-Charlie Swan; SP-7/2 Fav
2ND-Aries Girl 5-11-03 Owner-Wally Sturt; Trainer-Pat Flynn IRE; Jockey-Shay Barry; SP-5/1
3RD-Go Ballistic 5-11-03 Owner-Sheila Lockhart; Trainer-David Nicholson; Jockey-Robert Massey; SP-16/1
25 Ran, Time-3m 53.7s, Dist-3, 15
1993-WINNER-RHYTHM SECTION 4-10-11 Owner-Robert Sinclair; Trainer-Homer Scott IRE; Jockey-Paul Carberry; SP-16/1
2ND-Heist 4-11-02 Owner-Mrs G Matthews; Trainer-Noel Meade IRE; Jockey-Charlie Swan; SP-9/4 Fav
3RD-Winter Belle 5-11-13 Owner-John Muldoon; Trainer-Paddy Prendergast IRE; Jockey-John Shortt; SP-7/1
24 Ran, Time-3m 45.2s, Dist-.5, 1
1992-WINNER-MONTELADO 5-11-13 Owner-Ollie Hannon; Trainer-Pat Flynn IRE; Jockey-Richard Dunwoody; SP-8/1
2ND-Tiananmen Square 4-10-12 Owner-Sue Magnier; Trainer-Noel Meade IRE; Jockey-Mr Tim Hyde; SP-6/4 Fav
3RD-Maneree 5-11-08 Owner-Michael Tabor; Trainer-Neville Callaghan; Jockey-Declan Murphy; SP-7/1
23 Ran, Time-3m 58.2s, Dist-12, 10