Investec Derby

Group 1, Epsom
£1,325,000
3yo only,
1m, 4f, 10y
Saturday 7th June 2014
1 Australia 11-8F
2 Kingston Hill 15-2
3 Romsdal 20-1
16 ran Distances: 1¼l, 3¼l, 3¾l
TIME 2m 33.63s (fast by 1.07s)
History is made by Aidan O'Brien as he wins the Investec Derby for the 3rd time in a row.
Australia's new Timeform rating is: 129p. That's above average for recent Derby winners with the promise of more to come.
Hot favourite Australia won the Investec Derby to give trainer Aidan O'Brien his fifth success in the great race.
The superbly bred son of Galileo and Ouija Board was settled in mid-division by Joseph O'Brien and made smooth progress up towards the leaders as they came down the straight.
He hit the front a furlong and a half out and looked about to pull well clear, but Kingston Hill put in a persistent challenge and there was a length and a quarter in it at the line, with Romsdal a further three and a quarter lengths away in third.
The placed horses from the Dante Stakes, Arod and True Story, were just behind the main protagonists, with Red Galileo running a massive race, too. The major disappointment was the winner's stablemate Geoffrey Chaucer, who was tailed off.
Winning rider O'Brien said: "I had a grand position and was going very easily coming down hill, nearly too easy. I was cantering all the way - I got there too soon, but I had to stay going when I did. Horses don't come easier to ride than this fellow - he's the best (I've ridden)."
O'Brien snr added: "We're in a very privileged position to have the horses we have, so it's thanks to everybody. There are so many people involved just to get him to this position.
Joseph O'Brien & Australia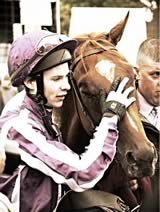 "Joseph had it in his mind where he wanted to be all the time, to keep it uncomplicated and safe and that is what he did - he gave him a beautiful ride.
"We said what we thought (about him being the best Flat horse O'Brien has trained). Maybe it is best to say nothing, but we've always thought he was very special - the way he is bred makes him very special. The way he travelled through the race he must be very special.
"We're going through a tricky time with our horses back home, they were very sick in the spring and they all had to get medicated. It was tricky training them after that, some were slower to respond.
"The lads (Coolmore) will speak about targets. He has a lot of options because he has a lot of pace, anything from a mile up."

Investec Derby (Group 1)
£1,379,500 added
3yo only, 1m 4f 10y
16 ran
Going: Good


Horse
Trainer
Jockey
Weight
SP
Distance
1

Australia
A P O'Brien
J P O'Brien
9st 0lbs
11 - 8
Winner
2

Kingston Hill
R Varian
Andrea Atzeni
9st 0lbs
15 - 2
1 1/4 length
3

Romsdal
J H M Gosden
R Hughes
9st 0lbs
20 - 1
3 1/4 lengths
4

Arod
P W Chapple-Hyam
J P Spencer
9st 0lbs
20 - 1
3 3/4 lengths
5

Red Galileo
E A L Dunlop
Oisin Murphy
9st 0lbs
100 - 1
1 1/4 length
6

Western Hymn
J H M Gosden
W Buick
9st 0lbs
10 - 1
Head
7

True Story
S bin Suroor
K Fallon
9st 0lbs
8 - 1
3/4 length
8

Fascinating Rock
D K Weld
P J Smullen
9st 0lbs
12 - 1
1 length
9

Ebanoran
J M Oxx
D P McDonogh
9st 0lbs
12 - 1
1 1/2 length
10

Kingfisher
A P O'Brien
C O'Donoghue
9st 0lbs
50 - 1
2 lengths
11

Impulsive Moment
A M Balding
David Probert
9st 0lbs
50 - 1
1 1/4 length
12

Orchestra
A P O'Brien
J A Heffernan
9st 0lbs
16 - 1
1 1/2 length
13

Our Channel
W J Haggas
S De Sousa
9st 0lbs
50 - 1
1 1/4 length
14

Pinzolo
C Appleby
James Doyle
9st 0lbs
40 - 1
10 lengths
15

Sudden Wonder
C Appleby
K J Manning
9st 0lbs
66 - 1
1/2 length
16

Geoffrey Chaucer
A P O'Brien
R L Moore
9st 0lbs
10 - 1
61 lengths
INITIAL PLACED QUOTES


Roger Varian, trainer of the second Kingston Hill, said: "I'm very proud of the horse. He did nothing wrong. It was an impressive run that was full of promise. He's back to his two-year-old form and we hope he comes out of this well then we have a lot to look forward to.

"The winner is very good and the Guineas form has stood up. I knew how tough my horse is and I was very confident he'd get the trip so I'm a hoarse from cheering him. I knew he'd go down fighting. We'll see what paths we both go down now and they could meet again."

Andrea Atzeni, rider of Kingston Hill, said: "The winner was always going to get to me but mine ran a great race. A bit more juice in the ground would have helped but I can't complain."

Paul Smith, owner of Kingston Hill, said: "I am absolutely delighted. Obviously, we came here to win the race and we were very hopeful but he ran a superb race. Andrea did so much and I know that they thought so much of Australia back home. We tried to put it up to him but we are absolutely delighted. It's great for Mastercraftsman, great for Andrea and young Roger. I am so pleased. Dad has got the bragging rights – he can pay the bill tonight!"

John Gosden said of third Romsdal: "He has run a great race. I couldn't be happier with him. He is a hugely talented horse and was doing his best work at the end. It was bold to supplement him for the race but we've won some money. He stayed on well and he has real stamina. It's likely to be go to the Ladbrokes St. Leger.

Richard Hughes, rider of Romsdal, said: "He gave me a great ride. He struggled a bit with the camber down the straight and I felt I might get up to be second because he stays. But he gave me a great feeling. He could be a Leger horse, physically he needs to strengthen up but it's only June now."
John Gosden said of sixth-home Western Hymn: "He has run well, he was in a nice position but I feel he will be more suited by a conventional track. He got slightly bustled during the race but that's the Derby. It was a super race and the right horse won.
"I would have no worries dropping him back down to a mile and a quarter. The jockey said that the horse would've been better suited by changing the bit. I put a ring bit on him during work but he didn't work well. Jockeys tell you these things and with hindsight we should've put it on. Looking at the times, they ran well inside standard which shows you what a good race it was. The Guineas form was solid with Australia and Kingston Hill filling the top two positions."