JCB Triumph Hurdle Trial

(Registered As The Finesse Juvenile Hurdle)
Grade 2, Cheltenham 12:40
£32,000 added, 4yo only,
2m 1f, Class 1
Saturday 26th January 2019

1 Fakir D'Oudairies 4/1
2 Fine Brunello 25/1
3 Adjali 5/4F
9 ran Distances: 13l, 3½l, 1¾l
Time: 4m 6.00s (slow by 12.00s)
Fakir D'oudairies Wins Fine Brunello 2nd Cheltenham 12.40 Grade 2 JCB Triumph Hurdle trial very impressive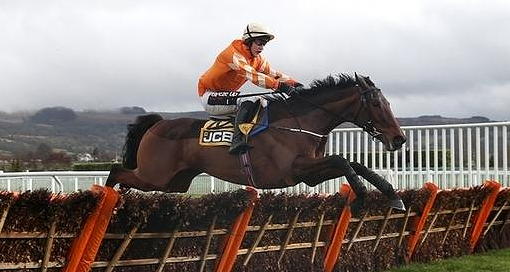 The Irish handler, having his first official Cheltenham winner, has another leading contender for the four-year-old hurdling championship in Fakir D'Oudairies, who spread-eagled a classy field under J J Slevin. 
The French import, successful in a Cork maiden hurdle on his first run for O'Brien on January 5, raced a close second to 5/4 favourite Adjali (Nicky Henderson/Daryl Jacob) before going on at the top of the hill.
Fakir D'Oudairies gradually went clear. He put in a good jump at the final flight and powered up the run-in to win by 14 lengths from his stable companion Fine Brunello (Barry Geraghty), with Adjali a further three and a half back in third. 
Slevin said: "Fakir D'Oudairies had a good win at Cork the last day and has obviously come on for it. He has loads of experience from his time in France and that was a good performance. 
"It's a G2 and we didn't hang around - we went a nice, even gallop - and my horse travelled very comfortably and jumped very well. He stuck at it very well - I didn't realise I had won by so far, but he did it very well. 

"I would say that he would be better with a bit of juice in the ground, but it is a long way from being winter ground out there. He handled it fine and I am sure he will be fine on the ground in the spring.
"None of Joseph's four-year-olds have run against each other, so we don't know what we have. There are plenty of them at home and hopefully it will be an exciting few months ahead."
Daryl Jacob, on board Adjali, reported: "Adjali has run well. The Irish horses seem to be the best juveniles, but I think we might see a better Adjali at The Festival in March."
JCB Triumph Hurdle Trial
(Registered As The Finesse Juvenile Hurdle) (Grade 2)
£32,000 added, 4yo only, 2m 179y, Class 1
9 ran
Going: Good to Soft, Good in places
Pos
D
Horse SP
Jockey Weight
Trainer
Age
1st
Fakir D'Oudairies (FR) 4/1
J J Slevin
11-0
Joseph P O'Brien
4
2nd
13
Fine Brunello (FR) 25/1
B J Geraghty
11-0
Joseph P O'Brien
4
3rd
3&frac12
Adjali (GER) 5/4f
D A Jacob
11-5
N J Henderson
4
4th
1&frac34
Our Power (IRE) 7/1
Tom Cannon
11-0
A King
4
5th
4
Protektorat (FR) 12/1
Harry Skelton
11-0
D Skelton
4
6th
19
Nelson River 13/2
Harry Bannister
11-3
A W Carroll
4
7th
8
Pagero (FR) 33/1
R P McLernon
11-0
Jonjo O'Neill
4
8th
3&frac14
Fukuto (FR) 100/1
T Scudamore
11-0
D G Bridgwater
4
PU
Dogon 12/1
Bryony Frost
11-0
P F Nicholls
4
BC GAME is currently one of the most prominent Bitcoin casinos, having launched in 2017, and they are excited to announce the launch of their very own sportsbook!
Year Horse Owner Trainer Weight Jockey SP
1990 Sayyure Brian Lovrey Nigel Tinkler 11-08 Graham McCourt 3/1
1991 Hopscotch Pipe Scudamore Racing Martin Pipe 11-02 Peter Scudamore 8/11 f
1992 Abandoned
1993 Major Bugler Colin Buckle Toby Balding 11-00 Adrian Maguire 13/2
1994 Pridwell Pond House Racing Martin Pipe 11-00 Richard Dunwoody 3/1
1995 Brave Tornado Bridget Swire Toby Balding 11-04 AP McCoy 7/2
1996 Abandoned
1997 Shooting Light John Brown Pat Murphy 11-00 Richard Dunwoody 10/11 f
1998 Zafarabad Elaine Baines David Nicholson 11-00 Richard Johnson 1/3 f
1999 Hors La Loi III John Martin Francois Doumen FR 11-08 Thierry Doumen 5/2
2000 Mister Banjo Million In Mind P'ship Nicky Henderson 11-08 Mick Fitzgerald 2/7 f
2001 Jair Du Cochet Miriam Montauban Guillaume Macaire FR 11-08 Jacques Ricou Evens f
2002 Vol Solitaire Barry Marshall Paul Nicholls 11-00 Joe Tizzard 11/1
2003 Moneytrain Tina Hamann Christian Von Der Recke GER 11-00 Robert Thornton 25/1
2004 Mondul Let's Live Racing Milton Harris 11-08 Ollie McPhail 11/2
2005 Akilak Ada Partnership Howard Johnson 11-00 Graham Lee 50/1
2006 Abandoned
2007 Katchit D S J P Syndicate Alan King 11-07 Robert Thornton 2/1 f
2008 Franchoek J P McManus Alan King 11-07 Robert Thornton 10/11 f
2009 Walkon McNeill Racing Alan King 11-07 Robert Thornton 6/5 f
2010 Baccalaureate The Yes No Wait Sorries Nigel Twiston-Davies 11-00 Paddy Brennan 100/1
2011 Local Hero Phil Martin Steve Gollings 11-04 Tony McCoy 15/8 f
2012 Grumeti* The McNeill Family Alan King 11-04 Wayne Hutchinson 7/4 jf
2013 Rolling Star Michael Buckley & Vestey Family Nicky Henderson 11-07 Barry Geraghty 5/2
2014 Le Rocher John White & Anne Underhill Nick Williams 11-07 Richard Johnson 2/1
2015 Peace And Co Simon Munir & Isaac Souede Nicky Henderson 11-07 Barry Geraghty 4/9 f
2016 Protek Des Flos Potensis Bloodstock Ltd Nicky Henderson 11-00 Noel Fehily 25/1
2017 Defi Du Seuil J P McManus Philip Hobbs 11-07 Barry Geraghty 1/5 f
2018 Apple's Shakira J P McManus Nicky Henderson 10-12 Barry Geraghty 1/7 f