---
Ultima Handicap Chase

Grade 3, Cheltenham 14:50
£105,000 added, 5yo plus,
3m 1f, Class 1  
Tuesday 14th March 2017
1 Un Temps Pour Tout 9/1
2 Singlefarmpayment 5/1F
3 Noble Endeavor 15/2
4 Buywise 33/1
23 ran NR: Antony Distances: shd, 3½l, 7l
Time: 6m 20.00s (slow by 15.00s)
Un Temps Pour Tout wins the Ultima for the second year in a row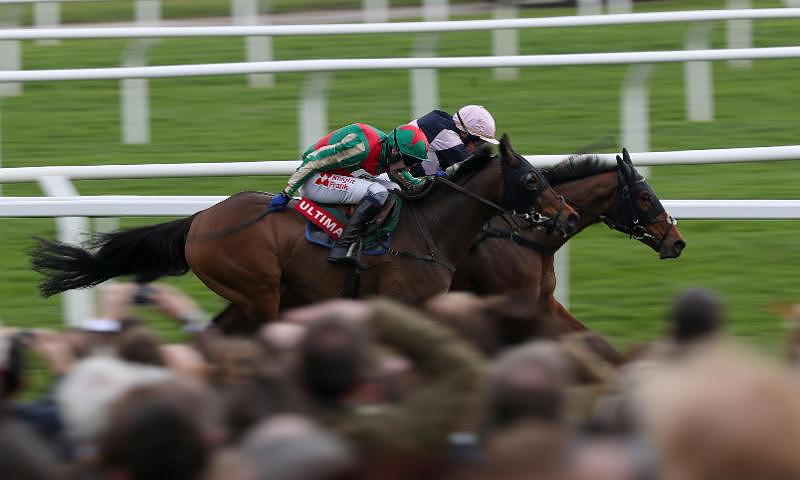 Jockeys Tom Scudamore on board Un Temps Pour Tout (left) and Adrian Heskin on board Singlefarmpayment (right) fight out the finish
The David Pipe-trained Un Temps Pour Tout (9/1) became just the third horse to win the Ultima Handicap Chase, the third race on day one, on two occasions, after recording back-to-back successes in the contest with a superb performance under Tom Scudamore.

Successful in the race last year, the eight-year-old had to carry top-weight in this year's renewal of the three miles and one furlong event. The son of Robin Des Champs kept on gamely in the closing stages to fend off the sustained challenge of Tom George's Singlefarmpayment, the well-backed 5/1 favourite by a short-head.

Gordon Elliott's Noble Endeavour (15/2) was three and a half-lengths behind in third, with a further seven lengths back to 33/1 shot Buywise.

Nicholashayne trainer Pipe, recording his 15th winner at the Festival, said: "It's so good to get a winner. It's hard enough to get a runner here so it's great.

"To do it under top-weight is a great performance from the horse off 7lb higher than last year. I think this race looked ultra-competitive but fair play to horse and jockey, they were superb.

"It was very similar to last year. He got a good start and, whilst they came and challenged and I thought that he might be just be getting tired two out, he found a lot under pressure.

"This is the Olympics of racing each year and you are judged on how you perform here, maybe too much but that is how it is.

"Tom gave him a great ride. I thought he was getting tired two fences out but he kept on well for pressure. He is not an overly big horse but he is neat and economical over fences and comes up when Tom asks him.

"He is a very good horse on a going day. He is not always like that but you could tell today from an early stage, he was going to run a big race.

"I thought he was in good form at home and he was very gutsy here. He has won at two Cheltenham Festivals and a French Champion Hurdle so it is great."

Pipe, Scudamore and owners Professor Caroline Tisdall and Bryan Drew team up again in the next race on the card, the Grade One Stan James Champion Hurdle, with 2015 Weatherbys Champion Bumper winner Moon Racer.

Ultima Business Solutions Handicap Chase (Grade 3)
£105,000 added, 5yo plus, 3m 110y, Class 1
23 ran
Going: Good to Soft
Pos
D
Horse SP
Jockey Weight
Trainer
Age
1st
Un Temps Pour Tout (IRE) 9/1
T Scudamore
11-12
D Pipe
8
2nd
s.h
Singlefarmpayment 5/1f
A P Heskin
10-13
T R George
7
3rd
3&frac12
Noble Endeavor (IRE) 15/2
D N Russell
11-11
G Elliott
8
4th
7
Buywise (IRE) 33/1
Adam Wedge
11-2
Evan Williams
10
5th
&frac34
Go Conquer (IRE) 20/1
Aidan Coleman
10-8
Jonjo O'Neill
8
6th
10
The Young Master 25/1
Mr S Waley-Cohen (3)
11-7
N P Mulholland
8
7th
8
The Druids Nephew (IRE) 10/1
N D Fehily
11-3
N P Mulholland
10
8th
2&frac12
Theatre Guide (IRE) 33/1
P J Brennan
11-10
C L Tizzard
10
9th
&frac34
Clarcam (FR) 50/1
B J Cooper
11-10
G Elliott
7
10th
1
A Good Skin (IRE) 14/1
R Johnson
10-5
T R George
8
11th
13
Label Des Obeaux (FR) 16/1
Wayne Hutchinson
11-5
A King
6
12th
1&frac34
Annacotty (IRE) 66/1
Ian Popham
11-8
A King
9
13th
nk
Measureofmydreams (IRE) 25/1
S W Flanagan
11-3
N Meade
9
14th
nk
Pilgrims Bay (IRE) 25/1
James Best
10-9
N P Mulholland
7
15th
8
Henri Parry Morgan 14/1
Sean Bowen
10-13
P Bowen
9
NR
Antony (FR) 25/1
J E Moore
10-5
G L Moore
7
Also Ran: Viconte Du Noyer (FR) , Holywell (IRE) , Junction Fourteen (IRE) , Ibis Du Rheu (FR) , Coologue (IRE) , Caid Du Berlais (FR) , Vintage Clouds (IRE) , Vic De Touzaine (FR)
NO PAYMENT FOR GEORGE

Ridden by Adrian Heskin and trained by Tom George, Singlefarmpayment won a novices' chase at Cheltenham in December and was sent off the 5/1 favourite here.

"I'm thrilled with him - it's just gone the wrong way on the line," said George, who trains in Gloucestershire. "A very good horse beat him and he's run a very good race. He looked like he was getting back up on Un Temps Pour Tout.

"He jumped very well and the only thing that didn't go to plan was the result at the end of it, but the horse doesn't know that."

Heskin added: "He's run a wonderful race."

NOBLE FOR THE IRISH NATIONAL

15/2 chance Noble Endeavour, who finished third, may well go for the Irish Grand National over three miles and five furlongs next.

Gordon Elliott, the eight-year-old's trainer said after the race: "He jumped great and travelled well and did everything right with a lot of weight - I am delighted. All being well he will go for the Irish National (Fairyhouse, April 17) next."

Fourth home was 33/1 Buywise whose trainer, Evan Williams, commented: "The horse has run well.

"I thought we had lost him as his winter form hasn't been good. He ran well in the BetVictor Gold Cup again but since then, when I put the visor on him, it has been absolutely dreadful.

"But spring has come and he runs well around here so I am absolutely delighted.

"I imagine we might rock up to Aintree, he has run well round there, or maybe come back here in April. He loves the place so maybe the Grade Two race in April will be the target as he has won it before."

This was Buywise's third try at The Festival and he has finished fifth, fourth and fourth.
Festival Handicap Chase – Past Results
2016-WINNER-UN TEMPS POUR TOUT 7-11-07 Owner-Prof Caroline Tisdall & Bryan Drew; Trainer-David Pipe; Jockey-Tom Scudamore; SP-11/1
2ND-Holywell 9-11-12 Owner-Gay Smith; Trainer-Jonjo O'Neill; Jockey-Richie McLernon; SP-8/1
3RD-The Young Master 7-11-05 Owner-Dajam & The Old Masters; Trainer-Neil Mulholland; Jockey-Mr Sam Waley-Cohen; SP-14/1
4TH-Morning Assembly 9-11-09 Owner-Clipper Logistics Group Ltd; Trainer-Pat Fahy IRE; Jockey-Davy Russell; SP-10/1
23 ran, Time-6m 17.80s; Dist-7, 9, 1 13/2 Fav Out Sam (7th)
2015-WINNER-THE DRUIDS NEPHEW 8-11-03 Owner-The Stonehenge Druids; Trainer-Neil Mulholland; Jockey-Barry Geraghty; SP-8/1
2ND-Grand Jesture 7-10-11 Owner-Ann & Alan Potts; Trainer-Henry de Bromhead IRE; Jockey-Jonathan Burke; SP-25/1
3RD-Gallant Oscar 9-10-05 Owner-G Kelly; Trainer-Tony Martin IRE; Jockey-Bryan Cooper; SP-9/1
4TH-Indian Castle 7-10-10 Owner-Askew Dick Hernon Reynard; Trainer-Ian Williams; Jockey-Will Kennedy; SP-16/1
24 ran, Time-6m 19.20s; Dist-3¾, 1½, hd 6/1 Fav Ned Stark (8th)
2014-WINNER-HOLYWELL 7-11-06 Owner-Gay Smith; Trainer-Jonjo O'Neill; Jockey-Richie McLernon; SP-10/1
2ND-Ma Filleule 6-10-13 Owner-Simon Munir; Trainer-Nicky Henderson; Jockey-Nico de Boinville; SP-33/1
3RD-The Package 11-11-02 Owner-The Johnson Family; Trainer-David Pipe; Jockey-Tom Scudamore; SP-16/1
4TH-Green Flag 7-11-04 Owner-John Adam; Trainer-Lucinda Russell; Jockey-Peter Buchanan; SP-6/1
23 ran, Time- 6m 1.80s; Dist-1¾, 7, 2¾ 7/1 Fav Alfie Sherrin (8th)
2013-WINNER-GOLDEN CHIEFTAIN 8-10-02 Owner-Brocade Racing; Trainer-Colin Tizzard; Jockey-Brendan Powell; SP-28/1
2ND-Our Mick 7-11-04 Owner- K & Mrs E Benson; Trainer-Donald McCain; Jockey-Jason Maguire; SP-13/2 Fav
3RD-White Star Line 9-10-05 Owner-Patsy Byrne; Trainer-Dessie Hughes IRE; Jockey-Bryan Cooper; SP-12/1
4TH-Tullamore Dew 11-10-03 Owner-Give Every Man His Due; Trainer-Nick Gifford; Jockey-Tom Cannon; SP-33/1
24 ran, Time- 6m 19.80s; Dist-10, 2, ¾
2012-WINNER-ALFIE SHERRIN 9-10-00 Owner-J P McManus; Trainer-Jonjo O'Neill; Jockey-Richie McLernon; SP-14/1
2ND-Fruity O'Rooney 9-10-11 Owner-Heart Of The South Racing; Trainer-Gary Moore; Jockey-Jamie Moore; SP-16/1
3RD-Our Mick 6-11-01 Owner-K Benson & Mrs E Benson; Trainer-Donald McCain; Jockey-Jason Maguire; SP-11/1
4TH-The Package 9-10-10 Owner-David Johnson; Trainer-David Pipe; Jockey-Timmy Murphy; SP-6/1
19 ran, Time-6m 8.60s; Dist-1, 4, 2 11/2 Jt Fav Quantitativeeasing (7th), Hold On Julio (10th)
2011-WINNER-BENSALEM 8-11-02 Owner-Alan Marsh & John Duggan; Trainer-Alan King; Jockey-Robert Thornton; SP-5/1
2ND-Carole's Legacy 7-11-05 Owner-Paul Murphy; Trainer-Nicky Henderson; Jockey-Barry Geraghty; SP-9/1
3RD-Reve De Sivola 6-10-13 Owner-Paul Duffy Diamond Partnership; Trainer-Nick Williams; Jockey-Daryl Jacob; SP-9/1
4TH-Fair Along 9-11-07 Owner-Alan Peterson; Trainer-Philip Hobbs; Jockey-Rhys Flint; SP-25/1
19 ran, Time-6m 10.00s; Dist ½, 11, 17 9/2 Fav Sunnyhill Boy (Fell)
2010-WINNER-CHIEF DAN GEORGE 10-10-10 Owner-Maurice Chapman; Trainer-Jimmy Moffatt; Jockey-Paddy Aspell; SP-33/1 2ND-The Package 7-10-09 Owner-David Johnson; Trainer-David Pipe; Jockey-Timmny Murphy; SP-9/2 Fav 3RD-Ogee 7-10-05 Owner-Sir Evelyn de Rothschild; Trainer-Renee Robeson; Jockey-Jimmy McCarthy; SP-8/1 4TH-Offshore Account 10-10-03 Owner-Brian Polly; Trainer-Charlie Swan IRE; Jockey-David Casey; SP-33/1 24 ran, Time-6m 10.66s; Dist-hd, 1¼, 4
2009-WINNER-WICHITA LINEMAN 8-10-09 Owner-J P McManus; Trainer-Jonjo O'Neill; Jockey-Tony McCoy; SP-5/1 Fav 2ND-Maljimar 9-10-05 Owner-Jane Williams; Trainer-Nick Williams; Jockey-Daryl Jacob; SP-14/1 3RD-Nenuphar Collognes 8-10-09 Owner-Top Brass Partnership; Trainer-Alan King; Jockey-Robert Thornton; SP-17/2 4TH-Dear Villez 7-11-03 Owner-John & Barbara Cotton; Trainer-Paul Nicholls; Jockey-Ruby Walsh; SP-16/1 21 ran, Time-6m 26.63s; Dist-nk, ½, 6
2008-WINNER-AN ACCORDIAN 7-10-12 Owner-Brian Kilpatrick; Trainer-David Pipe; Jockey-Tom Scudamore; SP-7/1 2ND-New Alco 7-11-00 Owner-D McGowan and S Murphy; Trainer-Ferdy Murphy; Jockey-Davy Russell; SP-10/1 3RD-L'Ami 9-11-00 Owner-J P McManus; Trainer-Francois Doumen FR; Jockey-Tony McCoy; SP-11/2 Fav 14 ran, Time-6m 35.5s; Dist-2 1¼, hd
2007-WINNER-JOES EDGE 10-10-06 Owner-Chemipetro Limited; Trainer-Ferdy Murphy; Jockey-Davy Russell; SP-50/1
2ND-Juveigneur 10-11-09 Owner-Trevor Hemmings; Trainer-Nicky Henderson; Jockey-Mick Fitzgerald; SP-7/1Co Fav
3RD-Distant Thunder 9-10-11 Owner-Old Moss Farm; Trainer-Noel Chance; Jockey-Andrew McNamara; SP-7/1 Co Fav
4TH-Mon Mome 7-11-01 Owner-Vida Bingham; Trainer-Venetia Williams; Jockey-Liam Treadwell; SP-16/1
23 ran, Time-6m 15.94s, Dist-sh, sh, 8 7/1 Co Fav New Alco (6th)
2006-WINNER-DUN DOIRE 7-10-09 Owner-Dunderry Racing Syndicate; Trainer-Tony Martin IRE; Jockey-Ruby Walsh; SP-7/1 2ND-Juveigneur 9-11-05 Owner-Trevor Hemmings; Trainer-Nicky Henderson; Jockey-Mick Fitzgerald; SP-16/1
3RD-Irish Hussar 10-11-12 Owner-Major Christopher Hanbury; Trainer-Nicky Henderson; Jockey-Marcus Foley; SP-66/1
4TH-Model Son 8-10-08 Owner-P J Hughes Developments Ltd; Trainer-Patrick Haslam; Jockey-Paddy Merrigan; SP-14/1
21 ran, Time-6m 12.10s, Dist-2, 1.25, 1.5 100/30 Fav Moulin Riche (PU)
2005-WINNER-KELAMI 7-10-02 Owner-Halewood International Ltd; Trainer-Francois Doumen FR; Jockey-Robert Thornton; SP-8/1
2ND-Keen Leader 9-11-12 Owner-Adair Catherwood; Trainer-Jonjo O'Neill; Jockey-Barry Geraghty; SP-28/1
3RD-Irish Hussar 9-11-07 Owner-Major Christopher Hanbury; Trainer-Nicky Henderson; Jockey-Mick Fitzgerald; SP- 33/1
4TH-Chives 10-11-13 Owner-Trevor Hemmings; Trainer-Sue Smith; Jockey-Dominic Elsworth; SP-33/1
20 ran, Time-6m 08.60s, Dist-1.25, 2, .75 11/2 Fav Iris Bleu (9th)
2004-WINNER-FORK LIGHTNING 8-10-05 Owner-Fred and Sue Welch; Trainer-Alan King; Jockey-Robert Thornton; SP-7/1
2ND-Shardam 7-10-07 Owner-Howard Parker; Trainer-Nigel Twiston-Davies; Jockey-Carl Llewellyn; SP-11/2
3RD-Royal Auclair 7-10-09 Owner-Clive Smith; Trainer-Paul Nicholls; Jockey-Ruby Walsh; SP 7/1
11 ran, Time-6m 12.30s, Dist-2, 9 100/30 Fav Haut Cercy (8th)
2003-WINNER-YOULNEVERWALKALONE 9-10-11 Owner-J P McManus; Trainer-Christy Roche IRE; Jockey-Barry Geraghty; SP-7/1
2ND-Haut Cercy 8-10-00 Owner-The Wiggin Partnership; Trainer-Henry Daly; Jockey-Richard Johnson; SP-10/1
3RD-Ad Hoc 9-11-00 Owner-Sir Robert Ogden; Trainer-Paul Nicholls; Jockey-Ruby Walsh; SP-5/1 Jt Fav
4TH Maximize 9-10-01 Owner-Lady Vestey; Trainer-Henrietta Knight; Jockey-Jim Culloty; SP-20/1
18 ran, Time-6m 16.90s, Dist- .75, 9, 1.25 5/1 Jt Fav Joss Naylor (11th)
2002-WINNER-FRENCHMAN'S CREEK 8-10-05 Owner-Rory Sweet and Panda Wilson; Trainer-Hughie Morrison; Jockey-Paul Carberry; SP-8/1
2ND-Carbury Cross 8-10-02 Owner-Anne, Duchess of Westminster; Trainer-Jonjo O'Neill; Jockey-Liam Cooper; SP-25/1
3RD-Ad Hoc 8-11-07 Owner-Sir Robert Ogden; Trainer-Paul Nicholls; Jockey-Ruby Walsh; SP-7/1
4TH-You're Agoodun 8-11-00 Owner-Jeff Lammiman; Trainer-Martin Pipe; Jockey-Johnny Kavanagh; SP-20/1
23 ran, Time-6m 12.10s, Dist-3, 16, .75 4/1 Fav Gunther McBride (6th)
2001 - No Race (Foot and Mouth)
2000-WINNER-MARLBOROUGH 8-10-03 Owner-Robert Ogden; Trainer-Nicky Henderson; Jockey-Mick Fitzgerald; SP-11/2
2ND-Beau 7-10-02 Owner-Sylvia Tainton; Trainer-Nigel Twiston-Davies; Jockey-Carl Llewellyn; SP-5/1 Jt Fav
3RD-Star Traveller 9-10-00 Owner-Jill Griffith & Liz Strachan; Trainer-Henry Daly; Jockey-Andrew Thornton; SP-6/1 12 ran, Time-5m 59.70s, Dist-2.5, .5 5/1 Jt Fav Spendid (5th)
1999-WINNER-BETTY'S BOY 10-10-02 Owner-Ted Benfield and Bill Brown; Trainer-Kim Bailey; Jockey-Norman Williamson; SP-25/1
2ND-Island Chief 10-10-01 Owner-George Dilger; Trainer-Peter Beaumont; Jockey-Brian Storey; SP-10/1
3RD-Nahthen Lad 10-10-10 Owner-Jim Shaw; Trainer-Jenny Pitman; Jockey-Richard Dunwoody; SP-25/1
4TH-Macgeorge 9-11-08 Owner-Mr & Mrs J H Watson; Trainer-Richard Lee; Jockey-Adrian Maguire; SP-16/1
18 ran, Time-6m 22.6s, Dist-5, 2, 2.5 4/1 Fav Kadou Nonantais (fell)
1998-WINNER-UNGUIDED MISSILE 10-11-10 Owner-David Harrison; Trainer-Gordon Richards; Jockey-Paul Carberry; SP-10/1
2ND-Glitter Isle 8-10-02 Owner-Mrs Timothy Pilkington; Trainer-Josh Gifford; Jockey-Philip Hide; P-20/1
3RD-Even Flow 9-10-07 Owner-Andrew Wates; Trainer-Terry Casey; Jockey-Mick Fitzgerald; SP-7/2 Fav
13 ran, Time-6m 11.6s, Dist-7, .5
1997-WINNER-FLYER'S NAP 11-11-02 Owner-Jim Tory; Trainer-Robert Alner;Jockey-David Bridgwater; SP-20/1
2ND-Stormtracker 8-10-00 Owner-Tim Davis; Trainer-Colin Weedon; Jockey-Mark Richards; SP-25/1
3RD-General Command 9-11-02 Owner-Robert Ogden; Trainer-Gordon Richards; Jockey-Jamie Osborne; SP-9/4 Fav 14 ran, Time-6m 13.8s, Dist-1.5, .75
1996-WINNER-MAAMUR 8-10-00 Owner-Jean Wood; Trainer-Tim Forster; Jockey-Andrew Thornton; SP-13/2
2ND-Unguided Missile 8-10-10 Owner-David Harrison; Trainer-Gordon Richards; Jockey-Richard Dunwoody; SP-11/4 Fav
3RD-Chatam 12-10-02 Owner-Adrian Nolan and Dr B Nolan; Trainer-Martin Pipe; Jockey-David Bridgwater; SP-28/1 10 ran, Time-6m 22.9s, Dist-7, 13
1995-WINNER-ROUGH QUEST 9-10-03 Owner-Andrew Wates; Trainer-Terry Casey; Jockey-Mick Fitzgerald; SP-16/1
2ND-Antonin 7-11-08 Owner-G R Bailey Ltd (Baileys Horse Feeds); Trainer-Sue Bramall; Jockey-John Burke; SP-14/1
3RD-Cache Fleur 9-10-06 Owner-Brian Kilpatrick; Trainer-Martin Pipe;Jockey-Richard Dunwoody; SP-6/1
4TH-Grange Brake 9-10-10 Owner-Jenny Mould; Trainer-Nigel Twiston-Davies; Jockey-David Bridgwater; SP-14/1 16 ran, Time-6m 32.9s, Dist-9, sh, .75 7/2 Fav Couldnt Be Better (11th)
Festival Trophy Handicap Chase Roll Of Honour
(JLT Specialty Handicap Chase 2012-2013, Stewart Family Spinal Research Handicap Chase 2011, William Hill Trophy Handicap Chase 2005-2010, William Hill National Hunt Handicap Chase 1998-2004, Astec Buzz Shop National Hunt Handicap Chase 1997, Ritz Club National Hunt Handicap Chase 1981-96, National Hunt Handicap before 1981)

Year Winner Age/Wt Jockey Trainer Owner SP Ran
1994 Antonin 6-11-05 John Burke Sue Bramall Michael Stanners 4/1F 11
1993 Givus A Buck 10-10-08 Paul Holley David Elsworth Kevin Costello 11/2 7
1992 Tipping Tim 7-10-00 Carl Llewellyn Nigel Twiston-Davies Jenny Mould 20/1 17
1991 Seagram 11-10-11 Nigel Hawke David Barons Sir Eric Parker 6/1 14
1990 Bigsun 9-10-11 Richard Dunwoody David Nicholson John Horn 15/2 14
1989 Dixton House 10-11-00 Tom Morgan John Edwards Peter S Hill 13/2 16
1988 Aquilifer 8-10-12 Paul Croucher David Murray-Smith Brian Kilpatrick 9/2 16
1987 Gainsay 8-10-05 Ben de Haan Jenny Pitman Errol Brown 10/1 12
1986 Charter Party 8-10-10 Peter Scudamore David Nicholson Claire Smith 12/1 16
1985 West Tip 8-10-13 Richard Dunwoody Michael Oliver Peter Luff 6/1 20
1984 Tracys Special 7-11-01 Steve Knight Andy Turnell Major Jack Rubin 5/1 12
1983 Scot Lane 10-11-07 Craig Smith Martin Tate T Isherwood 20/1 19
1982 Scot Lane 9-10-12 Craig Smith Martin Tate T Isherwood 15/2 18
1981 Current Gold 10-10-07 Neale Doughty Gordon Richards A Picken 10/1 16
1980 Again The Same 7-11-01 Mr Jim Wilson John Edwards G D Smith 10/1 16
1979 Fair View 9-10-04 Ridley Lamb George Fairbairn Michael Shone 12/1 13
1978 No race (Abandoned because of snow)
1977 Gay Vulgan 9-11-04 Bill Smith Fulke Walwyn Mrs W Pilkington 4/1F 12
1976 Barmer 8-10-03 Jimmy McNaught Robin Blakeney Richard Dean 20/1 14
1975 King Flame 9-10-06 John Francome Richard Head Lord Head 12/1 14
1974 Cuckolder 9-10-13 Andy Turnell Bob Turnell Bob Turnell 6/1 11
1973 The Chisler 7-10-10 Michael Dickinson Tony Dickinson J Haggas 6/1 13
1972 Jomon 6-10-12 David Mould Tom Jones Mrs W Jones 8/1 15
1971 Lord Jim 10-10-08 Johnnie Haine Fulke Walwyn Gilbert Dudley Jnr 8/1 14
1970 Charter Flight 8-11-09 Andrew Turnell Bob Turnell John Rogerson 100/8 16
1969 Chancer 7-11-00 Pat McCarron Charlie Hall A H P Hope 6/1F 13
1968 Battledore 7-10-10 Kit Stobbs Arthur Stephenson W Morton 3/1F 8
1967 Different Class 7-11-13 David Mould Peter Cazalet Gregory Peck 13/2 16
1966 Arkloin 7-12-05 Pat Taaffe Tom Dreaper IRE George Ansley 5/2F 12
1965 Rondetto 9-11-10 Johnnie Haine Bob Turnell A B Mitchell 11/2 20
1964 Prudent Barney 10-10-11 Terry Biddlecombe Bobby Renton Lurline Brotherton 10/1 10
1963 Team Spirit 11-11-04 Willie Robinson Fulke Walwyn Ronald B Woodward 100/8 24
1962 Longtail 7-11-00 Stan Mellor Dick Curran Arthur Dickinson 100/7 18
1961 Ravencroft 8-10-03 Fred Winter Fulke Walwyn Larch Loyd 9/2 10
1960 Isle Of Skye 9-10-05 Tony Keen Alec Kilpatrick Sir Thomas Pilkington 100/8 12
1959 Winning Coin 7-11-07 Dave Dick George Beeby Lord Bicester 100/9 14
1958 Sentina 8-11-07 Tom Taaffe Tom Dreaper IRE Duchess of Westminster 7/1 14
1957 Sentina 7-10-04 Pat Taaffe Tom Dreaper IRE A Craigie 3/1F 12
1956 Kerstin 6-10-05 George Milburn Verly Bewicke G H Moore 100/9 14
1955 Limber Hill 8-11-02 Tim Molony Bill Dutton John Davey 7/1 19
1954 Holly Bank 7-10-13 Mr Peter Brookshaw Fred Rimell S H Brookshaw 7/2F 12
1953 Four Ten 7-10-07 Tommy Cusack John Roberts A Strange 4/1 12
1952 Royal Tan 8-11-06 Mr Phonsie O'Brien Vincent O'Brien IRE Joe Griffin 7/2JF 11
1951 Land Fort 7-11-08 Johnny Bullock Fred Rimell H Oliver 8/1 14
1950 Silver Fame 11-12-07 Martin Molony George Beeby Lord Bicester 5/4F 11
1949 Frere Jacques II 7-10-06 Ted Vinall Fred Rimell Mrs A Simmons 20/1 13
1948 Cavaliero 7-11-10 Ted Vinall Fred Rimell W R Porter 7/1 21
1947 No race (Abandoned because of snow and frost)
1946 Dunshaughlin 8-10-10 Bobby O'Ryan Charlie Rogers IRE Dorothy Paget 7/1 18