---
Boodles Fred Winter Juvenile Handicap Hurdle

Grade 3, Cheltenham 16:50
£80,000 added, 4yo only,
2m 87y, Class 1  
Wednesday 14th March 2018
Veneer Of Charm wins the Fred Winter!
1 Veneer Of Charm 33/1
2 Style De Garde 12/1
3 Nube Negra 15/2F
4 Padleyourowncanoe 33/1
22 ran Distances: 3l, 1l, 2¾l
Time: 4m 10.70s (slow by 19.70s)
Veneer Of Charm's victory in the Boodles Fred Winter Juvenile Handicap Hurdle gave trainer Gordon Elliott a 468.8/1 Ladies Day treble - and takes him to a total of 17 Festival winners.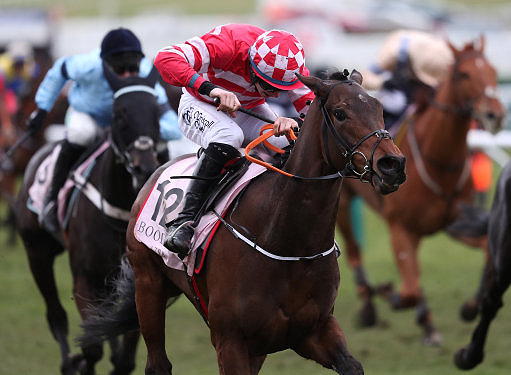 The 33/1 shot, who was ridden by Jack Kennedy, beat Style De Garde by three lengths.
Elliott said: "It's been a brilliant day - I can't believe it. 
"Veneer Of Charm has been a great servant; we bought him as a fun horse on the advice of [journalist] Ryan McElligott - so all thanks go to him. We struggled to get an owner for him for a bit and Martin Wasylocha bought him. 
"It's great for him - he's been an owner with me since I started and is one of the owners who has been with me the longest, except for Stephen O'Connor who owns Bless The Wings. This is something Martin dreams about so to give him a Cheltenham winner is unbelievable.
"I thought the ground, being so tacky, might not suit the horse, to be honest. We thought Mitchouka was the main one, but he got badly hampered. Jack got a lovely position on Veneer Of Charm. The horse looked a bit green but even if he never wins again, it is job done. He's well enough handicapped on the Flat so he could be a horse you see on the Flat for a bit of craic this summer."
Asked how it felt to have a Festival treble, Elliott replied: "Last night I was trying to get a Ryanair flight home [after a winnerless day], and I was in bed by half past nine. It won't be the same tonight!"
Fred Winter Juvenile Handicap Hurdle
£80,000 added, 4yo only, 2m 87y, Class 1
22 ran
Going: Soft, Heavy in places
Pos
D
Horse SP
Jockey Weight
Trainer
Age
1st
Veneer Of Charm (IRE) 33/1
J W Kennedy
11-0
G Elliott
4
2nd
3
Style De Garde (FR) 12/1
Nico de Boinville
11-8
N J Henderson
4
3rd
1
Nube Negra (SPA) 15/2f
Harry Skelton
11-6
D Skelton
4
4th
2&frac34
Padleyourowncanoe 33/1
T Scudamore
11-3
C L Tizzard
4
5th
4
Turning Gold 20/1
Thomas Bellamy
10-12
N A Twiston-Davies
4
6th
&frac34
Solo Saxophone (IRE) 40/1
P Townend
10-13
D Skelton
4
7th
1&frac12
Eragon De Chanay (FR) (ex5) 8/1
Joshua Moore
10-11
G L Moore
4
8th
&frac12
Look My Way 8/1
B Hughes
11-6
J J Quinn
4
9th
2&frac14
Act Of Valour 14/1
A P Heskin
11-7
P F Nicholls
4
10th
6
The King Of May (FR) 12/1
Danny Cook
10-13
B Ellison
4
11th
1
Mastermind (IRE) 25/1
R M Power
10-12
C O'Brien
4
12th
1&frac14
Embole (FR) 33/1
D A Jacob
11-0
D Skelton
4
13th
15
Casa Tall (FR) 25/1
James Bowen (3)
11-10
T R George
4
14th
11
Esprit De Somoza (FR) 16/1
Lizzie Kelly (3)
11-6
Nick Williams
4
PU
Mitchouka (FR) 8/1
M P Walsh
11-10
G Elliott
4
PU
Mercenaire (FR) 25/1
Mr Chester Williams (7)
11-6
Nick Williams
4
PU
Brave Dancing 33/1
Felix de Giles
11-5
D Cottin
4
PU
Eureu Du Boulay (FR) 50/1
Jonathan Burke
11-0
Richard Hobson
4
PU
Oxford Blu 14/1
R Johnson
10-13
Olly Murphy
4
PU
Grand Sancy (FR) 16/1
Sam Twiston-Davies
10-12
P F Nicholls
4
F
Lisp (IRE) 10/1
Wayne Hutchinson
11-3
A King
4
F
Knight Destroyer (IRE) 20/1
Aidan Coleman
10-12
Jonjo O'Neill
4
FRED WINTER JUVENILE NOVICES' HANDICAP HURDLE PAST RESULTS
2017-WINNER-FLYING TIGER 4-11-05 Owner-The Macaroni Beach Society; Trainer-Nick Williams; Jockey-Richard Johnson; SP-33/1
2ND-Divin Bere 4-11-10 Owner-Chris Giles; Trainer-Nicky Henderson; Jockey-Noel Fehily; SP-9/2 Fav
3RD-Nietzsche 4-11-01 Owner-D Gilbert, M Lawrence, A Bruce, G Wills; Trainer-Brian Ellison; Jockey-Danny Cook; SP-12/1
4TH-Project Bluebook 4-11-09 Owner-J P McManus; Trainer-John Quinn; Jockey-Brian Hughes; SP-14/1
22 ran, Time-3m 58.10s; Dist-nk, nk, 5
2016-WINNER-DIEGO DU CHARMIL 4-11-01 Owner-Mrs Johnny de la Hey; Trainer-Paul Nicholls; Jockey-Sam Twiston-Davies; SP-13/2
2ND-Romain De Senam 4-11-04 Owner-Chris Giles & Dan Macdonald; Trainer-Paul Nicholls; Jockey-Nick Scholfield; SP-20/1
3RD-Coo Star Sivola 4-10-09 Owner-Babbit Racing; Trainer-Nick Williams; Jockey-Lizzie Kelly; SP-16/1
4TH-Missy Tata 4-11-00 Owner-Simon Munir & Isaac Souede; Trainer-Gordon Elliott IRE; Jockey-Bryan Cooper; SP-10/1
22 ran, Time-3m 49.40s; Dist-hd, ½, 3¼ 6/1 Fav Jaleo (10th)
2015-WINNER-QUALANDO 4-11-00 Owner-Kathy Stuart; Trainer-Paul Nicholls; Jockey-Nick Scholfield; SP-25/1
2ND-Bouvreuil 4-11-02 Owner-Potensis Bloodstock & Chris Giles; Trainer-Paul Nicholls; Jockey-Noel Fehily; SP-14/1
3RD-The Saint James 4-11-05 Owner-J P McManus; Trainer-Jonjo O'Neill; Jockey-Paul Carberry; SP-33/1
4TH-Starchitect 4-11-02 Owner-Paul & Clare Rooney; Trainer-Donald McCain; Jockey-Wilson Renwick; SP-16/1
22 ran, Time-3m 53.60s; Dist-1½, 2¾, hd 13/2 Fav Box Office (7th)
2014-WINNER-HAWK HIGH 4-11-01 Owner-Trevor Hemmings; Trainer-Tim Easterby; Jockey-Brian Hughes; SP-33/1
2ND-Katgary 4-11-01 Owner-Andrea & Graham Wylie; Trainer-Paul Nicholls; Jockey-Daryl Jacob; SP-8/1
3RD-Orgilgo Bay 4-10-09 Owner-Derek Kierans; Trainer-John McConnell IRE; Jockey-Mark Bolger; SP-16/1
4TH-Keltus 4-10-13 Owner- Donlon & MacDonald; Trainer-Paul Nicholls; Jockey-Nick Scholfield; SP-25/1
24 ran, Time-3m 52.19s; Dist-¾, 1¾, ½ 7/2 Fav Dawalan (13th)
2013-WINNER-FLAXEN FLARE 4-10-07 Owner-Pat Sloan; Trainer-Gordon Elliott IRE; Jockey-Davy Condon; SP-25/1
2ND-Caid Du Berlais 4-10-12 Owner- Donlon, MacDonald, C Barber & P Nicholls; Trainer-Paul Nicholls; Jockey-Harry Derham; SP-20/1
3RD-Ptit Zig 4-10-10 Owner- Chris Giles, Potensis Limited & Webb; Trainer-Paul Nicholls; Jockey-Daryl Jacob; SP-22/1
4TH-Milord 4-10-06 Owner- Kim Bailey Racing Partnership VII; Trainer-Kim Bailey; Jockey-Nick Scholfield; SP-16/1
24 ran, Time-4m 1.22s; Dist-4½, 1¾, 7 6/1 Joint Favs Saphir Du Rheu (20th), Bordoni (23rd)
2012-WINNER-UNE ARTISTE 4-10-08 Owner-Simon Munir; Trainer-Nicky Henderson; Jockey-Jeremiah McGrath; SP-40/1
2ND-Edeymi 4-11-07 Owner-Gigginstown House Stud; Trainer-Tony Martin IRE; Jockey-Davy Russell; SP-11/1
3RD-Vendor 4-11-01 Owner-Thurloe 52; Trainer-Alan King; Jockey-Robert Thornton; SP-3/1 Fav
4TH-Kazlian 4-11-02 Owner-Twelve Pipers Piping; Trainer-David Pipe; Jockey-Tom Scudamore; SP-7/1
24 ran, Time-3m 53.84s; Dist-1¾, ½, 1¼
2011-WINNER-WHAT A CHARM 4-10-06 Owner-Chris Jones; Trainer-Arthur Moore IRE; Jockey-Paul Townend; SP-9/1
2ND-Kumbeshwar 4-11-10 Owner-McNeill Family & Nigel Bunter; Trainer-Alan King; Jockey-Charlie Huxley; SP-33/1
3RD-Dhaafer 4-10-10 Owner-Simon Munir; Trainer-Alan King; Jockey-Robert Thornton; SP-16/1
4TH-Plan A 4-11-08 Owner-Liam Mulryan; Trainer-Gordon Elliot IRE; Jockey-Paul Carberry; SP-4/1Fav
23 ran, Time-3m 58.50s; Dist- neck, 4½ , 1¾
2010-WINNER-SANCTUAIRE 4-11-02 Owner-Jared Sullivan; Trainer-Paul Nicholls; Jockey-Ruby Walsh; SP-4/1 Fav
2ND-Notus De La Tour 4-11-09 Owner-Racing For Change; Trainer-David Pipe; Jockey-Johnny Farrelly; SP-13/2
3RD-Orsippus 4-11-00 Owner-Sandra Smith; Trainer-Michael Smith; Jockey-Davy Condon; SP-33/1
4TH-Son Amix 4-11-02 Owner-Whitechurch Stud Syndicate; Trainer-Tom Cooper IRE; Jockey-Bryan Cooper; SP-14/1 24 ran, Time-3m 55.63s; Dist-9, 1½ , 3
2009-WINNER-SILK AFFAIR 4-10-04 Owner-Liam Mulryan & Michael Fahy; Trainer-Mick Quinlan; Jockey-Tom O'Brien; SP-11/1
2ND-Ski Sunday 4-11-01 Owner-Scarlet Pimpernel; Trainer-Tim Vaughan; Jockey-Seamus Durack; SP-20/1
3RD-Saticon 4-11-01 Owner-S M Smith & Paul Duffen; Trainer-Alan King; Jockey-Wayne Hutchinson; SP-20/1
4TH-Alexander Severus 4-10-13 Owner-Patrick Wilmot; Trainer-Edward O'Grady IRE; Jockey-Andrew McNamara; SP-5/2 Fav 22 ran, Time-4m 5.06s; Dist-3, ¾, 1¾
2008-WINNER-CRACK AWAY JACK 4-11-10 Owner-GDM Partnership; Trainer-Emma Lavelle; Jockey-Paul Carberry; SP-14/1
2ND-Ashkazar 4-11-12 Owner-David Johnson; Trainer-David Pipe; Jockey-Timmy Murphy; SP-15/8 Fav
3RD-Grand Schlem 4-11-04 Owner-Mme M Destremau; Trainer-Francois Doumen FR; Jockey-Christophe Pieux; SP-12/1
4TH-Indian Spring 4-11-07 Owner-Noel Murphy; Trainer-Edward O'Grady IRE; Jockey-Andrew McNamara; SP-66/1 22 ran, Time-4m 13.5s; Dist-2½, 5, 14
2007-WINNER-GASPARA 4-10-11 Owner-Martin Pipe; Trainer-David Pipe; Jockey-Andrew Glassonbury; SP-9/2 Joint Fav
2ND-Altilhar 4-10-08 Owner-H R Hunt; Trainer-Gary Moore; Jockey-Noel Fehily; SP-12/1
3RD-Laustra Bad 4-11-00 Owner-Sarah Ling; Trainer-David Pipe; Jockey-Tom Scudamore; SP-16/1
4TH-Zilcash 4-11-07 Owner-David Bellamy & Stephen Williams; Trainer-Alan King; Jockey-Gerard Tumelty; SP-50/1
24 ran, Time-3m 57.75s, Dist-5, nk, 3 9/2 Joint Fav Pouvoir (10th)
2006-WINNER-SHAMAYOUN 4-11-03 Owner-Ronald Brimacombe; Trainer-Charles Egerton; Jockey-Paddy Brennan; SP-40/1
2ND-Artist's Muse 4-10-13 Owner-Seamus Ross; Trainer-Ted Walsh IRE; Jockey-Ruby Walsh; SP-12/1
3RD-Patman du Charmil 4-11-03 Owner-Raymond Mould; Trainer-Nigel Twiston-Davies; Jockey-Carl Llewellyn; SP-40/1
4TH-Gardasse 4-11-03 Owner-A S Helaissi; Trainer-Tom Tate; Jockey-Jason Maguire; SP-33/1
24 ran, Time-3m 57.20s, Dist-2.5, 2.5, 2.5 9/2 Fav Royals Darling (15th)
2005-WINNER-DABIROUN 4-11-04 Owner-Donal O'Gorman; Trainer-Paul Nolan IRE; Jockey-Miss Nina Carberry; SP-20/1
2ND-At Your Request 4-11-03 Owner-Cockbury Court Partnership; Trainer-Ian Williams; Jockey-David Dennis; SP-33/1
3RD-Nation State 4-11-04 Owner-J D Brownrigg; Trainer-Gary Moore; Jockey-Jamie Moore; SP-7/1
4TH-Miss Academy 4-11-12 Owner-David Johnson; Trainer-Martin Pipe; Jockey-Timmy Murphy; SP-16/1
14 ran, Time-3m 54.00s, Dist-8, 1.5 , 1.75 4/1 Fav Ease The Way (14th)