---
Fred Winter Juvenile Handicap Hurdle

Grade 3, Cheltenham 16:40
£75,000 added, 4yo only,
2m 110y, Class 1  
Wednesday 11th March 2015

1 Qualando 25/1
2 Bouvreuil 14/1
3 The Saint James 33/1
4 Starchitect 16/1
22 ran Distances: 1½l, 2¾l, hd
TIME 3m 53.60s (slow by 2.60s)
Paul Nicholls secures the treble on the day with Qualando in the Fred Winter
Qualando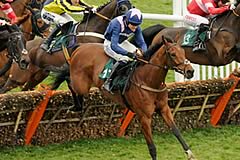 Willie Mullins' domination of day one at The Festival was almost matched on day two by his equivalent in Britain, Paul Nicholls.

Somerset-based Nicholls saddled his third winner of the afternoon - at combined odds of 1,429/1 - when the Nick Scholfield-ridden Qualando won, and, for good measure, stablemate Bouvreuil finished runner-up under Noel Fehily. The winner started at 25/1, while Nicholls also ran All Yours, who finished fifth under stable jockey Sam Twiston-Davies.
The winning trainer said: "They are three nice juveniles - Sam got into all sorts of trouble on All Yours, but the first two ran really well. I've always liked the winner, and he was dropped 2lb after his first run following a move from France, and I thought I'd take advantage of that. There's nothing between the three and they are all embryonic chasers.

"It was good to give Nick a winner - he's a big part of the team."

Scholfield was elated after riding his second Festival winner following a victory on Hunt Ball at the meeting three years ago. He said: "For the first four hurdles I was in top gear and had to just sit and let the race develop around me. I felt if I could keep in touch with the leaders he would stay well. He saw a bit of light and came to life.

"He passed one or two which probably gave him a bit of confidence and I knew he would stay on. He's going to be a two-and-a-half-mile or three-mile chaser one day - he's one for the future, not just for today."
Donald McCain is hoping that Starchitect can come into his own over fences next season after finishing fourth.

"He's going to get two and a half miles and jump a fence. He should be an exciting chaser," said McCain. "We've been quiet through the mid-winter and I think he'll go to Aintree or Punchestown.

"It was a good run today. We took him to Musselburgh as he needed to go up 5lb to get in here. But maybe that extra weight has cost us today."
Fred Winter Juvenile Handicap Hurdle
£75,000 added, 4yo only, 2m 110y, Class 1
22 ran
Going: Good, Good to Soft in places
Pos
Dist
Horse SP
Jockey /Weight
Trainer
Age
1st
Qualando (FR) 25/1
Nick Scholfield
11-0
P F Nicholls
4
2nd
1&frac12
Bouvreuil (FR) 14/1
N D Fehily
11-0
P F Nicholls
4
3rd
2&frac34
The Saint James (FR) 33/1
P Carberry
11-5
Jonjo O'Neill
4
4th
hd
Starchitect (IRE) 16/1
K Renwick
11-2
D McCain Jnr
4
5th
nk
All Yours (FR) 11/1
S Twiston-Davies
11-6
P F Nicholls
4
6th
1&frac14
Zarib (IRE) 8/1
Harry Skelton
11-2
D Skelton
4
7th
nse
Box Office (FR) 13/2f
A P McCoy
11-4
Jonjo O'Neill
4
8th
nk
Unanimite (FR) 12/1
T Scudamore
11-3
D Pipe
4
9th
&frac34
Gwencily Berbas (FR) 16/1
A P Heskin
11-8
A Fleming
4
10th
1&frac34
Buiseness Sivola (FR) 16/1
R Walsh
11-3
W P Mullins
4
11th
2&frac12
Souriyan (FR) 25/1
M G Nolan (3)
11-2
Jamie Snowden
4
12th
10
The Wallace Line (IRE) 66/1
Alan Johns (7)
11-6
Tim Vaughan
4
13th
3&frac14
Baron Alco (FR) 20/1
J E Moore
11-0
G L Moore
4
14th
7
Arabian Revolution 7/1
B J Geraghty
11-6
J P Ferguson
4
15th
3&frac34
Verawal (IRE) 66/1
P Townend
11-0
W P Mullins
4
16th
5
Beatabout The Bush (IRE) 20/1
Adam Wedge
10-13
Henry Oliver
4
17th
1&frac34
Mr Gallivanter (IRE) 33/1
D C Costello
11-0
J J Quinn
4
18th
9
Sebastian Beach (IRE) 25/1
R P Mclernon
10-12
Jonjo O'Neill
4
19th
2&frac14
Hostile Fire (IRE) 9/1
D J Condon
11-0
G Elliott
4
20th
&frac12
Thunder Zone 20/1
B J Cooper
11-4
G Elliott
4
21st
1
Dai Bando (IRE) 50/1
Andrew J McNamara
11-6
Ross O'sullivan
4
F
Golden Doyen (GER) 14/1
R Johnson
11-10
P J Hobbs
4
FRED WINTER JUVENILE NOVICES' HANDICAP HURDLE PAST RESULTS
2014-WINNER-HAWK HIGH 4-11-01 Owner-Trevor Hemmings; Trainer-Tim Easterby; Jockey-Brian Hughes; SP-33/1
2ND-Katgary 4-11-01 Owner-Andrea & Graham Wylie; Trainer-Paul Nicholls; Jockey-Daryl Jacob; SP-8/1
3RD-Orgilgo Bay 4-10-09 Owner-Derek Kierans; Trainer-John McConnell IRE; Jockey-Mark Bolger; SP-16/1
4TH-Keltus 4-10-13 Owner- Donlon & MacDonald; Trainer-Paul Nicholls; Jockey-Nick Scholfield; SP-25/1
24 ran, Time-3m 52.19s; Dist-¾, 1¾, ½ 7/2 Fav Dawalan (13th)
2013-WINNER-FLAXEN FLARE 4-10-07 Owner-Pat Sloan; Trainer-Gordon Elliott IRE; Jockey-Davy Condon; SP-25/1
2ND-Caid Du Berlais 4-10-12 Owner- Donlon, MacDonald, C Barber & P Nicholls; Trainer-Paul Nicholls; Jockey-Harry Derham; SP-20/1
3RD-Ptit Zig 4-10-10 Owner- Chris Giles, Potensis Limited & Webb; Trainer-Paul Nicholls; Jockey-Daryl Jacob; SP-22/1
4TH-Milord 4-10-06 Owner- Kim Bailey Racing Partnership VII; Trainer-Kim Bailey; Jockey-Nick Scholfield; SP-16/1
24 ran, Time-4m 1.22s; Dist-4½, 1¾, 7 6/1 Joint Favs Saphir Du Rheu (20th), Bordoni (23rd)
2012-WINNER-UNE ARTISTE 4-10-08 Owner-Simon Munir; Trainer-Nicky Henderson; Jockey-Jeremiah McGrath; SP-40/1
2ND-Edeymi 4-11-07 Owner-Gigginstown House Stud; Trainer-Tony Martin IRE; Jockey-Davy Russell; SP-11/1
3RD-Vendor 4-11-01 Owner-Thurloe 52; Trainer-Alan King; Jockey-Robert Thornton; SP-3/1 Fav
4TH-Kazlian 4-11-02 Owner-Twelve Pipers Piping; Trainer-David Pipe; Jockey-Tom Scudamore; SP-7/1
24 ran, Time-3m 53.84s; Dist-1¾, ½, 1¼
2011-WINNER-WHAT A CHARM 4-10-06 Owner-Chris Jones; Trainer-Arthur Moore IRE; Jockey-Paul Townend; SP-9/1
2ND-Kumbeshwar 4-11-10 Owner-McNeill Family & Nigel Bunter; Trainer-Alan King; Jockey-Charlie Huxley; SP-33/1
3RD-Dhaafer 4-10-10 Owner-Simon Munir; Trainer-Alan King; Jockey-Robert Thornton; SP-16/1
4TH-Plan A 4-11-08 Owner-Liam Mulryan; Trainer-Gordon Elliot IRE; Jockey-Paul Carberry; SP-4/1Fav
23 ran, Time-3m 58.50s; Dist- neck, 4½ , 1¾
2010-WINNER-SANCTUAIRE 4-11-02 Owner-Jared Sullivan; Trainer-Paul Nicholls; Jockey-Ruby Walsh; SP-4/1 Fav
2ND-Notus De La Tour 4-11-09 Owner-Racing For Change; Trainer-David Pipe; Jockey-Johnny Farrelly; SP-13/2
3RD-Orsippus 4-11-00 Owner-Sandra Smith; Trainer-Michael Smith; Jockey-Davy Condon; SP-33/1
4TH-Son Amix 4-11-02 Owner-Whitechurch Stud Syndicate; Trainer-Tom Cooper IRE; Jockey-Bryan Cooper; SP-14/1 24 ran, Time-3m 55.63s; Dist-9, 1½ , 3
2009-WINNER-SILK AFFAIR 4-10-04 Owner-Liam Mulryan & Michael Fahy; Trainer-Mick Quinlan; Jockey-Tom O'Brien; SP-11/1
2ND-Ski Sunday 4-11-01 Owner-Scarlet Pimpernel; Trainer-Tim Vaughan; Jockey-Seamus Durack; SP-20/1
3RD-Saticon 4-11-01 Owner-S M Smith & Paul Duffen; Trainer-Alan King; Jockey-Wayne Hutchinson; SP-20/1
4TH-Alexander Severus 4-10-13 Owner-Patrick Wilmot; Trainer-Edward O'Grady IRE; Jockey-Andrew McNamara; SP-5/2 Fav 22 ran, Time-4m 5.06s; Dist-3, ¾, 1¾
2008-WINNER-CRACK AWAY JACK 4-11-10 Owner-GDM Partnership; Trainer-Emma Lavelle; Jockey-Paul Carberry; SP-14/1
2ND-Ashkazar 4-11-12 Owner-David Johnson; Trainer-David Pipe; Jockey-Timmy Murphy; SP-15/8 Fav
3RD-Grand Schlem 4-11-04 Owner-Mme M Destremau; Trainer-Francois Doumen FR; Jockey-Christophe Pieux; SP-12/1
4TH-Indian Spring 4-11-07 Owner-Noel Murphy; Trainer-Edward O'Grady IRE; Jockey-Andrew McNamara; SP-66/1 22 ran, Time-4m 13.5s; Dist-2½, 5, 14
2007-WINNER-GASPARA 4-10-11 Owner-Martin Pipe; Trainer-David Pipe; Jockey-Andrew Glassonbury; SP-9/2 Joint Fav
2ND-Altilhar 4-10-08 Owner-H R Hunt; Trainer-Gary Moore; Jockey-Noel Fehily; SP-12/1
3RD-Laustra Bad 4-11-00 Owner-Sarah Ling; Trainer-David Pipe; Jockey-Tom Scudamore; SP-16/1
4TH-Zilcash 4-11-07 Owner-David Bellamy & Stephen Williams; Trainer-Alan King; Jockey-Gerard Tumelty; SP-50/1
24 ran, Time-3m 57.75s, Dist-5, nk, 3 9/2 Joint Fav Pouvoir (10th)
2006-WINNER-SHAMAYOUN 4-11-03 Owner-Ronald Brimacombe; Trainer-Charles Egerton; Jockey-Paddy Brennan; SP-40/1
2ND-Artist's Muse 4-10-13 Owner-Seamus Ross; Trainer-Ted Walsh IRE; Jockey-Ruby Walsh; SP-12/1
3RD-Patman du Charmil 4-11-03 Owner-Raymond Mould; Trainer-Nigel Twiston-Davies; Jockey-Carl Llewellyn; SP-40/1
4TH-Gardasse 4-11-03 Owner-A S Helaissi; Trainer-Tom Tate; Jockey-Jason Maguire; SP-33/1
24 ran, Time-3m 57.20s, Dist-2.5, 2.5, 2.5 9/2 Fav Royals Darling (15th)
2005-WINNER-DABIROUN 4-11-04 Owner-Donal O'Gorman; Trainer-Paul Nolan IRE; Jockey-Miss Nina Carberry; SP-20/1
2ND-At Your Request 4-11-03 Owner-Cockbury Court Partnership; Trainer-Ian Williams; Jockey-David Dennis; SP-33/1
3RD-Nation State 4-11-04 Owner-J D Brownrigg; Trainer-Gary Moore; Jockey-Jamie Moore; SP-7/1
4TH-Miss Academy 4-11-12 Owner-David Johnson; Trainer-Martin Pipe; Jockey-Timmy Murphy; SP-16/1
14 ran, Time-3m 54.00s, Dist-8, 1.5 , 1.75 4/1 Fav Ease The Way (14th)