---
Close Brothers Novices' Handicap Chase

Listed, Cheltenham 17:30
£70,000 added, 5yo plus,
2m 4f 74y, Class 1  
Tuesday 13th March 2018
Mister Whitaker beats Rather Be in a thrilling finish
1 Mister Whitaker 13/2
2 Rather Be 12/1
3 Rocklander 25/1
4 Barney Dwan 15/2
19 ran NR: Divine Spear Distances: hd, 3¼l, 8l
Time: 5m 29.00s (slow by 31.00s)
Ridden by Brian Hughes, the Mick Channon-trained Mister Whitaker stayed on well after the final fence to beat Nicky Henderson's Rather Be in the last strides by a head.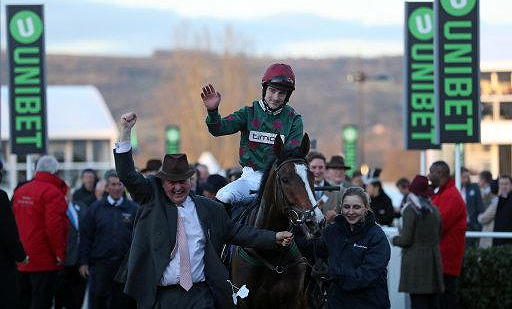 Tom George's Rocklander was three and a quarter-lengths back in third with a further eight lengths to Fergal O'Brien's Barney Dwan in fourth.
Winning rider Brian Hughes, registering third victory at The Festival, commented: "The ground is a bit tacky and he took a while to pick up on it. 
"He winged the second last but just popped the final fence which didn't help but to be fair he put his head down and galloped away.
"I didn't know if he had got there as I was driving away but it was a good performance and I'm delighted.
"When you look at him, he's quite tall and athletic so I think better ground will see him in a better light."
Henrietta Knight, assistant trainer to Mick Channon for his jump horses, said: "What a race Brian Hughes rode. It was a perfect ride and Mister Whitaker jumped so well.
"I've loved the horse from a young age because of his jumping and he is just an athlete - he wasn't too expensive either!
"It's great for Mick to have a winner at the Cheltenham Festival. He is my next door neighbour and one of my closest friends, so I'm delighted for him."
Novices' Handicap Chase (Listed)
£70,000 added, 5yo plus, 2m 4f 74y, Class 1
19 ran
Going: Soft, Heavy in places
Pos
D
Horse SP
Jockey Weight
Trainer
Age
1st
Mister Whitaker (IRE) 13/2
B Hughes
11-2
M R Channon
6
2nd
hd
Rather Be (IRE) 12/1
J McGrath
11-8
N J Henderson
7
3rd
3&frac14
Rocklander (IRE) 25/1
A P Heskin
11-7
T R George
9
4th
8
Barney Dwan (IRE) 15/2
N D Fehily
11-8
F O'Brien
8
5th
3&frac12
Ibis Du Rheu (FR) 25/1
Sam Twiston-Davies
11-6
P F Nicholls
7
6th
2
Jameson 40/1
Thomas Bellamy
11-5
N A Twiston-Davies
6
7th
s.h
Kayf Adventure 25/1
R Johnson
11-3
P J Hobbs
7
8th
1&frac12
Any Second Now (IRE) 5/1f
M P Walsh
11-10
T M Walsh
6
9th
14
Ballyhill (FR) 25/1
Jamie Bargary (3)
11-3
N A Twiston-Davies
7
10th
&frac34
Western Miller (IRE) 100/1
Jonathan Burke
11-6
C E Longsdon
7
11th
hd
Testify (IRE) 11/1
W T Kennedy
11-10
D McCain Jnr
7
PU
Tycoon Prince (IRE) 25/1
J W Kennedy
11-9
G Elliott
8
PU
Demi Sang (FR) 20/1
B J Geraghty
11-9
W P Mullins
5
PU
Conrad Hastings (IRE) 66/1
D Robinson (5)
11-8
H de Bromhead
7
PU
De Plotting Shed (IRE) 11/2
D N Russell
11-8
G Elliott
8
PU
Markov (IRE) 66/1
D A Jacob
11-3
B Pauling
8
F
Report To Base (IRE) 14/1
Adam Wedge
11-4
Evan Williams
6
F
Livelovelaugh (IRE) 10/1
R Walsh
11-4
W P Mullins
8
BD
Le Rocher (FR) 14/1
T Scudamore
11-9
Nick Williams
8
NR
Divine Spear (IRE)
Non Runner
11-6
N J Henderson
7
"They have all run well." Henderson reflected. 
"You always say that if you have a winner on day one you can roll on with a bit of confidence."
"I thought we had got there with Rather Be (beaten a head), he has run a fantastic race.
"I would say he would go to Aintree next. That is what he did last year and he won at Aintree.
"He was on 143 today so it will all depend where he finishes up after today.
"He is not that great big old fashioned type of a chaser - he would want another year before aiming for something like the Topham.
Close Brothers Novices' Handicap Chase Previous Results
2017-WINNER-TULLY EAST 7-11-08 Owner-Barry Connell; Trainer-Alan Fleming IRE; Jockey-Denis O'Regan; SP-8/1
2ND-Gold Present 7-11-07 Owner-John & Barbara Cotton; Trainer-Nicky Henderson; Jockey-Jeremiah McGrath; SP-14/1
3RD-Two Taffs 7-11-07 Owner-Walters Plant Hire & James & Jean Potter; Trainer-Dan Skelton; Jockey-Davy Russell; SP-7/1
4TH-Powersbomb 7-11-08 Owner-Lordan, McMahon, Breslin, Slattery; Trainer-Brian McMahon IRE; Jockey-Mr Jamie Codd; SP-22/1
20 ran, Time-5m 11.00s, Dist-1¼, nk, 6 6/1 Fav Foxtail Hill (Fell)
2016-WINNER-BALLYALTON 9-11-10 Owner-John Westwood; Trainer-Ian Williams; Jockey-Brian Hughes; SP-12/1
2ND-Bouvreuil 5-11-08 Owner-Chris Giles & Potensis Bloodstock Ltd; Trainer-Paul Nicholls; Jockey-Sam Twiston-Davies; SP-14/1
3RD-Double Shuffle 6-11-08 Owner-Crossed Fingers Partnership; Trainer-Tom George; Jockey-Paddy Brennan; SP-8/1
4TH-Bridgets Pet 9-11-05 Owner-Barry Connell; Trainer-Alan Fleming IRE; Jockey-Shane Shortall; SP-33/1
20 ran, Time-5m 8.70s, Dist-½, 4½, 2½ 3/1 Fav Aloomomo (6th)
2015-WINNER-IRISH CAVALIER 6-11-07 Owner-Andrew McIver; Trainer-Rebecca Curtis; Jockey-Paul Townend; SP-11/1
2ND-Thomas Crapper 8-11-04 Owner-apis.uk.com; Trainer-Robin Dickin; Jockey-Charlie Poste; SP-6/1 Fav
3RD-Generous Ransom 7-11-06 Owner-Sir Christopher & Lady Wates; Trainer-Nick Gifford; Jockey-Daryl Jacob; SP-8/1
4TH-Horizontal Speed 7-11-07 Owner-Favourites Racing Ltd; Trainer-Philip Hobbs; Jockey-Richard Johnson; SP-12/1
20 ran, Time-5m 6.70s, Dist-2½, ½, nk
2014-WINNER-PRESENT VIEW 6-11-07 Owner-Sir Chips Keswick; Trainer-Jamie Snowden; Jockey-Brendan Powell; SP-8/1
2ND-Attaglance 8-11-07 Owner-Mrs H Young, G Eifert, R Snyder; Trainer-Malcolm Jefferson; Jockey-Brian Hughes; SP-10/1
3RD-Pendra 6-11-07 Owner-J P McManus; Trainer-Charlie Longsdon; Jockey-Tony McCoy; SP-8/1
4TH-Ahyaknowyerself 8-11-05 Owner-G Carstairs & R Marker; Trainer-Dr Richard Newland; Jockey-Sam Twiston-Davies; SP-33/1
19 ran, Time- 5m 0.10s, Dist-½, 3, ½ 13/2 Jt Favs Art Of Logistics (13th) & Ericht (PU)
2013-WINNER-RAJDHANI EXPRESS 6-11-07 Owner-Robert Waley-Cohen; Trainer Nicky Henderson; Jockey-Mr Sam Waley-Cohen;
SP-16/1
2ND-Ackertac 8-11-09 Owner- Mark Aspey & Steve Catton; Trainer-Nigel Twiston-Davies; Jockey-Sam Twiston-Davies; SP-66/1
3RD-Ohio Gold 7-11-06 Owner-P M Warren; Trainer-Colin Tizzard; Jockey-Joe Tizzard; SP-16/1
4TH-Shangani 7-11-09 Owner-The Bellamy Partnership; Trainer-Venetia Williams; Jockey-Aidan Coleman; SP-6/1
20 ran, Time- 5m 16.00s, Dist-nk, 9, 1¾ 9/2 Fav Colour Squadron (5th)
2012-WINNER-HUNT BALL 7-12-00 Owner-Anthony Knott; Trainer-Keiran Burke; Jockey-Nick Scholfield; SP-13/2 Fav
2ND-White Star Line 8-11-07 Owner-Patsy Byrne; Trainer-Dessie Hughes IRE; Jockey-Bryan Cooper; SP-14/1
3RD-Owen Glendower 7-11-09 Owner-The Ten From Seven; Trainer-Nicky Henderson; Jockey-Andrew Tinkler; SP-33/1
4TH-Battle Group 7-11-10 Owner-Jolly Boys Outing; Trainer-David Pipe; Jockey-Tom Scudamore; SP-33/1
20 ran, Time-5m 5.90s, Dist-8, 2, 1
2011-WINNER-DIVERS 7-11-04 Owner-The DPRP Divers Partnership; Trainer-Ferdy Murphy; Jockey-Graham Lee; SP-7/1
2ND-Quantitativeeasing 6-11-11 Owner-J P McManus; Trainer-Nicky Henderson; Jockey-Barry Geraghty; SP-7/1
3RD-Tullamore Dew 9-11-11 Owner-Give Every Man His Due; Trainer-Nick Gifford; Jockey-Liam Treadwell; SP-13/2
4TH-Vino Griego 6-11-05 Owner-C E Stedman; Trainer-Gary Moore; Jockey-Jamie Moore; SP-20/1
20 ran, Time 5m 7.50s, Dist 2¾, 2, 1¼ 3/1 Fav Definity (5th)
2010-WINNER-COPPER BLEU 8-11-01 Owner-Alan Peterson; Trainer-Philip Hobbs; Jockey-Richard Johnson; SP-12/1
2ND-Othermix 6-11-00 Owner-Power Panels Electrical Systems Ltd; Trainer-Tom George; Jockey-Paddy Brennan; SP-50/1
3RD-The Midnight Club 6-11-01 Owner-C C R Racing Syndicate; Trainer-Willie Mullins IRE; Jockey-Paul Townend; SP-16/1
4TH-China Rock 7-11-03 Owner-Michael O'Flynn; Trainer-Mouse Morris IRE; Jockey-Niall Madden; SP-9/1 20 ran, Time-5m 12.50s, Dist-3½ , ½, 3¾ 6/1 Fav Rivaliste (7th)
2009-WINNER-CHAPOTURGEON 5-10-11 Owner-David Johnson; Trainer-Paul Nicholls; Jockey-Timmy Murphy; SP-8/1
2ND-Isn't That Lucky 6-10-07 Owner-Valda Burke; Trainer-Jonjo O'Neill; Jockey-Richard McGrath; SP-11/1
3RD-Crescent Island 6-11-02 Owner-Sarah Bays Jill Scott Sarah MacEchern; Trainer-Nigel Twiston-Davies; Jockey-Paddy Brennan; SP-25/1
4TH-Northern Alliance 8-11-04 Owner-Irish Rover Syndicate; Trainer-Tony Martin IRE; Jockey-Ruby Walsh; SP8/1 20 ran, Time-5m 16.44s, Dist-9, 2¼, 6 15/2 Fav Kia Kaha (10th)
2008-WINNER-FINGER ONTHE PULSE 7-10-12 Owner-Conor Clarkson; Trainer-Tom Taaffe IRE; Jockey-Barry Geraghty; SP-9/1
2ND-Barbers Shop 6-10-13 Owner-The Queen; Trainer-Nicky Henderson; Jockey-Mick Fitzgerald; SP-12/1
3RD-Possol 5-10-06 Owner-Neville Statham; Trainer-Henry Daly; Jockey-Mark Bradburne; SP-25/1
4TH-Fleet Street 9-10-12 Owner-Henry Ponsonby; Trainer-Nicky Henderson; Jockey-Andrew Tinkler; SP-66/1 20 ran, Time-5m 10.2s, Dist-nk, 1½, nse
2007-WINNER-L'ANTARTIQUE 7-10-11 Owner-Mary Durkan; Trainer-Ferdy Murphy; Jockey-Graham Lee; SP-20/1
2ND-Bob Hall 6-10-09 Owner-J P McManus; Trainer-Jonjo O'Neill; Jockey-Noel Fehily; SP-10/1
3RD-Wee Robbie 7-10-13 Owner-P H Betts (Holdings) Ltd; Trainer-Nick Gifford; Jockey-Leighton Aspell; SP-20/1
4TH-Rasharrow 8-10-10 Owner-Ashleybank Investments Limited; Trainer-Len Lungo; Jockey-Keith Mercer; SP-14/1
19 ran, Time-5m 10.70s, Dist-2, 2½, 4 7/2 Fav New Little Bric (7th)
2006-WINNER-REVEILLEZ 7-10-11 Owner-J P McManus; Trainer-James Fanshawe; Jockey-Tony McCoy; SP-9/2 Fav
2ND-Copsale Lad 9-11-00 Owner-Swallow Partnership; Trainer-Nicky Henderson; Jockey-Mick Fitzgerald; SP-8/1
3RD-Tumbling Dice 7-11-01 Owner-Mrs John Donegan; Trainer-Tom Taaffe IRE; Jockey-Barry Geraghty; SP-14/1
4TH-Direct Flight 8-10-04 Owner-Top Flight; Trainer-Noel Chance; Jockey-Paul Carberry; SP-25/1
18 ran, Time-5m 05.00s, Dist-1.25, 9, shd
2005-WINNER-KING HARALD 7-10-04 Owner-Piers Pottinger & PBJ Partnership; Trainer-Mark Bradstock; Jockey-Mattie Batchelor; SP-9/1
2ND-Lacdoudal 6-11-10 Owner-Carol Skan; Trainer-Philip Hobbs; Jockey-Richard Johnson; SP-12/1
3RD-See You Sometime 10-11-03 Owner-J A G Meaden; Trainer-Seamus Mullins; Jockey-Andrew Thornton; SP-12/1
4TH-Sir Oj 8-10-11 Owner-Brian Keenan; Trainer-Noel Meade IRE; Jockey-Paul Carberry; SP-18/1
19 ran, Time-5m 12.20s, Dist-12, 8, 2 8/1 Fav Captain Corelli (PU)