Dubai Duty Free Shergar Cup

Saturday 7th August 2021

Two wins from @NicolaCurrie22 helped the Ladies Team clinch the @DDFRacing Shergar Cup following a thrilling day's racing @Ascot. @MickaelleMichel @Hayleyturner123 pic.twitter.com/t2Ubz8ter0https://t.co/4a417aDIbD via @RacingBetter

— RacingBetter (@RacingBetter) August 8, 2021
Two wins from Nicola Currie, as well as a crucial third place from the rider in the final race, helped the Ladies Team clinch the Dubai Duty Free Shergar Cup following a thrilling day's racing. 
Three of the four teams held the lead during the afternoon, with Currie and her team-mates Hayley Turner and Mickaelle Michel establishing a five-point advantage going into the final Dubai Duty Free Shergar Cup Dash. 
Joe Fanning and Tadhg O'Shea secured a 1-2 for Ireland in the closing contest, with David Egan finishing fourth for the same team, but the Ladies took the prize by three points thanks to Currie's third place on Royal Scimitar.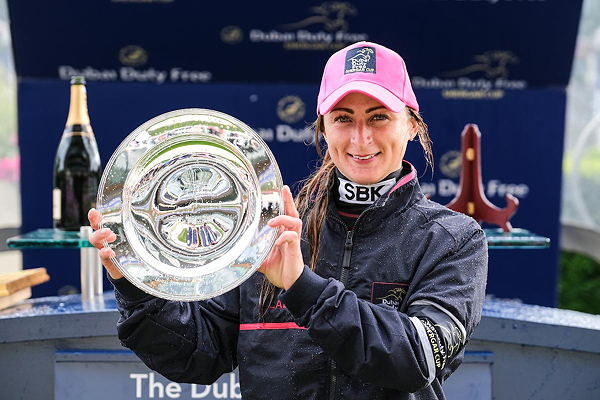 Nicola Currie with the Alistair Haggis "Silver Saddle" Trophy
(photo: Megan Ridgwell)
Currie also secured the Alistair Haggis "Silver Saddle" Trophy with 47 points, thanks largely to a double on board Just Hubert in the Dubai Duty Free Shergar Cup Stayers, for which she won the Dubai Duty Free Ride of the Day Award in memory of Joe Mercer, and State Of Bliss in the Dubai Duty Free Shergar Cup Classic. 
She said: "What a team. In the end they were straightforward rides and straightforward winners. It's been a fantastic day and thanks to all the owners and trainers who have helped today.
"I had to work for both my winners and I knew they wouldn't stop. All credit to them and I had to work hard.
"You're riding for trainers you wouldn't normally ride for. Ascot is my favourite racecourse. I love riding here. I've been lucky over the years here and it's great to have won the Silver Saddle.
"It's absolutely fantastic. It hasn't quite sunk in yet. All the publicity is great, it's hard work being a jockey and any publicity is good publicity. It's great to have two winners on the board, it's fantastic and it's just been a great day."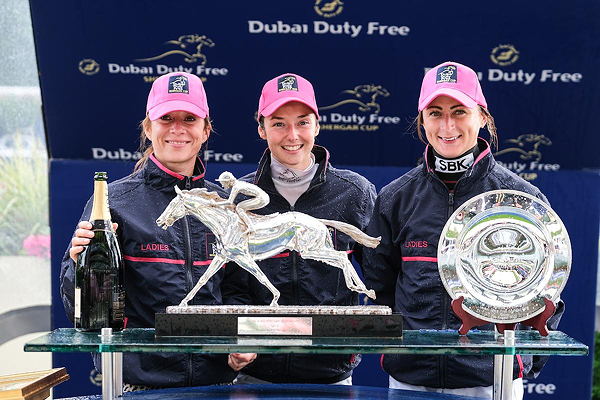 Hayley Turner, Mickaelle Michel and Nicola Currie with the Dubai Duty Free Shergar Cup
(photo: Megan Ridgwell)
Turner, Captain of the Ladies team, said: "Well done to Nicola she has rode out of her skin today. The Shergar Cup has helped me over the years by projecting my career and hopefully it will be the same for Nicola as she deserves more quality rides than she is getting.
"Nicola is amazing and it's so good for her - I'm delighted. I love the Shergar Cup, it is so much fun."
Michel said: "I've loved riding today. I was close on a second and it would have been lovely to win a race but riding at Ascot has been brilliant."
Turner was also presented with the Dubai Duty Free Shergar Cup that has been in use since the competition's inception to take home and keep. This is in recognition of her clocking up a record 304 points at event and contributing to a third win for the Ladies team today. Another trophy will be produced for 2022. 
Nick Smith, Ascot's Director of Racing & Public Affairs, commented: "It has been a good day and tremendous to be back after a year's absence. We are grateful to the sponsors for standing by us. Obviously, next year we will build up and hopefully have more overseas names. 
"However, the teams we've put together today were great. Credit must go to James Willoughby who has done the algorithms and puts the teams together. He made it a level playing field and has done it for several years. However, this will be his crowning glory given three teams finished right up next to each other.
"It's lovely to see Nicola shine – that is what the event is about, to give people a profile, and I'm sure she will remember this for a long time. It's also nice to give Hayley the existing Shergar Cup, which is much deserved. It was not her day today, but seven points was enough to put her over the 300 threshold of Shergar Cup points. Credit to Mark Johnston who is the Leading Trainer and he went away with a £2,000 stable prize."
Alistair Haggis "Silver Saddle" Trophy - Final standings:
Nicola Currie LADIES 47
David Egan IRE 29
James Doyle GB 27
Cieren Fallon GB 27
Joe Fanning IRE 27
Sean Levey ROW 21
Andrea Atzeni ROW 17
Kevin Stott ROW 15
Mickaelle Michel LADIES 15
Adam Kirby GB 10
Tadhg O'Shea IRE 10
Hayley Turner LADIES 7
Dubai Duty Free Shergar Cup - Final Standings: 
LADIES 69
IRE 66
GB 64
ROW 53