Emirates Melbourne Cup

Group 1 Handicap, Flemington
A$6,200,000,
3yo plus, 2m  
Tuesday, 3rd November 2015
1 Prince Of Penzance 100/1
2 Max Dynamite 12/1
3 Criterion 18/1
4 Trip To Paris 5/1
24 ran Distances: ½l, ¾l, ¾l
TIME 3m 23.15s
Michelle Payne strikes huge blow for women riders as Prince Of Penzance is shock winner of the Melbourne Cup
Michelle Payne and Prince Of Penzance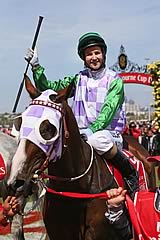 Payne's victory was certainly well received as she secured her place in the record books on her Darren Weir-trained mount.
The Payne family are well known in Australia as Michelle Payne's father Paddy was a jockey and she is one of eight siblings to pursue a career in the saddle, with her brother Patrick also now a trainer.
Another of Payne's brothers Stevie, who has Down's Syndrome, works for Weir and led up Prince Of Penzance for his big-race victory, making it a truly memorable family occasion.
Payne was happy to settle her mount in the early stages as British runners Quest For More and Big Orange, who were both drawn wide, were promptly away and set the early pace along with Excess Knowledge.
Sir Michael Stoute's Snow Sky was also prominent in the early stages and he was disputing the lead with Big Orange as the field straightened up for home.
However, Payne was just getting Prince Of Penzance into top gear with around a furlong and a half to go and she enjoyed a clear run down the middle of the track while Frankie Dettori had to switch wide behind her to find room to challenge on the Willie Mullins-trained Max Dynamite.
Mullins' runner accelerated once given space, but the line just came too soon, with Prince Of Penzance triumphing by half a length with Criterion a length and a quarter back in third.
Ed Dunlop's Trip To Paris was beaten two lengths in fourth with Michael Bell's Big Orange fifth and Quest For More eventually ninth for Roger Charlton.
Snow Sky appeared to be squeezed for room in the closing stages, with Ryan Moore having to snatch up his mount, and he eventually finished last of the 23 finishers with Saeed bin Suroor's Sky Hunter a place in front of him.
The Aidan O'Brien-trained pair of Bondi Beach and Kingfisher failed to figure, finishing 16th and 19th respectively.
There was also a further sting in the tail for Dettori, who was banned for one month and fined $20,000 for his efforts in the saddle.
He told www.racing.com: "It was a bit unfortunate that I couldn't get the split when I wanted, but that's racing."
Payne was understandably thrilled to secure her place in Melbourne Cup history.
She said: "(It's) unbelievable. I was lying in bed last night and gave myself a chance to think and dream about it, and thought about it as if I was being interviewed after the race. It's like a dream come true. This horse is awesome.
"Darren Weir is an unbelievable trainer to get him here. All of his staff, including those at Warrnambool, this is all down to them. They got this horse here in the best shape he could be in. I'm just so grateful and thankful to them and all of the owners. This is just awesome."
Weir added: "This is a lifetime dream come true. I'll enjoy it with these blokes (the owners and staff) for sure. I can't thank them enough and this is the most unbelievable thing to happen to anyone.
"It all started with this dream to win a Melbourne Cup and Sandy McGregor, a mate of mine, offered to put the money up, and the rest is history.
"He'd had two joint surgeries, then when he was about to come back into work he got a twisted bowel and a colic operation - what an amazing horse."
Tommy Berry, rider of Trip To Paris, felt the race was not really run to suit his mount.
He said: "The slow tempo mid-race didn't suit him. He would've liked it a bit more mid-race but I thought I was the winner at the top of the straight, but he didn't show the same turn of foot as he did in the Caulfield Cup.
"The winner had me cold straight away and that probably dented his confidence."
Big Orange's rider Jamie Spencer was satisfied with his mount's effort, although he thought the ground was against his horse.
He said: "A good run around. The draw made it difficult and I felt the track was a little bit 'dead' for my horse."
Damien Lane rode Quest For More and he said: "Super run. A bit more room in the straight and he finishes closer."
Colm O'Dongohue pronounced himself "happy enough" with Kingfisher's effort, but Bondi Beach's rider Brett Prebble thought his runner was caught for speed.
He said: "(He is a) lovely horse. His style of racing left him flat-footed in the finish and it was just all too much for him too quickly."
William Buick thought the two-mile trip had proved beyond Godolphin runner Sky Hunter.
He said: "(I) tried to get a smooth trip. He was three-wide the whole way around but he was in a nice rhythm.
"The pace was stop-and-start and I was in a spot that I could do something about it. Bottom line is that he probably doesn't get the trip."
Moore admitted he was unlikely to have won on Snow Sky, adding: "I was running a nice race. I wasn't going to win but I just got chopped off."
It was later confirmed Spencer had been banned for 14 meetings after being judged guilty of careless riding.
Emirates Melbourne Cup(Group 1 Handicap)
A$ 6,200,000
3yo plus, 2m
24 ran
Pos
Dr
Horse SP
Jockey Weight
Trainer
Age
1st
(1)
Prince Of Penzance (AUS) 66/1
Michelle Payne
8-5
D Weir
6
2nd
(2)
Max Dynamite (FR) 8/1
L Dettori
8-9
W P Mullins
5
3rd
(4)
Criterion (NZ) 12/1
Michael Walker
9-1
David & Dabernig
5
4th
(14)
Trip To Paris (IRE) 6/1
Tommy Berry
8-9
E A L Dunlop
4
5th
(23)
Big Orange 33/1
J P Spencer
8-10
M L W Bell
4
6th
(19)
Gust Of Wind (NZ) 25/1
C Schofield
8-0
J G Sargent
4
7th
(24)
Excess Knowledge 25/1
K McEvoy
8-0
Ms G Waterhouse
5
8th
(13)
The Offer (IRE) 33/1
D M Oliver
8-7
Ms G Waterhouse
6
9th
(21)
Quest For More (IRE) 50/1
Damian Lane
8-6
R Charlton
5
10th
(22)
Our Ivanhowe (EG) 16/1
B Melham
8-11
Lee & Freedman
5
11th
(6)
Who Shot Thebarman (AUS) 16/1
B Shinn
8-8
C J Waller
7
12th
(5)
Sertorius (AUS) 100/1
C Newitt
8-4
Jamie Edwards
8
13th
(12)
Fame Game (JPN) 5/2
Z Purton
9-0
Y Munakata
5
14th
(3)
The United States (IRE) 16/1
J Moreira
8-4
R Hickmott
5
15th
(17)
Hartnell 25/1
James McDonald
8-10
J A O'Shea
4
16th
(18)
Bondi Beach (IRE) 16/1
B Prebble
8-4
A P O'Brien
3
17th
(20)
Hokko Brave (JPN) 33/1
Craig Williams
8-10
Y Matsunaga
7
18th
(10)
Almoonqith (USA) 12/1
D Dunn
8-5
David & Dabernig
5
19th
(9)
Kingfisher (IRE) 20/1
C O'Donoghue
8-5
A P O'Brien
4
20th
(11)
Preferment (AUS) 8/1
H Bowman
8-6
C J Waller
4
21st
(15)
Grand Marshal (AUS) 33/1
Jim Cassidy
8-6
C J Waller
6
22nd
(7)
Sky Hunter 25/1
W Buick
8-7
S bin Suroor
5
23rd
(16)
Snow Sky 25/1
R L Moore
9-2
Sir Michael Stoute
4
Also Ran: Red Cadeaux
Melbourne Cup Timeline
1861 – The first Melbourne Cup was run and won by Archer, ridden by John Cutts and trained by Etienne De Mestre. The first prize was a gold watch and 930 pounds and the event attracted a crowd 4,000 people.
1865 – The first year a trophy was awarded, which was a silver bowl on a stand with a narrow neck with two ornate handles and topped with a horse and jockey.
1873 – The smallest ever Melbourne Cup field with seven starters.
1875 – The first time the Melbourne Cup was run on the first Tuesday in November.
1877 - Melbourne Cup became a public holiday for Victorians.
1880 – First Melbourne Cup to attract an attendance of 100,000.
1890 – Carbine won the Melbourne Cup in record time (3.28.25) carrying a record weight (65.5kg) in the biggest field ever assembled (39).
1896 – The first ever Melbourne Cup to be captured on film.
1925 – Melbourne radio station 3LO broadcast a live commentary of the Cup for the very first time.
1930 – Phar Lap makes history, winning races on each of the four days of the Melbourne Cup Carnival.
1948 – Photo finishing was used for the first time to decide the winner with Rimfire winning over Dark Marne by a nose length.
1965 – Light Fingers wins the Melbourne Cup to provide Bart Cummings with his first Melbourne Cup win.
1972 – The first metric running of the Melbourne Cup with the two-mile distance becoming 3,200 metres.
1990 – The fastest run Melbourne Cup was won by Kingston Rule in 3:16.3 minutes.
1993 – The first time the great race is won by an international horse, Vintage Crop from Dublin.
2001 – Carbine inducted into the Hall of Fame.

Melbourne Cup Odds
Guide to the 'race that stops a nation'. Includes Melbourne Cup odds, runners, trainers and jockey profiles. Form, colours and bookie offers.