Lexus Melbourne Cup

Group 1 Handicap, Flemington 04:00 (UK time)
A$8,000,000
3yo plus, 2m  
Tuesday 5th November 2019

1 Vow And Declare 10/1
2 Prince Of Arran 16/1
3 Il Paradiso 14/1
4 Master Of Reality 25/1
24 ran Distances: nse, nse, hd Time: 3m 24.76
It's the AUSSIE!!! Vow And Declare has won the #MelbourneCup.

What a moment, what a race… pic.twitter.com/DvAoinx0cp

— Racing.com (@Racing) November 5, 2019
The international raiders almost pulled off another famous victory in the £4.25 million Lexus Melbourne Cup, but Prince Of Arran (second), Il Paradiso (third) and Master Of Reality (fourth) were ultimately denied by Vow And Declare, a four-year-old chestnut gelding bred, trained and owned by Australian interests.
Having finished second in the Stella Artois Caulfield Cup, Vow And Declare went one better on a sun-soaked day at Flemington to deliver a first Melbourne Cup win for one of Australia's leading jockeys, Craig Williams, who coveted the trophy above all others. 
Master Of Reality, owned by six-time Melbourne Cup winner Lloyd Williams and trained by Joseph O'Brien, hit the front in the home straight and looked to have ended Dettori's Melbourne Cup hoodoo, only for the Danny O'Brien-trained Vow And Declare to surge past him on the inside rails and win by a head.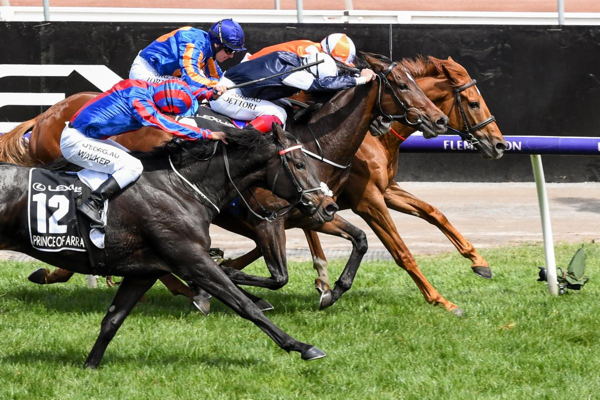 photo courtesy of Racing Photos
In a dramatic postscript, Master Of Reality was demoted to fourth place after Dettori's mount was deemed to have caused interference to Aidan O'Brien's galloper Il Paradiso, who flashed home late under Wayne Lordan and was promoted to third place after the protest was upheld.   
Last year's placegetter Prince Of Arran loomed large in the home straight and appeared poised to go two places better than 12 months ago, but ultimately his trainer Charlie Fellowes had to settle for second - a result which delivered a $1.1 million (approximately £590,000) payday for his connections.       
Fellowes said: "I'm remarkably proud of this horse, to do what he's done two years in a row is an incredible achievement. I don't think he's finished outside the top three in six races in Australia now, which is an amazing record. 
"For a brief second I thought he was going to win, but it wasn't to be. We'll enjoy tonight, then regroup and plot a path to next year's Melbourne Cup." 
Prince Of Arran's jockey, Michael Walker, said: "Charlie and the team have done an amazing job with this horse. I love the horse and I just wanted to win it for him and the team. I feel like I've let them down a bit, but once the dust has settled I'm sure I'll look back with a bit of pride."
For Dettori, the quest to claim the elusive prize continues, having now tried and failed to win the 'race that stops a nation' for a 17th time. It was a third runner-up finish for the flamboyant Italian, after he narrowly missed out on both Central Park (1999) and Willie Mullins' Max Dynamite (2015). 
"I feel like crying," was his only comment in the immediate aftermath of the 159th edition of the two-mile contest. 
"I'm shattered for Frankie, that was his race," said part-owner Nick Willams.
"He gave our horse every chance, and nothing would have been better to have won the race with him in the saddle." 
"I'm more gutted for Frankie than I am for myself," added Joseph O'Brien.
"I'll be back next year, but I don't know if Frankie is ever going to win this race."
Of the other Europeans, defending champion Cross Counter ran a creditable race to finish in eighth place for his trainer, Charlie Appleby. 
His pilot William Buick was satisfied with the performance, saying: "I thought he ran a huge race, but he was slowly away and never really had the chance to go at them."
Mer De Glace ultimately fell short in his bid to complete a clean sweep of the Victorian Spring Racing Carnival's major races, as the Caulfield Cup winner could only manage sixth place under jockey Damian Lane.
Lexus Melbourne Cup (Group 1 Handicap)
A$ 8,000,000
3yo plus, 2m (3200 Metres)
24 ran
POS (DRAW) DIST HORSE AGE WGT TRAINER JOCKEY SP
1 (21) Vow And Declare 4 8-3 Danny O'Brien Craig A Williams 10/1
2 (8) nse Prince Of Arran 6 8-7 Charlie Fellowes Michael Walker 16/1
3 (17) nse Il Paradiso 3 8-4 A P O'Brien Wayne Lordan 14/1
4 (1) hd Master Of Reality 4 8-10 Joseph O'Brien Frankie Dettori 25/1
5 (20) ½ Surprise Baby 5 8-6 Paul Preusker Jordan Childs 11/1
6 (2) nk Mer De Glace 4 8-11 Hisashi Shimizu Damian Lane 17/2
7 (4) hd Finche 5 8-7 Chris Waller Kerrin McEvoy 15/2F
8 (5) hd Cross Counter 4 9-1 Charlie Appleby William Buick 12/1
9 (16) ½ Steel Prince 5 8-4 Anthony Freedman Brett Prebble 60/1
10 (24) 1½ Magic Wand 4 8-6 A P O'Brien Ryan Moore 25/1
11 (19) hd Twilight Payment 6 8-9 2 Joseph O'Brien Hugh Bowman 40/1
12 (10) shd Sound 6 8-6 Michael Moroney James Winks 90/1
13 (7) hd Constantinople 3 8-4 David A & B Hayes & Tom Dabernig Joao Moreira 17/2
14 (13) hd Mirage Dancer 5 8-10 Trent Busuttin & Natalie Young Ben Melham 50/1
15 (11) hd Hunting Horn 4 8-9 A P O'Brien Seamie Heffernan 50/1
16 (3) ½ Raymond Tusk 4 8-7 Richard Hannon Jamie Spencer 20/1
17 (18) hd The Chosen One 4 8-3 Murray Baker & Andrew Forsman Timothy Clark 30/1
18 (22) 1¼ Latrobe 4 8-9 Joseph O'Brien James McDonald 20/1
19 (14) shd Southern France 4 8-10 Ciaron Maher & David Eustace Mark Zahra 25/1
20 (9) ¾ Youngstar 5 8-3 Chris Waller Tommy Berry 30/1
21 (23) 1 Neufbosc 4 8-6 David A & B Hayes & Tom Dabernig Luke Nolen 100/1
22 (15) nk Downdraft 4 8-6 Joseph O'Brien John Allen 20/1
23 (6) 2¼ Mustajeer 6 8-9 2 Kris Lees Damien Oliver 18/1
24 (12) dist Rostropovich 4 8-9 David A & B Hayes & Tom Dabernig Dwayne Dunn 40/1
Melbourne Cup Timeline
1861 – The first Melbourne Cup was run and won by Archer, ridden by John Cutts and trained by Etienne De Mestre. The first prize was a gold watch and 930 pounds and the event attracted a crowd 4,000 people.
1865 – The first year a trophy was awarded, which was a silver bowl on a stand with a narrow neck with two ornate handles and topped with a horse and jockey.
1873 – The smallest ever Melbourne Cup field with seven starters.
1875 – The first time the Melbourne Cup was run on the first Tuesday in November.
1877 - Melbourne Cup became a public holiday for Victorians.
1880 – First Melbourne Cup to attract an attendance of 100,000.
1890 – Carbine won the Melbourne Cup in record time (3.28.25) carrying a record weight (65.5kg) in the biggest field ever assembled (39).
1896 – The first ever Melbourne Cup to be captured on film.
1925 – Melbourne radio station 3LO broadcast a live commentary of the Cup for the very first time.
1930 – Phar Lap makes history, winning races on each of the four days of the Melbourne Cup Carnival.
1948 – Photo finishing was used for the first time to decide the winner with Rimfire winning over Dark Marne by a nose length.
1965 – Light Fingers wins the Melbourne Cup to provide Bart Cummings with his first Melbourne Cup win.
1972 – The first metric running of the Melbourne Cup with the two-mile distance becoming 3,200 metres.
1990 – The fastest run Melbourne Cup was won by Kingston Rule in 3:16.3 minutes.
1993 – The first time the great race is won by an international horse, Vintage Crop from Dublin.
2001 – Carbine inducted into the Hall of Fame.