Emirates Melbourne Cup

Group 1 Handicap, Flemington
A$6,200,000,
3yo plus, 2m  
Tuesday, 1st November 2016

1 Almandin 10/1
2 Heartbreak City 18/1
3 Hartnell 9/2F
24 ran Distances: hd, 4¼l, 2¼l
TIME 3m 20.58s
Kerrin McEvoy wins on Almandin
Almandin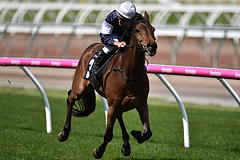 Multi-millionaire local Lloyd Williams denied Ireland their very own Fairytale Of New York as his Almandin and Kerrin McEvoy held off Tony Martin's Heartbreak City to capture the 156th running of the Emirates Melbourne Cup.
Williams took the historic $6million handicap for the fifth time to become the winning-most owner in the race's rich history, but in doing so he agonisingly edged out Heartbreak City and his colourful bunch of Big Apple-based owners.
The Ebor winner surged forward with Almandin inside the final two furlongs, and it was only in the dying strides that McEvoy forced the Robert Hickmott-trained 10-1 winner into the lead to score by a head.
Four and a half lengths separated the pair from the field with 9/2 favourite Hartnell chasing them home off what was a furious tempo.

Charlie Appleby's Qewy took fourth, Big Orange was 10th, Oceanographer 12th, Bondi Beach 13th, and Wicklow Brave beat only two home under Frankie Dettori.
Following the untimely death of George Swan last year, Irishmen Niall Reilly, Donal Gavigan and Aidan Shiels clubbed together one night in their New York pub to buy his Heartbreak City - and the six-year-old has taken them on some journey.
From success at the Galway Festival, to an Ebor victory, to the Melbourne Cup, and he went out on his shield to just be held in front of a near 100,000 strong crowd at Flemington.
Sheils said: "What the hell - don't go crying over spilt milk, we will come again!
"The horse has given us 120%. We would have taken 24th place in this race and gone home and drank tonight, but he has managed to finish second.
"He hit a little bit of trouble up at the corner but we are happy with the run. He went out and kept going and by God we are not going to cry.
"We have a plan in mind for him now - I guarantee, but I can't tell you what that is!"
Martin added: "The horse fought the winner off once but unfortunately wasn't able to fight him off a second time. We had the speed to get there and unfortunately we carried the other horse and were a sitting duck for him, but that's racing.
"The man above (George Swan) probably got us here but unfortunately he could only do so much.
"I gave him all the pushing and shoving I could from the stands. It's a pity we didn't have something to tow us into the straight a little further but I am delighted. We will lock him up until next year. This is where he is coming, all being well."
Magic man Joao Moreira was on board, and he added: "It was a fantastic run, unfortunately we didn't win the race. He had a beautiful run through the field and turning for home I thought I was going to win.
"I went past Hartnell easily but when I looked to my outside Kerrin had his horse full of himself as well and we went for a battle.
"My horse, which is much smaller than his, tried his very best and gave 120% of himself, but in the end wasn't able to succeed."
McEvoy, who is married to the sister of last year's winning rider Michelle Payne, was landing the Cup for the second time following his 2000 strike on Brew, and said: "He travelled like a star and was never off the bridle.
"I knew I just had to navigate a passage and get a good path, which I did, and the rest is history.
"This is a great race and I am just very privileged to have won a second one. It is a different feeling winning it again as it is a bigger and better race now."
Michael Bell had been quite bullish about the chances of Big Orange improving on his fifth place of 12 months ago, but Jamie Spencer's mount could never get the lead and weakened on the home run.
Bell said: "He has run a solid race but not the race we hoped he would. He was in great form coming into the race but we didn't get an easy time of it and they were going a right good gallop.
"Jamie said he was out of his comfort zone and it was fast and furious. It was an end-to-end gallop and, bearing in mind it is a handicap, it was never going to be easy."
Heartbreak City had been drawn wide in stall 23 and nearly overcame that perceived bias, while Dettori was out widest of all on Willie Mullins' Wicklow Brave.
Dettori stayed out wide early, and Mullins said: "He just used too much petrol up in the first quarter I would say - simple as that."
Charlie Appleby's small team here have achieved a huge amount this Spring Carnival and Geelong Cup winner Qewy ran a massive race to hit the frame, while Oceanographer was unable to back up Saturday's Lexus Stakes success.
"What the whole team here has achieve has been amazing and Qewy has ran a blinder," said Appleby. "They have performed out of their skins here. Oceanographer has bounced today, simple as that, and Qewy has ran a career best."
But for all the internationals could try with nine runners in the 24-strong field, it was property magnate Williams who triumphed with Almandin to once again rule on Cup day.
Emirates Melbourne Cup (Group 1 Handicap)
A$ 6,200,000
3yo plus, 2m (3200 Metres)
24 ran
Going: Good
Pos
Dr
D
Horse SP
Jockey Weight
Trainer
Age
1st
(17)
Almandin (GER) (ex2) 7/1
K McEvoy
8-3
R Hickmott
6
2nd
(23)
hd
Heartbreak City (FR) 14/1
J Moreira
8-7
A J Martin
6
3rd
(12)
4&frac14
Hartnell 9/2f
James McDonald
8-11
J A O'Shea
5
4th
(15)
2&frac14
Qewy (IRE) (ex1)16/1
Craig Williams
8-2
C Appleby
6
5th
(20)
nse
Who Shot Thebarman (NZ) 20/1
H Bowman
8-11
C J Waller
8
6th
(19)
s.h
Almoonqith (USA) 25/1
Michael Walker
8-8
David A Hayes and Tom Dabernig
6
7th
(1)
1
Beautiful Romance 66/1
Damian Lane
8-4
S bin Suroor
4
8th
(13)
&frac34
Exospheric 16/1
D M Oliver
8-11
Lee & Freedman
4
9th
(4)
&frac34
Pentathlon (NZ) 100/1
M Du Plessis
8-2
J Wheeler
5
10th
(7)
nse
Big Orange 12/1
J P Spencer
9-0
M L W Bell
5
11th
(9)
nk
Grand Marshal (AUS) 25/1
B Melham
8-8
C J Waller
7
12th
(11)
hd
Oceanographer (ex2) 15/2
C Schofield
8-3
C Appleby
4
13th
(5)
&frac34
Bondi Beach (IRE) 8/1
R L Moore
8-11
A P O'Brien
4
14th
(16)
3
Grey Lion (IRE) 33/1
G Boss
8-3
Matthew Cumani
4
15th
(3)
hd
Jameka (AUS) (ex4) 7/1
Nicholas Hall
8-8
C Maher
4
16th
(21)
1&frac34
Excess Knowledge 40/1
V Duric
8-6
Ms G Waterhouse
6
17th
(6)
nse
Our Ivanhowe (EG) 40/1
D Dunn
9-0
Lee & Freedman
6
18th
(14)
5
Sir John Hawkwood (IRE) (ex3) 80/1
B Spriggs
8-7
John Thompson
7
19th
(22)
s.h
Assign (AUS) (ex2) 66/1
Katelyn Mallyon
8-3
R Hickmott
6
20th
(2)
1&frac14
Gallante (IRE) 40/1
B Shinn
8-8
R Hickmott
5
21st
(10)
nk
Secret Number 25/1
S Baster
8-3
S bin Suroor
6
22nd
(24)
2
Wicklow Brave 10/1
L Dettori
8-11
W P Mullins
7
23rd
(18)
3
Curren Mirotic (JPN) 33/1
Tommy Berry
8-13
O Hirata
8
24th
(8)
99
Rose Of Virginia (AUS) 66/1
Ben Thompson
8-0
Lee & Hope
7