Royal Ascot 2016

Racing News

Monday 11th January 2016
£1 Million Boost to Royal Ascot Delivers Record Total Prize Fund of £6,580,000
New Unsaddling Enclosure Plans Also Unveiled

Ascot Racecourse today announces that Royal Ascot prize money has been increased by £1 million (18% uplift on 2015) this year, bringing total prize money on offer to a record £6,580,000 over the week.

Also unveiled today are plans for the new Unsaddling Enclosure, a £700,000 project that began earlier this month and will see a new, purpose built area in operation in time for the 2016 flat season.

As well as record prize money and an overall £1 million increase over the week, for the first time, every day at Royal Ascot, which runs from Tuesday, June 14 to Saturday, June 18, will offer prize money of at least £1 million and none of the 30 races will be run for less than £80,000 (£60,000 in 2015).
Headline increases include
Prince of Wales's Stakes - £750,000 from £525,000.
Queen Anne Stakes - £600,000 from £375,000.
Diamond Jubilee Stakes - £600,000 from £525,000.
The remaining five Group One races all increase by £25,000 to £400,000.
The Group Two King Edward VII Stakes and Ribblesdale Stakes increase to £200,000 (from £185,000 and £160,000) respectively.
The Group Two Duke of Cambridge Stakes increases by £40,000 to £175,000.
The Group Two (no penalties) Hardwicke Stakes increases by £25,000 to £225,000 .
The Group Two Coventry Stakes increases by £30,000 to £150,000.

New Unsaddling Enclosure
The £700,000 project to create a new enhanced unsaddling area, increased in size to accommodate the number of horses that run in races like the Wokingham and Royal Hunt Cup more comfortably and thereby improve equine welfare, is underway.

The new oval lawn will merge seamlessly into the landscaping of the pre-parade ring layout, creating another attractive equine area within the surrounding hospitality lawns, which will be reshaped to ensure that horses and their connections return to the most suitable environment post-race.

The Unsaddling Enclosure lawn is positioned to benefit from maximum shade from the crown of an adjacent mature tree as well as a repositioned tulip tree, which will sit to the south of the oval, where equine misting fans will be available.

The gradual curves of the walkways, in tandem with the improved landscaping, will also make for a more visually elegant route for the Royal Procession before it turns into the Parade Ring.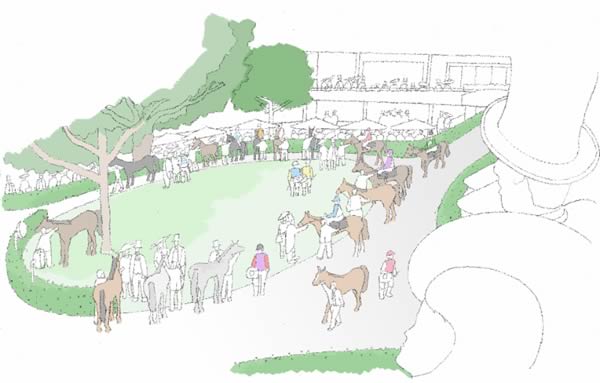 Guy Henderson, Chief Executive at Ascot, said:
"As part of our ongoing commitment to our race programme and facilities, we are very pleased to be able to announce what is cumulatively a £1.7 million additional investment in racing activities.

"In making £1 million more prize money available at Royal Ascot, over and above last year's Total Prize Fund, we are acting to remain as competitive as we can both at home and overseas. It is very important to make sure that we keep increasing the minimum threshold for race values at the Royal meeting and, equally, we need to keep developing our international showpiece events to continue to attract runners from all over the world. In 2015, we had 72 European runners from outside the UK and 20 runners came from outside Europe, travelling a total of around 100,000 miles each way between them.

"The new unsaddling area recognises that the old area needed improvement. This will provide a much better end to races for connections.

"The business continues to perform strongly, enabling us to make the investment in our racing which we are unveiling today. We are fortunate Royal Ascot is supported by a successful annual Official Partner and Supplier programme, headlined by our two invaluable official partners QIPCO and Gigaset, to whom we publicly express our thanks and gratitude."