---
Coral Cup

Group 3, Cheltenham 14:40
Handicap Hurdle
£80,000 added, 4yo plus,
2m 5f, Class 1  
Wednesday 11th March 2015

1 Aux Ptits Soins 9/1
2 Zabana 25/1
3 Activial 17/2F
4 Tagliatelle 14/1
5 Volnay De Thaix 18/1
6 Hammersly Lake 25/1
NR: Barizan (IRE)
25 ran Distances: nk, nk, ½l
TIME 5m 7.45s (slow by 10.45s)
Aux Ptit Soins wins the Coral Cup!
Aux Ptit Soins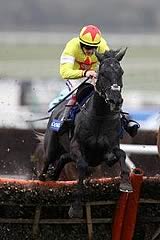 Britain's champion jump trainer Paul Nicholls won with a horse he had not run before.

Aux Ptits Soins had competed three times in France, and won twice, following which Nicholls and owner John Hales decided he should be bought. That decision was thoroughly vindicated when the five-year-old clung on for victory under Sam Twiston-Davies, winning by a neck and a neck from Zabana and Activial, with Taglietelle in fourth.

Reflecting on the horse's unusual pre-Festival campaign, Nicholls, who had not won The Coral Cup before, said: "He's clearly very good, but I thought maybe we would have to wait until next year to see what he could do.

"We were going to run him in the National Spirit Hurdle [last month] at Fontwell, but the ground was bad, and since John loves a runner at this meeting we decided to wait. I felt he had enough experience from racing in France, although he nearly fell at the second and if he had done I'd have been kicking myself from here to Bristol and back. He was either brilliant at his hurdles or novice.

"I had no idea how well handicapped he was, because he'd won two novices' hurdles at Auteuil and had worked really well, but that doesn't tell you anything - it's what happens on the track that counts. Many times I've had good French horses in my hands that come with a lot of hype but which let you down because they are not good enough.

"I'm learning about this one and did say he might win, but I just didn't know. I went with John to see the horse run in France the final time, but the night before we saw him and I said 'Let's have him' because he was really gorgeous. John loves chasing so I would think that's the plan for next season - whether he has another hurdles run I'm not sure.

"When he gets his act together he could be really smart, and Nick Scholfield [second jockey to Twiston-Davies at Nicholls' yard] said this was the best horse he had sat on."

The Coral Cup
£80,000 added, 4yo plus, 2m 5f, Class 1
25 ran
Going: Good, Good to Soft in places

Pos
Dist
Horse SP
Jockey /Weight
Trainer
Age
1st
Aux Ptits Soins (FR) 9/1
S Twiston-Davies
10-7
P F Nicholls
5
2nd
nk
Zabana (IRE) 25/1
R C Colgan
10-12
A Lynch
6
3rd
nk
Activial (FR) 17/2f
N D Fehily
11-1
H Fry
5
4th
&frac12
Taglietelle 14/1
P Carberry
10-8
G Elliott
6
5th
5
Volnay De Thaix (FR) 18/1
Peter Carberry (3)
11-12
N J Henderson
6
6th
3
Hammersly Lake (FR) 14/1
B J Geraghty
10-12
N J Henderson
7
7th
nse
Bear's Affair (IRE) 33/1
Freddie Mitchell (7)
11-6
N J Henderson
9
8th
1&frac34
Daneking 25/1
R Walsh
10-6
W P Mullins
6
9th
&frac12
Lac Fontana (FR) 12/1
Sean Bowen (5)
11-5
P F Nicholls
6
10th
5
Blackmail (FR) 20/1
D F O'Regan
11-1
A J Martin
7
11th
2
Baradari (IRE) 12/1
Aidan Coleman
10-8
Miss V Williams
5
12th
2
Lyvius 33/1
D Bass
10-13
N J Henderson
7
13th
1&frac12
Mijhaar 25/1
R Johnson
10-7
J P Ferguson
7
14th
3
Hisaabaat (IRE) 20/1
L P Dempsey (5)
10-7
D K Weld
7
15th
nk
Vasco Du Ronceray (FR) 40/1
D A Jacob
10-8
N J Henderson
6
16th
3&frac34
Marinero (IRE) 12/1
S A Shortall (5)
10-6
A J Martin
6
17th
4&frac12
Goodwood Mirage (IRE) 12/1
A P McCoy
10-10
Jonjo O'Neill
5
18th
3&frac12
Clondaw Kaempfer (IRE) 50/1
K Renwick
11-1
D McCain Jnr
7
19th
4&frac12
Vulcanite (IRE) 50/1
G N Fox (5)
11-4
C E Longsdon
8
20th
19
Plinth (IRE) 33/1
D J Casey
10-10
A P O'Brien
5
21st
23
Un Atout (FR) 12/1
B J Cooper
10-13
W P Mullins
7
F
Rolling Star (FR) 33/1
Nico de Boinville
10-13
N J Henderson
6
F
Dell' Arca (IRE) 16/1
T Scudamore
10-12
D Pipe
6
F
Shammick Boy (IRE) 50/1
Jack Doyle
10-8
V R A Dartnall
10
BD
Ttebbob (IRE) 33/1
R M Power
10-7
Mrs J Harrington
6
WN
Barizan (IRE) 66/1
Brendan Powell
10-6
B G Powell
9
Sam pulls it off on Ptits

Jockey Sam Twiston-Davies and Aux Ptits Soins pulled off an ante post gamble after the Paul Nicholls-trained five-year-old held on narrowly to record a neck victory.

The 9/1 shot had been talked up as one of the handicap 'good things' at The Festival this week but he had to dig deep to repel the challenge of runner-up Zabana with 17/2 favourite Activial a further neck back in third.

"He wasn't pretty at a few but he travelled very, very effortlessly down the hill and he stayed on well when he hit the rising ground," said Twiston-Davies.

"He jumped nicely when he needed to but just fluffed a couple of hurdles. He's a bit of a novice as he's only had the three runs and now he's running in a big handicap hurdle.

"What's nice though is when I asked him to go forward, he ran on and hit the line very well. I think he's very smart.

"We see him as a future chaser. Obviously, he's got to brush up on his jumping but that is something we can improve on in time. He would never have gone that fast in his life so it's nice to see him pick up like that.

"Paul has been talking him up on a few of these preview panels so I thought 'I better not mess up on this one' but it was a great performance. We were lucky we got a good start so could get a nice position where he could have a bit of space and he's matured as the race went on.

"It's nice to get a winner on the board and hopefully I can relax now and enjoy myself. When you've had a winner, you relax and let the races unfold rather than make things happen. I hope I get another now!"

Zabana loses out

County Meath handler Andrew Lynch just missed out on a Festival success with his first runner at Cheltenham when front-running Zabana was pipped on the line.
Zabana, a 25/1 chance, lost out by a neck to Aux Ptits Soins and Lynch hopes the six-year-old has a bright future.

"I hope to be back here next year with him as a chaser," said Lynch, who trains just six horses at his Dunsany base. "We'll probably skip the festivals back home in Ireland as he's still an unfurnished horse.

"He made a mistake at the third last which probably cost him a bit but I'm delighted with that run from my first runner here. I know he was 25/1 and I was probably the only one that believed in him beforehand."

Robbie Colgan, who partnered the runner-up, added: "He's just been run out of it, I just missed the third last which was unfortunate. He jumped the last well and came up the hill nicely. I'm really happy with the run but just a bit sick that he's just got beaten."

Noel Fehily said of third-placed Activial: "He ran a blinder but he was probably caught for toe coming down the hill. He then flew up the hill again."

Paul Carberry, aboard fourth-placed Taglietelle, commented: "He ran very well. At the second last he was a bit slow and I should have put him into it but he's ran well."

CORAL CUP (HANDICAP HURDLE) PREVIOUS RESULTS
2013-WINNER-MEDINAS 6-11-10 Owner-Mr & Mrs F D Bell; Trainer-Alan King; Jockey-Wayne Hutchinson; SP-33/1
2ND-Meister Eckhart 7-11-05 Owner-Atlantic Equine; Trainer-Alan King; Jockey-Aidan Coleman; SP-14/1
3RD-Fiveforthree 11-11-11 Owner-Olde Crowbars Syndicate; Trainer-Willie Mullins IRE; Jockey-Paul Townend; SP-20/1
4TH-Master Of The Sea 6-11-04 Owner-R J Rexton; Trainer-Nigel Twiston-Davies; Jockey-Sam Twiston-Davies; SP-10/1
28 ran, Time- 5m 11.10s; Dist-2, nse, 3 6/1 Fav Pendra (17th)
2012-WINNER-SON OF FLICKA 8-10-06 Owner-Twenty Four Seven Recruitment; Trainer-Donald McCain; Jockey-Jason Maguire; SP-16/1
2ND-Get Me Out Of Here 8-11-12 Owner-J P McManus; Trainer-Jonjo O'Neill; Jockey-A P McCoy; SP-6/1 Jt Fav
3RD-Veiled 6-10-08 Owner-Pump & Plant Services Ltd; Trainer-Nicky Henderson; Jockey-David Bass; SP-25/1
4TH-Silverhand 8-10-10 Owner-J P McManus; Trainer-Noel Meade IRE; Jockey-Paul Carberry; SP-25/1
28 ran, Time-5m 0.40s; Dist-3½, 2, ¾ 6/1 Jt Fav Balgarry (7th)
2011-WINNER-CARLITO BRIGANTE 5-11-00 Owner-Gigginstown House Stud; Trainer-Gordon Elliott IRE; Jockey-Davy Russell; SP-16/1
2ND-Bothy 5-10-07 Owner-Dan Gilbert; Trainer-Brian Ellison; Jockey-Danny Cook; SP-12/1
3RD-Orsippus 5-10-08 Owner-Sandra Smith; Trainer-Michael Smith; Jockey-Davy Condon; SP-33/1
4TH-Battle Group 6-10-09 Owner-Jolly Boys Outing; Trainer-David Pipe; Jockey-Tom Scudamore; SP-33/1
22 ran, Time-5m 9.30s; Dist-6, ½, 2¼ 7/2 Fav Call The Police (11th)
2010-WINNER-SPIRIT RIVER 5-11-02 Owner-Michael Buckley; Trainer-Nicky Henderson; Jockey-Barry Geraghty; SP-14/1
2ND-Tullamore Dew 8-10-10 Owner-Tullamore Dew; Trainer-Nick Gifford; Jockey-Liam Treadwell; SP-80/1
3RD-James De Vassy 5-11-04 Owner-Jakeman, Barrett, Booth & Ferrand; Trainer-Nick Williams; Jockey-Daryl Jacob; SP16/1
4TH-Micheal Flips 6-11-07 Owner-Martin Tedham; Trainer-Andy Turnell; Jockey-Nick Scholfield; SP-33/1 28 ran, Time-5m 13.50s; Dist-4½, 2¾ , 1/2 7/1 Fav Deutschland (12th)
2009-WINNER-NINETIETH MINUTE 6-10-03 Owner-Dermot Cox; Trainer-Tom Taaffe IRE; Jockey-Paddy Flood; SP-14/1
2ND-Mirage Dore 6-9-11 Owner-Mr & Mrs Duncan Davidson; Trainer-Lucinda Russell; Jockey-Mrs Rose Dobbin; SP-14/1
3RD-Pause And Clause 5-9-11 Owner-Robert Cohen; Trainer-Emma Lavelle; Jockey-Jack Doyle; SP-9/1
4TH-Star Of Angels 5-9-11 Owner-Roger Brookhouse; Trainer-David Pipe; Jockey-Hadden Frost; SP-40/1 27 ran, Time-5m 13.50s; Dist-1½, ½, 7 6/1 Fav The Polomoche (10th)
2008-WINNER-NAIAD DU MISSELOT 7-10-13 Owner-Hill, Trembath, Bryan & Outhart; Trainer-Ferdy Murphy; Jockey-Davy Russell; SP-7/1
2ND-Kicks For Free 7-11-12 Owner-Trevor Hemmings; Trainer-Paul Nicholls; Jockey-Ruby Walsh; SP-11/1
3RD-Junior 5-11-02 Owner-Paul Green; Trainer-Alan King; Jockey-Robert Thornton; SP12/1
4TH-Mendo 8-11-00 Owner-Mrs M C Sweeney; Trainer-Noel Chance; Jockey-Tom Siddall; SP14/1 24 ran, Time-5m 5.10s; Dist-nse, 1½, 3½ 11/2 Fav County Zen (18th)
2007-WINNER-BURNTOAKBOY 9-09-12 Owner-Dr Richard & Laura Newland; Trainer-Dr Richard Newland; Jockey-Sam Jones; SP-10/1
2ND-Powerstation 7-11-00 Owner-Fat Frog Syndicate; Trainer-Michael John Phillips IRE; Jockey-Denis O'Regan; SP-12/1
3RD-Baron De Feypo 9-10-03 Owner-Rita Shah; Trainer-Oliver Brady; Jockey-Niki O'Shea; SP-20/1
4TH-Oscatello 7-10-08 Owner-Rye Braune; Trainer-Philip Hobbs; Jockey-Richard Johnson; SP-8/1
28 ran, Time-5m 07.10s; Dist-3, 5, 1½ 6/1 Fav Copsale Lad (16th)
2006-WINNER SKY'S THE LIMIT 5-11-12 Owner-Raymond Rooney; Trainer-Edward O'Grady IRE; Jockey-Barry Geraghty; SP-11/1
2ND-Strangely Brown 5-11-03 Owner-We Didn't Name Him Syndicate; Trainer-Eric McNamara IRE; Jockey-Brian Byrnes; SP-25/1
3RD-Dom D'Orgeval 6-11-12 Owner-Jane Williams; Trainer-Nick Williams; Jockey-Richard Johnson; SP-20/1
4TH-Phar Bleu 5-11-06 Owner-The Stewart Family; Trainer-Paul Nicholls; Jockey-Ruby Walsh; SP-10/1
30 ran, Time-5m 02.50s; Dist-4, .75, nk 5/1 Fav No Where To Hyde (Fell)
2005-WINNER-IDOLE FIRST 6-10-10 Owner-Direct Sales UK Ltd; Trainer-Venetia Williams; Jockey-Alan O'Keeffe; SP-33/1
2ND-Dancing Bay 8-11-01 Owner-Elite Racing Club; Trainer-Nicky Richards; Jockey-Mick Fitzgerald; SP-14/1
3RD-Tumbling Dice 6-11-01 Owner-Mrs John Donegan; Trainer-Tom Taaffe IRE; Jockey-Barry Geraghty; SP-16/1
4TH-Covent Garden 7-10-07 Owner-Ada Partnership; Trainer-Howard Johnson; Jockey-Tony Dobbin; SP-14/1
29 ran, Time-5m 04.80s; Dist-5, 6, 5 100/30 Fav Distant Prospect (9th)
2004-WINNER-MONKERHOSTIN 7-10-08 Owner-Martin St Quinton; Trainer-Philip Hobbs; Jockey-Richard Johnson; SP-13/2
2ND-Court Shareef 9-9-11 Owner-Derek and Cheryl Holder; Trainer-Richard Price; Jockey-Wayne Hutchinson; SP-200/1
3RD-Rhinestone Cowboy 8-11-05 Owner-Sue Magnier; Trainer-Jonjo O'Neill; Jockey-Mr J P Magnier; SP-5/1 Fav
4TH-Mughas 5-10-05 Owner-B Winfield, C Fenton & A Longman; Trainer-Alan King; Jockey-Robert Thornton; SP-11/2
27 ran, Time-4m 59.50s; Dist-1, 1 1/4, 2 1/2
2003-WINNER-XENOPHON 7-11-00 Owner-Lane Syndicate; Trainer-Tony Martin IRE; Jockey-Mick FitzGerald; SP-4/1 Fav
2ND-Samon 6-11-03 Owner-The Macca & Growler Partnership; Trainer-Martin Pipe; Jockey-David Casey; SP-25/1
3RD-Spectrometer 6-11-08 Owner-Concertina Racing; Trainer-Philip Hobbs; Jockey-Richard Johnson; SP-10/1
4TH-Emotional Moment 6-11-04 Owner-Watercork Syndicate; Trainer-Tom Taaffe; Jockey-Barry Geraghty; SP-7/1
27 ran, Time-5m 4.30s, Dist-3.5, 1, 3
2002-WINNER-ILNAMAR 6-10-05 Owner-Joe Moran; Trainer-Martin Pipe; Jockey-Rodi Greene; SP-25/1
2ND-Joss Naylor 7-10-00 Owner-Darren Mercer; Trainer-Jonjo O'Neill; Jockey-Liam Cooper; SP-13/2
3RD-Master Tern 7-10-03 Owner-J P McManus; Trainer-Jonjo O'Neill; Jockey-Tony Dobbin; SP-8/1
4TH-Stromness 5-10-03 Owner-Lady Harris; Trainer-Alan King; Jockey-Robert Thornton; SP-12/1
27 ran, Time-5m 15.0s, Dist-8, 3, 4 11/2 Fav Golden Alpha (26th)
2001 - No Race (Foot and Mouth Disease)
2000-WINNER-WHAT'S UP BOYS 6-10-03 Owner-RJB Partners; Trainer-Philip Hobbs; Jockey-Mr Paul Flynn; SP-33/1
2ND-Native Dara 7-10-04 Owner-Oriel Two Syndicate; Trainer-Noel Meade IRE; Jockey-Barry Geraghty; SP-25/1
3RD-Ross Moff 7-10-03 Owner-Seamus Ross; Trainer-Tony Martin IRE; Jockey-Charlie Swan; SP-15/2
4TH-Vanilla Man 7-10-00 Owner-Mrs Paul Duffin; Trainer-Paddy Mullins IRE; Jockey-Tommy Treacy; SP-25/1
26 ran, Time-4m 53.80s, Dist-nk, 3, 2, 7/1 Fav Brandon Court (5th)
1999-WINNER KHAYRAWANI 7-11-03 Owner-J P McManus; Trainer-Christy Roche IRE; Jockey-Fran Berry; SP-16/1
2ND-Miltonfield 10-10-00 Owner-J C Savage; Trainer-John Mulhern IRE; Jockey-Conor O'Dwyer; SP-33/1
3RD-Generosa 6-10-10 Owner-Trish Hyde; Trainer-John Hassett IRE; Jockey-Tommy Treacy; SP-12/1
4TH-Darapour 5-10-00 Owner-J P McManus; Trainer-Aidan O'Brien IRE; Jockey-Charlie Swan; SP-14/1
30 ran, Time-5m 6.6s, Dist-hd, nk, 5 13/2 Fav Archive Footage (25th)
1998-WINNER-TOP CEES 8-10-00 Owner-Charlton Bloodstock Ltd; Trainer-Lynda Ramsden; Jockey-Barry Fenton; SP-11/1
2ND-Khayrawani 6-10-06 Owner-J P McManus; Trainer-Christy Roche IRE; Jockey-Fran Berry; SP-20/1
3RD-Royal Marine 6-10-00 Owner-J P McManus; Trainer-Arthur Moore IRE; Jockey-Conor O'Dwyer;SP-10/1
4TH-Like A Lion 7-10-00 Owner-Orla Finucane; Trainer-Donald Swan IRE; Jockey-Charlie Swan; SP-12/1
21 ran, Time-5m 1.1s, Dist-1.25, .75, 1 6/1 Fav Daraydan (10th)
1997-WINNER-BIG STRAND 8-10-00 Owner-E C Jones; Trainer-Martin Pipe; Jockey-Jamie Evans; SP-16/1
2ND-Allegation 7-11-06 Owner-Martin Pipe Racing Club; Trainer-Martin Pipe; Jockey-Tony McCoy; SP-20/1
3RD-Castle Sweep 6-12-00 Owner-Lord Vestey; Trainer-David Nicholson; Jockey-Richard Johnson; SP-14/1
4TH-Tullymurry Toff 6-10-10 Owner-John Wilson and J H Riley; Trainer-Malcolm Jefferson; Jockey-Eddie Callaghan;
SP-9/2 Fav 28 ran, Time-4m 57.0s, Dist-sh, hd, 1
1996-WINNER-TRAINGLOT 9-10-03 Owner-Marquesa de Moratalla; Trainer-Jimmy FitzGerald; Jockey-Mark Dwyer; SP-11/2
2ND-Treasure Again 7-10-00 Owner-J H Gwynne; Trainer-Merrita Jones; Jockey-Derek Byrne; SP-9/1
3RD-New Co 8-10-07 Owner-Mrs L C Ronan and Anne Daly; Trainer-Mouse Morris IRE; SP-9/1
4TH-Barna Boy 8-10-02 Owner-Lynn Wilson; Trainer-Nicky Henderson; Jockey-Mick FitzGerald; SP-16/1
20 ran, Time-5m 12.2s, Dist-hd, 1.25, 2 7/2 Fav Time For A Run (8th)
1995-WINNER-CHANCE COFFEY 10-10-00 Owner-Paddy O'Donnell; Trainer-Pat O'Donnell IRE; Jockey-Gerry O'Neill; SP-11/1
2ND-Derrymoyle 6-10-10 Owner-Herb Stanley; Trainer-Michael Cunningham IRE; Jockey-Mark Dwyer; SP-12/1
3RD-Time For A Run 8-11-10 Owner-J P McManus; Trainer-Edward O'Grady IRE; Jockey-Charlie Swan; SP-10/1
4TH-Collier Bay 5-10-06 Owner-Wally Sturt; Trainer-Jim Old; Jockey-Tom Grantham; SP-7/1
30 ran, Time-5m 18.4s, Dist-3.5, sh, 3 6/1 Fav Lemon's Mill (17th)