---
Ryanair Chase

Grade 1, Cheltenham 14:50
£350,000 added,
5yo plus,
2m 4f 166y, Class 1
Thursday 15th March 2018
Balko Des Flos upsets Un De Sceaux to win
1 Balko Des Flos 8/1
2 Un De Sceaux 8/11F
3 Cloudy Dream 10/1
6 ran NR: Douvan Distances: 4½l, 8l, 15l
Time: 5m 23.60s (slow by 20.60s)
Davy Russell recorded a 62/1 double on day three of the Cheltenham Festival following the impressive victory of Balko Des Flos in the G1 Ryanair Chase.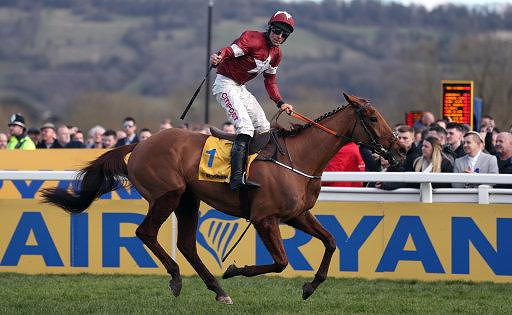 Trained by Henry de Bromhead, the seven-year-old son of Balko kept on gamely to score by four and a half-lengths from Willie Mullins' Un De Sceaux (8/11 favourite) in second.
Ryanair owner Michael O'Leary, winning the race that he sponsors for the first time, was registering a 314/1 treble in the first three races on day three of the Cheltenham Festival following the wins of
Shattered Love
(4/1 G1
JLT Novices' Chase
) and Delta Work (6/1 Pertemps Network Final Handicap Hurdle).
Russell, partnering his third winner of the week and his 21st success at The Festival overall, said: "For a normal Cheltenham Festival, I would have fancied Balko Des Flos. We thought on nice ground there would be some improvement in him. I thought his chance had lessened given the more rain that fell.
"Henry de Bromhead is a master at this and all credit goes to him and the team. I rode Balko Des Flos twice on heavy winter ground and he was very disappointing, then he came back and ran a real good race under Denis O'Regan at Leopardstown [December 28] and I think that last run was really important for him as he learnt a lot and it just helped him with his confidence running so well on heavy ground. Henry got him here again in this sort of form, which isn't easy.
"He jumped really well which was good as his jumping has been really in and out this season. We were worried about the rain that fell but he handled it well and as the race progressed, he stuck his chest out the further he went in the race - that was pleasing too as he was gaining confidence throughout.
"Once my horse was travelling well, I let him quicken and go forward on his terms and I was happy to do that as I didn't want him to slow down - I was going the one speed the whole way.
"It's an awful shame that Michael doesn't lose any money but I get some of it, which is great! He is a marvellous man for our sport and as much as we give out about him, he is a great man. 
"It's great to have any winner here and I'm very happy."
Russell, who was passed fit to ride this morning following a fall aboard Bless The Wings in the
Glenfarclas Cross Country Chase
yesterday, said: "I have to be very gracious about Brian Hughes. He didn't even get changed for the bumper yesterday. 
"He ran out to his car as he had an ice machine out there and brought it straight back in.
"I was the last to leave the racecourse last night along with Brian. He was very kind to me and only for Brian's help and the help of the team here, I would not have been able to do my job. We are very lucky that we have some excellent professionals helping us. I would just like to thank them for that."

Ryanair Chase (Grade 1)
£350,000 added, 5yo plus, 2m 4f 166y, Class 1
6 ran
Going: Soft, Heavy in places
Pos
D
Horse SP
Jockey Weight
Trainer
Age
1st
Balko Des Flos (FR) 8/1
D N Russell
11-10
H de Bromhead
7
2nd
4&frac12
Un De Sceaux (FR) 8/11F
P Townend
11-10
W P Mullins
10
3rd
8
Cloudy Dream (IRE) 10/1
B Hughes
11-10
Ruth Jefferson
8
4th
15
Sub Lieutenant (IRE) 18/1
S W Flanagan
11-10
H de Bromhead
9
5th
9
Frodon (FR) 9/1
Sam Twiston-Davies
11-10
P F Nicholls
6
PU
Cue Card 9/2
P J Brennan
11-10
C L Tizzard
12
NR
Douvan (FR)
11-10
W P Mullins
8
Un Des Sceaux
was sent of the 8/11 favourite but met with only the second defeat of his career when coming home four lengths adrift of the winner.
Willie Mullins, Ireland's champion jump trainer, was sanguine with the result, saying: "There are no excuses.
"He got his ground and got his conditions.
"He was a little exuberant but I think the winner won very well.
"We can't have any complaints our horse ran very well."
Cloudy Dream, eight lengths back in third, also pleased his connections, with owner Trevor Hemmings commenting: "That was nice wasn't it.
"The ground wasn't at it's best for the horse today - but he ran well and that is all that matters so I am quietly pleased.
"We will have a look at Sandown and Liverpool for him next. 
Brian Hughes, jockey of the Cloudings grey, added: "He ran well.
"He would be a better horse on better ground but we had a good race."
Cue Card safe and sound
Cue Card
, having his seventh appearance at The Festival today when sent off the 9/2 second favourite, led for five fences but Paddy Brennan pulled up the 12-year-old before the 12th fence after he dropped back to be last of the six runners.
Cue Card has won two races at The Festival, the Weatherbys Champion Bumper in 2010 and the 2013 Ryanair Chase, but fell at the third last in the Timico Cheltenham Gold Cup in both 2016 and 2017.
Brennan commented: "We were hoping that he would cope with the ground a lot better and I think that's probably where his age showed a little bit on that ground.
"I had a split-second decision to make - did I want jump one fence too many? And I wheeled him clean out. He is there and we will have to speak to connections. 
"His run at Ascot was on decent ground and today wasn't so decent. We will just have to see what the future brings.
"There is a lot of responsibility on him and we have to keep this Festival going. Cue Card is a big part of this Festival, he's a legend and you feel like you have to mind him like he is your child."
Colin Tizzard, his trainer, commented: "It was sad to see Cue Card stop so quickly. The first half of the race, I thought he was going lovely, then he dropped right back to last and Paddy said he had to make a split second decision on whether to pull up or jump the next.
"He is as bright as button here. It is the last thing I expected [to see him run like that]. Paddy felt he didn't handle the ground, but he has raced on that before. 
"We will take him home and have a little think about it for a couple of days. If something comes to light, I will keep everyone informed, but I would be surprised because he walked away a happy chap.
"The last thing anyone of us want to see is him running around like that."

RYANAIR CHASE - Past Results
2017-WINNER-UN DE SCEAUX 9-11-10 Owner-Edward O'Connell; Trainer-Willie Mullins IRE; Jockey-Ruby Walsh; SP-7/4 Fav
2ND-Sub Lieutenant 8-11-10 Owner-Gigginstown House Stud; Trainer-Henry de Bromhead IRE; Jockey-David Mullins; SP-8/1
3RD-Aso 7-11-10 Owner-The Bellamy Partnership; Trainer-Venetia Williams; Jockey-Charlie Deutsch; SP-40/1
8 ran, Time-5m 9.60s Dist-11⁄2, 6
2016-WINNER-VAUTOUR 7-11-10 Owner-Susannah Ricci; Trainer-Willie Mullins IRE; Jockey-Ruby Walsh; SP-Evs Fav
2ND-Valseur Lido 7-11-10 Owner-Gigginstown House Stud; Trainer-Willie Mullins IRE; Jockey-David Mullins; SP-11/1
3RD-Road To Riches 9-11-10 Owner-Gigginstown House Stud; Trainer-Noel Meade IRE; Jockey-Bryan Cooper; SP-7/1
15 ran, Time-5m 5.50s Dist-6, 1⁄2
2015-WINNER-UXIZANDRE 7-11-10 Owner-J P McManus; Trainer-Alan King; Jockey- A P McCoy; SP-16/1
2ND-Ma Filleule 7-11-03 Owner-Simon Munir; Trainer-Nicky Henderson; Jockey-Barry Geraghty; SP-5/1
3RD-Don Cossack 8-11-10 Owner-Gigginstown House Stud; Trainer-Gordon Elliott IRE; Jockey-Bryan Cooper; SP-5/2 Fav
14 ran, Time-5m 1.10s Dist-5, 3¼
2014-WINNER-DYNASTE 8-11-10 Owner-John White; Trainer-David Pipe; Jockey-Tom Scudamore; SP-3/1 Fav
2ND-Hidden Cyclone 9-11-10 Owner-David & Mrs A F Mee; Trainer-John Hanlon IRE; Jockey-Andrew McNamara; SP-10/1
3RD-Rajdhani Express 7-11-10 Owner-Robert Waley-Cohen; Trainer-Nicky Henderson; Jockey-Mr Sam Waley-Cohen; SP-18/1
11 ran, Time-5m 9.13s Dist-21⁄4, 21⁄4
2013-WINNER-CUE CARD 7-11-10 Owner-Jean Bishop; Trainer-Colin Tizzard; Jockey-Joe Tizzard; SP-7/2
2ND-First Lieutenant 8-11-10 Owner-Gigginstown House Stud; Trainer-Mouse Morris IRE; Jockey-Bryan Cooper; SP-2/1Fav
3RD-For Non Stop 8-11-10 Owner-Potensis Limited & Chris Giles; Trainer-Nick Williams; Jockey-Noel Fehily; SP-12/1
8 ran, Time-5m 19.30s Dist-9, 31⁄4
2012-WINNER-RIVERSIDE THEATRE 8-11-10 Owner-Jimmy Nesbitt Partnership; Trainer-Nicky Henderson; Jockey-Barry Geraghty; SP-7/2 Fav
2ND-Albertas Run 11-11-10 Owner-Trevor Hemmings; Trainer-Jonjo O'Neill; Jockey-A P McCoy; SP-10/1
3RD-Medermit 7-11-10 Owner-The Dunkley & Reilly Partnership; Trainer-Alan King; Jockey-Robert Thornton; SP-8/1
12 ran, Time-5m 9.69s Dist- ½, ½
2011-WINNER-ALBERTAS RUN 10-11-10 Owner-Trevor Hemmings; Trainer-Jonjo O'Neill; Jockey-AP McCoy; SP-6/1
2ND-Kalahari King 10-11-10 Owner- Juliet Morgan; Trainer-Ferdy Murphy; Jockey-Graham Lee; SP-7/1 3RD-Rubi Light 6-11-10 Owner-Bill Hennessy; Trainer-Robbie Hennessy IRE; Jockey-Andrew Lynch; SP-16/1
11 ran, Time-5m 7.30s 2/1 Fav Poquelin (4th)
2010-WINNER-ALBERTAS RUN 9-11-10 Owner-Trevor Hemmings; Trainer-Jonjo O'Neill; Jockey-Tony McCoy; SP-14/1
2ND-Poquelin 7-11-10 Owner-The Stewart Family; Trainer-Paul Nicholls; Jockey-Ruby Walsh; SP-11/4 Fav
3RD-J'y Vole 7-11-03 Owner-Hammer & Trowell Syndicate; Trainer-Willie Mullins IRE; Jockey-Davy Condon; SP-28/1
13 ran, Time-5m 11.63s Dist-4.5, nse
2009-WINNER-IMPERIAL COMMANDER 8-11-10 Owner-Our Friends In The North; Trainer-Nigel Twiston-Davies; Jockey-Paddy Brennan; SP-6/1
2ND-Voy Por Ustedes 8-11-10 Owner-Sir Robert Ogden; Trainer-Alan King; Jockey-Robert Thornton; SP-4/5 Fav
3RD-Schindlers Hunt 9-11-10 Owner-Slaneyville Syndicate; Trainer-Dessie Hughes IRE; Jockey-Paddy Flood; SP-22/1
10 ran, Time-5m 18.34s Dist-2, 0.75
2008-WINNER-OUR VIC 10-11-10 Owner-David Johnson; Trainer-David Pipe; Jockey-Timmy Murphy; SP-4/1
2ND-Mossbank 8-11-10 Owner-Gigginstown House Stud; Trainer-Michael Hourigan IRE; Jockey-Davy Russell; SP-4/1
3RD-Turko 6-11-10 Owner-The Stewart Family; Trainer-Paul Nicholls; Jockey-Ruby Walsh; SP-7/1
9 ran, Time-5m 10.24s Dist-5, 7 100/30 Fav The Listener (5th)
2007-WINNER-TARANIS 6-11-00 Owner-Mrs A B Yeoman & C R Whittaker; Trainer-Paul Nicholls; Jockey-Ruby Walsh; SP-9/2
2ND–Our Vic 9-11-05 Owner-David Johnson; Trainer-David Pipe; Jockey-Timmy Murphy; SP-7/2
3RD–Billyvoddan 8-11-00 Owner-Trevor Hemmings; Trainer-Henry Daly; Jockey-Richard Johnson; SP-20/1
9 ran, Time-5m 10.60s Dist-nk, ½ 7/4 Fav Monet's Garden (4th)
2006-WINNER-FONDMORT 10-11-00 Owner-Bill Brown; Trainer-Nicky Henderson; Jockey-Mick Fitzgerlad; SP-100/30 Jt Fav
2ND-Lacdoudal 7-11-00 Owner-Carol Skan; Trainer-Philip Hobbs; Jockey-Richard Johnson; SP-20/1
3RD-Impek Owner-Jim Lewis; Trainer-Henrietta Knight; Jockey-Tony McCoy; SP-100/30 Jt Fav
11 ran, Time-5m 3.00s Dist-1¼, hd
2005-WINNER-THISTHATANDTOTHER 9-11-03 Owner-Graham Roach; Trainer-Paul Nicholls; Jockey-Ruby Walsh;
SP-9/2
2ND-Fondmort 9-11-00 Owner-Bill Brown; Trainer-Nicky Henderson; Jockey-Mick Fitzgerald; SP-9/1
3RD-Rathgar Beau 9-11-03 Owner-One-O-Eight Racing Club; Trainer-Eamon Sheehy IRE; Jockey-Shay Barry; SP-9/2
12 ran, Time-5m 11.90s Dist: ½, 2½ 7/4 Fav Our Vic (PU)