Qatar Richmond Stakes

Group 2, Goodwood 15:00
£75,000 added,
2yo only,
6f, Class 1  
Thursday 3rd August 2017
1 Barraquero 4/1
2 Nebo 3/1
3 Cardsharp 2/1F
7 ran NR: Grand Koonta, Invincible Army, U S Navy Flag
Distances: 1¼l, 2¼l, 2¼l Time: 1m 15.42s (slow by 5.72s)
Barraquero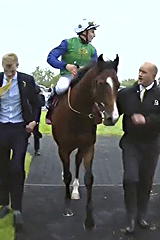 The six-furlong Group Two Qatar Richmond Stakes was won by Barraquero, trained by the Manton-based Brian Meehan for Manton Thoroughbreds sporting the late Robert Sangster silks. It is a third win in the race for the trainer, previously successful with Carrizo Creek (2003) and Easycall (1996). The winning margin over Nebo was a length and a quarter.
"I am very pleased, Barraquero has looked an exciting type right since the spring," said Meehan. "I was more concerned yesterday about [about the ground] with all the rain we had, I had a lovely filly here yesterday and she did not handle it. I got here this morning and it just seemed a little bit more civilised!
"The other horses [whom Meehan won the Richmond Stakes with] were lovely horses, but that was then and this is now. I am sure this is a Group One horse, and he will get further. This horse looked really good today and I couldn't be happier.
"I would love to think I could take him to the Prix Morny at Deauville in a few weeks' time, he's in the
Gimcrack
, he's in the Doncaster sales race and other sales races, and they are worth a lot of money, but the Morny is the top of the list. Seven furlongs wouldn't be a problem.
"The Morny is a race I'd love to go back and try and win again. That would be particularly nice to do that for a third time.
"The Guineas would be an ultimate target, he is a horse who will get a mile and he will grow. He's changing a little now and there is even more improvement to come."
Meehan won the Group One Prix Morny with Arcano in 2009 and Bad As I Wanna Be in 2000.
Qatar Richmond Stakes (Group 2)
£200,000 added, 2yo only, 6f, Class 1
7 ran
Going: Soft (Heavy in places)
Pos
Dr
D
Horse SP
Jockey Weight
Trainer
Age
1st
(3)
Barraquero (IRE) 4/1
W Buick
9-0
B J Meehan
2
2nd
(1)
1&frac14
Nebo (IRE) 3/1
Jim Crowley
9-0
C Hills
2
3rd
(2)
2&frac14
Cardsharp 2/1f
James Doyle
9-3
M Johnston
2
4th
(6)
2&frac14
Etefaaq (IRE) 16/1
L Dettori
9-0
R Hannon
2
5th
(4)
hd
Green Power 16/1
B A Curtis
9-0
J Gallagher
2
6th
(9)
nse
Headway 4/1
P Cosgrave
9-0
W J Haggas
2
7th
(10)
2&frac34
Bullington Bandit (IRE) 22/1
S Donohoe
9-0
Jane Chapple-Hyam
2
NR
(7)
Grand Koonta (IRE)
Non Runner
9-0
C G Cox
2
NR
(5)
Invincible Army (IRE)
Non Runner
9-0
J Tate
2
NR
(8)
U S Navy Flag (USA)
R L Moore
9-0
A P O'Brien
2