Qatar Goodwood Festival 2020

Tuesday 28th July - Saturday 1st August
Top-weight Summerghand (David O'Meara/Daniel Tudhope) put up a fine performance to claim the Unibet Stewards' Cup, the six-furlong heritage handicap on day five of the Qatar Goodwood Festival.
Enbihaar (John Gosden/Jim Crowley) justified favouritism to win the Qatar Lillie Langtry Stakes for the second year in succession.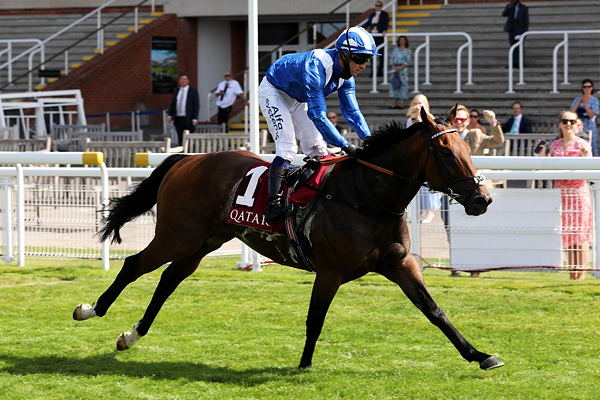 Outstanding sprinter Battaash (Charlie Hills/Jim Crowley) won the G2 King George Qatar Stakes for the fourth year in succession.
Prompting was the well-supported favourite for the Unibet Golden Mile Handicap and amply justified his position at the head of the market with a comfortable victory.
Fancy Blue was Donnacha O'Brien's first runner as a trainer in the UK and gave the Irish handler reason to celebrate as she became his first UK winner in the G1 Qatar Nassau Stakes.
Mogul, a G2-winning juvenile, recorded his first victory as a three-year-old in the G3 John Pearce Racing Gordon Stakes over a mile and a half.
Trainer Clive Cox and jockey Adam Kirby were on the mark with Supremacy in the Group Two Qatar Richmond Stakes at Glorious Goodwood.
Marcus Tregoning's Mohaather powers down the outside under Jim Crowley and showcases his devestating turn of foot to win the Sussex Stakes.
Steel Bull justifies strong market support to capture the Group Three Markel Insurance Molecomb Stakes for Colin Keane and Michael O'Callaghan.
The mighty stayer Stradivarius (John Gosden/Frankie Dettori) created history by becoming the first horse to win the Al Shaqab Goodwood Cup four times.
Space Blues (Charlie Appleby/William Buick) was the comfortable winner of the seven-furlong Lennox Stakes for Godolphin.
Battleground holds off pressure from Devious Company to win the Veuve Clicquot Vintage Stakes.
Siskin Tops Betting to Win Sussex Stakes 26/06/20
Irish 2000 Guineas winner Siskin has opened up as the 7/4 favourite in the ante-post betting for the Sussex Stakes at Glorious Goodwood.
Racing TV leading jockey standings
| | | | |
| --- | --- | --- | --- |
| | 1st | 2nd | 3rd |
| Ryan Moore | 5 | 3 | 3 |
| Tom Marquand | 5 | 3 | 1 |
| Jim Crowley | 4 | 2 | 4 |
| Harry Bentley | 4 | 2 | 1 |
| William Buick | 4 | 1 | 2 |
| Oisin Murphy | 3 |   | 5 |
| Andrea Atzeni | 2 | 1 |   |
| Danny Tudhope | 2 |   | 1 |
| David Egan | 1 | 3 | 2 |
| Silvestre de Sousa | 1 | 2 | 2 |
| Frankie Dettori | 1 | 1 |   |
| Cieren Fallon | 1 | 1 |   |
| Colin Keane | 1 |   | 1 |
| William Cox | 1 |   |   |
| Adam Kirby | 1 |   |   |
| Sean Levey | 1 |   |   |
| Kieran O'Neill | 1 |   |   |
| Joe Fanning |   | 2 | 1 |
| David Probert |   | 2 |   |
| Pat Dobbs |   | 1 | 1 |
| James Doyle |   | 1 | 1 |
| Thomas Greatrex |   | 1 | 1 |
| Shane Kelly |   | 1 | 1 |
| Richard Kingscote |   | 1 | 1 |
| Charles Bishop |   | 1 |   |
| Hollie Doyle |   | 1 |   |
| Martin Dwyer |   | 1 |   |
| Tom Eaves |   | 1 |   |
| Thore Hammer Hansen |   | 1 |   |
| Martin Harley |   | 1 |   |
| Jason Hart |   | 1 |   |
| Rob Hornby |   | 1 |   |
| Saffie Osborne |   | 1 |   |
| Kevin Stott |   | 1 |   |
| Paddy Mathers |   |   | 2 |
| Callum Shepherd |   |   | 2 |
| Ben Curtis |   |   | 1 |
| Darragh Keenan |   |   | 1 |
| Clifford Lee |   |   | 1 |
| Megan Nicholls |   |   | 1 |
| Dane O'Neill |   |   | 1 |
| Kieran Shoemark |   |   | 1 |

Leading trainer standings
| | | | |
| --- | --- | --- | --- |
| | 1st | 2nd | 3rd |
| William Haggas | 4 | 3 | 1 |
| Mark Johnston | 2 | 6 | 2 |
| Richard Hannon | 2 | 2 | 2 |
| Aidan O'Brien IRE | 2 | 1 | 2 |
| Marcus Tregoning | 2 | 2 |   |
| John Gosden | 2 | 1 | 1 |
| David O'Meara | 2 | 1 | 1 |
| Richard Fahey | 2 |   | 3 |
| Charlie Hills | 2 |   | 2 |
| Charlie Appleby | 2 |   | 1 |
| Roger Varian | 1 | 3 | 2 |
| Ralph Beckett | 1 | 1 | 1 |
| Simon & Ed Crisford | 1 | 1 |   |
| William Muir | 1 | 1 |   |
| Brian Meehan | 1 |   | 1 |
| Owen Burrows | 1 |   |   |
| Clive Cox | 1 |   |   |
| Ed de Giles | 1 |   |   |
| Christopher Mason | 1 |   |   |
| Gary Moore | 1 |   |   |
| Donnacha O'Brien IRE | 1 |   |   |
| Michael O'Callaghan IRE | 1 |   |   |
| Jedd O'Keeffe | 1 |   |   |
| John Quinn | 1 |   |   |
| Sir Michael Stoute | 1 |   |   |
| Nigel Tinkler | 1 |   |   |
| Paul & Oliver Cole |   | 2 |   |
| Jessica Harrington IRE |   | 2 |   |
| Kevin Ryan |   | 2 |   |
| Andrew Balding |   | 1 | 3 |
| Mick Channon |   | 1 | 1 |
| Tom Dascombe |   | 1 | 1 |
| Amanda Perrett |   | 1 | 1 |
| David Simcock |   | 1 | 1 |
| Eric Alston |   | 1 |   |
| Richard Hughes |   | 1 |   |
| Jamie Osborne |   | 1 |   |
| Joe Tuite |   | 1 |   |
| Tom Ward |   | 1 |   |
| Karl Burke |   |   | 2 |
| George Baker |   |   | 1 |
| Roger Charlton |   |   | 1 |
| James Given |   |   | 1 |
| David Griffiths |   |   | 1 |
| Eve Johnson Houghton |   |   | 1 |
| Ger Lyons IRE |   |   | 1 |
| David Menuisier |   |   | 1 |
| Hughie Morrison |   |   | 1 |
| George Scott |   |   | 1 |