---
OLBG Mares' Hurdle

Grade 1, Cheltenham 16:10
£120,000 added,
4yo plus,
2m 3f 200y, Class 1
Tuesday 13th March 2018
Apple's Jade


© Racehorse Photos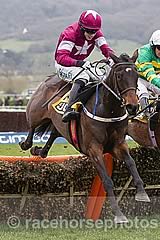 Apple's Jade
  (Gordon Elliott) and 
Vroum Vroum Mag
 (Willie Mullins) could renew rivalry in the G1 OLBG Mares' Hurdle over two and a half miles at Cheltenham on Champion Day, Tuesday, March 13. Prize money has been boosted to £120,000 this year.
They were first and second last year as Apple's Jade came out on top by a length and a half in what was one of the races of The Festival.
Willie Mullins also has Augusta Kate, Let's Dance and highly-regarded chaser Benie Des Dieux among his team as he chases an amazing ninth victory in the OLBG Mares' Hurdle, which was founded in 2008.
La Bague Au Roi took her winning run to four with an impressive victory in the Ascot mud in the olbg.com Mares' Hurdle on January 20.
Warren Greatrex's exciting seven-year-old took the lead four out when the pacesetting Midnight Tune started to weaken and was not extended as she won in style under Noel Fehily.
A superb leap at the last in the Grade Two over an attritional two miles, seven and a half furlongs helped her prevail by 16 lengths from Sainte Ladylime.
The OLBG Mares' Hurdle
(For The David Nicholson Mares' Trophy)
£120,000 added, 4yo plus, 2m 3f 200y, Class 1
27 remaining entries
£5,000 supplementary entry stage & six-day confirmation stage March 7, final declarations 10am, March 11.
| | | | |
| --- | --- | --- | --- |
| Horse | Age | Owner | Trainer |
| ANGELS ANTICS | 5 | Walters Plant Hire & Spiers & Hartwell | Nigel Twiston-Davies   |
| APPLE'S JADE (FR) | 6 | Gigginstown House Stud | Gordon Elliott IRE |
| ASTHURIA (FR) | 7 | George Creighton | Willie Mullins IRE |
| AUGUSTA KATE | 7 | The Masters Syndicate | Willie Mullins IRE |
| BARRA (FR) | 7 | Gigginstown House Stud | Gordon Elliott IRE |
| BENIE DES DIEUX (FR) | 7 | Susannah Ricci | Willie Mullins IRE |
| BRILLARE MOMENTO (IRE) | 7 | Oliver Ryan | Martin Keighley   |
| CAP SOLEIL (FR) | 5 | Mrs S A Noott | Fergal O'Brien   |
| COLIN'S SISTER | 7 | Caroline Beresford-Wylie | Fergal O'Brien   |
| DUSKY LEGEND | 8 | Richard & Lizzie Kelvin-Hughes | Alan King   |
| GRACEFUL LEGEND | 7 | Mrs A Allen | Ben Case   |
| INDIAN STREAM | 9 | Mrs G Davies | Neil Mulholland   |
| JER'S GIRL (IRE) | 6 | J P McManus | Gavin Cromwell IRE |
| KARALEE (FR) | 7 | Susannah Ricci | Willie Mullins IRE |
| KAYF GRACE | 8 | James and Jean Potter | Nicky Henderson   |
| LA BAGUE AU ROI (FR) | 7 | Julien Turner & Andrew Merriam | Warren Greatrex   |
| LADY BUTTONS | 8 | Jayne Sivills | Philip Kirby   |
| LAGOSTOVEGAS (IRE) | 6 | John Donohue | Willie Mullins IRE |
| LET'S DANCE (FR) | 6 | Susannah Ricci | Willie Mullins IRE |
| MERI DEVIE (FR) | 5 | Andrea & Graham Wylie | Willie Mullins IRE |
| MIDNIGHT JAZZ | 8 | Mrs A Allen | Ben Case   |
| MIDNIGHT TOUR | 8 | James and Jean Potter | Alan King   |
| NORTHERN BEAU (IRE) | 5 | Lynne & Angus Maclennan | Michael Scudamore   |
| PRAVALAGUNA (FR) | 6 | Bruton Street IV | Willie Mullins IRE |
| THE ORGANIST (IRE) | 7 | J P McManus | Oliver Sherwood   |
| VERDANA BLUE (IRE) | 6 | Crimbourne Stud | Nicky Henderson   |
| VROUM VROUM MAG (FR) | 9 | Susannah Ricci | Willie Mullins IRE |
OLBG MARES' HURDLE PAST RESULTS
2017-WINNER-APPLE'S JADE 5-11-05 Owner-Gigginstown House Stud; Trainer-Gordon Elliott IRE; Jockey-Bryan Cooper; SP-7/2
2ND-Vroum Vroum Mag 8-11-05 Owner-Susannah Ricci; Trainer-Willie Mullins IRE; Jockey-Paul Townend; SP-11/4
3RD-Limini 6-11-05 Owner-Susannah Ricci; Trainer-Willie Mullins IRE; Jockey-Ruby Walsh; SP-6/4 Fav 17 ran, Time-4m 50.20s; Dist-11⁄2, ns
2016-WINNER-VROUM VROUM MAG 7-11-05 Owner-Susannah Ricci; Trainer-Willie Mullins IRE; Jockey-Ruby Walsh; SP-4/6 Fav
2ND-Rock On The Moor 8-11-05 Owner-R Irwin; Trainer-Jessica Harrington IRE; Jockey-Robbie Power; SP-66/1
3RD-Legacy Gold 8-11-05 Owner-Roger Brookhouse; Trainer-Stuart Crawford IRE; Jockey-Andrew Lynch; SP-40/1
19 ran, Time-4m 45.00s; Dist-23⁄4, 1⁄2
2015-WINNER-GLENS MELODY 7-11-05 Owner-Fiona McStay; Trainer-Willie Mullins IRE; Jockey-Paul Townend; SP-6/1
2ND-Polly Peachum 7-11-05 Owner-Lady Tennant; Trainer-Nicky Henderson; Jockey-Barry Geraghty; SP-9/1
3RD-Bitofapuzzle 7-11-05 Owner-Chris Giles & Potensis Bloodstock Ltd; Trainer-Harry Fry; Jockey-Noel Fehily; SP-16/1
15 ran, Time-4m 51.10s; Dist-hd, nk 1/2 Fav Annie Power (Fell)
2014-WINNER-QUEVEGA 10-11-05 Owner-Hammer & Trowel Syndicate; Trainer-Willie Mullins IRE; Jockey-Ruby Walsh; SP- 8/11 Fav
2ND-Glens Melody 6-11-05 Owner-Fiona McStay; Trainer-Willie Mullins IRE; Jockey-Paul Townend; SP-14/1
3RD-L'Unique 5-11-05 Owner-Denis Barry; Trainer-Alan King; Jockey-Robert Thornton; SP-25/1
16 ran, Time-4m 44.60s; Dist-¾, ¾
2013-WINNER-QUEVEGA 9-11-05 Owner-Hammer & Trowel Syndicate; Trainer-Willie Mullins IRE; Jockey-Ruby Walsh; SP- 8/11 Fav
2ND-Sirene D'Ainay 7-11-05 Owner-Stephane Milaveau; Trainer-Emmanuel Clayeux FR; Jockey-Jonathan Plouganou; SP-33/1
3RD-Swincombe Flame 7-11-00 Owner-Yeo Racing Partnership; Trainer-Nick Williams; Jockey-Daryl Jacob; SP-40/1
19 ran, Time-4m 55.46s Dist-1½, 2
2012-WINNER-QUEVEGA 8-11-05 Owner-Hammer & Trowel Syndicate; Trainer-Willie Mullins IRE; Jockey-Ruby Walsh; SP- 4/7 Fav
2ND Kentford Grey Lady 6-11-00 Owner-Ian Bare; Trainer-Emma Lavelle; Jockey-Noel Fehily; SP-14/1
3RD Golden Sunbird 8-11-03 Owner-Jim Mernagh; Trainer-Paul Nolan IRE; Jockey-Robbie Power; SP-66/1
19 ran, Time-4m 51.30s Dist-4, nk
2011-WINNER-QUEVEGA 7-11-05 Owner-Hammer & Trowel Syndicate; Trainer-Willie Mullins IRE; Jockey-Ruby Walsh; SP-5/6 Fav
2ND Sparky May 6-11-05 Owner-Bill Muddyman; Trainer-Pat Rodford; Jockey-Keiran Burke; SP-4/1
3RD Ocean Transit 6-11-00 Owner-Ocean's Five; Trainer-Richard Price; Jockey-David Bass; SP-50/1
14 ran, Time-4m 48.08s Dist-10, 1
2010-WINNER-QUEVEGA 6-11-05 Owner-Hammer & Trowel Syndicate; Trainer-Willie Mullins IRE; Jockey-Ruby Walsh; SP-6/4 Fav
2ND Carole's Legacy 6-11-00 Owner-Paul Murphy; Trainer-Nicky Henderson; Jockey-Andrew Tinkler; SP-20/1
3RD Voler La Vedette 6-11-05 Owner-Mrs M Brophy; Trainer-Colm Murphy IRE; Jockey-Barry Geraghty; SP-9/4
17 ran, Time-4m 45.40s Dist-4½, 1¼
2009-WINNER-QUEVEGA 5-11-03 Owner-Hammer & Trowel Syndicate; Trainer-Willie Mullins IRE; Jockey-Ruby Walsh; SP-2/1 Fav
2ND United 8-11-05 Owner-R B Holt; Trainer-Lucy Wadham; Jockey-Dominic Elsworth; SP-100/30
3RD Aura About You 6-11-00 Owner-Jim Mernagh; Trainer-Paul Nolan IRE; Jockey-Alain Cawley; SP-28/1 21 ran, Time-4m 55.20s Dist-14, sh
2008-WINNER-WHITEOAK 5-11-00 Owner-Brendan Richardson; Trainer-Donald McCain Jnr; Jockey-Jason Maguire; SP-20/1
2ND Refinement 9-11-05 Owner-Michael Tabor; Trainer-Jonjo O'Neill; Jockey-Tony McCoy; 10/1
3RD Chomba Womba 7-11-05 Owner-Richard & Lizzie Kelvin Hughes; Trainer-Nicky Henderson; Jockey-Mick Fitzgerald; SP-100/30 Fav
13 ran, Time-5m 1.40s Dist-sh, 2½