---
Coral Cup

Group 3, Cheltenham 14:50
Handicap Hurdle
£95,000 added, 4yo plus,
2m 5f 26y, Class 1  
Wednesday 14th March 2018

Bleu Berry wins in a driving finish from Topofthegame
1 Bleu Berry 20/1
2 Topofthegame 9/1
3. Barra 16/1
4 William Henry 8-1JF
26 ran NR: Project Bluebook Distances: nk, 1¼l, 1¼l
Time: 5m 20.80s (slow by 26.80s)
Bleu Berry became Willie Mullins' fourth winner at The Festival 2018 when landing the Coral Cup, but any further success will come without his no.1 rider, Ruby Walsh.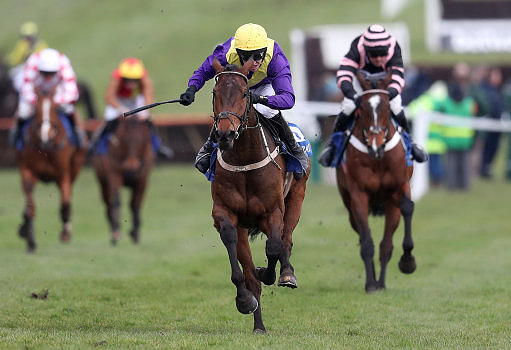 The brilliant jockey, who broke his leg in the autumn and returned to action only last week, suffered a fall on the Mullins-trained Al Boum Photo in the
RSA Insurance Novices' Chase
, and the trainer said: "Ruby has gone to hospital for X-rays, and it looks like the same injury again. It is very disappointing for Ruby and everyone else.
"It's the same leg in the same place - he is very sore at that point. It could be a fracture has reopened, but you say that and five hours later you learn the X-rays are clear. Ruby just couldn't get his leg out the way when the horse rolled over. It looked a simple fall and I thought Ruby would just roll off, so I was amazed when people said to me 'He's still on the ground'.
"We're fine, I've got a good team of riders, and when you have jockeys like Mark Walsh on the sidelines, I know we'll be alright."
Following Walsh's first jockey shuffle, Paul Townend switched to Max Dynamite, and Walsh was called up for Bleu Berry, who beat Top Of The Game, Barra and
William Henry
by a neck, one and a quarter lengths and the same.
Mullins said of Bleu Berry, who is owned by Luke McMahon: "He's another winner for Lucky Luke, who won the Grade One at Christmas [with Whisky Sour] when everything else fell or ran out. This was the plan for this horse, a big handicap, if we could get him right.
"Paul switched to Max Dynamite, and when I heard Mark was available I snapped him up. That's Mark's first Festival winner - he said the horse travelled well all the way and when a horse does that the gaps open up. He had a dream run and the horse stayed on up the hill."
The Coral Cup
£95,000 added, 4yo plus, 2m 5f 26y, Class 1
26 ran
Going: Soft, Heavy in places
Pos
D
Horse SP
Jockey Weight
Trainer
Age
1st
Bleu Berry (FR) 20/1
M P Walsh
11-2
W P Mullins
7
2nd
nk
Topofthegame (IRE) 9/1
Sam Twiston-Davies
11-9
P F Nicholls
6
3rd
1&frac14
Barra (FR) 16/1
J W Kennedy
10-10
G Elliott
7
4th
1&frac14
William Henry (IRE) 8/1j
James Bowen (3)
11-10
N J Henderson
8
5th
2&frac34
The Organist (IRE) 25/1
L P Aspell
10-12
O Sherwood
7
6th
1
Red Indian 14/1
David Bass
10-12
B Pauling
6
7th
&frac12
Burbank (IRE) 18/1
J McGrath
11-2
N J Henderson
6
8th
&frac12
Stowaway Magic (IRE) 33/1
Nico de Boinville
10-13
N J Henderson
7
9th
4&frac12
Mischievious Max (IRE) 25/1
J J Slevin (3)
10-8
Joseph P O'Brien
5
10th
3&frac34
Mount Mews (IRE) 12/1
B Hughes
11-1
Ruth Jefferson
7
11th
3
Flemcara (IRE) 66/1
Patrick Cowley (5)
10-11
Miss E C Lavelle
6
12th
&frac12
Fixe Le Kap (FR) 16/1
D A Jacob
11-0
N J Henderson
6
13th
&frac12
Jeannot De Nonant (FR) 40/1
Sean Bowen
10-12
P Bowen
6
14th
1
Voix Du Reve (FR) 10/1
D J Mullins
11-1
W P Mullins
6
15th
&frac12
River Frost 25/1
B J Geraghty
11-4
A King
6
16th
nk
Le Breuil (FR) 14/1
Aidan Coleman
10-12
B Pauling
6
17th
1&frac12
Bastien (FR) 50/1
Tom Cannon
10-10
A King
7
18th
2
Royal Vacation (IRE) 22/1
Harry Cobden
11-1
C L Tizzard
8
19th
2
Springtown Lake (IRE) 20/1
R Johnson
10-12
P J Hobbs
6
20th
2&frac14
Graceful Legend 66/1
Max Kendrick (5)
10-9
B I Case
7
21st
12
C'Est Jersey (FR) 33/1
N D Fehily
10-12
W P Mullins
6
22nd
hd
Max Dynamite (FR) 8/1j
P Townend
11-0
W P Mullins
8
NR
Project Bluebook (FR)
Non Runner
10-9
J J Quinn
5
Also Ran: Diamond King (IRE) , Abbyssial (IRE) , As You Were (FR) , Dusky Legend
The Paul Nicholls-trained Topofthegame was a valiant second under Sam Twiston-Davies. The big chestnut son of Flemensfirth finished a neck behind the winner.
Nicholls said: "It was a really exciting run because Topofthegame jumped brilliantly today, which is something that he hasn't done - he has got better and better. He was beaten a neck and all he has done is stay.
"This track is probably sharp enough for him over two miles and five. He has gone up 8lb and run of 150 there and God knows what he could end up over fences because he is going to be a really, really smart chaser.
"He won't run again and that will be it for the season. We will probably give him a school or two over fences at home and then novice chasing in the autumn. He is still immature and has learnt a lot today. He will be more wise next year and a really exciting horse to go to war with. I can't wait."
Sam Twiston-Davies said "We did everything we could to win, and being beaten by small margins is always tough to swallow. I look forward to Topofthegame jumping fences next season, though."
Third by a length and a quarter was 16/1 chance Barra, trained by Gordon Elliott and ridden by Jack Kennedy.
Elliott said: "I thought she ran a very good race. I am very happy."
Kennedy added: "The mare ran a cracker; I am delighted."
CORAL CUP (HANDICAP HURDLE) PREVIOUS RESULTS
2017-WINNER-SUPASUNDAE 7-11-04 Owner-Ann & Alan Potts Partnership; Trainer-Jessica Harrington IRE; Jockey-Robbie Power; SP- 16/1
2ND-Taquin Du Seuil 10-11-04 Owner-Martin Broughton & Friends 1; Trainer-Jonjo O'Neill; Jockey-Aidan Coleman; SP-12/1
3RD-Who Dares Wins 5-11-02 Owner-HP Racing Who Dares Wins; Trainer-Alan King; Jockey-Wayne Hutchinson; SP-33/1
4TH-Monksland 10-11-00 Owner-Patricia Hunt; Trainer-Noel Meade IRE; Jockey-Donagh Meyler; SP-66/1
25 ran, Time-5m 4.60s, Dist-2, 2½, 1 7/2 Fav Tombstone (22nd)
2016-WINNER-DIAMOND KING 8-11-03 Owner-Diana Whateley; Trainer-Gordon Eliott IRE; Jockey-Davy Russell; SP-12/1
2ND-Long House Hall 8-10-08 Owner-J D Duggan; Trainer-Dan Skelton; Jockey-Harry Skelton; SP-16/1
3RD-Ubak 8-10-12 Owner-Nick Peacock; Trainer-Gary Moore; Jockey-Joshua Moore; SP-28/1
4TH-Blazer 5-10-09 Owner-J P McManus; Trainer-Willie Mullins IRE; Jockey-Barry Geraghty; SP-8/1
26 ran, Time-5m 2.90s, Dist-1¼, nk, ½ 15/2 Fav Rock The Kasbah (22nd)
2015-WINNER-AUX PTITS SOINS 5-10-07 Owner-John Hales; Trainer-Paul Nicholls; Jockey-Sam Twiston-Davies; SP-9/1
2ND-Zabana 6-10-12 Owner-Chris Jones; Trainer-Andrew Lynch IRE; Jockey-Robbie Colgan; SP-25/1
3RD-Activial 5-11-01 Owner-Potensis Bloodstock Ltd; Trainer-Harry Fry; Jockey-Noel Fehily; SP-17/2 Fav
4TH-Taglietelle 6-10-08 Owner-Olduvai Syndicate; Trainer-Gordon Elliott IRE; Jockey-Paul Carberry; SP-14/1
25 ran, Time-5m 7.45s; Dist-nk, nk, ½
2014-WINNER-WHISPER 6-11-06 Owner-Walters Plant Hire Ltd; Trainer-Nicky Hendersonl; Jockey-Nico de Boinville; SP-14/1
2ND-Get Me Out Of Here 10-11-06 Owner-J P McManus; Trainer-Jonjo O'Neill; Jockey-Tony McCoy; SP-12/1
3RD-Bayan 5-10-10 Owner-Core Syndicate; Trainer-Gordon Elliott IRE; Jockey-Davy Condon; SP-11/1
4TH-Smashing 5-11-01 Owner-Ann & Alan Potts Partnership; Trainer-Willie Mullins IRE; Jockey-Andrew Lynch; SP-25/1
28 ran, Time- 4m 58.70s; Dist-sh, 2¼, 1¼ 8/1 Fav Dell' Arca (5th)
2013-WINNER-MEDINAS 6-11-10 Owner-Mr & Mrs F D Bell; Trainer-Alan King; Jockey-Wayne Hutchinson; SP-33/1
2ND-Meister Eckhart 7-11-05 Owner-Atlantic Equine; Trainer-Alan King; Jockey-Aidan Coleman; SP-14/1
3RD-Fiveforthree 11-11-11 Owner-Olde Crowbars Syndicate; Trainer-Willie Mullins IRE; Jockey-Paul Townend; SP-20/1
4TH-Master Of The Sea 6-11-04 Owner-R J Rexton; Trainer-Nigel Twiston-Davies; Jockey-Sam Twiston-Davies; SP-10/1
28 ran, Time- 5m 11.10s; Dist-2, nse, 3 6/1 Fav Pendra (17th)
2012-WINNER-SON OF FLICKA 8-10-06 Owner-Twenty Four Seven Recruitment; Trainer-Donald McCain; Jockey-Jason Maguire; SP-16/1
2ND-Get Me Out Of Here 8-11-12 Owner-J P McManus; Trainer-Jonjo O'Neill; Jockey-A P McCoy; SP-6/1 Jt Fav
3RD-Veiled 6-10-08 Owner-Pump & Plant Services Ltd; Trainer-Nicky Henderson; Jockey-David Bass; SP-25/1
4TH-Silverhand 8-10-10 Owner-J P McManus; Trainer-Noel Meade IRE; Jockey-Paul Carberry; SP-25/1
28 ran, Time-5m 0.40s; Dist-3½, 2, ¾ 6/1 Jt Fav Balgarry (7th)
2011-WINNER-CARLITO BRIGANTE 5-11-00 Owner-Gigginstown House Stud; Trainer-Gordon Elliott IRE; Jockey-Davy Russell; SP-16/1
2ND-Bothy 5-10-07 Owner-Dan Gilbert; Trainer-Brian Ellison; Jockey-Danny Cook; SP-12/1
3RD-Orsippus 5-10-08 Owner-Sandra Smith; Trainer-Michael Smith; Jockey-Davy Condon; SP-33/1
4TH-Battle Group 6-10-09 Owner-Jolly Boys Outing; Trainer-David Pipe; Jockey-Tom Scudamore; SP-33/1
22 ran, Time-5m 9.30s; Dist-6, ½, 2¼ 7/2 Fav Call The Police (11th)
2010-WINNER-SPIRIT RIVER 5-11-02 Owner-Michael Buckley; Trainer-Nicky Henderson; Jockey-Barry Geraghty; SP-14/1
2ND-Tullamore Dew 8-10-10 Owner-Tullamore Dew; Trainer-Nick Gifford; Jockey-Liam Treadwell; SP-80/1
3RD-James De Vassy 5-11-04 Owner-Jakeman, Barrett, Booth & Ferrand; Trainer-Nick Williams; Jockey-Daryl Jacob; SP16/1
4TH-Micheal Flips 6-11-07 Owner-Martin Tedham; Trainer-Andy Turnell; Jockey-Nick Scholfield; SP-33/1 28 ran, Time-5m 13.50s; Dist-4½, 2¾ , 1/2 7/1 Fav Deutschland (12th)
2009-WINNER-NINETIETH MINUTE 6-10-03 Owner-Dermot Cox; Trainer-Tom Taaffe IRE; Jockey-Paddy Flood; SP-14/1
2ND-Mirage Dore 6-9-11 Owner-Mr & Mrs Duncan Davidson; Trainer-Lucinda Russell; Jockey-Mrs Rose Dobbin; SP-14/1
3RD-Pause And Clause 5-9-11 Owner-Robert Cohen; Trainer-Emma Lavelle; Jockey-Jack Doyle; SP-9/1
4TH-Star Of Angels 5-9-11 Owner-Roger Brookhouse; Trainer-David Pipe; Jockey-Hadden Frost; SP-40/1 27 ran, Time-5m 13.50s; Dist-1½, ½, 7 6/1 Fav The Polomoche (10th)
2008-WINNER-NAIAD DU MISSELOT 7-10-13 Owner-Hill, Trembath, Bryan & Outhart; Trainer-Ferdy Murphy; Jockey-Davy Russell; SP-7/1
2ND-Kicks For Free 7-11-12 Owner-Trevor Hemmings; Trainer-Paul Nicholls; Jockey-Ruby Walsh; SP-11/1
3RD-Junior 5-11-02 Owner-Paul Green; Trainer-Alan King; Jockey-Robert Thornton; SP12/1
4TH-Mendo 8-11-00 Owner-Mrs M C Sweeney; Trainer-Noel Chance; Jockey-Tom Siddall; SP14/1 24 ran, Time-5m 5.10s; Dist-nse, 1½, 3½ 11/2 Fav County Zen (18th)
2007-WINNER-BURNTOAKBOY 9-09-12 Owner-Dr Richard & Laura Newland; Trainer-Dr Richard Newland; Jockey-Sam Jones; SP-10/1
2ND-Powerstation 7-11-00 Owner-Fat Frog Syndicate; Trainer-Michael John Phillips IRE; Jockey-Denis O'Regan; SP-12/1
3RD-Baron De Feypo 9-10-03 Owner-Rita Shah; Trainer-Oliver Brady; Jockey-Niki O'Shea; SP-20/1
4TH-Oscatello 7-10-08 Owner-Rye Braune; Trainer-Philip Hobbs; Jockey-Richard Johnson; SP-8/1
28 ran, Time-5m 07.10s; Dist-3, 5, 1½ 6/1 Fav Copsale Lad (16th)
2006-WINNER SKY'S THE LIMIT 5-11-12 Owner-Raymond Rooney; Trainer-Edward O'Grady IRE; Jockey-Barry Geraghty; SP-11/1
2ND-Strangely Brown 5-11-03 Owner-We Didn't Name Him Syndicate; Trainer-Eric McNamara IRE; Jockey-Brian Byrnes; SP-25/1
3RD-Dom D'Orgeval 6-11-12 Owner-Jane Williams; Trainer-Nick Williams; Jockey-Richard Johnson; SP-20/1
4TH-Phar Bleu 5-11-06 Owner-The Stewart Family; Trainer-Paul Nicholls; Jockey-Ruby Walsh; SP-10/1
30 ran, Time-5m 02.50s; Dist-4, .75, nk 5/1 Fav No Where To Hyde (Fell)
2005-WINNER-IDOLE FIRST 6-10-10 Owner-Direct Sales UK Ltd; Trainer-Venetia Williams; Jockey-Alan O'Keeffe; SP-33/1
2ND-Dancing Bay 8-11-01 Owner-Elite Racing Club; Trainer-Nicky Richards; Jockey-Mick Fitzgerald; SP-14/1
3RD-Tumbling Dice 6-11-01 Owner-Mrs John Donegan; Trainer-Tom Taaffe IRE; Jockey-Barry Geraghty; SP-16/1
4TH-Covent Garden 7-10-07 Owner-Ada Partnership; Trainer-Howard Johnson; Jockey-Tony Dobbin; SP-14/1
29 ran, Time-5m 04.80s; Dist-5, 6, 5 100/30 Fav Distant Prospect (9th)
2004-WINNER-MONKERHOSTIN 7-10-08 Owner-Martin St Quinton; Trainer-Philip Hobbs; Jockey-Richard Johnson; SP-13/2
2ND-Court Shareef 9-9-11 Owner-Derek and Cheryl Holder; Trainer-Richard Price; Jockey-Wayne Hutchinson; SP-200/1
3RD-Rhinestone Cowboy 8-11-05 Owner-Sue Magnier; Trainer-Jonjo O'Neill; Jockey-Mr J P Magnier; SP-5/1 Fav
4TH-Mughas 5-10-05 Owner-B Winfield, C Fenton & A Longman; Trainer-Alan King; Jockey-Robert Thornton; SP-11/2
27 ran, Time-4m 59.50s; Dist-1, 1 1/4, 2 1/2
2003-WINNER-XENOPHON 7-11-00 Owner-Lane Syndicate; Trainer-Tony Martin IRE; Jockey-Mick FitzGerald; SP-4/1 Fav
2ND-Samon 6-11-03 Owner-The Macca & Growler Partnership; Trainer-Martin Pipe; Jockey-David Casey; SP-25/1
3RD-Spectrometer 6-11-08 Owner-Concertina Racing; Trainer-Philip Hobbs; Jockey-Richard Johnson; SP-10/1
4TH-Emotional Moment 6-11-04 Owner-Watercork Syndicate; Trainer-Tom Taaffe; Jockey-Barry Geraghty; SP-7/1
27 ran, Time-5m 4.30s, Dist-3.5, 1, 3
2002-WINNER-ILNAMAR 6-10-05 Owner-Joe Moran; Trainer-Martin Pipe; Jockey-Rodi Greene; SP-25/1
2ND-Joss Naylor 7-10-00 Owner-Darren Mercer; Trainer-Jonjo O'Neill; Jockey-Liam Cooper; SP-13/2
3RD-Master Tern 7-10-03 Owner-J P McManus; Trainer-Jonjo O'Neill; Jockey-Tony Dobbin; SP-8/1
4TH-Stromness 5-10-03 Owner-Lady Harris; Trainer-Alan King; Jockey-Robert Thornton; SP-12/1
27 ran, Time-5m 15.0s, Dist-8, 3, 4 11/2 Fav Golden Alpha (26th)
2001 - No Race (Foot and Mouth Disease)
2000-WINNER-WHAT'S UP BOYS 6-10-03 Owner-RJB Partners; Trainer-Philip Hobbs; Jockey-Mr Paul Flynn; SP-33/1
2ND-Native Dara 7-10-04 Owner-Oriel Two Syndicate; Trainer-Noel Meade IRE; Jockey-Barry Geraghty; SP-25/1
3RD-Ross Moff 7-10-03 Owner-Seamus Ross; Trainer-Tony Martin IRE; Jockey-Charlie Swan; SP-15/2
4TH-Vanilla Man 7-10-00 Owner-Mrs Paul Duffin; Trainer-Paddy Mullins IRE; Jockey-Tommy Treacy; SP-25/1
26 ran, Time-4m 53.80s, Dist-nk, 3, 2, 7/1 Fav Brandon Court (5th)
1999-WINNER KHAYRAWANI 7-11-03 Owner-J P McManus; Trainer-Christy Roche IRE; Jockey-Fran Berry; SP-16/1
2ND-Miltonfield 10-10-00 Owner-J C Savage; Trainer-John Mulhern IRE; Jockey-Conor O'Dwyer; SP-33/1
3RD-Generosa 6-10-10 Owner-Trish Hyde; Trainer-John Hassett IRE; Jockey-Tommy Treacy; SP-12/1
4TH-Darapour 5-10-00 Owner-J P McManus; Trainer-Aidan O'Brien IRE; Jockey-Charlie Swan; SP-14/1
30 ran, Time-5m 6.6s, Dist-hd, nk, 5 13/2 Fav Archive Footage (25th)
1998-WINNER-TOP CEES 8-10-00 Owner-Charlton Bloodstock Ltd; Trainer-Lynda Ramsden; Jockey-Barry Fenton; SP-11/1
2ND-Khayrawani 6-10-06 Owner-J P McManus; Trainer-Christy Roche IRE; Jockey-Fran Berry; SP-20/1
3RD-Royal Marine 6-10-00 Owner-J P McManus; Trainer-Arthur Moore IRE; Jockey-Conor O'Dwyer;SP-10/1
4TH-Like A Lion 7-10-00 Owner-Orla Finucane; Trainer-Donald Swan IRE; Jockey-Charlie Swan; SP-12/1
21 ran, Time-5m 1.1s, Dist-1.25, .75, 1 6/1 Fav Daraydan (10th)
1997-WINNER-BIG STRAND 8-10-00 Owner-E C Jones; Trainer-Martin Pipe; Jockey-Jamie Evans; SP-16/1
2ND-Allegation 7-11-06 Owner-Martin Pipe Racing Club; Trainer-Martin Pipe; Jockey-Tony McCoy; SP-20/1
3RD-Castle Sweep 6-12-00 Owner-Lord Vestey; Trainer-David Nicholson; Jockey-Richard Johnson; SP-14/1
4TH-Tullymurry Toff 6-10-10 Owner-John Wilson and J H Riley; Trainer-Malcolm Jefferson; Jockey-Eddie Callaghan;
SP-9/2 Fav 28 ran, Time-4m 57.0s, Dist-sh, hd, 1
1996-WINNER-TRAINGLOT 9-10-03 Owner-Marquesa de Moratalla; Trainer-Jimmy FitzGerald; Jockey-Mark Dwyer; SP-11/2
2ND-Treasure Again 7-10-00 Owner-J H Gwynne; Trainer-Merrita Jones; Jockey-Derek Byrne; SP-9/1
3RD-New Co 8-10-07 Owner-Mrs L C Ronan and Anne Daly; Trainer-Mouse Morris IRE; SP-9/1
4TH-Barna Boy 8-10-02 Owner-Lynn Wilson; Trainer-Nicky Henderson; Jockey-Mick FitzGerald; SP-16/1
20 ran, Time-5m 12.2s, Dist-hd, 1.25, 2 7/2 Fav Time For A Run (8th)
1995-WINNER-CHANCE COFFEY 10-10-00 Owner-Paddy O'Donnell; Trainer-Pat O'Donnell IRE; Jockey-Gerry O'Neill; SP-11/1
2ND-Derrymoyle 6-10-10 Owner-Herb Stanley; Trainer-Michael Cunningham IRE; Jockey-Mark Dwyer; SP-12/1
3RD-Time For A Run 8-11-10 Owner-J P McManus; Trainer-Edward O'Grady IRE; Jockey-Charlie Swan; SP-10/1
4TH-Collier Bay 5-10-06 Owner-Wally Sturt; Trainer-Jim Old; Jockey-Tom Grantham; SP-7/1
30 ran, Time-5m 18.4s, Dist-3.5, sh, 3 6/1 Fav Lemon's Mill (17th)