Bombay Sapphire Molecomb Stakes

Group 3, Goodwood 15:00
£75,000 added,
2yo only,
5f, Class 1  
Wednesday 2nd August 2017

1 Havana Grey 7/2
2 Invincible Army 5/2F
3 To Wafij 8/1
10 ran NR: Battle Of Jericho, Happy Like A Fool, Sound And Silence
Distances: 1¾l, nse, 4½l Time: 1m 0.89s (slow by 3.99s)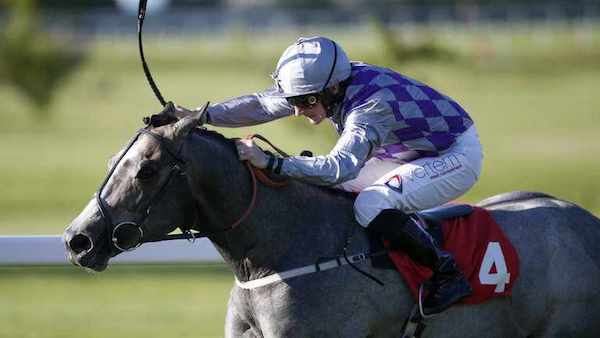 Havana Grey Source SkySports via Twitter
The G3 Bombay Sapphire Molecomb Stakes saw Havana Grey make all under the stands' rail to triumph by a length and three-quarter for trainer Karl Burke, who, ahead of racing, had cast worries about the state of the soft ground aside.
"It was a concern, rather than a big worry," he said. "I walked the track at 8am this morning, and couldn't believe how quick it was. I was surprised, it was beautiful ground.
"There is a lovely strip up on the inside on the rail on fresh ground. I said to PJ do your best to get on that, get him in a rhythm, and be a bit more conservative than at Sandown, kick 100yds later than at were kicking at Sandown.
"I was a bit worried at the start with he was caught out for 50 yards, which is unusual for him, but then he got rolling. As you can see the horse has got loads of speed, and he's got a great turn of foot which he showed again in the last furlong to draw away.
"Probably as a team this is my best bunch of two-year-olds," said Burke, who is enjoying a great year with his juvenile team. "We've only ran half of them, we've a lovely group of staying types to come, so fingers crossed they stay healthy.
"But it doesn't matter how good a trainer you are, if you haven't got the material, if you haven't got the horses who run fast, you aren't going to be training winners. If I've got a strength at all, it's being able to source reasonably priced yearlings."
The ongoing plans for today's winner, a son of leading first-season sire Havana Gold, include a trip overseas to France.
Burke said: "We'll go now for the Morny, we entered this morning, the race closed today. The owners are very keen to go for it, at least today has told us we don't need to worry about the ground! It'll be interesting to see if he gets the six and he deserves a crack at a Group One now.
"Unfortunately, we also have Unfortunately in the same race, so we will have two runners. It's not ideal for me but they both deserve to take their chance."
Bombay Sapphire Molecomb Stakes
£75,000 added, 2yo only, 5f, Class 1
10 ran
Going: Soft
Pos
Dr
Dis
Horse SP
Jockey Weight
Trainer
Age
1st
(10)
Havana Grey 7/2
P McDonald
9-1
K R Burke
2
2nd
(1)
1&frac34
Invincible Army (IRE) 5/2f
M Harley
9-1
J Tate
2
3rd
(12)
nse
To Wafij (IRE) 8/1
Andrea Atzeni
9-1
R Varian
2
4th
(5)
4&frac12
Wings Of The Rock (IRE) 40/1
L Morris
8-12
S Dixon
2
5th
(8)
1&frac14
May Remain 16/1
F M Berry
9-1
P F I Cole
2
6th
(6)
&frac12
It Dont Come Easy (IRE) 12/1
T Hamilton
9-1
R A Fahey
2
7th
(9)
2&frac12
Koditime (IRE) 15/2
A Kirby
9-1
C G Cox
2
8th
(4)
2&frac34
Denaar (IRE) 6/1
L Dettori
9-1
R Hannon
2
9th
(11)
1&frac12
Encrypted 14/1
James Doyle
9-1
H Palmer
2
10th
(7)
14
Firenze Rosa (IRE) 25/1
Kieran Shoemark
8-12
J J Bridger
2
NR
(13)
Battle Of Jericho (USA)
D O'Brien
9-1
A P O'Brien
2
NR
(2)
Sound And Silence
W Buick
9-1
C Appleby
2
NR
(3)
Happy Like A Fool (USA)
R L Moore
8-12
Wesley Ward
2