Markel Insurance Molecomb Stakes

Group 3, Goodwood 15:00
£75,000 added,
2yo only,
5f, Class 1  
Wednesday 1st August 2018

1 Rumble Inthejungle 5/1
2 Life of Riley 16/1
3 Soldier's Call 6/4F
11 ran Distances: 2½l, nk, hd
Time: 58.22s (slow by 1.32s)
Rumble Inthejungle wins for Richard Spencer, Tom Queally and Rebel Racing
Rumble Inthejungle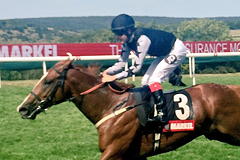 Richard Spencer's fledgling training career took another big step forward today when Rumble Inthejungle won the £75,000 G3 Markel Insurance Molecomb Stakes over five furlongs. 
Last year Spencer trained the winner of a top two-year-old race at Royal Ascot, when Rajasinghe landed the G2 Coventry Stakes, but a win at the Qatar Goodwood Festival confirmed he is no one-hit wonder. With the backing of Phil Cunningham, the head of Rebel Racing which owns the yard at which Spencer is based in Newmarket, the young trainer's career is on an upward curve.
Rumble Inthejungle is a son of Bungleinthejungle, who won the Markel Insurance Molecomb Stakes in 2012. Ridden by Tom Queally, the son and heir was sent off at 5/1 and scored by two and a half lengths and a neck from Life Of Riley (16/1) and Royal Ascot winner Soldier's Call (6/4f).
Spencer said of the winner, who was fourth in the G2 Norfolk Stakes at Royal Ascot on his previous start: "I felt if I could have got another run into him before Ascot he would have won there, but he went a bit weak on us when we wanted to do crucial bits of work. He's only a baby still and he's grown a lot since Ascot.
"I was very confident coming here today and couldn't believe how people were putting the horse down. He was a good fourth at Royal Ascot and was the only horse who could lay up with [US challenger] Shang Shang Shang, and do it comfortably, and there was no Shang Shang Shang in this race.
"I was thinking they would have to go some to get past him, and he has a future, because he will stay six furlongs. Tom [Queally, the horse's jockey] struggled to pull him up at Ascot and he did the same today - it's just as well there are crash barriers [around the bend after the Goodwood straight].
"He's going to be a nicer three-year-old, but we'll have a big party tonight. There's a chip shop in Newmarket called Rumbles, and I regularly visit it, so I'm hoping they backed the horse and I can have free fish and chips tonight - we told them he was running.
"I've been looking forward to this for two or three weeks. He worked amazingly at the weekend under Tom. I won't say where we are going and what we will be doing, but he will go to the big stage.
"Phil, myself and agent Bobby O'Ryan bought him at Doncaster Sales [for £70,000]. Phil was so keen to get the horse he named him the night before. He wasn't going to let anyone else have him."
Karl Burke, trainer of the second, Life of Riley, said: "We are delighted with the run. He looks now like he is crying out for a little bit further. So I would say a step up to six furlongs is next. He half showed that in his last run at Sandown.
"He has a high cruising speed but then just doesn't quicken - he just grinds it out.
"He didn't have the clearest of runs and we wouldn't have beaten the winner, but we might have been half a length closer with a clear run.
"We have no complaints; he is a cracking little horse and has a good future.
"I don't know where we will go next, I haven't got him in the
Gimcrack
(York, August 24) but it might be a blessing as it comes up quick. Showcasing's offspring seem to appreciate a little bit of juice in the ground.
Markel Insurance Molecomb Stakes
£75,000 added, 2yo only, 5f, Class 1
11 ran
Going: Good
Pos
Dr
D
Horse SP
Jockey Weight
Trainer
Age
1st
(6)
Rumble Inthejungle (IRE) 5/1
T P Queally
9-1
Richard Spencer
2
2nd
(7)
2&frac12
Life of Riley 16/1
Ben Curtis
9-1
K R Burke
2
3rd
(5)
nk
Soldier's Call 6/4f
D Tudhope
9-1
Archie Watson
2
4th
(2)
hd
Vintage Brut 8/1
D Allan
9-1
T D Easterby
2
5th
(8)
&frac34
Queen Of Bermuda (IRE) 15/2
James Doyle
8-12
W J Haggas
2
6th
(10)
s.h
Barbill (IRE) 25/1
J F Egan
9-1
M R Channon
2
7th
(9)
&frac12
Well Done Fox 12/1
Tom Marquand
9-1
R Hannon
2
8th
(3)
hd
Deia Glory 66/1
K T O'Neill
8-12
S Dixon
2
9th
(1)
nse
Fantasy (IRE) 11/1
R L Moore
8-12
A P O'Brien
2
10th
(4)
hd
Street Parade 11/1
Oisin Murphy
9-1
S C Williams
2
11th
(11)
11
Starchant 150/1
L Morris
8-12
J J Bridger
2