Coral Punchestown Gold Cup

Grade 1, Punchestown 17:30
€250,000 added, 5yo plus,
3m 1f, Class 1    
Wednesday 26th April 2017
1 Sizing John 9/10F
2 Djakadam 5/2
3 Coneygree 6/1
6 ran Distances: shd, ½l, 42l
Time: 6m 22.60s (slow by 23.60s)
Sizing John denies Djakadam and Coneygree in a thriller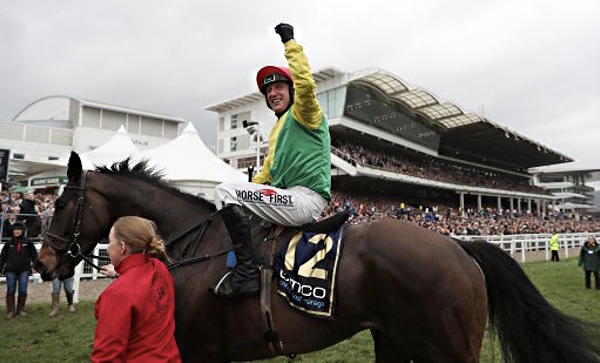 The Jessica Harrington-trained Sizing John came out best in a fabulous renewal of the Grade to become the first horse to win the Punchestown showpiece, the Cheltenham Gold Cup and Irish Gold Cup at Leopardstown.
The 2015 Cheltenham hero Coneygree boldly tried to make the running but he was passed in the straight with Sizing John eventually holding off Djakadam to win by a short-head.
"I didn't think he was going as well as at Cheltenham. He jumped the second last a bit slow but showed real guts to get up. Robbie (Power) is riding out of his skin at the moment," said Harrington. "He's the first horse I've run in the three Gold Cups, let alone winning them.
"His guts and class won him the race. I kept saying to my daughter Emma during the race that he wouldn't win because Coneygree had gone too far ahead.
"He pulled off a front shoe as well which probably didn't help. A lot of things went against him today. He is going on his holidays now."
Power added: "There was no hiding place out there, as you would expect with Coneygree in the field. And full credit to his connections because he has run some race after a long lay-off.
"I was never that happy. Sizing John was off the bridle and felt a bit flat to tell you the truth. He was a bit slow at the second last but got his head down afterwards. He had a hard race in Cheltenham and, full credit to the horse, he is only a seven-year-old and dug deep when he had to.
"I was all out and he is just a very good horse. He has earned a good break over the summer and we can work a plan out for next season."
Djakadam's trainer Willie Mullins said: "He just gave the last fence a nudge but it was a tremendous race. Jessie is in such good form that she can't be beaten at the moment. It looked like we might be getting up on the line but I have no complaints."
Coneygree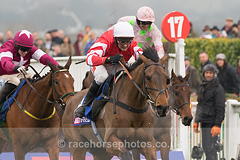 Coneygree finished third and his trainer Mark Bradstock said: "Coneygree is a dude. Let's just hope he is sound tomorrow. That is the main thing. He is a pretty special horse. He just pecked on landing at the second last and, having had a long time off, you don't need that. He has got a very deceptive gallop as all the jockeys behind will tell you. It was an awesome run."
Punchestown Gold Cup
€250,000 added, 5yo plus, 3m 1f, Class 1
6 ran
Going: Good to Yielding
Pos
D
Horse SP
Jockey Weight
Trainer
Age
1st
Sizing John 9/10f
R M Power
11-10
Mrs J Harrington
7
2nd
s.h
Djakadam (FR) 5/2
R Walsh
11-10
W P Mullins
8
3rd
1&frac12
Coneygree 6/1
Nico de Boinville
11-10
M Bradstock
10
4th
42
Champagne West (IRE) 14/1
D J Mullins
11-10
H de Bromhead
9
5th
22
Flemenstar (IRE) 100/1
A E Lynch
11-10
Anthony Curran
12
PU
Outlander (IRE) 8/1
B J Cooper
11-10
G Elliott
9
Year Horse Age/Wt Owner Trainer Jockey SP

2016 Carlingford Lough 10-11-10 J P McManus John Kiely Barry Geraghty 12/1
2015 Don Cossack 8-11-10 Gigginstown House Stud Gordon Elliott Paul Carberry 5/2
2014 Boston Bob 9-11-10 Andrea & Graham Wylie Willie Mullins Ruby Walsh 5/2 Fav
2013 Sir Des Champs 7-11-10 Gigginstown House Stud Willie Mullins Davy Russell 2/1 Fav
2012 China Rock 9-11-10 Michael O'Flynn Mouse Morris Barry Geraghty 20/1
2011 Follow The Plan 8-11-10 Redgap Partnership Oliver McKiernan Tom Doyle 20/1
2010 Planet Of Sound 8-11-10 Charles Lloyd-Baker Philip Hobbs GB Richard Johnson 14/1
2009 Notre Pere 8-11-10 Tilly Conway Jim Dreaper Andrew Lynch 15/8 Fav
2008 Neptune Collonges 7-11-10 John Hales Paul Nicholls GB Ruby Walsh 9/10 Fav
2007 Neptune Collonges 6-11-12 John Hales Paul Nicholls GB Ruby Walsh 8/1
2006 War Of Attrition 7-11-12 Gigginstown House Stud Mouse Morris Conor O'Dwyer 4/5 Fav
2005 Kicking King 7-11-12 Conor Clarkson Tom Taaffe Barry Geraghty 8/11 Fav
2004 Beef Or Salmon 8-11-12 Joe Craig Michael Hourigan Timmy Murphy 5/4 Fav
2003 First Gold 10-12-00 J P McManus Francois Doumen FR Thierry Doumen 7/4 Fav
2002 Florida Pearl 10-12-00 Violet O'Leary Willie Mullins Barry Geraghty 13/8 Fav
*2001 Moscow Express 9-12-00 John Corr Frances Crowley Barry Geraghty 8/11 Fav
2000 Commanche Court 7-11-09 Dermot Desmond Ted Walsh Ruby Walsh 100/30
1999 Imperial Call 10-11-09 Lisselan Farms Ltd Raymond Hurley Ruby Walsh 8/1
1998 Mahler 8-10-12 English Badminton P'ship Nigel Twiston-Davies GB Carl Llewellyn 5/1
1997 Noyan 7-11-01 C H McGhie Richard Fahey GB Norman Williamson 13/2
1996 Billygoat Gruff 7-11-03 Peter Cooper David Nicholson GB Richard Johnson 7/1
1995 Butches Boy 6-10-07 Bridget Kennedy Pat Fahy Francis Woods 14/1
1994 Merry Gale 6-12-00 Herb M Stanley Jim Dreaper Kevin O'Brien 5/2
1993 Fissure Seal 7-11-01 Delton Syndicate Harry de Bromhead Graham Bradley 7/1
1992 Second Schedual 7-11-00 Hugh McMahon Arthur Moore Richard Dunwoody 12/1
1991 Local Whisper 7-10-07 Mrs Chris Harrington Arthur Bunyan Tommy Carmody 9/4 Fav
1990 Mixed Blends 8-11-00 J Spearman Mouse Morris Charlie Swan 7/4
1989 Super Furrow 9-11-09 Mrs M Marshall Jerry O'Neill Padge Gill 8/1
1988 Doubtful Venture 12-10-07 E Morrissey Paddy Mullins Conor O'Dwyer 12/1
1987 Bankers Benefit 7-10-13 Brigadier B Fowler John Fowler Anthony Powell 6/4 Fav
1986 Daltmore 8-10-01 N Coburn Paddy Mullins Tony Mullins 20/1
1985 Larry's Latest 8-10-01 Miss A Collen Miss A Collen M Cummins 14/1
1984 Lantern Lodge 7-9-09 Mrs M Farrell Paddy Mullins Tony Mullins 7/2 Fav
1983 Pearlstone 7-10-08 William W Brainard Jnr Paddy Mullins Tony Mullins 3/1 Fav
1982 Fethard Friend 7-10-09 M Aherne Francis Flood Frank Berry 7/4 Fav
1981 Luska 7-10-01 John Brophy Paddy Mullins T V Finn 100/30
1980 Kilbricken Money 11-9-07 Mrs Charmian Hill
*Run at Fairyhouse