Herald Champion Novice Hurdle

Grade 1, Punchestown 16:20
Race Value: €100,000
5yo plus
2m, Class 1  
Tuesday 24th April 2018
1 Draconien 25/1
2 Vision Des Flos 11/1
3 Mengli Khan 11/2
10 ran Distances: 2¼l, 7l, 4l
Time: 4m 3.70s (slow by 14.70s)
First blood to Willie Mullins as Draconien wins
Draconien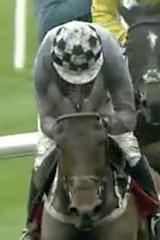 Draconien got Willie Mullins off to a flying start at this year's Punchestown Festival after springing a surprise under a confident Noel Fehily.
The reigning champion trainer has significant ground to make up on rival Gordon Elliott in this year's title race, but reduced the deficit in the first Grade One contest of the week.
Mullins fielded four of the 10 runners and it was his 11-10 favourite Getabird who cut out much of the running in the hands Paul Townend.
However, he was a spent force from the home turn and was first claimed by Colin Tizzard's British challenger Vision Des Flos, before 25-1 shot Draconien came through to claim victory by two and a quarter lengths.
Vision Des Flos was a clear second, with Elliott's Mengli Khan best of the rest in third.
Mullins said: "It looked like there was too much pace up the front for Getabird and everyone took him on up. They've all paid the penalty and Draconien came through.
"Noel got off him in Fairyhouse and said he wanted to ride him differently and on better ground and that's exactly what happened today.
"There was so much pace today, there was no pace in Fairyhouse, and that played into his hands and he jumped fantastic as well."
He added: "He's a good horse, we thought he was in the beginning and then he lost his way a bit. He's back to himself again.
"He'll probably go to grass now or we might actually bring him back to Paris for something like the Prix La Barka.
"We'll see as he's not a horse that's going to take a lot of racing but he has very little racing this year. He could do that or go out for the summer."
The Herald Champion Novice Hurdle
€100,000 added, 5yo plus, 2m, Class 1
10 ran
Going: Yielding to Soft
Pos
D
Horse SP
Jockey Weight
Trainer
Age
1st
Draconien (FR) 25/1
N D Fehily
11-12
W P Mullins
5
2nd
2&frac14
Vision Des Flos (FR) 11/1
R M Power
11-12
C L Tizzard
5
3rd
7
Mengli Khan (IRE) 11/2
J W Kennedy
11-12
G Elliott
5
4th
4
Whiskey Sour (IRE) 10/1
D J Mullins
11-12
W P Mullins
5
5th
2
Cartwright 33/1
M P Walsh
11-12
G Elliott
5
6th
4&frac34
Sharjah (FR) 11/1
Mr P W Mullins
11-12
W P Mullins
5
7th
1&frac34
Getabird (IRE) 11/10f
P Townend
11-12
W P Mullins
6
8th
5&frac12
Hardline (IRE) 25/1
S W Flanagan
11-12
G Elliott
6
9th
24
Beyond The Law (IRE) 66/1
B J Cooper
11-12
M F Morris
6
10th
8
Paloma Blue (IRE) 11/2
D N Russell
11-12
H de Bromhead
6
Past Results:
Year
Horse/SP
Age/Wt Owner
Trainer
Jockey
2017
Cilaos Emery 8/1
5-11-12
Luke McMahon

Willie Mullins
David Mullins
2016
Don't Touch It 16/1
6-11-12
J P McManus

Mrs J Harrington
B J Geraghty
2015
Douvan 1/6F
5-11-12
Susannah Ricci
Willie Mullins
Ruby Walsh
2014
Faugheen 1/2F
6-11-12
Susannah Ricci
Willie Mullins
Ruby Walsh
2013
Jezki 2/1
5-11-12
J P McManus
Jessica Harrington
Barry Geraghty
2012
Alderwood 5/2
8-11-12
J P McManus
Tom Mullins
A P McCoy
2011
Shot From The Hip 11/2
7-11-12
J P McManus
Edward O'Grady
A P McCoy
2010
Blackstair
mountain 5/1
5-11-12
Susannah Ricci
Willie Mullins
Paul Townend
2009
Hurricane Fly 4/6 Fav
5-11-12
George Creight
on/Rose Boyd Willie Mullins
Ruby Walsh
2008
Jered 7/4 Fav
6-11-12
J P McManus
Noel Meade
A P McCoy
2007
Clopf 7/4 Fav
6-11-12
Bernard Heffernan
Edward O'Grady
Barry Geraghty
2006
Iktitaf 8/1
5-11-11
Mrs Pat Sloan
Noel Meade
Ruby Walsh
2005
Wild Passion 7/4 Fav
5-11-11
Des Sharkey
Noel Meade
Paul Carberry
2004
Brave Inca 2/1 Fav
6-11-12
Novices Syndicate
Colm Murphy
Barry Cash
2003
Back In Front 4/11 Fav
6-11-12
Dermot Cox
Edward O'Grady
Norman Williamson
2002
Scottish Memories 11/4
6-11-12
Mary Halligan
Noel Meade
Paul Carberry
*2001
Ned Kelly 4/5 Fav
5-11-11
Sue Magnier
Edward O'Grady
Norman Williamson
2000
Moscow Flyer 10/1
6-12-00 Brian Kearney
Jessica Harrington
Barry Geraghty
1999
Cardinal Hill 1/2 Fav
5-11-13
J P McManus
Noel Meade
Charlie Swan
1998
His Song 6/4
5-11-13
David Lloyd
Mouse Morris
A P McCoy
1997
Midnight Legend 7/4 Fav
6-12-00
Hilda Clarke
David Nicholson GB
Richard Johnson
1996
Dance Beat 7/2
5-11-08
Mrs E Queally
Jessica Harrington
John Shortt
1995
Hotel Minella 5/4 Fav
8-12-00
John J Nallen
Aidan O'Brien
Charlie Swan
1994
Klairon Davis 7/4 Fav
5-11-13
Chris Jones
Arthur Moore
Tom Horgan
1993
Bayrouge 7/2
5-11-08
Joe Crowley
Anne-Marie O'Brien
Richard Dunwoody
1992
Fortune And Fame 11/4 Fav
5-11-13
Michael Smurfit
Dermot Weld
Brendan Sheridan
1991
Young Pokey 5/2
6-12-00
Maurice Oberstein
Oliver Sherwood GB
Jamie Osborne
1990
Vestris Abu 5/2
4-10-05
Mrs C Shubotham
Jim Bolger
Charlie Swan
1989
The Proclamation 9/2
6-10-13
J M Whaley
Paddy Prendergast
Richard Dunwoody
1988
El-Sid Senor 9/4 Fav
5-11-07
T Miley
Francis Flood
Frank Berry
1987
High Plains 8/1
5-11-05
Raymond Mould
David Nicholson GB
Richard Dunwoody
1986
Barney Burnett Evs Fav
6-11-09
P Donovan
Ruby Walsh
Brendan Sheridan
1985
Hungary Hur 5/1
6-11-06
Mrs A Fegan
Paddy Mullins
Tony Mullins
1984
Gav's Delight 2/5 Fav
6-11-07
N McGrady
Michael Cunningham
Ken Morgan
1983
Dawn Run 5/2 Fav
5-11-07
Mrs Charmian Hill
Paddy Mullins
Tony Mullins
1982
Bustineto 5/2
4-10-05
Timothy Kinsella
Mick O'Toole
Niall Madden
1981
Tie Anchor 2/1 Fav
4-10-09
Daniel Hale
Paddy Prendergast
Tommy McGivern
1980
Deep Gale 7/1
7-11-08
J P McManus
Edward O'Grady
Mr Frank Codd