Qatar Goodwood Cup

Group 1, Goodwood 15:10
£300,000 added,
3yo plus,
2m, Class 1  
Thursday 27th July 2017
The Qatar Goodwood Cup has been upgraded to Group One status, the European Pattern Committee said in a statement on February 1.
Won in previous years by great stayers like Double Trigger, Persian Punch and Yeats, the two-mile test on August 1 was viewed upon by the EPC as "an obvious candidate" to become a top-level race.
2016 winner Big Orange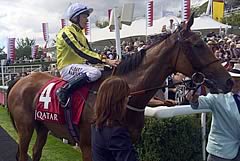 The Goodwood Cup's elevation is part of a host of changes issued by the EPC to help "safeguard the future of the staying horse in Europe".
EPC chairman Brian Kavanagh said: "The EPC has agreed that it remains vital, now more than ever, that Europe supports a strong programme for horses racing over extended distances.
"No other part of the world provides a meaningful programme of races for such horses and some appear to have almost given up altogether.
"We agreed that it would seem sensible to have a European Group One over two miles in the summer, and the historic Goodwood Cup is well-positioned in the year, and was felt to be the obvious candidate.
"We also agreed that the overall stayers' programme needs to cement together well, with various other more minor gaps and enhancements which we've looked to address."
Qatar Goodwood Cup 2016
(British Champions Series) (Group 2)
£300,000 added, 3yo plus, 2m, Class 1
14 ran
Going: Good to Firm
Pos
Dr
D
Horse SP
Jockey Weight
Trainer
Age
1st
(9)
Big Orange 11/4f
J P Spencer
9-8
M L W Bell
5
2nd
(15)
1&frac14
Pallasator 9/1
Oisin Murphy
9-8
Sir Mark Prescott
7
3rd
(14)
hd
Sheikhzayedroad 11/1
M Harley
9-8
D M Simcock
7
4th
(12)
2
Wicklow Brave 16/1
Andrea Atzeni
9-8
W P Mullins
7
5th
(1)
hd
Sword Fighter (IRE) 9/2
C O'Donoghue
9-8
A P O'Brien
3
6th
(2)
hd
Quest For More (IRE) 7/1
G Baker
9-8
R Charlton
6
7th
(11)
6
Kinema (IRE) 12/1
R Kingscote
9-8
R M Beckett
5
8th
(10)
nk
Suegioo (FR) 66/1
James Doyle
9-8
R A Fahey
7
9th
(8)
3&frac14
Glaring 100/1
Jim Crowley
9-8
Mrs A J Perrett
5
10th
(3)
nk
Curbyourenthusiasm (IRE) 8/1
D Sweeney
9-8
D M Simcock
5
11th
(13)
4&frac12
Sandro Botticelli (IRE) 25/1
L Dettori
9-8
J Ryan
4
12th
(7)
5
The Twisler 100/1
M Dwyer
9-8
Jane Chapple-Hyam
4
13th
(4)
47
Oriental Fox (GER) 25/1
J Fanning
9-8
M Johnston
8
NR
(6)
Astronereus (IRE) 12/1
Non Runner
9-8
Mrs A J Perrett
5
Also Ran: Commissioned (IRE)