Qatar Goodwood Cup

Group 2, Goodwood 15:10
£300,000 added,
3yo plus,
2m, Class 1  
Thursday 30th July 2015

1 Big Orange 6/1
2 Quest For More 9/2F
3 Trip To Paris 5/1
NR: Scotland (GER)
11 ran Distances: nk, shd, 2¾l
TIME 3m 24.85s (slow by 3.85s)
Big Orange sticks his neck out to win a thrilling Goodwood Cup from Quest For More and Trip To Paris
Big Orange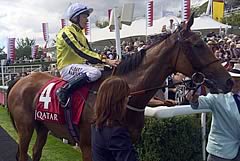 Trainer Michael Bell has his sights set firmly on the Melbourne Cup following Big Orange's thrilling victory in the Qatar Goodwood Cup.
The four-year-old, who captured the 12-furlong Group Two Princess Of Wales's Stakes at Newmarket earlier this month, stayed on dourly under Jamie Spencer to repel Quest For More and Ascot Gold Cup hero Trip To Paris by a neck and a short-head.
"It was thrilling to be involved in a race like that," said Bell. "All three horses deserve great credit, especially Trip To Paris with his penalty. Big Orange is an absolute star - he is so genuine and a pleasure to train - and I can't sing his praises highly enough.
"He was officially the highest-rated horse in the race so, if he stayed, he could win it and Jamie gave him an absolutely masterful ride. He got a breather into him and it was a very good ride on a very good horse.
"Bill (Gredley, owner) is so enthusiastic and he knows his horses inside out. When you breed them, I think it is extra special - any owner-breeder knows that, when they welcome the horses that they have raised at home, it makes it extra special.
"Melbourne is very much the plan for Big Orange. We know he stays the trip now, which we always thought he would, he has got the boot to win a Group Two over a mile and a half and he goes on any ground. I would say he ticks a lot of the boxes.
"The Grand Prix de Deauville was the plan after this but he has had a hard race today, so we will have to see how he is. The Lonsdale Cup at York is also an option because he has no penalty in that."

Spencer added: "He is very tough, honest and loves the ground. Silvestre (de Sousa, rider of Vive Ma Fille) was frightening me a bit early doors because he stopped behind me and rushed up my inner - this fella is fairly reactive so he never let go of his bit until near the mile pole. I was worried that he was expanding too much energy early in the race but he was fairly tough when I needed him to be.
"There was obviously a doubt over him staying two miles. He is out of a Fasliyev mare who was all speed, but the Duke Of Marmalade's seem to be doing well with time. He has kept improving - he is just a big oaf and he will only get stronger as the year goes on."
Ascot Gold Cup winner Trip To Paris narrowly failed to add the Group Two Qatar Goodwood Cup to his trophy cabinet, but there was no disgrace in finishing third.
Meanwhile, recent Northumberland Plate winner Quest For More made his first venture into a Stakes race and ran a blinder when taking second place, a neck behind winner Big Orange, and a short-head in front of Trip To Paris.
Quest For More's trainer, Roger Charlton, said: "It was a great race to watch, and almost like a sprint with horses finishing like that, but I'm very proud of him. I reckon when you've won two nice races consecutively, and almost £100,000 in prize money, everything else for the season is a bonus, yet he's picked up another £70,000 to £75,000 today and run his heart out.
"If he's okay maybe he will go for the Ebor Handicap at York. I need to look at the programme book, but the Ebor is worth a lot of money and he's favourite or thereabouts. The Long Distance Cup at Ascot is another for consideration, but George [Baker, Quest For More's jockey] said he felt quicker ground than today would have been better. It's a bit loose, but I'm not using that as an excuse. A lot of sons of Teofilo like quick ground, and if we get that at York that will suit him better.
"I don't think he's a Melbourne Cup horse because he just lacks the speed you need for that race. You need a horse with a bit more class."
Trip To Paris has that class, and the Melbourne Cup remains on his agenda. He had to concede a 4lb penalty to his rivals today, and trainer Ed Dunlop said: "I have been whinging about the 4lb penalty but he had it for a reason - he won the Gold Cup. I think the track and the penalty probably beat us. I just wonder if he hit the front and then wandered around a bit, which can happen at Goodwood. At Ascot, he had the rail to run along.
"He can only get better and the owners are very keen to go to Melbourne. It will be interesting to see what weight Mr Bell's horse [Big Orange] has as well. We could well go there but we will see - I don't know whether it is a year too soon, but it will be considered."
Quest For More was given a 10/1 quote for next month's Ebor by MansionBet .

Qatar Goodwood Cup
(British Champions Series) (Group 2)
£300,000 added, 3yo plus, 2m, Class 1
11 ran
Going: Good
Pos
Dr
D
Horse SP
Jockey Weight
Trainer
Age
1st
(1)
Big Orange 6/1
J P Spencer
9-8
M L W Bell
4
2nd
(6)
nk
Quest For More (IRE) 9/2f
G Baker
9-8
R Charlton
5
3rd
(11)
s.h
Trip To Paris (IRE) 5/1
G Lee
9-12
E A L Dunlop
4
4th
(9)
2&frac34
Pallasator 11/2
Andrea Atzeni
9-8
Sir Mark Prescott
6
5th
(8)
&frac12
Vive Ma Fille (GER) 14/1
S De Sousa
8-2
M Johnston
3
6th
(12)
nk
Sheikhzayedroad 16/1
Martin Lane
9-8
D M Simcock
6
7th
(7)
2&frac14
Oriental Fox (GER) 15/2
J Fanning
9-8
M Johnston
7
8th
(10)
5
Simenon (IRE) 7/1
L Dettori
9-8
W P Mullins
8
9th
(5)
2
Aussie Reigns (IRE) 33/1
A Kirby
9-8
W J Knight
5
10th
(4)
nk
Eye of The Storm (IRE) 10/1
P J Dobbs
9-8
Mrs A J Perrett
5
11th
(2)
4&frac12
Angel Gabrial (IRE) 16/1
P Hanagan
9-8
R A Fahey
6
NR
(3)
Scotland (GER) 10/1
Jim Crowley
9-8
A M Balding
4