Coventry Stakes

Group 2, Ascot 15:05
£150,000 added,
2yo only,
6f, Class 1  
Tuesday 20th June 2017

1 Rajasinghe 11/1
2 Headway 33/1
3 Murillo 8/1
18 ran Distances: hd, nk, nk
Time: 1m 12.39s (fast by 0.01s)
Rajasinghe wins the Coventry Stakes!
Rajasinghe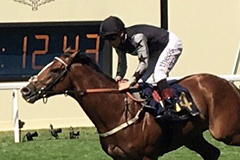 Newmarket trainer Richard Spencer, in just his second-season with a licence, saddled his first Royal Ascot runner - and winner - when Rajasinghe landed the Coventry Stakes in course-record time.
Spencer, a former point-to-point rider, stable groom and assistant trainer, was given his big chance by Phil Cunningham, the racehorse owner who bought a yard and stud in Newmarket and gave the now 28-year-old a chance to train from his base. The two men teamed up with agent Bobby O'Ryan to buy Rajasinghe as a yearling for £85,000 at Doncaster sales last year, when the consignor was Paul and Sara Thorman's Trickledown Stud.
They had sold Cunningham the subsequent dual Classic winner Cockney Rebel at the same venue in 2005. The Thormans offered Rajasinghe at the sale on behalf of Douglas Pryde, who had bought him as a foal for €65,000 - Pryde was a joint-owner in 2013 Grand National winner
Aurora's Encore
.
Spencer, who showed his versatility at Easter when training his own horse, Aptly  Put, to win a point-to-point at Kimble in Oxfordshire, was today saddling just his ninth winner under Rules, having sent out his first runner in April last year. He said of Rajasinghe: "Words can't describe how I feel, but he's a top horse and we've liked him from day one. We sent him to Newcastle [for his only previous run] and thought he would take a lot of beating, and he wasn't cooked for that run.
"He's going to stay further - my assistant Johnny Bailey has been asking that they extend [the Newmarket gallops] Warren Hill and Long Hill because every day he rides him the horse just tanks. He's great natured, and tough.
"We have 23 horses at home, and a lovely bunch of owners at a great location. I cannot thank Phil Cunningham enough for giving me the opportunity. Two years ago I broke my back in a hunters' chase fall at Warwick, so from that to be standing here is just amazing.
"I'd like to thank people who have helped me along the way. I was a stable lad with Peter Bowen at 16 and learned a lot there, and then worked for Barry Hills, becoming his assistant. I stayed there for seven years, which says it was a good job, eventually working for Barry's son Charlie. The lads there were amazing - people like Kevin Mooney were so helpful - and then I went to Michael Bell's to complete my training."
Spencer went to school in Worcestershire, but did not enjoy education, and when telling his family he wanted to leave he was told he had better find a job, so he headed to Bowen's Pembrokeshire stables. His father, Gerald, rode in point-to-points, but he attributes his interest in racing to his grandmother, who kept a few horses with Martin Pipe, but none of significance.

It was also a first Royal Ascot triumph for jockey Stevie Donohoe, who said: "He's been impressing at home and he won with some authority on his only start at Newcastle, and it rode a good race. He'd done everything right. All the statistics about me as jockey and Richard having his first runner at Royal Ascot probably hindered his chances on price. This is one of the highlights of my career - just having a ride on the big days is hard enough, let alone a winner.
"About 100 yards from the line I thought I had won, but the others were actually closer than I thought. You want to make sure you hear that number before you think you've won. It was a relief, really. I was in the middle and I thought maybe I had got there a stride too soon. 
"He's very tough. It was about keeping him chilled beforehand and relaxed. He'll stay further; he loved the ground - he's actually pretty versatile on ground - and he's got a great mind. He's got a good handler in Richard.
"We're just delighted he has won in the manner he did. I would have loved some cover but it just wasn't there so he's done it all on his own.
"For the lower lads who work hard all winter, it's nice to prove we can do it on the big days."
Coventry Stakes (Group 2)
£150,000 added, 2yo only, 6f, Class 1
18 ran
Going: Good to Firm
Pos
Dr
D
Horse SP
Jockey Weight
Trainer
Age
1st
(9)
Rajasinghe (IRE) 11/1
S Donohoe
9-1
Richard Spencer
2
2nd
(13)
hd
Headway 33/1
P Cosgrave
9-1
W J Haggas
2
3rd
(4)
nk
Murillo (USA) 8/1
R L Moore
9-1
A P O'Brien
2
4th
(8)
nk
Brother Bear (IRE) 4/1f
C O'Donoghue
9-1
Mrs J Harrington
2
5th
(10)
&frac34
Aqabah (USA) 16/1
W Buick
9-1
C Appleby
2
6th
(18)
&frac12
Prince of The Dark 12/1
A Kirby
9-1
C G Cox
2
7th
(17)
nk
Romanised (IRE) 12/1
S Foley
9-1
K J Condon
2
8th
(11)
&frac12
De Bruyne Horse 5/1
S M Levey
9-1
R Hannon
2
9th
(1)
1&frac14
Nebo (IRE) 10/1
Jim Crowley
9-1
C Hills
2
10th
(16)
1
Chookie Dunedin 66/1
D C Costello
9-1
K Dalgleish
2
11th
(12)
1
Denaar (IRE) 11/1
P J Smullen
9-1
R Hannon
2
12th
(14)
&frac12
Arawak (USA) 8/1
John Velazquez
9-1
Wesley Ward
2
13th
(7)
hd
Zaman 20/1
James Doyle
9-1
C Appleby
2
14th
(5)
1
U S Navy Flag (USA) 33/1
J A Heffernan
9-1
A P O'Brien
2
15th
(15)
hd
Connery (IRE) 150/1
M Dwyer
9-1
S Kirk
2
16th
(3)
nk
Red Roman 33/1
C Soumillon
9-1
C Hills
2
17th
(2)
1
Haddaf (IRE) 28/1
Andrea Atzeni
9-1
J Tate
2
18th
(6)
14
Ivy Leaguer 100/1
S De Sousa
9-1
B J Meehan
2

HEADWAY NEARLY FANTASTIC
Third time out, and another visit to the winner's enclosure for 33/1 shot Headway, albeit in second-place behind the head winner Rajasinghe.
It took a course record performance to beat the impressive Havana Gold colt and trainer William Haggas, was suitably pleased by the Royal Ascot Racing Club-owned two-year-old.
"He ran very well," he reflected. "We expected a good run and he did. It was nearly fantastic.
"I don't know where we will go next; he has had a hard race today. It was a fantastic race."
Harry Herbert, spokesman for the owners, the Royal Ascot Racing Club, added: "He has run a fantastic race, you just can't crab him.
"We thought he would run a good race. The signals William [Haggas] was giving out was that he was really pleased with him at home.
"He was very impressive at Chester, and this was a terrific run.
"We are just thrilled that the horse has run so well, though to be beaten a head in a race at Royal Ascot and of this calibre was agony as well.
"It took a course record to beat him. It is a fantastic result for the Royal Ascot Racing Club as they only have five horses in training.
"There was this horse today and there is Projection in
the Wokingham
on Saturday. It is a great thrill to have a shout here at Royal Ascot."
"We will be happy to take on the winner again, but Headway has had a hard race today, and it is a very hot day. We will have to see how he comes out of the race and William won't rush him back.
"He is a horse with a future, he has enough scope."

O'BRIEN PLEASED WITH MURILLO
Aidan O'Brien was pleased with the performance of 8/1 shot Murillo who made up excellent late ground to finish third.
Held up towards the rear of the field by Ryan Moore early on in the six-furlong contest, the two-year-old son of Scat Daddy made good headway in the closing stages to finish a neck behind second-placed Headway.
The master of Ballydoyle said: "I'm delighted with him - he has run a great race."
Jessica Harrington was similarly delighted with 4/1 favourite Brother Bear, who was a neck behind Murillo in fourth.
The two-year-old son of Kodiac travelled stealthily into the contest but was just run out of things late on.
Harrington commented: "I'm very happy with him. The race sort of broke up around him and he had to race on his own.
"However, it's only the third run of his career and he has run really well."

COVENTRY STAKES
Previous results
YEAR WINNER TRAINER JOCKEY OWNER AGE/WEIGHT SP
2016 CARAVAGGIO Aidan O'Brien Ryan Moore Sue Magnier, Michael Tabor & Derrick Smith 2-9-01 13/8F
2015 BURATINO Mark Johnston William Buick Godolphin 2-9-01 6/1
2014 THE WOW SIGNAL John Quinn Frankie Dettori Al Shaqab Racing 2-9-01 5/1JF
2013 WAR COMMAND Aidan O'Brien IRE J A Heffernan J Allen/Mrs J Magnier/M Tabor/D Smith 2-9-01 20/1
2012 DAWN APPROACH Jim Bolger IRE Kevin Manning Jackie Bolger/J P Spain 2-9-01 7/2
2011 POWER Aidan O'Brien IRE Ryan Moore Michael Tabor, Derrick Smith & Sue Magnier 2-9-01 4/1F
2010 STRONG SUIT Richard Hannon Richard Hughes Julie Wood 2-9-01 15/8F
2009 CANFORD CLIFFS Richard Hannon Richard Hughes The Heffer Syndicate 2-9-01 7/4F
2008 ART CONNOISSEUR Michael Bell Jamie Spencer Richard Green 2-9-01 8/1
2007 HENRYTHENAVIGATOR Aidan O'Brien IRE Michael Kinane Sue Magnier 2-9-01 11/4F
2006 HELLVELYN Bryan Smart Ted Durcan Sheikh Rashid bin Mohammed 2-9-01 4/1JF
2005 RED CLUBS Barry Hills Michael Hills Ronnie Arculli 2-8-12 11/2
2004 ICEMAN John Gosden Kieren Fallon Cheveley Park Stud 2-8-12 5/1JF
2003 THREE VALLEYS Roger Charlton Richard Hughes Khalid Abdullah 2-8-12 7/1
2002 STATUE OF LIBERTY Aidan O'Brien IRE Michael Kinane Michael Tabor & Sue Magnier 2-8-12 5/2F
2001 LANDSEER Aidan O'Brien IRE Jamie Spencer Michael Tabor & Sue Magnier 2-8-12 20/1
2000 CD EUROPE Mick Channon Steve Drowne Circular Distributors Ltd 2-8-12 8/1
1999 FASLIYEV Aidan O'Brien IRE Michael Kinane Michael Tabor & Sue Magnier 2-8-12 15/8F
1998 RED SEA Paul Cole Richard Quinn Fahd Salman 2-8-12 6/1
1997 HARBOUR MASTER Aidan O'Brien IRE Christy Roche Sue Magnier 2-8-12 16/1
1996VERGLAS Kevin Prendergast IRE Willie Supple Chryss O'Reilly 2 8-12 9/1
1995 ROYAL APPLAUSE Barry Hills Walter Swinburn Maktoum Al Maktoum 2 8-12 13/2
1994 SRI PEKAN Paul Cole Richard Quinn Sultan Ahmad Shah 2 8-13 6/1
1993 STONEHATCH Peter Chapple-Hyam John Reid Robert Sangster 2 8-13 EvensF
1992 PETARDIA Geoff Wragg Walter Swinburn Mollers Racing 2 8-13 5/1CF
1991 DILUM Paul Cole Alan Munro Fahd Salman 2 8-13 11/10 F
1990 MAC'S IMP Bill O'Gorman Alan Munro Tamdown Ltd 2 8-13 2/1F
1989 ROCK CITY Richard Hannon Willie Carson A F Budge (Equine) Ltd 2 8-13 9/1
1988 HIGH ESTATE Henry Cecil Steve Cauthen Jim Joel 2 8-13 10/11 F
1987 ALWAYS FAIR Michael Stoute Walter Swinburn Maktoum Al Maktoum 2 8-13 9/2
1986 CUTTING BLADE Lester Piggott Cash Asmussen Mahmoud Fustok 2 8-11 11/1
1985 SURE BLADE Barry Hills Brent Thomson Sheikh Mohammed 2 8-11 3/1F
1984 PRIMO DOMINIE Brian Swift John Reid Peter Wetzel 2 8-11 4/7F
1983 CHIEF SINGER Ron Sheather Ray Cochrane Jeff Smith 2 8-11 20/1
1982 HORAGE Matt McCormack Pat Eddery Ahmed Rachid 2 8-11 85/40
1981 RED SUNSET Guy Harwood Greville Starkey Paddy Burns 2 8-11 14/1
1980 RECITATION Guy Harwood Greville Starkey Anthony Bodie 2 8-11 11/1
1979 VARINGO Ryan Price Brian Taylor PTP Plant Hire Ltd 2 8-11 11/8F
1978 LAKE CITY Ryan Price Brian Taylor Harry Demetriou 2 8-11 7/1
1977 SOLINUS Vincent O'Brien IRE Lester Piggott Daniel Schwartz 2 8-11 7/4F
1976 CAWSTON'S CLOWN Neil Adam Taffy Thomas John Murrell 2 8-11 11/2