Chesham Stakes

Listed, Ascot 14:30
£80,000 added,
2yo only,
7f, Class 1  
Saturday 20th June 2016
1 Churchill 8/11F
2 Isomer 25/1
3 Cunco 7/2
NR: Devil's Bridge (IRE), Walter Raleigh (IRE)
13 ran Distances: ½l, 1l, ½l
TIME 1m 29.57s (slow by 3.97s)
Churchill lands the Chesham Stakes under Ryan Moore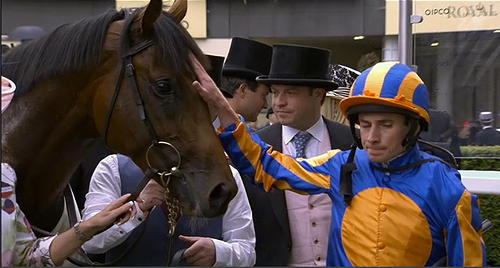 Churchill gave trainer Aidan O'Brien his sixth Royal Ascot winner of the week, which equalled his personal record at the meeting (set in 2008), when running out the narrow half length winner of the Listed Chesham Stakes over seven furlongs this afternoon.

The 8/11 favourite was always handy under jockey Ryan Moore and, although the son of Galileo wandered about in the closing stages, he did enough under a power-packed ride to secure victory.

O'Brien thought there was much more to come from the colt in the future.

"He's a big powerful, raw baby," said the trainer.

"You can see the size of him. When he ran at the Curragh first time out, he didn't really know what happened. Even today, they went slow and Ryan was handy, which was the right place to be in a slow race, and he had to go on but he still didn't know what to do. He's very green. He's going to be a lovely horse this fellow. We had been looking forward to him running all week. We were worried that this would only be his second time on the racecourse but he's very classy.

"Churchill has a lot of class but they were going too slow for him in the early part of the race. Ryan had to keep him forward but, because of that, when Ryan let him down, he hit the front straight away. After that, he didn't know whether he was going to go left, right or centre. Ryan did a very good job and just kept him going forward. Obviously, we start off with a very good bunch of yearlings and they are bred to be doing things like this - they all have beautiful pedigrees. We're very lucky to have them.

"We'll look for Group or a Listed race from here and take it from there. He's a lovely horse. He's not short of pace but you'd like go seven furlongs or onwards with him as he travels so easily."

Co-owner Michael Tabor was equally impressed with the winner.

"You must remember it was only his second run ever and he was very green. We think that there should be a lot of improvement in him, so hopefully he will be a very nice horse in the future. He was Aidan's number one fancy for the week and so he proved to be. It was his second run and I am sure there is a vast amount of improvement in him, as you expect with the way Aidan trains his horses. He's something to look forward to.

"We have not discussed where to go next. I hadn't even thought about it, personally, because you like to win here first and not jump ahead of yourself."
Ryan Moore said: "Churchill is a big, powerful horse - a beautiful horse, who stood over them, really.

"They went slow early but when he gets a good pace and fast ground, he will improve more and be an exciting horse.

"He travelled nice and smooth but, when he got there, he was very green.

"He is a high-quality two-year-old. The whole time he was going there, he was just waiting. He's just a little baby but can only improve and is one to look forward to.

"A mile will be no problem as he got the seven here well. It is early days yet with him."
Chesham Stakes
£80,000 added, 2yo only, 7f, Class 1
13 ran
Going: Good to Soft
Pos
Dr
D
Horse SP
Jockey Weight
Trainer
Age
1st
(8)
Churchill (IRE) 8/11f
R L Moore
9-3
A P O'Brien
2
2nd
(10)
&frac12
Isomer (USA) 25/1
J P Spencer
9-3
A M Balding
2
3rd
(14)
1
Cunco (IRE) 7/2
R Havlin
9-3
J H M Gosden
2
4th
(11)
&frac12
Mr Scaramanga 50/1
P J Dobbs
9-3
R Hannon
2
5th
(12)
&frac12
Frankuus (IRE) 15/2
J Fanning
9-3
M Johnston
2
6th
(15)
1&frac14
Thora Barber 40/1
Andrea Atzeni
8-12
P D Evans
2
7th
(6)
&frac12
Aiming For Rio (FR) 14/1
M Barzalona
8-12
M Palussiere
2
8th
(4)
1&frac12
Admiralty Arch 20/1
J Fortune
9-3
R Hannon
2
9th
(9)
3
Eldorado Creek (IRE) 66/1
D Nolan
9-3
R A Fahey
2
10th
(7)
&frac34
Justice Frederick (IRE) 40/1
D O'Brien
9-3
P W D'Arcy
2
11th
(2)
1&frac14
Magillen (IRE) 16/1
L Dettori
9-3
C Hills
2
12th
(3)
9
Masham Star (IRE) 33/1
A Kirby
9-3
M Johnston
2
13th
(13)
13
Filudo (FR) 50/1
D Tudhope
9-3
D O'Meara
2
NR
(1)
Devil's Bridge (IRE) 25/1
James Doyle
9-3
R Hannon
2
NR
(5)
Walter Raleigh (IRE) 100/1
Ryan Powell
9-3
J Ryan
2

GOSDEN PLEASED WITH CUNCO'S 'SOLID' THIRD
Trainer Andrew Balding, was pleased with the effort of Isomer, who was able to reverse his Newbury form with Cunco and finish second, half a length behind the winner.
The trainer said: "He's run well. He'll probably want further in time."
John Gosden, trainer of Cunco, a son of the brilliant Frankel, who finished third at odds of 7/2, said: "He's run a solid race. I liked the way he has finished out. He just likes to run, this horse. It might be better letting him use his stride."