Albany Stakes

(Fillies' Group 3) Ascot 14:30
£70,000 added,
2yo only,
6f, Class 1  
Friday 19th June 2015

1 Illuminate 4/1F
2 Ashadian 12/1
3 Elegant Supermodel 20/1
NR: Mirage (IRE)
18 ran Distances: 1½l, shd, 3¼l
TIME 1m 13.20s (slow by 0.60s)

Illuminate wins the Albany Stakes to give Richard Hughes a winner in his final Royal Ascot
Illuminate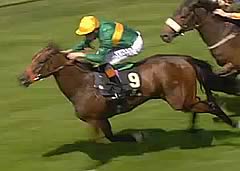 After three days when luck did not wholly go his way, Richard Hughes finally got on the scoreboard at what will be his final Royal Ascot before he embarks on a training career at the end of the season. In the opening Albany Stakes, Hughes rode Richard Hannon-trained 4/1 favourite Illuminate to a length and a half victory from Ashadihan and Elegant Supermodel.

It was his 30th Royal Ascot winner, a sequence started by Sergeyev in the Jersey Stakes 20 years ago. "That's a nice number to get to," he said, "no-one would remember 29. And it's nice to round off riding at the meeting with a winner, a good way to go. I think one of the best rides I ever gave a horse was on Memory in this race five years ago who broke three or four seconds after the others and lost 10 lengths but got there. The best horse I rode here was Canford Cliffs, who won three years in a row."

Hughes' said his main emotion after Illuminate's victory was relief. "Things weren't going right but I felt they had to get better," he said. "I never stopped believing they would - you mustn't forget your confidence - but I came here with no expectations of riding a winner just because it was my last time here. It was nice to do it, but not the end of things if I didn't."

Illuminate will not be Hughes' mount next season, when she may challenge for the Classics. "You can say every season that there will be a contender at the top level to look forward to from this yard, so I can't go down that regret road," he said. "The game has been very good to me and I'm happy with where I am now, and ready to move on to my second career, and looking forward to it. Let's hope I can train 30 here."

There had been worries about the fast ground for Illuminate, a third winner at the meeting for her young sire Zoffany. "As soon as we went to post I realised there was nothing to worry about," said Hughes. "She absolutely floated down. I would say that I was 20 lengths off the leader at half-way but she travelled real good and moved real good. She moves like a filly that will stay, she doesn't move like a sprinter - she has a great action."

Hughes may owe his change of luck to an impulse buy by his wife Lizzie, who was sporting a white rose on her jacket. "I never buy flowers from the gypsy sellers," she said, "but this time on the way in I thought why not. And I think it's changed our luck."

Illuminate is bound for the Cherry Hinton Stakes at Newmarket next month. "Hughsie is going to leave a very big hole in the operation," said Hannon. "He hasn't missed a beat and she's a very good filly. We always thought she was good and she's the most straightforward filly you could wish for."

A frustrating Royal Ascot for trainer Kevin Ryan continued when Ashadihan came out second best.

It was a third second-place of the week for the North Yorkshire handler, who reflected: "I'm very proud of this filly but it's hard to finish second three times at this meeting.

"She has a great temperament and got home well - I think she'll be better over another furlong. I think it was a very good race and it will have taught her a lot - she probably didn't learn anything on her first run at Haydock."

Maisons-Laffitte trainer Jean-Pierre Perruchot, making his first visit to Britain, saddled third-placed Elegant Supermodel in the colours of Theresa Marnane.

"She's only been winning at country tracks in France but had won very easily in very good times," said Marnane's husband Con. "We've always thought an awful lot of her and she wants a step up in trip, she's bred to go over a mile and even a mile and a half eventually.

"We're over the moon and I did think she had an each-way chance although this was obviously a very good race."

Albany Stakes
£70,000 added, 2yo only, 6f, Class 1
18 ran
Going: Good to Firm
Dr
Dist
Horse SP
Jockey Weight
Trainer
Age
1st
(13)
Illuminate (IRE) 4/1f
R Hughes
9-0
R Hannon
2
2nd
(18)
1&frac12
Ashadihan 12/1
J P Spencer
9-0
K A Ryan
2
3rd
(10)
s.h
Elegant Supermodel (GER) 20/1
A Hamelin
9-0
J Perruchot
2
4th
(7)
3&frac14
Fireglow 20/1
W Buick
9-0
M Johnston
2
5th
(9)
nse
Glenrowan Rose (IRE) 50/1
P Makin
9-0
K Dalgleish
2
6th
(8)
1&frac14
Spanish Romance (IRE) 5/1
C Demuro
9-0
E J O'Neill
2
7th
(19)
4&frac12
Tutu Nguru (USA) 10/1
P Cosgrave
9-0
W J Haggas
2
8th
(3)
nk
French 50/1
G Lee
9-0
A Brittain
2
9th
(12)
1
Back At The Ranch (USA) 8/1
Joel Rosario
9-0
Wesley Ward
2
10th
(14)
1
Palenville (IRE) 28/1
P J Dobbs
9-0
R Hannon
2
11th
(2)
&frac34
Our Joy (IRE) 9/1
Oisin Murphy
9-0
C G Cox
2
12th
(17)
1&frac14
Jersey Breeze (IRE) 12/1
Charles Bishop
9-0
M R Channon
2
13th
(4)
nse
Miss Moneypenny (IRE) 25/1
R Kingscote
9-0
R M Beckett
2
14th
(15)
6
Vallance Road 50/1
J F Egan
9-0
N P Littmoden
2
15th
(5)
7
Laxfield Road (USA) 6/1
L Dettori
9-0
Wesley Ward
2
16th
(1)
4&frac12
Strands Of Silk (IRE) 100/1
T Eaves
9-0
J G Given
2
17th
(11)
14
First Party 33/1
J Fanning
9-0
M Johnston
2
18th
(16)
3&frac14
Azhar 16/1
James Doyle
9-0
S bin Suroor
2
NR
(6)
Mirage (IRE) 33/1
Jim Crowley
9-0
J A Osborne
2