Albany Stakes

(Fillies' Group 3) Ascot 14:30
£90,000 added,
2yo only,
6f, Class 1  
Friday 2nd June 2018
1 Main Edition 7/1
2 La Pelosa 12/1
3 Fairyland 5/2
4 Angel's Hideaway 8/1
18 ran Distances: nk, ½l, 1¼l
Time: 1m 13.67s (slow by 1.27s)
Main Edition wins under James Doyle for Mark Johnston
It's a first Albany Stakes win for @MJR_Middleham as Main Edition makes it three-from-three in the hands of @the_doyler @Ascot

Watch LIVE on @ITV4 now! pic.twitter.com/myFKB5zZ1U

— ITV Racing (@itvracing) June 22, 2018
A fourth Royal Ascot winning 2YO for Zoffany as Main Edition remains unbeaten with a thrilling victory.
Main Edition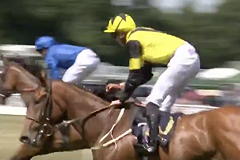 Mark Johnston's filly followed up her debut win at Windsor with a runaway success at Goodwood three weeks ago and she was a 7-1 shot stepped up to Group Three level in Berkshire.
Wesley Ward's American raider Stillwater Cove blazed a trail for a long way before fading, which left Fairyland leading the group that raced on the far side of the track.
However, it was clear as the post loomed that Main Edition and Le Pelosa were narrowly ahead down the centre of the track and it was Main Edition and James Doyle who claimed top honours by a neck.
La Pelosa narrowly beat Fairyland to the runner-up spot, but Just Wonderful, the 2-1 favourite, was disappointing.
Johnston said: "We came here knowing that she was pretty useful after two runs and two wins.
"We think our team of two-year-old fillies this year is very strong and this is was one of the leading bunch. It's great for her and it says a lot for all the others as well."
Paddy Power introduced the winner at 16-1 for next year's 1000 Guineas, with RaceBets going 14-1.
Johnston said: "I think it's very early days to talk about that, although we were joking with the owner that we'd be back here next year for the Coronation Stakes after she's won the Guineas!
"The media and the bookies will all start talking about it now, but there's a lot of big two-year-old races before we come round to that.
"Let's get this year out of the way and see where she stands."
Albany Stakes
£90,000 added, 2yo only, 6f, Class 1
18 ran
Going: Good to Firm
Pos
Dr
D
Horse SP
Jockey Weight
Trainer
Age
1st
(15)
Main Edition (IRE) 7/1
James Doyle
9-0
M Johnston
2
2nd
(11)
nk
La Pelosa (IRE) 12/1
W Buick
9-0
C Appleby
2
3rd
(5)
&frac12
Fairyland (IRE) 5/2
J A Heffernan
9-0
A P O'Brien
2
4th
(6)
1&frac14
Angel's Hideaway (IRE) 8/1
L Dettori
9-0
J H M Gosden
2
5th
(18)
nk
Pretty Pollyanna 28/1
S De Sousa
9-0
M L W Bell
2
6th
(14)
1&frac12
Byron Bay (FR) 12/1
M Barzalona
9-0
Y Durepaire
2
7th
(1)
1&frac12
Chicas Amigas (IRE) 20/1
C O'Donoghue
9-0
Mrs J Harrington
2
8th
(3)
&frac12
Satisfying (IRE) 66/1
S W Kelly
9-0
R Hughes
2
9th
(16)
3&frac12
Nakakande (IRE) 100/1
D C Costello
9-0
J Moore
2
10th
(2)
&frac34
Cotubanama 66/1
Charles Bishop
9-0
M R Channon
2
11th
(17)
hd
Octave (IRE) 20/1
Jim Crowley
9-0
M Johnston
2
12th
(8)
&frac34
Reponse Exacte (FR) 33/1
Oisin Murphy
9-0
Mme G Rarick
2
13th
(4)
1
Stillwater Cove (USA) 25/1
Joel Rosario
9-0
Wesley Ward
2
14th
(10)
1&frac12
Just Wonderful (USA) 2/1f
R L Moore
9-0
A P O'Brien
2
15th
(13)
&frac12
Jensue (IRE) 100/1
R Kingscote
9-0
Tom Dascombe
2
16th
(7)
1&frac12
Hawayel (IRE) 100/1
James McDonald
9-0
C Hills
2
17th
(12)
1
Merry Go Round (FR) 66/1
A Starke
9-0
P Schiergen
2
18th
(9)
1
No More Regrets (IRE) 33/1
O Peslier
9-0
M Palussiere
2
ALBANY STAKES WINNERS
YR/DATE GR WINNER TRAINER JOCKEY OWNER AGE/WGT SP
2017 3 DIFFERENT LEAGUE Mauthieu Palussiere FR Antoine Hamelin Theresa Marnane 2-9-00 20/1
2016 3 BRAVE ANNA Aidan O'Brien IRE Seamie Heffernan Evie Stockwell 2-9-00 16/1
2015 3 ILLUMINATE Richard Hannon Richard Hughes Denford Stud 2-9-00 4/1F
2014 3 CURSORY GLANCE Roger Varian Andrea Atzeni Merry Fox Stud Limited 2-9-00 14/1
2013 3 KIYOSHI Charlie Hills Jamie Spencer Qatar Racing Limited 2-8-12 8/1
2012 3 NEWFANGLED John Gosden William Buick HRH Princess Haya of Jordan 2-8-12 7/4F
2011 3 SAMITAR Mick Channon Jamie Spencer Nick & Olga Dhandsa/John & Zoe Webster 2-8-12 16/1
2010 3 MEMORY Richard Hannon snr Richard Hughes Highclere Thoroughbred Racing 2-8-12 15/2
2009 3 HABAAYIB Ed Dunlop Richard Hills Hamdan Al Maktoum 2-8-12 16/1
2008 3 CUIS GHAIRE Jim Bolger IRE Kevin Manning Jackie Bolger & Harry Dobson 2-8-12 8/11F
2007 3 NIJOOM DUBAI Mick Channon Jamie Spencer Jaber Abdullah 2-8-12 50/1
2006 3 SANDER CAMILLO Jeremy Noseda Frankie Dettori Sir Robert Ogden 2-8-12 4/1F
*2005 3 LA CHUNGA Jeremy Noseda Jamie Spencer Sir Robert Ogden 2-8-09 10/1
2004 L JEWEL IN THE SAND Richard Hannon snr Richard Hughes Sand Associates 2-8-11 10/1
2003 L SILCA'S GIFT Mick Channon Steve Drowne Aldridge Racing Ltd 2-8-11 5/1
2002 L DUTY PAID David Elsworth Richard Quinn Jeff Smith 2-8-11 11/1
*run at York