Windsor Castle Stakes

Listed, Ascot 17:35
£80,000 added,
2yo only,
5f, Class 1  
Tuesday 20th June 2017

1 Sound And Silence 16/1
2 Roussel 12/1
3 James Garfield 25/1
4 Mokaatil 25/1
22 ran NR: Cosmelli, Gavlarv Distances: 6l, 1¾l, 2½l
Time: 4m 17.62s (fast by 2.38s)
Sound And Silence makes it a treble on day one for Godolphin
Sound And Silence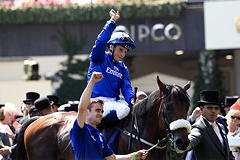 The Charlie Appleby-trained Sound And Silence provided owners Godolphin with their third winner of the day, a 123.95/1 treble, following his gutsy success in the concluding race of the day.
The two-year-old son of Exceed And Excel engaged in a pulsating battle with stable companion Roussel in the closing stages but just gained the upper hand under William Buick to score by a neck.
James Garfield, trained by George Scott, stayed on well to finish a further length and a quarter behind in third.
A delighted Appleby, registering his third winner at the Royal Meeting, said: "The two-year-olds have been in great order. The team have done a fantastic job. 
"We've been lucky with the way the horses have been coming into the meeting at home and I couldn't have been any happier with the way they looked.
"With Sound And Silence, I was disappointed with him last time in the National Stakes [Sandown, finished fourth] where he just emptied out there but he had a dirty scope that day.
"I put the cheekpieces on him today as I thought it is a big day and there are lots of horses, so let's not take any chances and let's keep the horses honest.
"William [Buick, jockey] said that they just couldn't go quick enough for me and was travelling so well, that he had to take him back.
"I'm pleased with the second horse Roussel as well. He came from the breeze-ups and we've eased him off on since he won at Leicester.
"I'm just delighted to get a winner on the board. It's been a fantastic day for Godolphin."
James Doyle, rider of the second Roussel, said: "He ran a good race. I travelled almost too well and I was getting there quite easily. 
"William [Buick, on the winner Sound And Silence] came to me quickly and to be fair to my mount he stuck his head out and rallied again. 
"They have been working quite closely at home so it was about the right result. It is a good day for the team - I can't complain."
Windsor Castle Stakes (Listed)
£80,000 added, 2yo only, 5f, Class 1
22 ran
Going: Good to Firm
Pos
Dr
D
Horse SP
Jockey Weight
Trainer
Age
1st
(12)
Sound And Silence 16/1
W Buick
9-3
C Appleby
2
2nd
(5)
nk
Roussel (IRE) 12/1
James Doyle
9-3
C Appleby
2
3rd
(4)
1&frac14
James Garfield (IRE) 25/1
Harry Bentley
9-3
George Scott
2
4th
(13)
&frac34
Mokaatil 25/1
Jim Crowley
9-3
Owen Burrows
2
5th
(18)
1
Last Page 66/1
J F Egan
9-3
P D Evans
2
6th
(2)
&frac12
Elizabeth Darcy (IRE) 9/1
Edgar Prado
8-12
Wesley Ward
2
7th
(6)
1&frac14
Dragons Tail (IRE) 14/1
R Kingscote
9-3
Tom Dascombe
2
8th
(23)
nk
Another Batt (IRE) 9/1
S De Sousa
9-3
George Scott
2
9th
(20)
&frac12
Corinthia Knight (IRE) 33/1
L Morris
9-3
Archie Watson
2
10th
(1)
1&frac14
Excellently Poised 66/1
Connor Beasley
9-3
B Smart
2
11th
(10)
s.h
Marchingontogether 33/1
M Harley
8-12
I Furtado
2
12th
(17)
&afrac12
Simmy's Copshop 25/1
P Hanagan
9-3
R A Fahey
2
13th
(21)
1
Declarationoflove (IRE) 66/1
P Cosgrave
9-3
Tom Clover
2
14th
(16)
&frac12
T For Tango (IRE) 40/1
P J Smullen
9-3
J Nash
2
15th
(24)
&frac34
Areen Faisal (IRE) 66/1
T Hamilton
9-3
R A Fahey
2
16th
(22)
nk
Autumn Lodge 200/1
J P Fahy
9-3
J S Moore
2
17th
(11)
2&frac12
Nootka Sound (USA) 9/2
John Velazquez
8-12
Wesley Ward
2
18th
(19)
nse
Magnus (IRE) 66/1
Andrea Atzeni
9-3
Tom Dascombe
2
19th
(9)
1&frac14
City Guest (IRE) 100/1
T P Queally
9-3
G G Margarson
2
20th
(15)
hd
Dahik (IRE) 40/1
Dane O'Neill
9-3
R Varian
2
21st
(8)
nk
June Dog 66/1
S M Levey
9-3
R Hannon
2
22nd
(14)
2&frac34
Declarationofpeace (USA) 13/8f
R L Moore
9-3
A P O'Brien
2
WN
(7)
Chatburn (IRE)
D Tudhope
9-3
D O'Meara
2
NR
(3)
Black Orange
M Dwyer
9-3
Miss Gay Kelleway
2