Wokingham Stakes

Heritage Handicap, Ascot 17:00
£175,000 added,
3yo plus,
6f, Class 2  
Saturday 23rd June 2018

Bacchus just about holds off Dreamfield to win
1 Bacchus 33/1
2 Dreamfield 2/1F
3 Major Jumbo 22/1
4 Tis Marvellous 20/1
28 ran Distances: nk, ½l, shd
Time: 1m 12.43s (slow by 0.03s)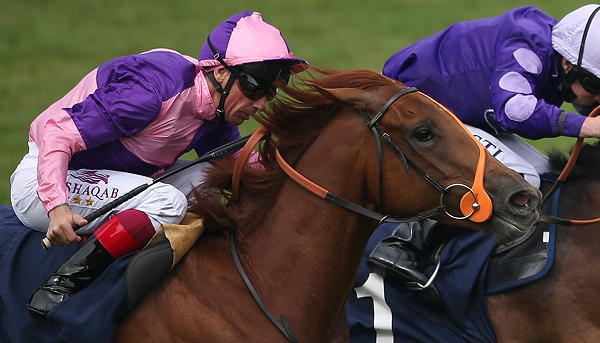 photo courtesy Brian Meehan Limited via Twitter
Brian Meehan recorded his first Royal Ascot winner for six years when Bacchus sprang a 33/1 surprise here.
The Manton-based trainer was part of a sustained and joyous reaction after the four-year-old defied an almighty plunge on the previously unbeaten 2/1 favourite Dreamfield.
The two horses fought out an exciting tussle late, but it was the neck winner Bacchus who triggered huge scenes of celebration in the parade ring.
It was a tremendous feat by Meehan and the horse, who was making his first start in 260 days.
Meehan said: "He was one horse who took a long time to come to hand in the spring. He just needed that bit of extra time. 
"I said to the boys that we'd head straight to the Wokingham with him. We were talking about races like this and the
Ayr Gold Cup
as he's tailor made for the job.
"He's handicapped right at the moment but we will see what the handicapper does after this.
"He's just a lovely horse who ran some lovely races last year and I'm just delighted with him today.
"The owners have supported me so well, so to have a Royal Ascot winner for them is just off the charts. It's just wonderful."
Wokingham Stakes (Heritage Handicap)
£175,000 added, 3yo plus, 6f, Class 2
28 ran
Going: Good to Firm
Pos
Dr
D
Horse SP
Jockey Weight
Trainer
Age
1st
(16)
Bacchus 33/1
Jim Crowley
9-6
B J Meehan
4
2nd
(8)
nk
Dreamfield 2/1f
James Doyle
9-4
J H M Gosden
4
3rd
(26)
&frac12
Major Jumbo 22/1
J P Spencer
9-2
K A Ryan
4
4th
(5)
s.h
Tis Marvellous 20/1
A Kirby
9-0
C G Cox
4
5th
(27)
1&frac12
Silent Echo (ex5) 20/1
Tom Marquand
9-2
P Hedger
4
6th
(21)
hd
George Bowen (IRE) 20/1
Sebastian Woods (5) 9-1

R A Fahey
6
7th
(14)
nse
Gilgamesh 10/1
Edward Greatrex
9-1
George Scott
4
8th
(22)
&frac12
Mr Lupton (IRE) 14/1
T Hamilton
9-7
R A Fahey
5
9th
(10)
hd
Spring Loaded (IRE) 33/1
S W Kelly
9-2
P W D'Arcy
6
10th
(18)
1
Foolaad 33/1
K T O'Neill
9-2
S R Bowring
7
11th
(12)
1&frac14
Reckless Endeavour (IRE) 66/1
D C Costello
9-2
J A Osborne
5
12th
(3)
hd
Al Qahwa (IRE) 50/1
Kieran Shoemark
8-13
D O'Meara
5
13th
(25)
&frac12
Brian The Snail (IRE) (ex5) 14/1
W Buick
9-1
R A Fahey
4
14th
(29)
&frac34
Growl 8/1
P Hanagan
9-3
R A Fahey
6
15th
(6)
&frac12
Intisaab 66/1
M Harley
9-10
D O'Meara
7
16th
(20)
hd
Ice Age (IRE) 25/1
T P Queally
9-5
Eve Johnson Houghton
5
17th
(23)
hd
Danzeno 16/1
Andrea Atzeni
9-3
M Appleby
7
18th
(13)
nk
Undrafted (USA) 14/1
L Dettori
9-4
Wesley Ward
8
19th
(30)
hd
Ultimate Avenue (IRE) 20/1
P Cosgrave
8-13
Ed Walker
4
20th
(17)
hd
Sir Robert Cheval 50/1
G Mosse
9-4
R M H Cowell
7
21st
(15)
s.h
Tommy Taylor (USA) 50/1
T Eaves
9-6
K A Ryan
4
22nd
(9)
&frac12
Victory Angel (IRE) 14/1
S De Sousa
9-0
R Varian
4
23rd
(7)
&frac12
Blue De Vega (GER) 25/1
Oisin Murphy
8-13
R M H Cowell
5
24th
(11)
1&frac14
Tupi (IRE) 16/1
R L Moore
9-1
R Hannon
6
25th
(4)
2&frac12
Upstaging 66/1
L Morris
9-1
P F I Cole
6
26th
(31)
1&frac34
Flying Pursuit 66/1
Fran Berry
9-0
T D Easterby
5
27th
(24)
&frac12
Lancelot Du Lac (ITY) 50/1
R Winston
9-8
D K Ivory
8
28th
(2)
&frac34
Out Do 33/1
D Tudhope
9-1
D O'Meara
9

Past results
2017-WINNER-OUT DO 8-8-13 Owner-Evan Sutherland; Trainer-David O'Meara; Jockey-Daniel Tudhope; SP-25/1
2ND-Steady Pace 4-9-04 Owner-Godolphin; Trainer-Saeed bin Suroor; Jockey-Josephine Gordon; SP-16/1
3RD-Projection 4-9-00 Owner-The Royal Ascot Racing Club; Trainer-Roger Charlton; Jockey-Kieran Shoemark; SP-15/2
4TH-Polybius 6-9-01 Owner-Karmaa Racing Ltd & Partners; Trainer-David Simcock; Jockey-Oisin Murphy; SP-33/1
27 ran; Time-1m 13.02s; Dist-½, nk, nk 11/2 fav Raucous (8th)
2016-WINNER-OUTBACK TRAVELLER 5-9-01 Owner-Lordship Stud & Mrs J Morley; Trainer-Robert Cowell; Jockey-Martin Harley; SP-10/1
2ND-Brando 4-9-02 Owner-Ms Angie Bailey; Trainer-Kevin Ryan; Jockey-Tom Eaves; SP-7/1 Jt Fav
3RD-Glen Moss 7-9-01 Owner-Ritchie Fiddes; Trainer-Michael Dods; Jockey-Philip Makin; SP-25/1
4TH-Absolutely So 6-9-10 Owner-The George Smith Family Partnership; Trainer-Andrew Balding; Jockey-Oisin Murphy; SP-25/1
28 ran; Time-1m 14.05s; Dist-nk, 1½, ¾ 7/1 Jt Fav (The Happy Prince 15th)
2015-WINNER-INTERCEPTION 5-9-03 Owner-Bjorn Nielsen; Trainer-David Lanigan; Jockey-George Baker; SP-10/1
2ND-Robert Le Diable 6-9-05 Owner-Bryan Lynam; Trainer-Didier Prod'homme FR; Jockey-Damien Oliver; SP-12/1
3RD-Lancelot Du Lac 5-9-05 Owner-Michael & Heather Yarrow; Trainer-Dean Ivory; Jockey-Robert Winston; SP-25/1
4TH-Related 5-8-12 Owner-J Barnett & M Caine; Trainer-David Simcock; Jockey-Fergus Sweeney; SP-50/1
25 ran; Time-1m 13.20s; Dist-11⁄4, 1, 3⁄4 7/1 Fav Watchable (5th)
2014-WINNER-BACCARAT 5-9-02 Owner-Sir Robert Ogden; Trainer-Richard Fahey; Jockey-George Chaloner; SP-9/1
2ND-Professor 4-9-08 Owner-Poilin Good; Trainer-Richard Hannon; Jockey-Ryan Moore; SP-10/1
3RD-Rivellino 4-9-04 Owner-Melba Bryce; Trainer-Karl Burke; Jockey-William Buick; SP-25/1
4TH-Alben Star 6-9-04 Owner- J Shannon & M Scaife; Trainer-Richard Fahey; Jockey-Paul Hanagan; SP-16/1
28 ran; Time-1m 12.09s; Dist-11⁄2, 3⁄4, nk 4/1 Fav Absolutely So (15th)
2013-WINNER-YORK GLORY 5-9-02 Owner-Salman Rashed & Mohamed Khalifa; Trainer-Kevin Ryan; Jockey-Jamie Spencer; SP-14/1
2ND-Shropshire 5-9-01 Owner-Catherine Corbett & Chris Wright; Trainer-Charlie Hills; Jockey-James McDonald; SP-12/1
3RD-Dinkum Diamond 5-9-02 Owner-Eight Star Syndicate; Trainer-Henry Candy; Jockey-Cathy Gannon; SP-22/1
4TH-Khubala 4-9-05 Owner-Pinar Araci Bas; Trainer-Hugo Palmer; Jockey-Frankie Dettori; SP-16/1
26 ran; Time-1m 13.79s; Dist-13⁄4, 1, 3⁄4 6/1 Fav Gabriel's Lad (9th)
2012-WINNER-DANDY BOY 6-9-08 Owner-Malih Al Basti; Trainer-David Marnane IRE; Jockey-Pat Dobbs; SP-33/1
2ND-Waffle 6-9-02 Owner-Laurence O'Kane & Paul Murphy; Trainer-David Barron; Jockey-Fran Berry; SP-11/1
3RD-Hawkeyethenoo 6-9-04 Owner-Johnnie Delta Racing; Trainer-Jim Goldie; Jockey-Graham Lee; SP-20/1
4TH-Morache Music 4-9-07 Owner- R P Marchant, D M Ahier & Mrs E Lee; Trainer-Peter Makin; Jockey-Seb Sanders; SP-20/1
28 ran; Time-1m 13.87s; Dist-11⁄4, 1⁄2, sh 15/2 Fav Lightning Cloud (9th)