St James's Palace Stakes

(British Champions Series)
Group 1, Ascot 16:20
£400,000 added,
3yo only, 1m, Class 1  
Tuesday 14th June 2016

1 Galileo Gold 6/1
2 The Gurkha 4/5f
3 Awtaad 5/2
NR: Zonderland
7 ran Distances: 1¼l, ½l, 5l
TIME 1m 44.01s (slow by 4.71s)
The St James's Palace Stakes goes to Galileo Gold under Frankie Dettori
A thrilling battle between the winners of Europe's major 2000 Guineas races resulted in a win for Galileo Gold, trained by Hugo Palmer for Sheikh Joaan's Al Shaqab Racing, and ridden with trademark elan by Frankie Dettori.

The winner landed Newmarket's QIPCO 2000 Guineas last month, but was then beaten by Awtaad in the Irish 2,000 Guineas. Meanwhile, The Gurkha won the French 2000 Guineas or Prix du Poule Des Poulains. Today, 6/1 shot Galileo Gold turned the tables on his Curragh conqueror, coming home a length and a quarter ahead of The Gurkha (the 4/5 favourite), with Awtaad a further half-length back in third.

Asked how his horse turned the tables on Awtaad, Palmer said: "I don't know how we turned it around, and I'm not sure we did. He ran a huge race in Ireland, but he wasn't able to use his stride there - he was out perfectly quick enough but the best horse won on the day.

"In the Newmarket Guineas and again today his stride was never broken - Frankie was able to get the horse into the most magnificent rhythm and he just galloped and galloped. That's what he needs. It just shows how at every level in sport you need everything to go right. One little thing went wrong in Ireland and we finished second, today everything went right and we won. That's the difference.

"It was a tough challenge but Galileo Gold is the 2000 Guineas winner and the Newmarket Guineas is the best Group One of the year. When the ratings come out at the end of the year, it is the best Group One and we had to hold that up, having been beaten in Ireland. Life did not go well in Ireland but it went much today and he got the most magnificent ride from the widest draw. He has done it and I think it is fair to say he has proved himself to be the best three-year-old colt in Europe.

"It was hugely thrilling and a great race. It was the battle of three Guineas winners. It is funny because it is very soft ground today but it seems that pretty well the best horse has won every race. We haven't yet had a surprise.

"No one knows their way around here better than Frankie Dettori and it's one of the great treats of the horse being owned by Sheikh Joaan that I am able to call upon Frankie [who is retained by the Sheikh] to ride this colt. It takes a lot of the variables out.

"He [Galileo Gold] is so quick out of the stalls that we followed Godolphin's pacemaker [Cymric] and the rest were behind us all the way. I thought the two pacemakers would go forward, that Awtaad and The Gurkha would get boxed in, and while their jockeys were too cute for that, they were a long way out of their ground, while Galileo Gold was able to sit on the pace. He has five-furlong speed, and everyone could see today why he didn't run in the Derby, because Frankie was restraining him at champion-mile pace behind the leader. That would have gone all wrong at Epsom.

"If the horse had been beaten today and Frankie had come in and said 'let's go a mile and a quarter' the Eclipse might have been a consideration, but they have to come and beat us in the [Qatar] Sussex Stakes. Since his owner sponsors the race I would think we will go there next."
St James's Palace Stakes (Group 1)
£400,000 added, 3yo only, 1m, Class 1
7 ran
Going: Soft
Pos
Dr
D
Horse SP
Jockey Weight
Trainer
Age
1st
(7)
Galileo Gold 6/1
L Dettori
9-0
H Palmer
3
2nd
(1)
1&frac14
The Gurkha (IRE) 4/5f
R L Moore
9-0
A P O'Brien
3
3rd
(3)
&frac12
Awtaad (IRE) 5/2
C D Hayes
9-0
K Prendergast
3
4th
(6)
5
Cymric (USA) 66/1
James Doyle
9-0
J H M Gosden
3
5th
(2)
3
Emotionless (IRE) 10/1
W Buick
9-0
C Appleby
3
6th
(4)
1
First Selection (SPA) 33/1
Jim Crowley
9-0
S Crisford
3
7th
(5)
31
Ehtiraas 100/1
P Hanagan
9-0
Owen Burrows
3
NR
(8)
Zonderland 16/1
A Kirby
9-0
C G Cox
3

O'BRIEN HAPPY WITH THE GURKHA

Aidan O'Brien seemed upbeat about the effort of The Gurkha, who was last seen winning the Poule d'Essai des Poulains [French 2,000 Guineas] impressively The three-year-old had to settle for second this time, finishing one-and-quarter lengths adrift of the winner, after being sent off the 4/5 favourite.
The Gurkha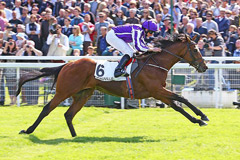 O'Brien said: "The Gurkha ran well and I am very happy with the run. He travelled well and quickened well.

"We were delighted and there will be plenty more times - the year is long. We will be looking forward to running our horse next time - he travelled, quickened and was coming home very well.

"I don't know where we will go next. He can step up in trip if he wants but I don't think he needs to. We will see."

GOING AGAINST AWTAAD

The Irish Guineas winner Awtaad failed to add to his winning tally when third to Galileo Gold and The Gurkha.

"The ground was not in his favour today, it was very holding horrible, sticking ground. " said his trainer Kevin Prendergast, who went on to say: "He ran a good race we just ran into two better on the day. We will see what happens next, I have no plans at this stage."

Chris Hayes, rider of the Cape Cross colt, added: " I thought the ground just took the speed out of my horse. On better ground I would love to have another crack at the winner."

Angus Gold, racing manager to the owner Hamdan Al Maktoum, stated: "My own feeling is that I am not convinced that the horse wants the ground soft. The fact that he had the better of The Gurkha (second), that then The Gurkha came and got him and that he stopped in his run shows me he wants better ground. Every one says that it is really heavy ground.

"I think a mile is right for him at the moment, he wouldn't have gone any further today anyway on that going.

"We certainly don't know what we will do next, we haven't got that far yet."

THE ST JAMES'S PALACE STAKES
Past Results
2015-WINNER-GLENEAGLES 3-9-00 Owner-Michael Tabor, Derrick Smith, Sue Magnier; Trainer-Aidan O'Brien IRE; Jockey- Ryan Moore; SP-8/15 Fav
2ND-Lathanarch 3-9-00 Owner-Godolphin; Trainer-Charlie Appleby; Jockey-William Buick; SP-25/1
3RD-Consort 3-9-00 Owner-Highclere Th'bred Racing (Hardwicke); Trainer-Sir Michael Stoute; Jockey-Frankie Dettori; SP-6/1
5 ran; Time-1m 38.86s; Dist-21⁄2, 1⁄2
2014-WINNER-KINGMAN 3-9-00 Owner-Khalid Abdullah; Trainer-John Gosden; Jockey-James Doyle; SP-8/11 Fav
2ND-Night Of Thunder 3-9-00 Owner-Saeed Manana; Trainer-Richard Hannon snr; Jockey-Richard Hughes; SP-3/1
3RD-Outstrip 3-9-00 Owner-Godolphin; Trainer-Charlie Appleby; Jockey-William Buick; SP-33/1
7 ran; Time-1m 39.06s; Dist-2¼, 1
2013-WINNER-DAWN APPROACH 3-9-00 Owner-Godolphin; Trainer-Jim Bolger IRE; Jockey-Kevin Manning; SP-5/4 Fav
2ND-Toronado 3-9-00 Owner-Sheikh Joann bin Hamad Al Thani; Trainer-Richard Hannon; Jockey-Richard Hughes; SP-5/1
3RD-Mars 3-9-00 Owner-Michael Tabor, Derrick Smith & Sue Magnier; Trainer-Aidan O'Brien IRE; Jockey-Ryan Moore; SP- 10/1
9 ran; Time-1m 39.23s; Dist-sh, 2¾
2012-WINNER-MOST IMPROVED 3-9-00 Owner-Iraj Parvizi; Trainer-Brian Meehan; Jockey-Kieren Fallon; SP-9/1
2RD-Hermival 3-9-00 Owner-H H Sheikh Mohammed bin Khalifa Al Thani; Trainer-Mikel Delzangles FR; Jockey-Gregory Benoist;
SP-9/1
3RD-Gregorian 3-9-00 Owner-H R H Princess Haya of Jordan; Trainer-John Gosden; Jockey-Ryan Moore; SP-14/1
16 ran; Time-1m 40.14s; Dist-¾, hd 11/4 Fav Power (12th)
2011-WINNER-FRANKEL 3-9-00 Owner-Khalid Abdullah; Trainer-Henry Cecil; Jockey-Tom Queally; SP-30/100 Fav
2ND-Zoffany 3-9-00 Owner-Michael Tabor, Derrick Smith & Sue Magnier; Trainer-Aidan O'Brien IRE; Jockey-Ryan Moore; SP-
20/1
3RD-Excelebration 3-9-00 Owner-Giuliano Manfredini; Trainer-Marco Botti; Jockey-Adam Kirby; SP-10/1
9 ran; Time-1m 39.24s; Dist-¾, 1½
2010-WINNER-CANFORD CLIFFS 3-9-00 Owner-Heffer Syndicate, Susan Roy & Mrs Instance; Trainer-Richard Hannon;
Jockey-Richard Hughes; SP-11/4 Jt Fav
2ND-Dick Turpin 3-9-00 Owner-John Manley; Trainer-Richard Hannon; Jockey-Ryan Moore; SP-5/1
3RD-Hearts Of Fire 3-9-00 Owner-Pat Eddery Racing (Detroit); Trainer-Pat Eddery; Jockey-Jimmy Fortune; SP-33/1
9 ran; Time-1m 39.55s; Dist-1, ¾ 11/4 Jt Fav Makfi (7th)
2009- WINNER-MASTERCRAFTSMAN 3-9-00 Owner-Derrick Smith, Sue Magnier, Michael Tabor; Trainer-Aidan O'Brien
IRE; Jockey-Johnny Murtagh; SP-5/6 Fav
2ND-Delegator 3-9-00 Owner-Poilin Good; Trainer-Brian Meehan; Jockey-Jimmy Fortune; SP-4/1
3RD-Lord Shanakill 3-9-00 Owner: Mogeely Stud & Mark Gittins; Trainer: Karl Burke; Jockey-Jim Crowley; SP-20/1
10 ran; Time: 1m 39.21s; Dist-nk, 1½
2008-WINNER-HENRYTHENAVIGATOR 3-9-00 Owner-Sue Magnier; Trainer-Aidan O'Brien IRE; Jockey-Johnny Murtagh;
SP-4/7 Fav
2ND-Raven's Pass 3-9-00 Owner-Stonerside Stable LLC; Trainer-John Gosden; Jockey-Jimmy Fortune; SP-7/1
3RD-Twice Over 3-9-00 Owner-Khalid Abdullah; Trainer-Henry Cecil; Jockey-Ted Durcan; SP-8/1
8 ran, Time-1m 38.7s, Dist-¾, 2½
2007-WINNER-EXCELLENT ART 3-9-00 Owner-Sue Magnier; Trainer-Aidan O'Brien IRE; Jockey-Jamie Spencer; SP-8/1
2ND-Duke Of Marmalade 3-9-00 Owner-Sue Magnier & Michael Tabor; Trainer-Aidan O'Brien IRE; Jockey-Michael Kinane;
SP-11/1
3RD-Astronomer Royal 3-9-00 Owner-Derrick Smith, Sue Magnier & Michael Tabor; Trainer-Aidan O'Brien IRE; Jockey-
Colm O'Donoghue; SP-14/1
8 ran, Time-1m 39.33s, Dist-nk, 1¼ Evens Fav Cockney Rebel (5th)
2006-WINNER-ARAAFA 3-9-00 Owner-Saleh Al Homaizi & Imad Al Sagar; Trainer-Jeremy Noseda; Jockey-Alan Munro;
SP-2/1 Fav
2ND-Stormy River 3-9-00 Owner-Ecurie Mister Ess AS; Trainer-Nicolas Clement FR; Jockey-Olivier Peslier; SP-7/2
3RD-Ivan Denisovich 3-9-00 Owner-Sue Magnier, Michael Tabor, Mr & Mrs Irving Cowan; Trainer-Aidan O'Brien IRE;
Jockey-Kieren Fallon; SP-13/2
11 ran, Time-1m 39.59s, Dist-2, 1¾
2005-WINNER-SHAMARDAL 3-9-00 Owner-Godolphin; Trainer-Saeed bin Suroor; Jockey-Kerrin McEvoy; SP-7/4 Fav
2ND-Ad Valorem 3-9-00 Owner-Sue Magnier; Trainer-Aidan O'Brien IRE; Jockey-Michael Kinane; SP-8/1
3RD-Oratorio 3-9-00 Owner-Sue Magnier & Michael Tabor; Trainer-Aidan O'Brien IRE; Jockey-Kieren Fallon; SP-6/1
8 ran, Time-1m 37.18s Dist-3, 1¾ (run at York)
2004-WINNER-AZAMOUR 3-9-00 Owner-H H Aga Khan; Trainer-John Oxx IRE; Jockey-Michael Kinane; SP-9/2
2ND-Diamond Green 3-9-00 Owner-Lagardere Family; Trainer-Andre Fabre FR; Jockey-Gary Stevens; SP-10/1
3RD-Antonius Pius 3-9-00 Owner-Michael Tabor & Sue Magnier; Trainer-Aidan O'Brien IRE; Jockey-Jamie Spencer; SP-7/1
11 ran, Time-1m 39.02s Dist-nk, ¾ 6/4 Fav Haafhd (4th)
2003-WINNER-ZAFEEN 3-9-00 Owner-Jaber Abdullah; Trainer-Mick Channon; Jockey-Darryll Holland; SP-8/1
2ND-Kalaman 3-9-00 Owner H H Aga Khan; Trainer-Sir Michael Stoute; Jockey-Johnny Murtagh; SP-5/2 Fav
3RD-Martillo 3-9-00 Owner-Gestut Hony-Hof; Trainer-Ralf Suerland GER; Jockey-William Mongil; SP-12/1
11 ran, Time-1m 39.91s Dist-1, 3