Queen Anne Stakes

Group 1, Ascot
£350,000 added,
4yo plus,
1m, Class 1
Tuesday 17th June 2014
RaceBets.com - Enjoy racing online
Able Friend Has Queen Anne Option
28/03/14
John Moore views the fast-improving Able Friend as a possible Royal Ascot contender in June - rather than Dubai World Cup second favourite Military Attack.
Able Friend
Photo: Kenneth Chan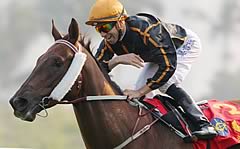 The Hong Kong-based trainer reports his triple Group One winner Military Attack in tip-top order ahead of the main event on Saturday, but ruled him out of a possible tilt at the Prince of Wales's Stakes.
He did, however, entertain the idea of sending Able Friend to Berkshire in the summer.
Moore said: "Certain approaches have been made with a view to getting Military Attack to Royal Ascot and asking would I be interested.
"Actually, it's not really on our minds, although I have another horse, Able Friend, that I would like to take over for the Queen Anne if I get the green light. I believe in him. He's a serious Group One horse and I think he's the real deal."
Queen Anne Stakes 2013
£350,000 added, 4yo plus, 1m, Class 1
13 ran
Going: Good


Horse
Trainer
Jockey
Weight
SP
Distance
1

Declaration Of War
A P O'Brien
J P O'Brien
9st 0lbs
15 - 2
Winner
2

Aljamaaheer
R Varian
P Hanagan
9st 0lbs
8 - 1
3/4 length
3

Gregorian
J H M Gosden
T P Queally
9st 0lbs
16 - 1
1/2 length
4

Elusive Kate
J H M Gosden
William Buick
8st 11lbs
15 - 2
2 lengths
5

Trade Storm
D M Simcock
J P Spencer
9st 0lbs
12 - 1
Head
6

Libranno
R Hannon
P Cosgrave
9st 0lbs
100 - 1
1 1/4 length
7

Chil The Kite
H Morrison
R L Moore
9st 0lbs
16 - 1
Head
8

Penitent
D O'Meara
D Tudhope
9st 0lbs
33 - 1
Head
9

Sovereign Debt
M L W Bell
A Kirby
9st 0lbs
16 - 1
1 1/2 length
10

Trumpet Major
R Hannon
R Hughes
9st 0lbs
25 - 1
2 3/4 lengths
11

Animal Kingdom
H Motion
John Velazquez
9st 0lbs
5 - 4
2 lengths
12

Monsieur Chevalier
P J O'Gorman
D Holland
9st 0lbs
100 - 1
Nose
13

Gabrial
R A Fahey
K Fallon
9st 0lbs
33 - 1
9 lengths
THE QUEEN ANNE STAKES
Past Results
2012-WINNER-FRANKEL 4-9-00 Owner-Khalid Abdullah; Trainer-Sir Henry Cecil; Jockey-Tom Queally; SP-1/10 Fav
2ND-Excelebration 4-9-00 Owner-Derrick Smith, Sue Magnier & Michael Tabor; Trainer-Aidan O'Brien IRE; Jockey-Joseph
O'Brien; SP-5/1
3RD-Side Glance 5-9-00 Owner-Qatar Racing Limited; Trainer-Andrew Balding; Jockey-Jimmy Fortune; SP-33/1
11 ran, Time-1m 37.85s; Dist 11, nk
2011-WINNER-CANFORD CLIFFS 4-9-00 Owner-The Heffer Syndicate, Michael Tabor & Derrick Smith; Trainer-Richard
Hannon; Jockey-Richard Hughes; SP-11/8
2ND-Goldikova 6-8-13 Owner-Wertheimer et Frere; Trainer-Freddy Head FR; Jockey-Olivier Peslier; SP-5/4 Fav
3RD-Cityscape 5-9-00 Owner-Khalid Abdullah; Trainer-Roger Charlton; Jockey-Ryan Moore; SP-14/1
7 ran, Time-1m 38.38s; Dist: 1, 1¾
2010-WINNER-GOLDIKOVA 5-8-11 Owner-Wertheimer et Frere; Trainer-Freddy Head FR; Jockey-Olivier Peslier; SP-11/8
Fav
2ND-Paco Boy 5-9-00 Owner-The Calvera Partnership No 2; Trainer-Richard Hannon; Jockey-Richard Hughes; SP-11/4
3RD-Dream Eater 5-9-00 Owner-Jeff Smith; Trainer-Andrew Balding; Jockey-Jimmy Fortune; SP-50/1
10 ran, Time-1m 37.74s; Dist: nk, 3¼
2009-WINNER- PACO BOY 4-9-00 Owner-The Calvera Partnership No 2; Trainer-Richard Hannon; Jockey-Richard Hughes;
SP-100/30
2ND-Cesare 8-9-00 Owner-Cheveley Park Stud Ltd; Trainer-James Fanshawe; Jockey-Johnny Murtagh; SP-11/1
3RD-Aqlaam 4-9-00 Owner-Hamdan Al Maktoum; Trainer-William Haggas; Jockey-Richard Hills; SP-10/1
9 ran, Time-1m 39.31s; Dist: 1½, ½. 9/4 Fav Gladiatorus (6th)
2008-WINNER-HARADASUN 5-9-00 Owner-Frank Tagg/Sue Magnier/Frank Meduri/Garry Moffitt; Trainer-Aidan O'Brien
IRE; Jockey-Johnny Murtagh; SP-5/1
2ND-Darjina 4-8-11 Owner-Princess Zahra Aga Khan; Trainer-Alain De Royer-Dupre FR; Jockey-Christophe Soumillon; SP-
5/1
3RD-Finsceal Beo 4-8-11 Owner-Michael Ryan; Trainer-Jim Bolger IRE; Jockey-Kevin Manning; SP-9/2 Fav
11 ran, Time-1m 38.98s, Dist: hd, ¾
2007-WINNER-RAMONTI 5-9-00 Owner-Godolphin; Trainer-Saeed bin Suroor; Jockey-Frankie Dettori; SP-5/1
2ND-Jeremy 4-9-00 Owner-Betty Moran; Trainer-Sir Michael Stoute; Jockey-Ryan Moore; SP-14/1
3RD-Turtle Bowl 5-9-00 Owner-B van Dalfsen; Trainer-Francois Rohaut FR; Jockey-Olivier Peslier; SP-33/1
8 ran, Time-1m 37.21s, Dist: sh, sh 10/11 Fav George Washington (4th)
2006-WINNER-AD VALOREM 4-9-00 Owner-Sue Magnier & Bob Ingham; Trainer-Aidan O'Brien IRE; Jockey-Kieren Fallon;
SP-13/2
2ND-Court Masterpiece 6-9-00 Owner-Gainsborough Stud; Trainer-Ed Dunlop; Jockey-Jamie Spencer; SP-11/2
3RD-Proclamation 4-9-00 Owner-Godolphin; Trainer-Saeed bin Suroor; Jockey-Frankie Dettori; SP-2/1
7 ran, Time-1m 40.0s, Dist: 1½, nk 7/4 Fav Peeress (4th)
2005-WINNER-VALIXIR 4-9-00 Owner-H H Aga Khan; Trainer-Andre Fabre FR; Jockey-Christophe Soumillon; SP-4/1
2ND-Rakti 6-9-00 Owner-Gary Tanaka; Trainer-Michael Jarvis; Jockey-Philip Robinson; SP-5/6 Fav
3RD-Starcraft 5-9-00 Owner-The Australian Syndicate; Trainer-Luca Cumani; Jockey-Darryll Holland; SP-7/1
10 ran, Time-1m 36.64s Dist: 1½, ½ (Run at York)
2004-WINNER-REFUSE TO BEND 4-9-00 Owner-Godolphin; Trainer-Saeed bin Suroor; Jockey-Frankie Dettori; SP-12/1
2ND-Soviet Song 4-8-11 Owner-Elite Racing Club; Trainer-James Fanshawe; Jockey-Johnny Murtagh; SP-6/1
3RD-Salselon 5-9-00 Owner-Scuderia Briantea Srl; Trainer-Luca Cumani; Jockey-Darryll Holland; SP-12/1
16 ran, Time-1m 39.14s Dist: nk, ¾ 5/2 Fav Six Perfections (6th)
2003-WINNER-DUBAI DESTINATION 4-9-00 Owner-Godolphin; Trainer-Saeed bin Suroor; Jockey-Frankie Dettori;
SP-9/2
*2ND-Right Approach 4-9-00 Owner-The Queen; Trainer-Sir Michael Stoute; Jockey-Kieren Fallon; SP-20/1
3RD-Where Or When 4-9-00 Owner-John Humphreys (Turf Accountants Ltd); Trainer-Terry Mills; Jockey-Kevin Darley; SP-
8/1
10 ran, Time-1m 38.56s Dist: 4, ¾ 8/13 Fav Hawk Wing (7th)
*Tillerman originally finished second but was disqualified after failing a post-race urine test