Queen Mary Stakes

Group 2, Ascot 15:05
£110,000 added,
2yo only,
5f, Class 1  
Wednesday 20th June 2018

1 Signora Cabello 25/1
2 Gossamer Wings 25/1
3 Shades Of Blue 5/1
4 So Perfect 8/1
22 ran Distances: shd, shd, ½l
Time: 1m 0.65s (slow by 1.65s)
Signora Cabello takes the Queen Mary Stakes in a photo!
Signora Cabello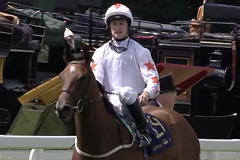 The John Quinn-trained Signora Cabello swooped late under Oisin Murphy to capture the first race on day two.
The two-year-old daughter of Camacho travelled well throughout the five-furlong contest and ran on strongly in the closing stages to score by a short-head from the Aidan O'Brien-trained Gossamer Wings in second, with the same distance back to the well supported Shades Of Blue, trained by Clive Cox, in third.
Quinn, registering his third victory at the Royal Meeting, was delighted with the filly's performance on the back of a Listed victory at York last time out. 
The North Yorkshire handler said: "Signora Cabello was a huge price given how on top she was at the line at York last time out [won by a length and a quarter]. She didn't know what price she was and all she's done is improve all along.
"Signora Cabello is very laid back but she does help you. Even today, she was very relaxed. She has a very good mind and she has plenty of ability.
"We thought she would finish in the top six and she was in good nick coming into the race - she did the rest."
Signora Cabello was originally owned by the Zen Racing partnership made up of Ross Sankey and Chris Edwards, who bought the filly at Book 3 of the Tattersalls October Yearling Sale for 20,000 guineas.
However, the pair now own 25% of Quinn's charge following Phoenix Thoroughbred's decision to snap up a 75% stake in her.
Discussing the filly's ownership, Quinn said: "Phoenix Thoroughbreds enquired about the filly two weeks ago and bought her a week ago.
"Ross and Chris have a 25% stake now and are currently in Barbados watching the cricket! This is the first horse we have bought for them and my son Sean [bloodstock agent] bought the filly for them at Newmarket as he loved the pedigree.
"Signora Cabello is in everything, but we'll see how she comes out of this before making a definitive plan."
Queen Mary Stakes
£110,000 added, 2yo only, 5f, Class 3
22 ran
Going: Good to Firm
Pos
Dr
D
Horse SP
Jockey Weight
Trainer
Age
1st
(16)
Signora Cabello (IRE) 25/1
Oisin Murphy
9-0
J J Quinn
2
2nd
(13)
s.h
Gossamer Wings (USA) 25/1
D O'Brien
9-0
A P O'Brien
2
3rd
(22)
s.h
Shades Of Blue (IRE) 5/1
A Kirby
9-0
C G Cox
2
4th
(11)
&frac12
So Perfect (USA) 8/1
R L Moore
9-0
A P O'Brien
2
5th
(1)
&frac12
Come On Leicester (IRE) 20/1
Tom Marquand
9-0
R Hannon
2
6th
(9)
s.h
Servalan (IRE) 13/2
C O'Donoghue
9-0
Mrs J Harrington
2
7th
(5)
nse
Forever In Dreams (IRE) 8/1
A Hamelin
9-0
M Palussiere
2
8th
(6)
&frac34
Little Kim 20/1
Ben Curtis
9-0
K R Burke
2
9th
(17)
nk
Kurious 7/1
Fran Berry
9-0
H Candy
2
10th
(8)
nk
Shumookhi (IRE) 100/1
Edward Greatrex
9-0
Archie Watson
2
11th
(14)
nk
Chelsea Cloisters (USA) 10/3f
L Dettori
9-0
Wesley Ward
2
12th
(18)
1&frac34
Country Rose (IRE) 100/1
David Probert
9-0
R Harris
2
13th
(12)
nk
Kodyanna (IRE) 33/1
P Hanagan
9-0
R A Fahey
2
14th
(2)
1&frac34
Red Balloons 33/1
D Tudhope
9-0
R A Fahey
2
15th
(7)
nk
Yolo Again (IRE) 50/1
N G McCullagh
9-0
J P Murtagh
2
16th
(21)
hd
Second Generation 25/1
P Mulrennan
9-0
J Tate
2
17th
(4)
2
Snazzy (IRE) 40/1
S Donohoe
9-0
C Fellowes
2
18th
(20)
hd
Deia Glory 100/1
P J McDonald
9-0
S Dixon
2
19th
(3)
&frac34
Daphinia 33/1
S De Sousa
9-0
H Spiller
2
20th
(10)
&frac34
Luchador 150/1
L Morris
9-0
Archie Watson
2
21st
(19)
2&frac34
Global Goddess (IRE) 200/1
G Mosse
9-0
Miss Gay Kelleway
2
22nd
(15)
1&frac14
Haats Off 200/1
T E Whelan
9-0
B Barr
2

QUEEN MARY STAKES WINNERS
YR/DATE GR WINNER TRAINER JOCKEY OWNER AGE/WGT SP
2017 2 HEARTACHE Clive Cox Adam Kirby The Hot To Trot Syndicate 2-9-00 5/1
2016 2 LADY AURELIA Wesley Ward USA Frankie Dettori Stonestreet Stables LLC/G Bolton/P Leidel 2-9-00 2/1F
2015 2 ACAPULCO Wesley Ward USA Ryan Moore Sue Magnier, Michael Tabor & Derrick Smith 2-9-00 5/2F
2014 2 ANTHEM ALEXANDER Edward Lynam IRE Pat Smullen Noel O'Callaghan 2-9-00 9/4F
2013 2 RIZEENA Clive Brittain James Doyle Sheikh Rashid Dalmook Al Maktoum 2-8-12 6/1
2012 2 CEILING KITTY Tom Dascombe Richard Kingscote Andrew Black & The Master Bettors 2-8-12 20/1
2011 2 BEST TERMS Richard Hannon snr Richard Hughes Robert Barnett 2-8-12 12/1
2010 2 MAQAASID John Gosden Richard Hills Hamdan Al Maktoum 2-8-12 9/4F
2009 2 JEALOUS AGAIN Wesley Ward USA John Velazquez R Abrams, R Brewer, M Dutko, W Ward 2-8-12 13/2
2008 LANGS LASH Mick Quinlan Alan Munro John Hanly 2-8-12 25/1
2007 2 ELLETELLE Ger Lyons IRE Johnny Murtagh Jesse Club Syndicate 2-8-12 20/1
2006 2 GILDED Richard Hannon snr Richard Hughes Mrs J Wood 2-8-12 11/2
*2005 2 FLASHY WINGS Mick Channon Ted Durcan Jaber Abdullah 2-8-10 4/1JF
2004 2 DAMSON David Wachman IRE Jamie Spencer Sue Magnier & Michael Tabor 2-8-10 11/2JF
2003 3 ATTRACTION Mark Johnston Kevin Darley Duke of Roxburghe 2-8-10 13/8F
2002 3 ROMANTIC LIASON Brian Meehan Pat Eddery Con Wilson 2-8-08 16/1
2001 3 QUEEN'S LOGIC Mick Channon Steve Drowne Jaber Abdullah 2-8-08 13/2
2000 3 ROMANTIC MYTH Tim Easterby Kevin Darley Terry Holdcroft 2-8-06 4/1F
1999 3 SHINING HOUR Peter Chapple-Hyam Jimmy Fortune Robert Sangster 2-8-08 20/1
1998 3 BINT ALLAYL Mick Channon Frankie Dettori Sheikh Ahmed Al Maktoum 2-8-08 2/1F
1997 3 NADWAH Peter Walwyn Richard Hills Hamdan Al Maktoum 2-8-08 10/1
1996 3 DANCE PARADE Paul Cole Michael Kinane Prince Fahd Salman 2-8-08 8/1
1995 3 BLUE DUSTER David Loder Michael Kinane Sheikh Mohammed 2-8-08 7/4F
1994 3 GAY GALLANTA Michael Stoute Walter Swinburn Cheveley Park Stud 2-8-08 16/1
1993 3 RISKY Richard Hannon snr Walter Swinburn Roldvale Ltd 2-8-08 11/2
1992/ 3 LYRIC FANTASY Richard Hannon snr Michael Roberts Lord Carnarvon 2-8-08 11/8F
1991 3 MARLING Geoff Wragg Gary Carter Edmund Loder 2-8-08 11/4F
1990 3 ON TIPTOES Jim Leigh Dean McKeown John Rowles 2-8-08 8/1
1989 3 DEAD CERTAIN David Elsworth Steve Cauthen Commander Toby Marten 2-8-08 8/1
1988 3 GLORIELLA John McLaughlin IRE John Reid John McLaughlin 2-8-08 8/1
1987 3 PRINCESS ATHENA David Elsworth Willie Carson Henry Senn 2-8-08 9/1
1986 3 FOREST FLOWER Ian Balding Pat Eddery Paul Mellon 2-8-08 9/4JF
1985 3 GWYDION Henry Cecil Steve Cauthen Stavros Niarchos 2-8-08 2/1F
1984 3 HI-TECH GIRL Peter Makin Greville Starkey Intercraft 2-8-08 16/1
1983 2 NIGHT OF WIND Matt McCormack Bruce Raymond P Durkan 2-8-08 50/1
1982 2 WIDAAD Michael Stoute Walter Swinburn Maktoum Al Maktoum 2-8-08 13/8F
1981 2 FLY BABY Richard Hannon snr Paul Cook Malden Farms Ltd 2-8-08 40/1
1980 2 PUSHY Henry Cecil Joe Mercer Lord Tavistock 2-8-08 7/1
1979 2 ABEER Jeremy Tree Willie Carson Khalid Abdullah 2-8-08 7/1
1978 2 GREENLAND PARK William Hastings-Bass Harry White Greenland Park Ltd 2-8-08 15/2
1977 2 AMARANDA Harry Wragg Lester Piggott Budgie Moller 2-8-08 4/6F